Rating: 74/100
How did we ever live without smartphones!
I've been racking my brains over the past week or so, wondering what I am to do with the Nokia 3310. It's a smartphone world and we just live in it. In this world, it takes all of 5 minutes to exhaust everything you can do with this phone. And therein lies the conundrum that used to haunt smartphone makers when these devices were just coming up. So, before we get on with the Nokia 3310 review, we must discuss that conundrum.
What is a phone for?
The Nokia 3310 is a phone, so it makes calls, sends text messages and adds some additional features, like the game Snake, a Calculator, camera and some music. That's more than what you expected from a phone in the year 2000 (which is when the 3310 was originally launched). This is where the Nokia 3310 review would have ended, had we been reviewing phones back then as we do today. We're talking about a time when phones were simply functional devices, not meant for children, not meant to make you feel like you're in Star Trek, and definitely not meant to be small pocket computers faster giving some PCs a run for their money.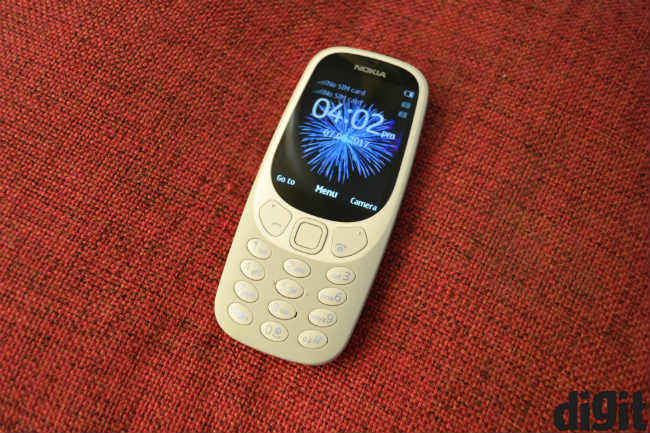 While other smartphones sell on their high resolution screens, uber fast processors and more, the Nokia 3310 sells on a curious feature — nostalgia. To the best of my knowledge, there is no scientific metric to measure the effectiveness of that particular feature.
Build and Design: Deceptively sturdy...
In its original form, the Nokia 3310 was built like a tank. They say it was indestructible, "built like a tank" etc. Well, the new one doesn't feel like that. I'm not saying it's not sturdy or that it's easy to destroy, but it certainly doesn't feel as sturdy as that phone.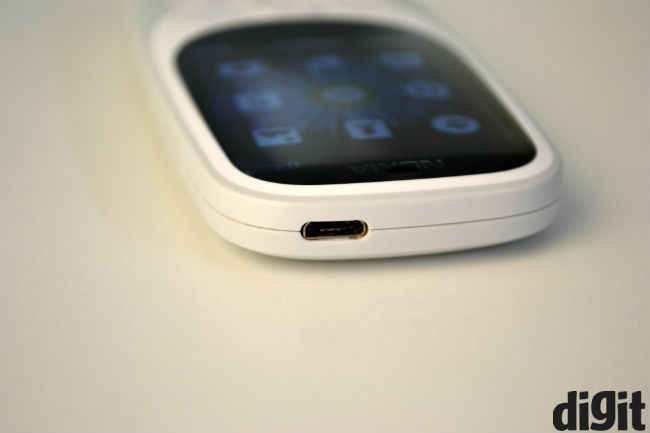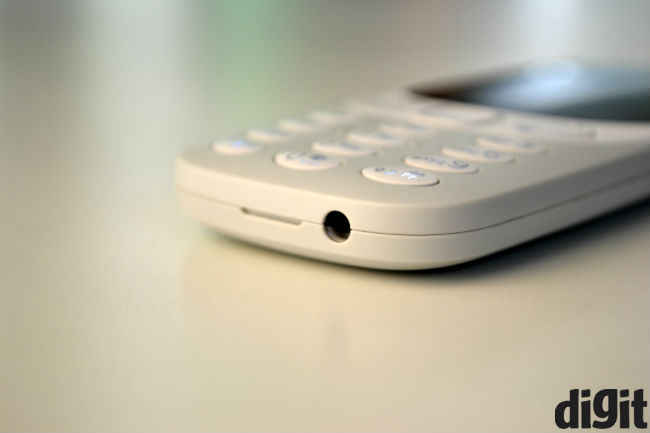 On the other hand, during the review period I dropped this phone on concrete, mosaic, tiles and grass, and I see no discernible damage on the device. Like all feature phones, the 3310 also has a plastic screen, that doesn't break as easily as the toughest Gorilla Glass out there. I even got stuck in the rain once and the 3310 survived the slight splash of water due to it. It's neither waterproof, nor water resistant, but its resilient like most feature phones. There's visible gap on the keys, so water damage should be a killer.
Resiliency aside, this is still the 2017 edition of the Nokia 3310. That means it now comes in glossy colourful plastic bodies, and two with matte finish. The Blue and Gray variants have a matte finish, while the Yellow and Orange versions are glossy. To the 3310 loyalist (if they still exist), that may not seem right. That's why I say this phone doesn't "feel" sturdy, even though it is. Nokia's Juho Sarvikas affirmed that the 3310 passes all of Nokia's durability tests for feature phones. Sarvikas is the Chief Product Officer for HMD Global, the company bringing Nokia back.
Form Factor: Tiny does it...
Another reason why the 3310 doesn't feel like the original, is its form factor. The phone is thinner and lighter than that device. We weighed it at 81 grams, which is just over half of what the original 3310 weighed. Loyalist or not, the new Nokia 3310 is too light for its own good. When combined with colourful and glossy designs, the phone feels somewhat like a toy. Smartphone users will also have trouble getting used to the much smaller form factor, but smartphone users aren't going to buy this phone in the first place (more on that, later).
Display: A hint of colour...
Loyalists will once again cringe at the colour display on this phone, but I ask you, do you really want a black-and-white phone today? The Nokia 3310 has a 2.4 inch QVGA (320x240p) TFT display (240p). Even though the display is capable of colour, the UI has white icons and text laid over a black background. It's quite bright as far as feature phones go, but it's also glossy and reflective, so you'll be squinting when you're in sunlight. You get 167 ppi pixel density, which is just a number for all practical purposes here.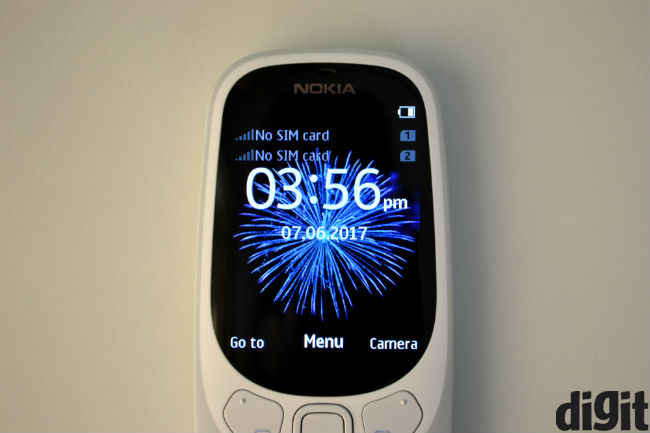 There's a toggle for controlling backlight intensity, which has four levels. Yes, manual brightness toggle is what you get on a feature phone. If you look close enough, you can even see the pixels on the display. Perhaps to add just a hint of its newer technologies, Nokia added its Glance screen, for a quick look at the time when you so need it.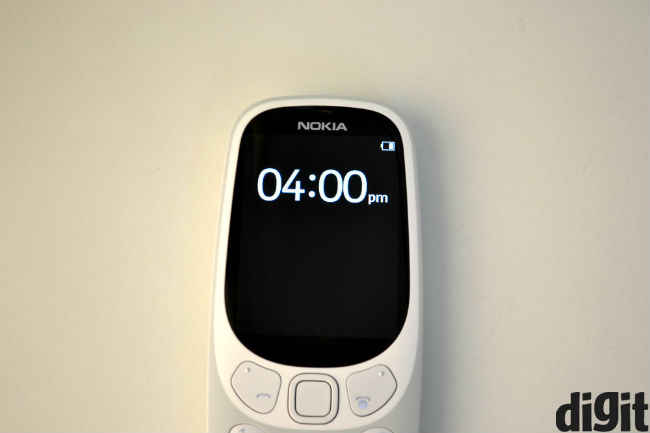 Ease of use: Your dad will find this easy, you'll find it childish…
The 3310 runs on Nokia's Series 30+ operating system and its UI is as simple as it used to be back in the year 2000. You have the menu, which will show all your apps, including Snake, Text messages and so on. You can access the Settings menu from here and toggle Bluetooth and other aspects from within. To lock, you'll press the "End Call" button and then the left select button.
Pressing the left select button on the home screen will take you to the "Go To" menu, which is a sort of shortcut here. You can toggle screen brightness, turn on the torch and manage some other things from this menu. The right select button opens the camera, which can also be accessed from the menu. You'll be able to store less than 10 photos without an SD card, while adding one will grant you the opportunity to store "999+" photos. The 3310 supports 32GB micro-SD expansion and has 1.5MB usable internal storage (out of 16MB).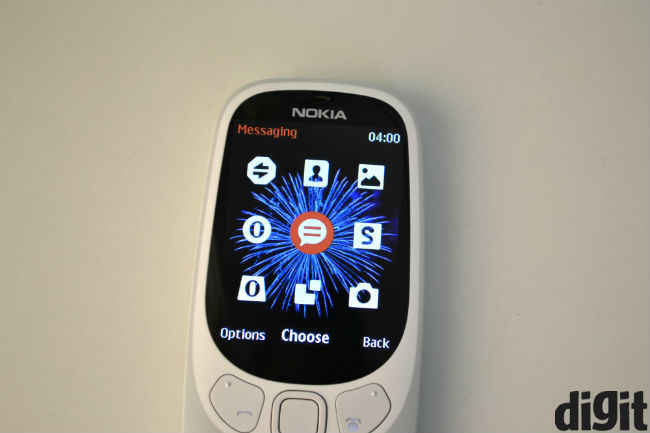 Series 30+ also grants you access to a greatly toned down version of Facebook or Twitter. I don't see how you'll actually use this with a 2G network only, but hey, I'm probably the spoiled brat living in a 4G world. Yes, WhatsApp is missing, as are all other Java-based applications. Series 30+ doesn't support such apps, which limits its capabilities as a modern operating system. There are two apps stores here, including the Opera Mobile Store for regular apps and another one from Gameloft, for games.
Games: Is Snake the game we should be talking about?
Snake is a big part of the whole nostalgia play on the Nokia 3310, but I'm not sure that's the game I care about here. I'll get to Snake in a bit, but let's take a moment to discuss the Asphalt 6 demo that you get along with this phone. You get only one race, but that's the real nostalgia kicker for me here. It has none of the modern graphics, but I almost bought the game to play a little more.
The basics of the game remains the same. You go right or left and use the boost to speed up or "knockdown" other opponents. It remains a simple, low graphic game, but it's darn addictive if you ask me. It feels like a DOS-based racing game, that many of us have loved.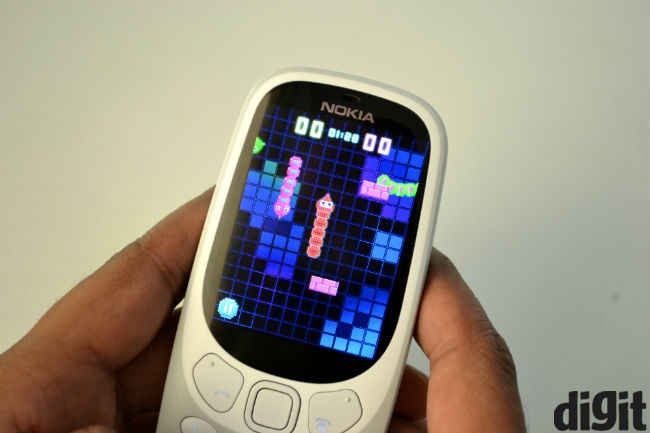 On the other hand, the new and redesigned version of Snake was somewhat underwhelming. I confess, I scurried through the levels and finished the campaign mode in no time, but loyalist or not, this isn't the Snake you're looking for. The game board has a sort of psychedelic spin to it now, and the Snake eats apples to become bigger. There are power ups to cut the Snake's speed and length, increase points and a Subway Surfer-like magnet that brings Apples to you. The Survival mode is where you get those high scores, while the regular Campaign just changes the type of board and goals as you progress. You can choose from nine colours for the Snake and customise how it moves on the board.
It's addictive to be sure, but honestly, I'd have preferred more games like Asphalt 6 than Snake. I stopped playing Snake after the first day or two, simply because it feels like a change for change's sake and is neither better, nor new.
Keyboard and Buttons: The return of T9…
T9 keyboards are actually employed in the smartphone era too, though not actively. Yet, every time you get a number pad on your smartphone, you'll see "ABC", "DEF" and so on written on the numbers. The 3310 keyboard works in this way, and buttons are tactile and well spaced. I was back to typing like a T9 ninja in no time. After the first day, I even stopped looking at the keys as I typed.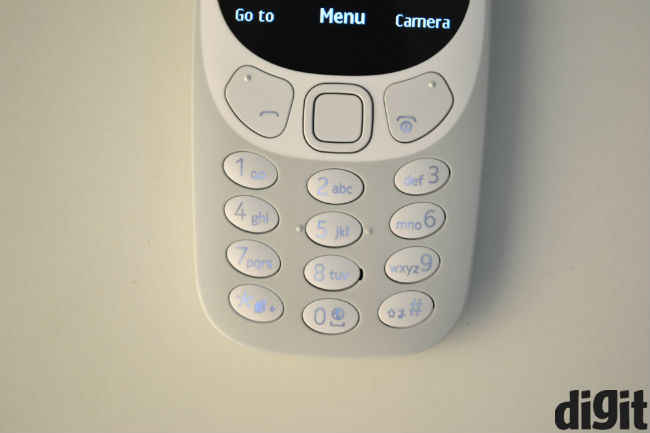 The D-Pad is somewhat tougher to get used to. Since the button in the middle is for selecting things, I kept pressing it when trying to navigate around the menu etc. There are Receive/End call buttons on either side of the D-Pad and the top of these two buttons are used to select whatever is on the bottom left/right of the screen. That will change from app to app.
Connectivity: Disappointing…
To me, the most disappointing of all of Nokia's decisions with this phone is that the 3310 only offers 2G connectivity. Sure, the Indian market still has a huge 2G user-base, but this would have been the perfect time for Nokia to spearhead the 4G feature phone market. The 3310, in my opinion, should have been THE 4G feature phone that Lava, Reliance Jio and others would have to compete against. At Rs. 3310, that's not much to ask either. If not 4G, even 3G connectivity would have been better.
Alas! 2G is what you get here and I wish you best of luck for browsing Facebook or other websites on such a connection.
Camera: A placeholder spec...
A 2MP camera would have been a great leap when the original 3310 was launched, but it's not so today. The 3310 also has a flash, that has to be turned on manually each time you want to use it. The camera itself is a placeholder here, with no real application. It'll be of little use in low light conditions, with or without flash. Even otherwise, it takes photos that wouldn't stand a chance against the cheapest of smartphones today. Photos are clicked in 1600x1200 pixel resolution.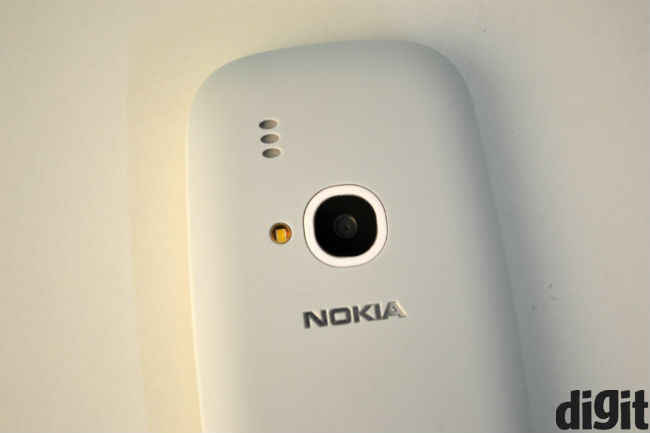 The camera can shoot videos too, but those are possible in daylight only, since you can't use the flash when shooting videos, and video quality in general isn't worth writing home about. It shoots videos in 320x240 pixel resolution and at 8 frames per second. You will have to use an SD card if you plan to shoot videos with this device. Videos are stored in .3gp format.
Battery Life: Back to its roots…
The 1200 mAh battery inside the Nokia 3310 won't disappoint. I've finished the entire campaign of Snake on this device and I've played some Asphalt 6 too. I've done a lot more, but I haven't charged the device in the last 7 days. It's not surprising for a feature phone, but it's good to see HMD Global could keep the Nokia 3310's greatest strength alive. Its battery life is why many say this would be a good secondary device for some users. Honestly speaking, I wouldn't trade 7-day battery life for everything else that I lose.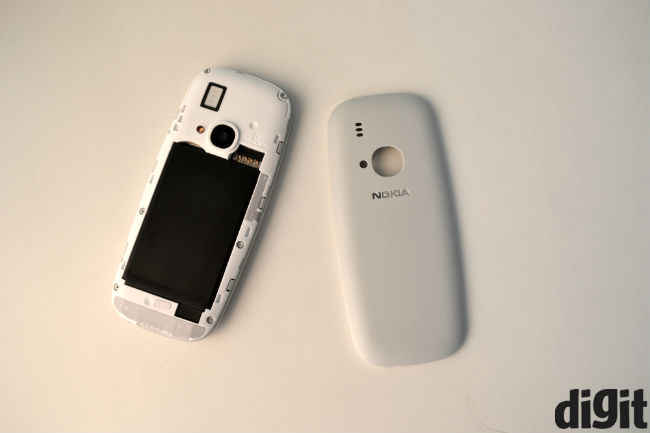 Bottom line: For the markets we don't know about…
I do not necessarily agree with that secondary phone argument. The Nokia 3310 has no place in the smartphone infested Tier I market. You can't have a phone that doesn't have modern connectivity, can't connect to the Internet fast enough and can only really make phone calls and text messages. As much as some would like to believe it, phones are no longer for calling and text messaging only. In fact, calling and text messaging aren't even what we buy phones for anymore.
On the other hand, feature phones account for a huge part of the Indian mobile market still. That's largely in Tier II, III and IV markets in the country. But, I wouldn't recommend the Nokia 3310 to feature phone buyers either. The camera etc. are mere gimmicks here and don't warrant the price tag. You're better off buying something like the Nokia 150.
I do understand that feature phone buyers don't care about the added features as much as I do. However, all of this is done better on the Nokia 230, which adds a front camera to everything that the 3310 has. It costs only a few hundred bucks more online. The Nokia 3310 overplays its hand with the nostalgia card. In the markets that this phone is aimed at, nostalgia makes nary a difference. In fact, many will not even know what the Nokia 3310 stands for.
To me, the Nokia 3310 is a mascot for the return of Nokia. It's not what you pay for, but it reminds you what the company is all about. Unfortunately, the new Nokia 3310 is not what I want to remember Nokia by. The company has made changes for change's sake and missed the one real difference maker in connectivity. It's overpriced and depends too much on its heritage.
We changed oue test process for the Nokia 3310
Since our regular objective tests aren't possible on the Nokia 3310, we had to revamp the test process for this phone. To do this, we rated the phone based on durability, ease of use, software and many other aspects. These ratings were done by the entire Digit team and an average of all those scores were taken. So, the final score is a combination of what all of us think of this smartphone.
Further, the test scores were kept objective wherever possible. For example, the camera is still rated based on image quality, rather than taking different opinions, as are aspects like connectivity and battery life.