The hot and highly anticipated Moto G from Motorola will be hitting the Indian market in a matter of days. We got an early hands-on of the device and did a quick review of its performance and compared it with other popular smartphones in the same mid-range segment.
We have compared the Moto G with some smartphones that fall in the same mid-budget category including the Micromax Canvas Turbo, Samsung Galaxy Grand Quattro, Nokia Lumia 625, Karbonn Titanium X and the Xolo Play.
Check out the spec comparison table below: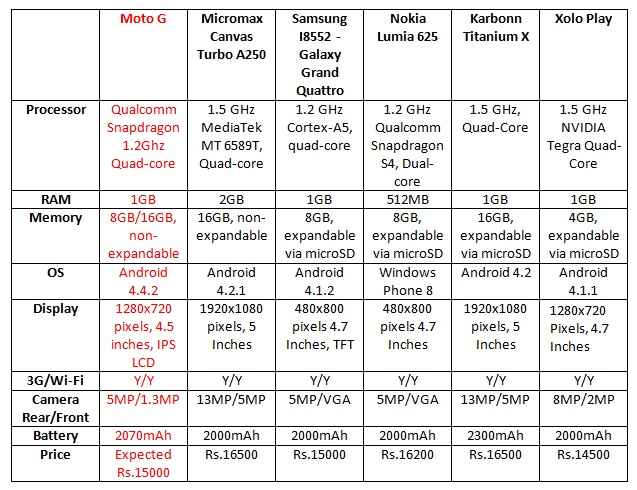 The Moto G doesn't seem to be the best of the lot when it comes to specs but at the price segment and the added brand value, the smartphone can be a market changer.
Jumping onto the synthetic benchmarks, we carried out some tests and here are the results.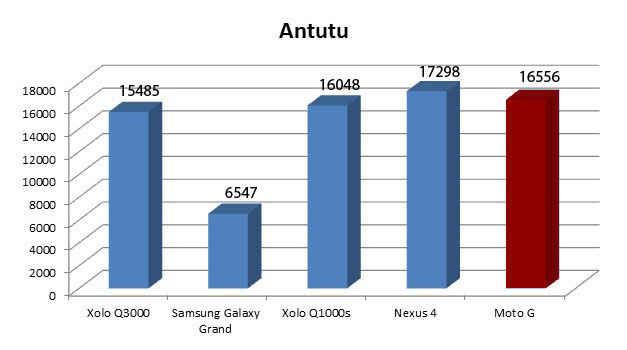 On Antutu the Moto G scored as good as the Xolo Q1000S and almost reached the scores of the LG Nexus 4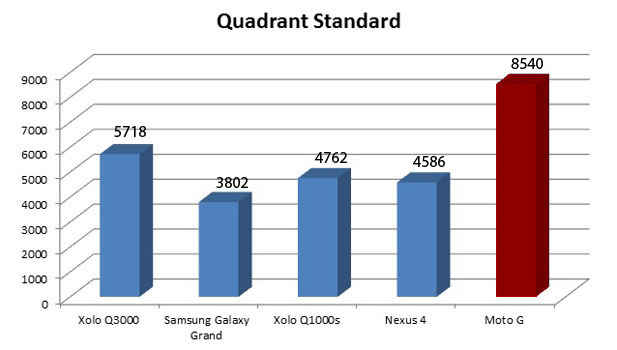 The Moto G beats the Nexus 4, by a huge margin in the Quadrant benchmark scores.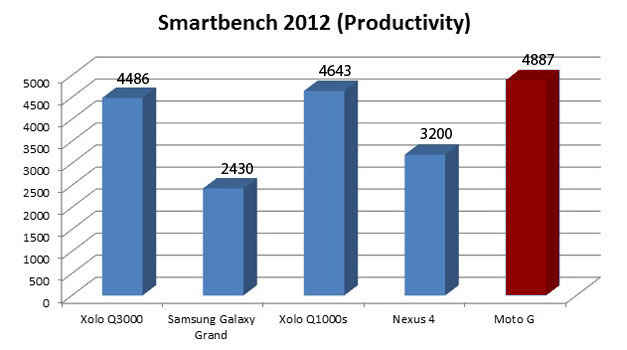 The productivity scores for the Moto G were excellent which means that the smartphone can handle everyday tasks including email, social media browsing, internet browsing quite well.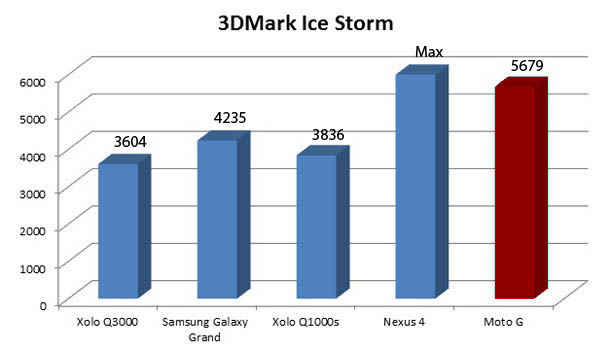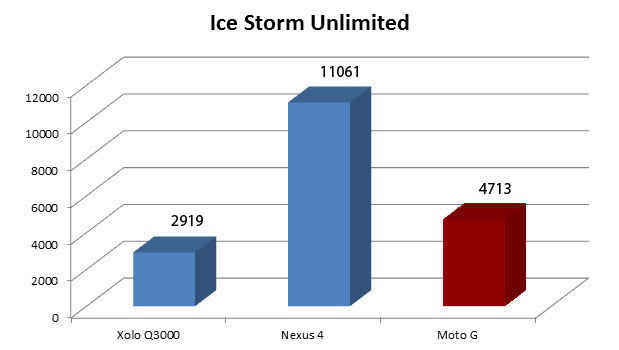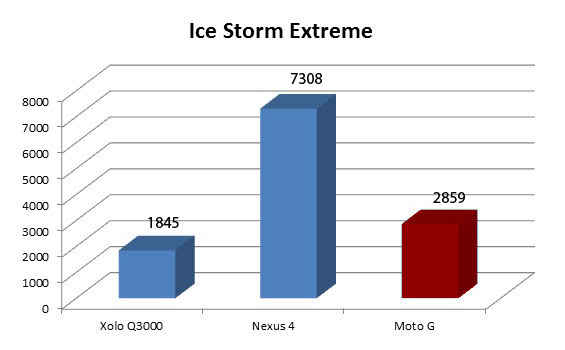 In the 3D Mark scores, which primarily focus on graphics performance, the Moto G performed well although not as good as the Nexus 4.
As the smartphone runs on stock Android 4.4.2, day-to-day performance is pretty slick. Apps run seamlessly and we didn't notice any glitches. The display is a 4.5 inch IPS panel with a 1280x720 pixel resolution and offers a respectable 326ppi pixel density. The display is crisp and the touch response is buttery smooth. The camera module on the Moto G has a 5MP sensor and performs surprisingly well. In bright conditions, pictures produced have nice colours although there is a slight lack of quality and sharpness. In low light conditions, the noise reduction does wash out details which results in grainy pictures.
The Moto G seems to be a good performer and also offers some decent specifications. For now, the official price of the smartphone is not confirmed, but we expect the 8GB version to launch at about Rs.15,000 and the 16GB version at Rs.18,000.
Also read:
Motorola Moto G now listed on Snapdeal, due in 3rd week of February
Motorola Moto G: Overview of design and build quality
Motorola Moto G coming soon to Indian buyers through Flipkart
Motorola Moto G launch details for India to be announced on February 5
Moto G Google Play Edition goes on sale for $179
Motorola Moto G: 5 reasons why you should wait for it to launch in India