Rating: 71/100
As the world continues riding the 4G revolution, the Indian story is evolving rather interestingly. That, of course is fueled by Reliance Jio, Micromax and more, who decided all of a sudden that feature phones are still important. A number of Indian mobile phone users still use these phones, and though they will eventually migrate to smartphones, companies are looking at a few year's worth of business from them. So, phones like the JioPhone, Micromax Bharat 1 etc. are not just feature phones, they are stepping stones to your first smartphone.
Hence the term "smart feature phone". These devices support 4G connectivity, give you access to content. In other words, they do a bit more than the Nokia 3310. Speaking of which, this is exactly what I think the 2017 Nokia 3310 should have been in the first place. That said, though I found a bunch of interesting elements with the JioPhone, I found what could be a fatal flaw as well.
Build and Design
I admit, it's somewhat foolish to describe the design and build of a feature phone in 2017. But I marvel at how sturdy phones used to be back in the day. The JioPhone is a simple feature phone that'll slip into your pocket and have you forget that it's there. It takes you back to the days when you didn't have to worry about broken screens and unsightly scratches on your phone.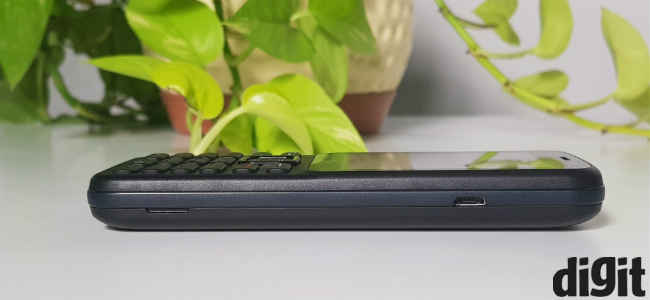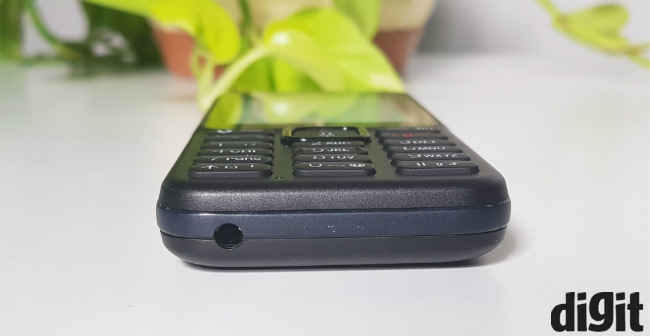 That said, I like the keyboard on this one. Being used to smartphone touchscreens, I often find buttons on the T9 keyboards hard to press. That didn't happen with the JioPhone, though I do miss the "back" button (more on this in a bit). The D-Pad is on the top-centre of the keypad. You long press the bottom part of this button to activate Jio Voice (again, more on this later) and do the same on the top half to activate the torch. On either side of the D-Pad are the two Function buttons, while below these you find the call and disconnect buttons. The number pad is below all of this.
On the top section of the JioPhone's back panel is the camera, with the speaker grille next to it. The LYF logo lies below this, while there's a headphone jack on the bottom of the phone.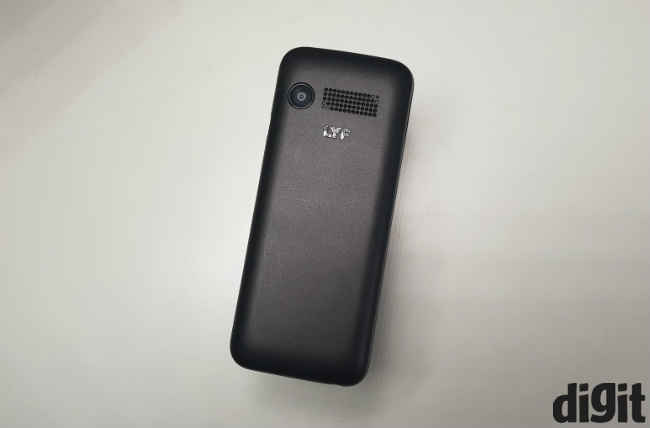 Display
You get a 2.4 inch 240p TFT display on the device. While the spec isn't surprising for a feature phone, I find the viewing angles a tad too bad. Yes, I do not expect it to be up to smartphone standards, but I can't even read things on the screen when the phone is on a desk and I'm sitting just about a feet away. I admit that it's not a deal breaker, but it could be disappointing for buyers.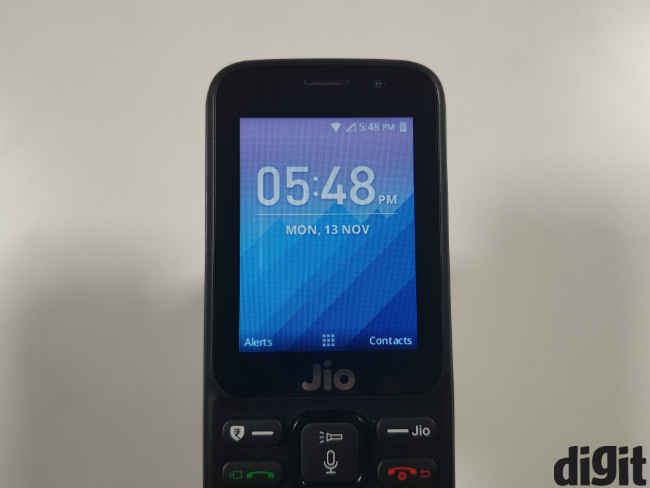 Ease of use: Smart, yet dumb…
The JioPhone is a "smart" feature phone, so it's slightly different from what we know. You'll see Jio's apps on the menu and some functions work differently. This is where the lack of a 'back' function becomes somewhat irritating. You see, the JioPhone runs on a KaiOS, which is a screen-based system, just like smartphones. As you go deeper within an app, you will be entering new screens. And the only way to return to the home screen is by pressing the call disconnect button, that acts as the back button. In the long run, that just makes for too many button presses. A better implementation would be to use one of the function buttons for going backwards, while the disconnect button simply brings you back to the home screen.
Other than that, the JioPhone is easy enough to use. You press down on the D-Pad to enter the app drawer and navigate using the directional keys. Jio's apps are redesigned to work with the keyboard, but here we face another anomaly. For instance, in the JioMusic apps, you can press the various number keys for some functions. Here, the 3 and 4 keys will control volume, while the 2 and 8 keys will bring up the Player and Settings. There seems to be no logic in that method. At least not something that's easy to understand any way.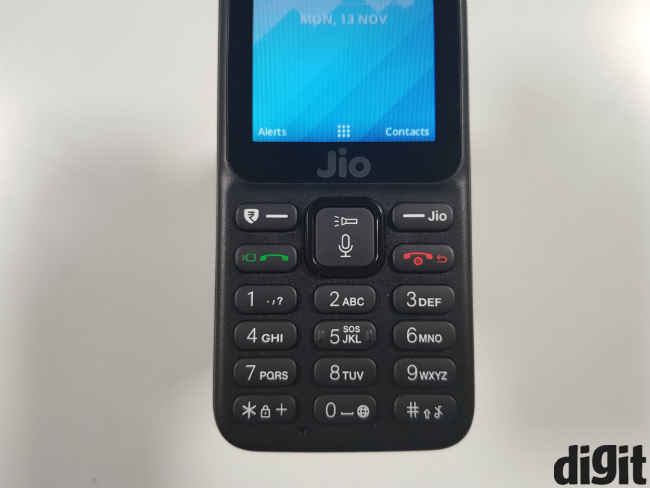 That said, this isn't a deal breaker either, but it does point to rather low standards of UI design. There also seems to be no way to manually lock the keypad on the JioPhone. You can set a passcode lock, but the screen and keypad will be turned off automatically, based on your settings.
That said, there are some nice UI elements. In fact, KaiOS seems to be a more evolved interface as compared to Firefox OS (which it is based on). The JioPhone lets you mark favourite apps, gives you access contact suggestions when typing a number to call and more. There's even a Quick Settings screen that can be brought up by pressing the up button on the D-Pad when on the home screen. The phone also gives you quick alerts notifications on the top of the screen when needed.
Pressing the right button when on the home screen launches the camera, while the left button to launches Messages. Pressing down brings up Music.
Apps and Games
Jio has always tried to promote its service ecosystem, through its various apps. You'll find pretty much all of these on the JioPhone. You can use JioCinema to watch movies, while Jio Music streams audio. There's also Jio Games that can be used to download some basic games on the device.
All of these apps have been tuned to work on a feature phone's setting. In fact, the JioCinema app even rotates the screen when watching movies. I doubt anyone would actually enjoy watching movies on a 2.4-inch screen, but to Jio's target market, that may still make sense. Similarly, Jio Music has separate screens to show what's playing, browse and more.
The JioPhone also supports NFC based payments, though that service will actually be activated at a later date through software update. Speaking of which, Jio will be sending OTA updates to this phone for new KaiOS versions, app updates and more.
There's a JioStore app on the device, which currently allows access to other Jio apps, but may have more apps in future. All of Jio's own apps are also placed within the app drawer by default and you can't reorder their placement, or change the placement of any other app on the device.
Because of all these apps, the JioPhone can do many things that its brethren can't. For instance, you can use the JioVideoCall to make voice calls, JioTV for live television, JioXpressNews for news content and more. There's also a chat client in the form of the JioShare app. While Jio has said that WhatsApp may be added to the device at a later date, the app is currently unavailable on the phone. You can use the Browser to surf the web, although it's neither intuitive nor particularly useful. It'll work for basic Google searches at best.
Does it support tethering?
That would be no. However, Jio says the functionality may be added at a later date.
Camera
There's a 2 megapixel camera on the back of this phone. While usually I would explain white balance, details and more, it makes no sense to do that for this camera. This camera is meant to be there for the sake of specs. The camera is handy if you just need to click quick photos for remembering particular moments or objects. But that's about all you can get from this camera. It won't take stellar photos and is really meant for basic users who haven't ever been exposed to smartphones. Oh, and by the way, it shoots videos and takes selfies too.
Battery
With 4G, Bluetooth, GPS and WiFi, you can't expect actual feature phone level battery life from the JioPhone. That said, it will still last you longer than any smartphone on a each charge. My particular unit seemed to last almost about 48 hours per charge, which is as high as anyone would need, but lower than what regular feature phones do. Case in point, the Nokia 3310.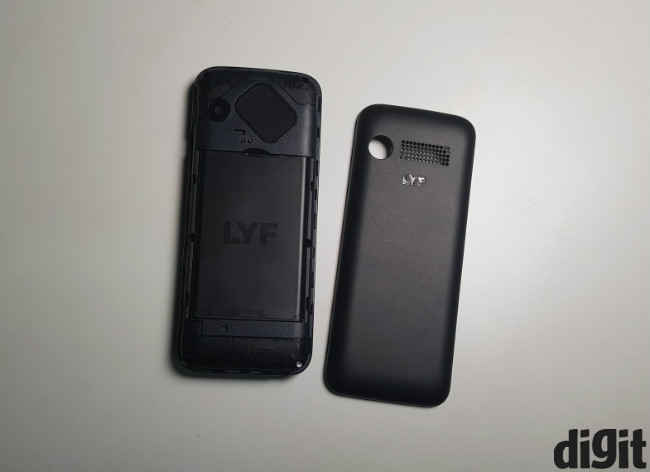 Bottomline
I've said this before, the JioPhone is a device meant for those inching towards smartphones. Having reviewed the phone, I do stand by that. Its 4G capabilities and apps will give any feature phone user a taste of what smartphones can do, and edge them towards actually purchasing one. I do understand the business sense behind locking this to Jio SIM cards only, but I feel it would have served the greater good if it was open to all users. Oh well, that's corporates for you! If you do plan to stick to Jio's services, then yes, buy the JioPhone.