Reliance Jio's foray into the low-cost 4G segment has sparked the interest of its competitors. To survive, Jio needs to become the primary service provider for companies, while Airtel, Vodafone and others have to ensure that their customers aren't poached. The Jiophone is of course a basic device, but it's drawn a lot of interest from users all over the country. So, what do Jio's competitors do? Airtel joined hands with Karbonn to launch the Karbonn A40 Indian, a full-fledged smartphone that makes many compromises in favour of cost. In turn, BSNL and Micromax got together to announce a phone called the Micromax Bharat 1.
All of these devices come with various plans and offers from their respective telcos. But today, we're focusing on what these phones offer as standalone devices. The Micromax Bharat 1 and JioPhone are certainly comparable, but the Karbonn A40 Indian is certainly a step ahead, being a full-fledged smartphone.
JioPhone and Micromax Bharat 1: One supports WhatsApp, the other does not
As feature phones, the JioPhone and Bharat 1 are actually quite impressive. The USP here is of course in the fact that they support 4G connectivity, but they both have much more to offer. For instance, the JioPhone has JioCinema, JioTV, Jio Pay, Jio Games and some other Jio apps preloaded on it. Perhaps more importantly, the quality of content on Jio's applications seem better. The Micromax Bharat 1 has an app called "Fun" on it, which allows content streaming on the device. However, Micromax's collection seems to be from B-grade movies that we, at least, have not heard of.
The good thing though is that both phones seemed to stream content with reasonable smoothness and we didn't face any issues navigating through the apps to find content. On the other hand, what's probably more important to consumers is that the Bharat 1 comes with WhatsApp built in, whereas the JioPhone doesn't support the app, at least for now. Micromax has somehow ported the app to the Bharat 1, adding a mouse cursor that's moved using the usual navigation keys. Since the Bharat 1 runs on Android, it was probably easier for Micromax to add WhatsApp support.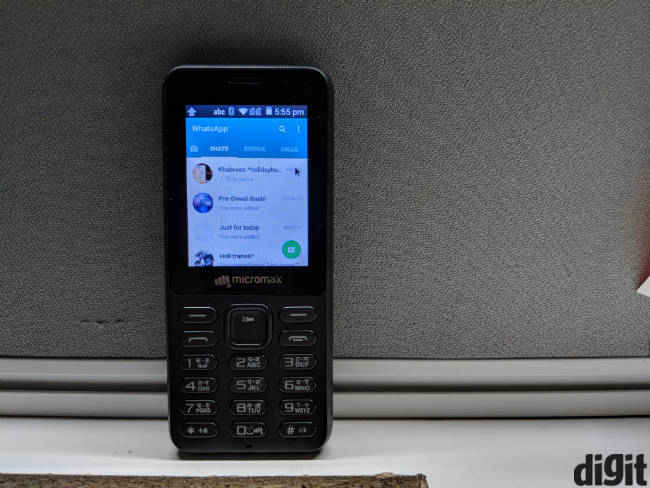 The Micromax Bharat 1 has a version of WhatsApp built in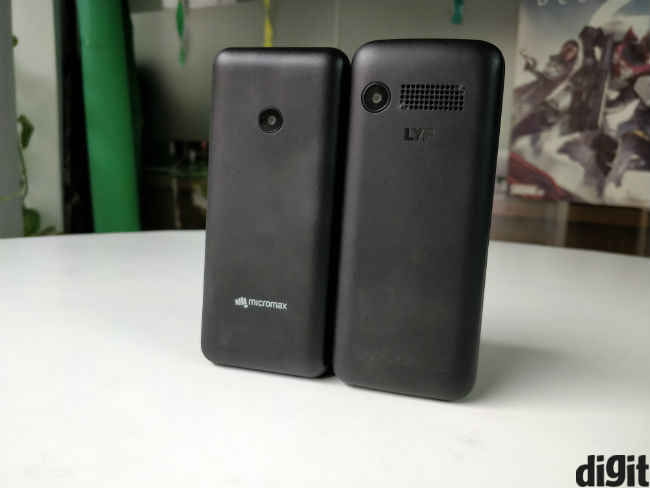 The JioPhone and Bharat 1 can be differentiated from the back
But barring WhatsApp support, neither phone brings particularly rich app support. In fact, Micromax had said that the device would ship with the Google Play Store, but we don't see a way to download additional apps on the Bharat 1. To be clear, Jio also offers its own apps only.
In using the Bharat 1 and JioPhone side-by-side, usability and navigation seem identical. Of course, Micromax has used a different UI, similar to the Android interface once seen on the Nokia X smartphone. On the other hand, Jio uses KaiOS that gives you an app drawer and a traditional home screen.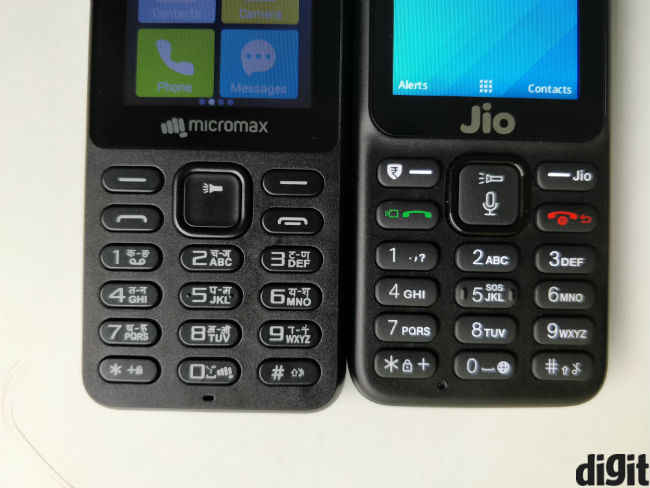 The JioPhone and Bharat 1 look similar up front
From what we've seen so far, the screen on the JioPhone looks slightly better compared to the Bharat 1. That said, don't go expecting top end content consumption experiences. Both screens are feature phone quality and at 2.4-inch, with lacklustre colours or viewing angles, they aren't well suited to watching content. Which is perhaps why Jio introduced the TV cable, which makes its phone a content streaming device for other better suited display panels. The Micromax Bharat 1 suffers in this regard. However, as phones meant for first tier III and IV users, you're still getting more than what most of their counterparts can offer.
Karbonn A40 Indian
As mentioned earlier, the Karbonn A40 Indian is a full fledged smartphone. That gives it a notable edge over the two others. First and foremost, the Google Play Store is available here to download apps. That means the A40 Indian can not only support WhatsApp, but you can download a plethora of other applications available on Google's store, most of which are indeed free. This also covers the problem of content consumption, and with Airtel's support, you can even get the company's Wynk apps for music and movies.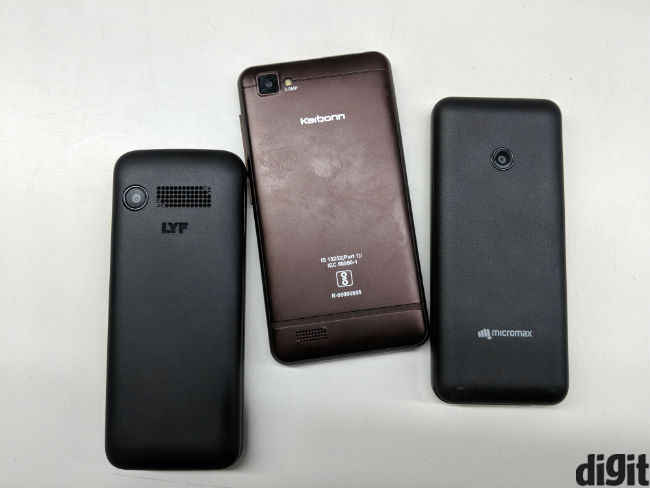 The Karbonn A40 Indian is barely ahead of a feature phone in terms of construction
The 4-inch screen and its accompanying touch experience is more intuitive than pressing buttons too. But that's probably more relevant for those used to smartphones. For someone who has used feature phones all his/her life, the touch experience may take a few days to get used to and learn.
The Karbonn A40 Indian has 1GB RAM and a 1.3GHz processor, which makes it difficult to offer a "good" Android experience. So, while user experience doesn't seem a whole lot better than the JioPhone and Bharat 1 in terms of speed, the A40 Indian's edge is in the fact that it has a more modern UI. While the other two are like gateways to buying your first smartphone, the A40 Indian is the budget smartphone that eggs you onto the powerful smartphones sold in tier I cities today.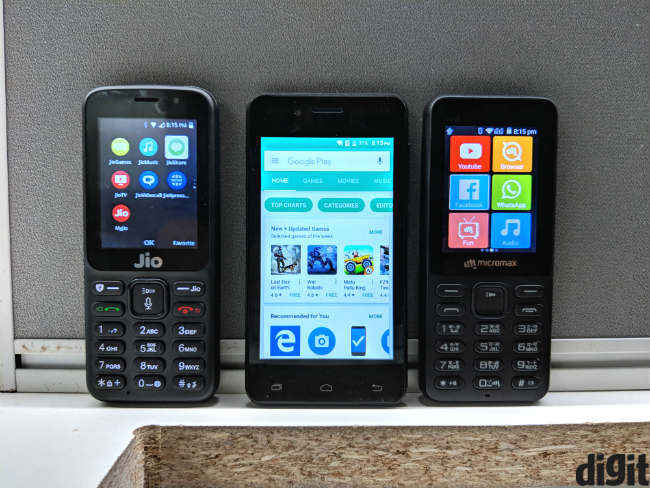 The Google Play Store gives the Karbonn A40 Indian a huge edge, but there's not much you can download with an 8GB internal storage
Camera
Neither of these smartphones have cameras worth writing home about. That's because neither company is catering to a camera conscious user. From a camera point of view, all we can say is that they have 2MP cameras and you can send photos of a poster you saw on the road to someone in need. The phones are obviously not meant for photography, and that is fine at these prices.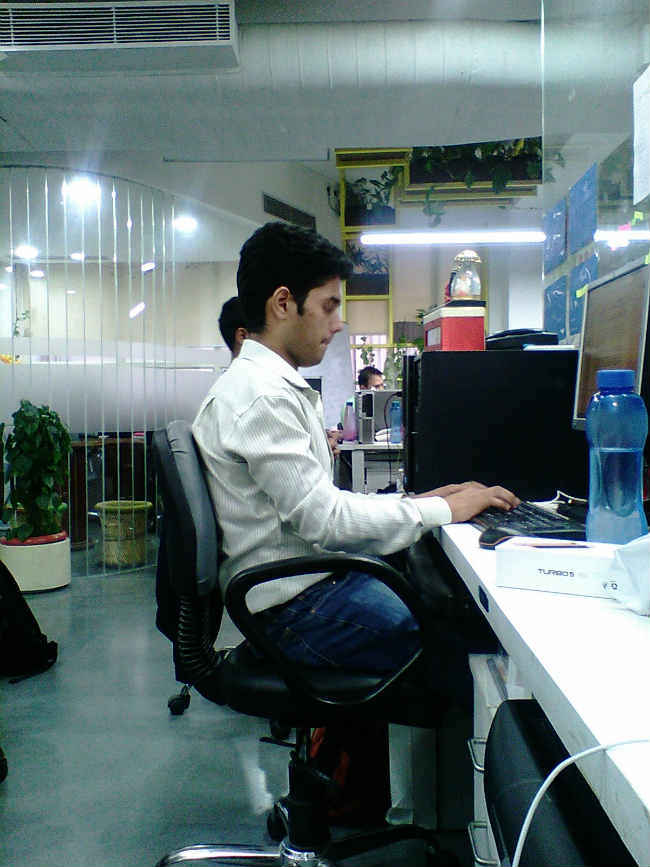 Clicked by the JioPhone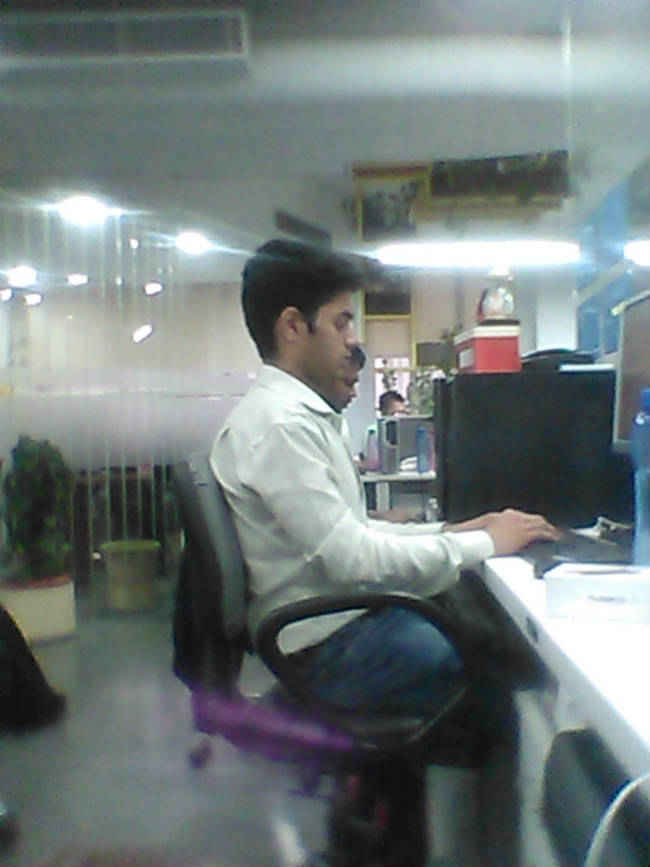 Clicked by Micromax Bharat 1
Clicked by Karbonn A40 Indian. All three photos have been resized for the web.
Storage and RAM
The JioPhone and Bharat 1 have 4GB storage inside, while the Karbonn A40 Indian has 8GB. We're faced with an interesting conundrum here. While 4GB is not a lot of storage, it's enough for any feature phone user. In fact, since the phones are even streaming video and music, you will barely need any space.
However, the same doesn't hold true for smartphones. With 8GB storage, the Karbonn A40 Indian is a recipe for disaster. You can expect to run out of storage within a year, even for first time and very light users. So, while you'll buy this phone for its cheap price tag, you'll probably have to upgrade soon.