For quite a while now, many of us had been looking at the pricing structure of iPhones in the U.S., and wondering if the "contract" pricing will ever make it to India. The network service providers in India, have till now been reluctant to follow a similar pricing, tariff and payment structure. Despite the likes of Airtel and others being "partners" when the previous versions of the Apple iPhone arrived in India. Happily though, things have changed, with Reliance GSM offering a rather interesting phone tariff offer on the iPhone 5S and the iPhone 5C. Or at least, that is what it looks like, on paper. But, does it really make sense to buy the iPhone under this offer? We look at the mathematics of it all, try to explain who this offer is really meant for, compare with what you may get with other operators and, well, in the end, let you decide. It is your money after all! For the purpose of this comparison, we are looking at the iPhone 5s.
What the Reliance GSM offer says...
The economics of the Reliance GSM plan for the new iPhones looks a bit overwhelming at first, but a little bit of persistence clears up the numbers.
The first offer, the one creating all the excitement, is called the Monthly Payment Plan. The numbers stack up something like this - you pay Rs. 2,999 per month for the next 24 months. This amount includes all taxes plus the 15% interest that the bank is charging and you will end up paying a grand total of Rs 71,980 at the end of the 24 months. The Unlimited usage extends to all local and STD calls, 3000 SMS per month, all usage during national roaming and unlimited data usage (3G/2G). ISD calls and usage on international roaming are not a part of the free usage.
For the 16GB version of the iPhone 5S, you do not have any down payment amount, while you will pay Rs. 10,992 for the 32GB version and Rs. 19,992 for the 64GB version. The EMI amount, tenure and the tariff plan remain the same throughout.
There is a second plan as well, called the upfront payment plan. For the 16GB version of the Apple iPhone 5s, you pay Rs 65,980 as a one time amount (Rs. 71980 - Rs 6000 down payment discount). For the 32GB version, you pay Rs 76,972 (Rs 82,972 - Rs 6000 down payment discount) and for the 64GB version, you pay Rs. 85,792 (Rs 91,972 - Rs 6000 down payment discount).

This is a screen grab of the offer details from Reliance's own website.
While you may be paying up front for the iPhone 5S, the Unlimited usage will be applicable on your account as well, for 24 months.
The nitty-gritties of Credit Card EMI payment
The EMI scheme (Monthly Payment Plan) is available for anyone who has a Citibank, Standard Chartered or ICICI Bank credit card. And a requisite credit limit as well, because you can safely factor in the fact that Rs. 72,000 (approx.) will be blocked on your credit card, and every month, after you pay the Rs. 2,999 EMI, the paid up amount will be freed up on the card. If you do not have a credit limit as high as that, bad luck.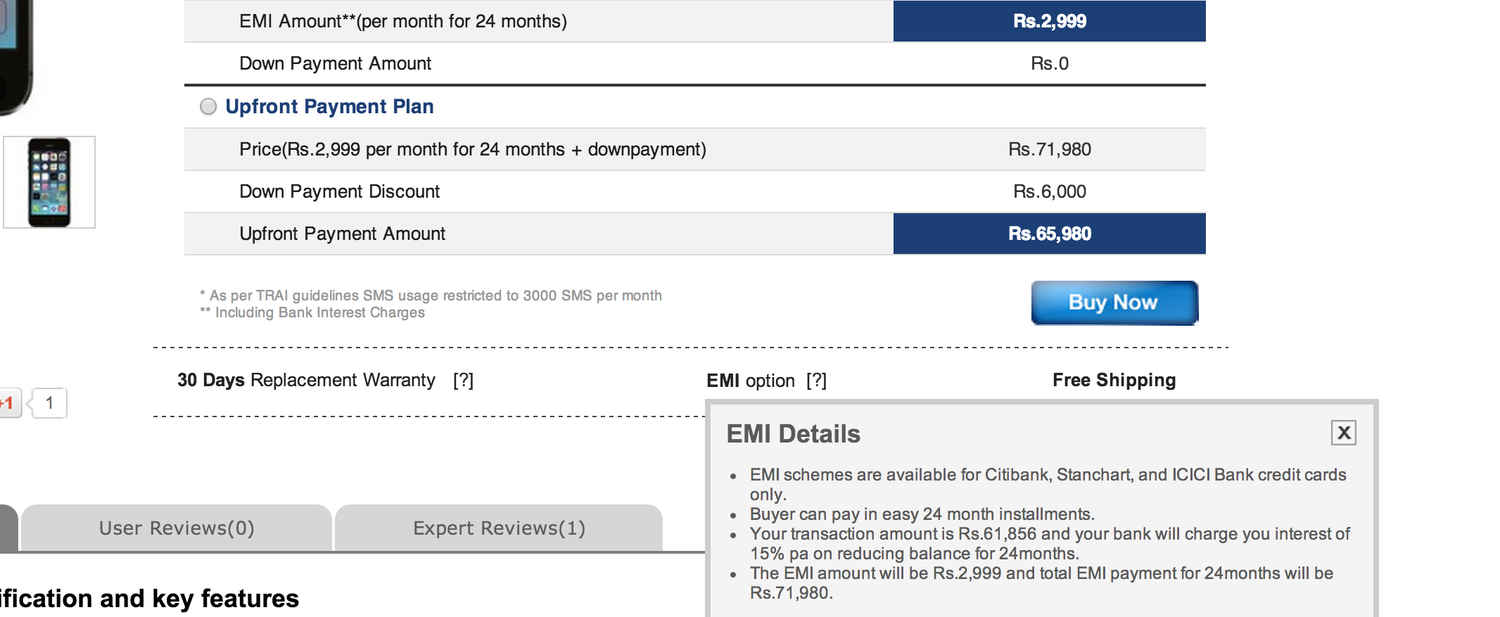 The Rs 2999 per month for the iPhone 5s is inclusive of taxes and the interest that the credit card company will charge you.
This offer is only valid on purchase of the iPhone 5S from Reliance directly - select Reliance Outlets and also through the online retail store - shop.rcom.in.
Comparison with the Airtel offer...
Compared to the Reliance GSM offer on the iPhone 5s, the Airtel offer just looks very boring, no disrespect to the brand or the scheme. According to the offer on Airtel's own online store, the iPhone 5S (and also the iPhone 5C and the iPhone 4S) makes you eligible for a 5% cashback offer, but only if you use a Citibank credit card.
Is the iPhone 5S unlocked?
Yes, the iPhone 5s that Reliance GSM is offering is completely unlocked, and you can use any valid GSM SIM-Card with the phone, if the need ever arises.
Can the Reliance SIM be used in another phone?
Yes, but with severe limitations. The SIM card that Reliance will provide with the iPhone 5S will have the Unlimited calls, SMS and data offer valid only when in use in the iPhone. If you swap it out and start using it in another smartphone, you will lose out on the tariff plan benefits.
Can I switch to Reliance GSM for this scheme?
Yes. Reliance says that you can switch to Reliance's GSM network from any other mobile service provider in the same circle, and avail this offer.
Who should buy the iPhone 5S with this scheme? And who shouldn't...
If you are an Apple fanboy, and would not be able to live through the next week without the iPhone 5S, you will upgrade anyway. If you have no issues with the Reliance network, you will upgrade anyway.
But, there is also the important aspect of usage pattern that needs to be considered. If at the moment, your monthly mobile bill is anything less than Rs. 1500 (including the 3G data pack), then you clearly are not a power user. And in most likelihood, will not be able to utilize the unlimited calls, SMS and data usage, to the fullest. In that case, you would be better off buying the iPhone 5S at the normal retail price, and carry on with whichever service provider and bill plan you are using currently.
If however, you are currently paying above Rs. 1,500 for your monthly mobile bill, it makes the utmost sense to consider paying a bit more, getting an excellent smartphone and a no holds barred tariff plan to go with that.
The Catch: Can you rely on Reliance's network?
This is the big question. There really is no straight answer to this conundrum, to be brutally honest. I might claim Reliance has an amazing network at my home, but someone living 2 kms down the road may not have as good a signal. This is true for almost all mobile service providers. Just to give you a better idea of how the signal coverage is in Delhi, for example, we have two maps which will give you the picture of how the network for Reliance GSM and Airtel are spread across the city and parts of the National Capital Region.
On the left is Reliance network coverage in Delhi, and on the right is the coverage area of Airtel's network. The images can be clicked to enlarge, to give you a better idea.
(Maps sourced from Sensorly)
Before you do consider going for the iPhone 5S (or the iPhone 5C) on Reliance, we would strongly suggest asking around, first and foremost. Ask friends and neighbours, basically anyone using Reliance GSM, about their experience of using the voice and data services in the area.
However, certain cases are very clear. Bengaluru, for example, has no 3G network for Reliance. Surely, you wouldn't want to spend so much on a smartphone and then end up using EDGE on it most of the time. But, on the other hand, Mumbai is completely connected via 3G by Reliance. Likewise, a look at various regions of India reveals a comparative networks spread between Reliance 3G and Airtel 3G, for example. All in all, you need to ask around, buy a Reliance GSM SIM-card to test - basically, anything that can give you an idea of how the coverage will be at your home, office, or wherever else you may frequent.
This is the map of parts of West and South India, comparing the Reliance network on the left, and the Airtel network on the right. The images are click to enlarge, to give you a better idea.
(Maps sourced from Sensorly)
Roaming will not be too much of an issue, because all operators have interconnect agreements in circles where they are not present. Essentially, if you travel from Mumbai to Vijaywada, rest assured, Reliance will get you 3G on your phone through any of the other operators present in the circle.
But, the issue of 3G coverage we are talking about is in the home circle, where you cannot shift to the 3G network of another operator.
Anything else I should know about?
Yes, lots actually. First, do remember that your credit card company is only focused on you purchasing the iPhone 5s at the moment. There will be an iPhone 6 and the iPhone 6s (assuming the same naming trend continues) a few months down the line. And there are chances you would want to upgrade. But, since you are buying into a 24 month deal right now, the only option at that time would be to buy the next iPhone separately. Because, nothing at the moment tells us that Reliance will offer a mid-term upgrade.
Second, you may be happy with 3G speeds at the moment, but with the 4G roll-out inevitable in the next few months, we do not know if the iPhone 5S users will get upgraded to the 4G speeds automatically. If not, that will be an additional expenditure, or a stumbling block, at that time.
With all this information, we hope you have been to understand better, the Reliance GSM offer on the iPhone 5s.
To get it from the horse's mouth, here is the comprehensive FAQ that Reliance provides on its website:
1. What is the special offer on iPhone 5S and 5C on Reliance?

We are delighted to launch Apple iPhone 5S and iPhone 5C plans on Reliance GSM.To own an iPhone 5S 16 GB, you only need to pay a monthly EMI of 2999 for the next 24 months. This postpaid plan will have zero rentals, zero charge of local and STD calling, Zero charge for local and STD SMS, zero charge for 3G/2G data usage!

To own an iPhone 5C 16 GB, you need to pay only 2599 as EMI for the next 24 months. Please remember, that during this 24 months you can use your iPhone for unlimited local and STD calls, send unlimited number of local and STD SMS, browse on our 3G network for unlimited duration. This postpaid plan will have zero rentals, zero charge of local and STD calling, Zero charge for local and STD sms, zero charge for 3G/2G data usage!

2. Can I get an iPhone 5S/5C from you on the CDMA network?

We are not offering these iPhone models CDMA, at this point in time. The attractive plan offerings are currently available on Reliance GSM

3. Is this offer applicable on MNP As well?

Yes we will be delighted to extend the exciting offer on MNP as well and we welcome all customers on Reliance GSM wanting to avail unlimited benefits on the special truly unlimited iphone bundled plan

4. Is the handset locked to Reliance services or can I use any other SIM?

The iPhone purchased through Reliance is not locked to Reliance. You can use the iPhone for any SIM of your choice. However, since this is a bundled offer, it is in your interest to use Reliance.

5. What happens if I buy the iPhone 5S/5C bundled offer and then I move to another operator in the next 24 months?

If you face any issue with regards to our service, we will ensure that the issue is sorted. If you still decide to move on, you can move to any operator subject to MNP clearance. Please note, in these cases, there will be no refund on discontinuation of service

6. What does the postpaid plan have?

Unlimited voice calls include Local and STD calls*. However, ISD calls will be charged as per the applicable tariff

7. What is the data speed I will get?

You can enjoy unlimited 3G data from your mobile. The speed of the data will vary based on your location and our corresponding network coverage and 3G license in that location.

8. Will I get unlimited free usage while roaming as well?

Your unlimited free usage includes usage on roaming as well .You will not be charged for local and national usage. International calls/SMS will be charged

9. Will I get a bill every month?

There will be an invoice generated every month. However, if you are not making ISD calls/ SMS / ISD roaming, you will not have to make any payment.

10. Will I need to pay any security deposit for activation of ISD services?

The ISD services will be auto activated and you need not pay any security deposit

11. Will this plan work, if I change my handset anytime within 24 months?

All benefits of the offer will work even if you change your handsets in the next 24 months.<br>
However pls note this plan will not work in dongles and will work only in smartphones

12. Can I buy this offer without the EMI will full down payment?

Yes, you can buy this phone without an EMI. You will also get a discount Rs.6000 on the purchase amount.

13. How can I make the payment if I want to buy without EMI?

You can make the payment using your credit card without opting for an EMI, pay by cash or debit card.

14. Is there a fair usage policy when you say Unlimited?

No there is no fair usage policy as of now however reliance reserves the rights to discontinue the benefits if the plan is used beyond the prescribed TRAI Guidelines for any commercial/telemarketing activities

15. I want to avail the plan and I do not have 3G network in my state?

To get the best experience on this offer and phone, you will have to use in 3G circles. However, you can use this in 2G circles as well. Here you will get unlimited 2G data usage.

16. Is the offer available on select iPhone models or across all models?

This offer is applicable across the following iPhone models, purchased from Reliance.
iPhone 5C – 16 GB, iPhone 5C – 32 GB, iPhone 5S – 16 GB, iPhone 5S – 32 GB, iPhone 5S – 64 GB
If these iPhone models are purchased from outside and not from Reliance, this offer will not be valid. This is bundled plan for phone plan.

17. Is the EMI offer available only on Credit cards?

Yes the EMI offer is available only on credit cards

18. If Customer uses Credit Card, will the entire payment (Device Cost Rental for 2 years) get blocked?
Yes the entire value of the purchase is blocked

19. What all Credit Cards are accepted under this offer?

You can make a purchase using any of the following mentioned credit cards
1. ICICI Bank Credit Card
2. HDFC Bank Credit Card
3. Citibank Credit Card
4. Standard Charted Credit Card

20. Is the EMI offer available with Standing Instructions to Bank A/c / PDC?

No currently the offer is available only on credit cards whose EMI's will reflect in the monthly statements of the credit card

21. For some reason, if I am unable to use the handset / offer for couple of days or weeks, will there be any extension in the unlimited usage duration from 24 months?

NO the validity of the offer remains fixed for 24 months from the date of purchase and there shall be no extension for the unused period.

22. What will be the monthly rental after 24 months? Will there be any security deposit (local/ ILD/ Roaming) applicable after 24 months?

After 24 months the customer will enjoy truly unlimited benefits as available in the current combo offer at just Rs.1499 per month. There will be no separate security deposit charged for ILD roaming from these customers

23. Is there a fair usage policy for SMS as per TRAI guidelines?

Yes, As Per the TRAI policy the SMS is capped to 3000 SMS per month

24. I am a new Reliance customer. How much time will you take to activate this offer?

The special unlimited plan on iPhone 5S/5C will be activated immediately before you walk out of the store.
For MNP Customers, If you wish to port your existing number to Reliance, then our store representatives will help you with the MNP process. Your services will be activated as soon as we get clearance from the central authority and your existing provider. Please be assured that we will provide all the required support to make this transition smooth.

25. Is this offer available for existing Reliance customers or also for new & existing customers?

This offer is available for new acquisitions as well as existing customers

26. I am an existing Reliance GSM customer and I want to buy a new iPhone with the bundled plan. How much time will it take to change the plan?

Your plan will be activated within 48 hours of your purchase. We will also reimburse you for usage on local and STD voice, SMS and data till the new plan has been activated.

27. Where all can I get this offer?

This offer is available across the 59 Reliance World outlets or you can also shop the product online at www.shop.rcom.co.in

28. Is there an interest cost involved?

As per the new RBI guidelines, there is an interest cost since it is financed by the bank in easy EMIs. The EMI value specified includes the interest cost which will be specified to you separately at the time of purchase. Pls note the interest cost will be settled by you every month with the bank in your monthly credit card settlements. Also any interest that the bank may charge due to payment dues on the credit card has to be clarified with the bank.

29. Is there any buy back / special upgrade offer provided for existing Reliance iPhone users (especially to the iPhone 5 users who were recently acquired)?

No other buyback offer available currently.
If you have any queries, or wish to share any views, please get in touch with the author via Twitter.