Digit Rating: 52/100
Pros:
Compact, Well built
Cons:
Shabby performance, Sub-par battery life, Outdated specifications, No fingerprint scanner, 720p display only
The under-15k segment of our smartphone market is crowded with very powerful, value for money devices. The LeEco Le 2 and Xiaomi Redmi Note 3 hold the fort here, with both offering 5.5-inch displays, flagship class performance and 16-megapixel rear cameras. It is among these giants that HTC has introduced the Desire 630 into. This small, light smartphone from the Taiwanese company does not seem to offer anything extraordinary, at least on paper. Upon usage, however, it seems to fare much better than what its specifications indicate. How? Read on, for the HTC Desire 630 review.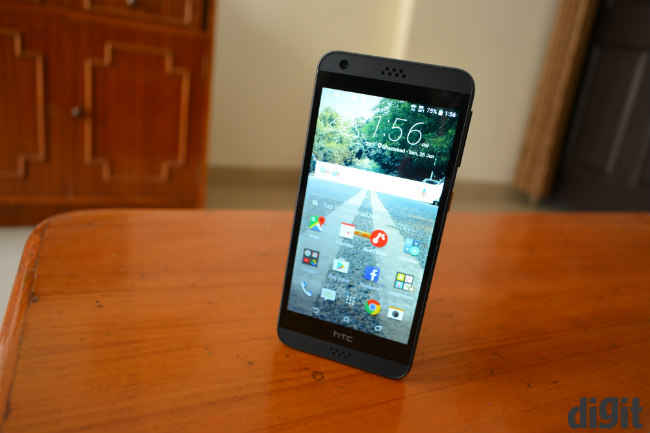 Build and Design: Conventionally different
If you have seen an HTC smartphone before this, you will find the Desire 630 quite familiar. The design language was set by the commercially successful HTC Desire 816, and since then, HTC has put its faith on similar design cues. Even though the Desire 630 here is made out of plastic and has no trace of metal, it is still very well-built. The quality of plastic is much better than many other smartphones in the budget segment. The matte black plastic with gold splatters add a dash of fun to the monotonous design of today's budget smartphones. It may not sit well with everyone, but most youngsters will like it.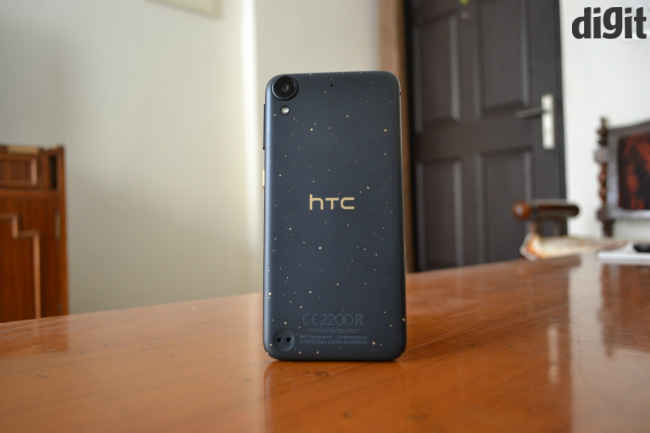 The rounded edges to the rear, along with a 5-inch form factor, thickness of 8.3mm and body weight of 140 grams make the device very ergonomic. There are two front-facing grilles, one of which is the speaker, and the other is the earpiece. There is no fingerprint sensor, either. To the left is the singular flap that conceals two SIM slots and a dedicated microSD card slot, and the overall arrangement adds a sense of neat organisation to the Desire 630. The power/unlock button has a ridge on top, and is slightly raised for ease of accessibility. The volume rocker is equally and conveniently raised, although it has been given a smooth finish to differentiate from the power button. This helps when you are trying to use the device without consciously having to fish for the buttons. The compact size of the smartphone also helps in reaching the buttons with ease, and button feedback is satisfactory. As you would expect, the device houses a microUSB slot, and not USB-C.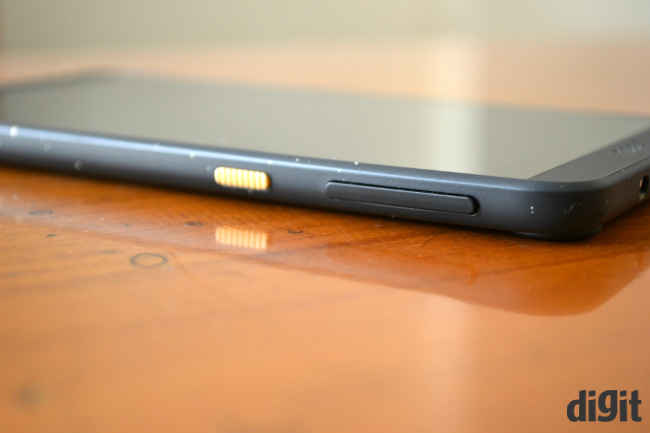 The HTC Desire 630, in short, gets a lot of things right with its build quality, design and ergonomics. Unfortunately, that is only half the job done.
Display and UI: Typically HTC
HTC's smartphones generally use good displays, and the Desire 630 is no exception. The screen resolution is not Full HD, but a resolution of 720x1280 pixels still render clear, crisp viewing clarity. It could have easily used a 1080p display panel, seeing that smartphones priced even lower than it nowadays flaunt Full HD screen resolution, but you will not be majorly disappointed with this one. It is not very bright, but does a decent job of offering good legibility in most lighting conditions. Despite the brightness being slightly lower than optimum, visibility under direct sunlight is acceptable. The colour temperature is slightly on the warmer side, and can be adjusted from Settings. The glass on top masks the disappointingly large side bezels, and to add to it, does not offer any screen protection.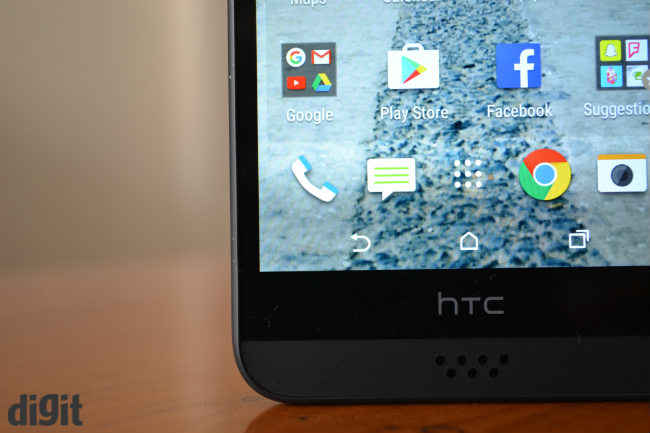 The HTC Desire 630 uses Sense UI v7 with Android Marshmallow v6.0. The interface feels reasonably light, and sticks with its usual vertically scrolling app drawer and BlinkFeed. It does lag every now and then, but remains reasonably functional.
Performance: Way behind the competition
The main reason for the Desire 630's sluggish performance is the age-old Qualcomm Snapdragon 400 processor, introduced first in the 2013 Moto G. It is a higher-clocked version of the original Snapdragon 400, and HTC has attempted to optimise it with the software as well as it could. This, though, does not save its face. Benchmark performance of the HTC Desire 630 is below the average in this category, which you will see in the benchmark graphs attached below. There are noticeable lags that you encounter even when you access lighter, frequently-used apps like Facebook, YouTube and the likes, which is nowadays unheard of in this price segment. It does serve your purpose if you are using it for calling, browsing and streaming, but multitasking is not a favourable experience. The gaming experience is not very smooth, and the aged processor really shows its strain. The freshness that the HTC Desire 630 brings in terms of build and display is entirely overshadowed by the dated performance.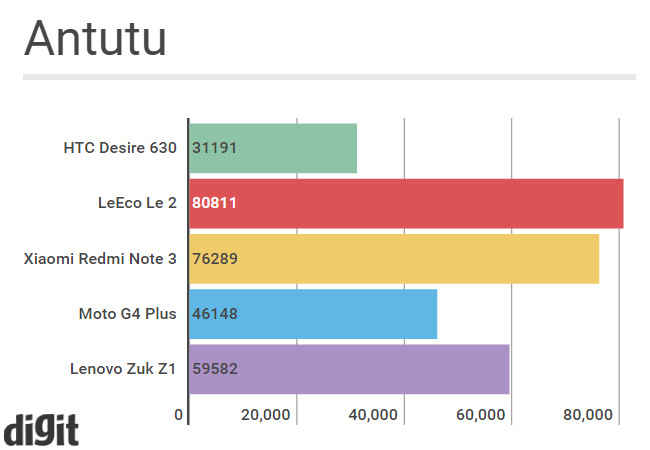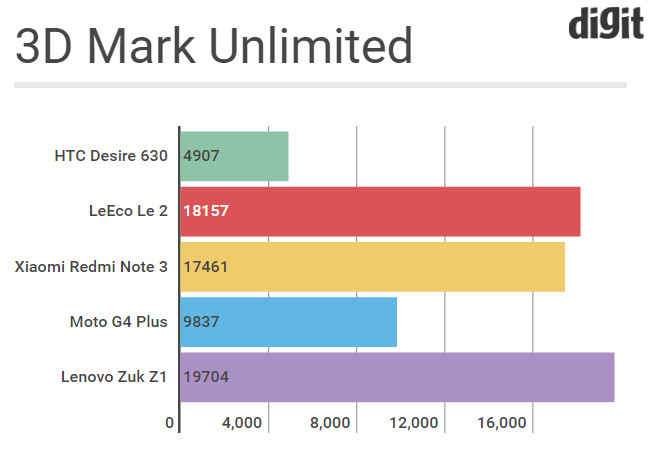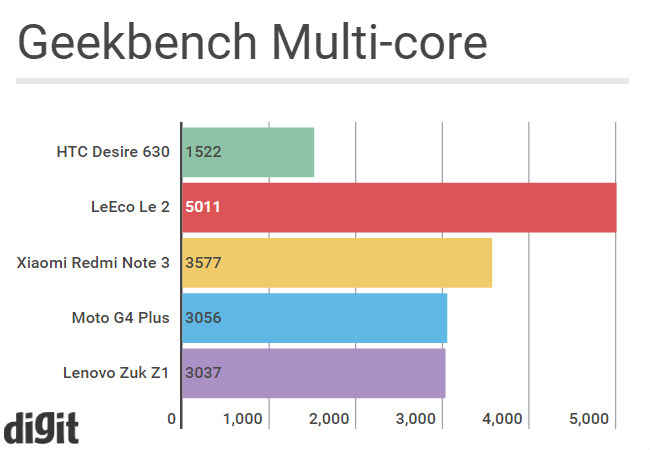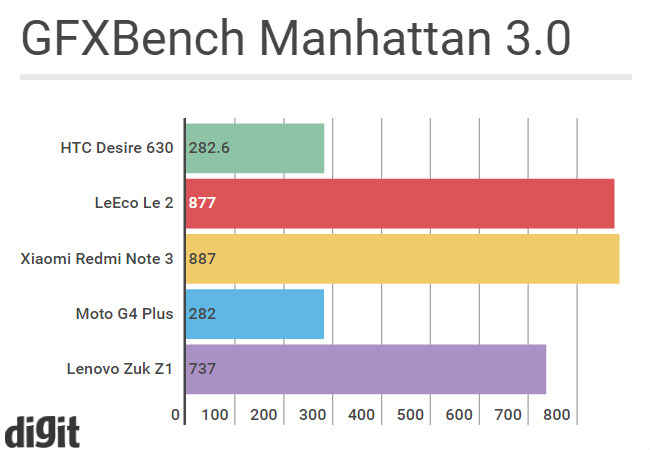 Audio quality via headphones is better when compared to other device in its category. This is due to HTC's BoomSound audio enhancements which make the audio a tad bit better. The single speaker at the bottom, though, plays at lower volumes than its peers, and makes for a disappointment, especially considering HTC standards. Call and network reception is standard, and the earpiece is amply loud for voice calls in the middle of crowded streets.
Battery: Half a day
Like its performance, the HTC Desire 630's battery is not that good, either. Most smartphones in its price category provide not only larger battery packs, but even better battery life. The 2200mAh battery on the HTC Desire 630 gives it about five hours of screen-on time, which translates to depleted battery stamina halfway through your work day. Approximately, the device manages 30 minutes of calling, 2-3 hours of music streaming, one hour of YouTube video streaming, half an hour of gaming and other miscellaneous stuff. In our Geekbench battery test, the smartphone lasted for about 5 hours and 23 minutes, giving a score of 2036 points.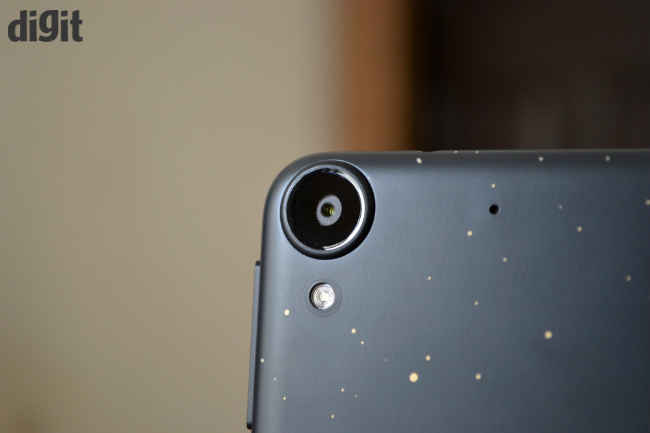 Camera: Good, but not great
The Desire 630 presents a 13MP rear camera, which presents mixed, unpredictable results. It shoots good photographs in ample light conditions, but fares poorly in low light. Photographs taken in bright fluorescent light lead to cooler colour balance, which is not the ideal end result. There is notable pixel noise in photos shot under low light conditions, and in an attempt to smooth it out, photos become soft. Shutter response is also quite sluggish, and the camera app itself takes some time to open. The front-facing camera is not the best either, and tends to soften most photos. Front-camera photographs also have an unusual warm tone, which does not really suit well.
View post on imgur.com
Bottomline
The HTC Desire 630 is one of the best in terms of design and ergonomics in this price category, offers a decent display panel and a reliable camera module. Unfortunately, performance is thoroughly unacceptable, battery life is weak, and you do not get taken-for-granted features like a 1080p display panel or a fingerprint scanner. It is not the best smartphone in this category by miles, and it is difficult to recommend it solely because of the compact form factor.