The Snapdragon 845 is official and it brings a wide array of numbers and statistics to make you drool. While the absolute numbers marketed by Qualcomm do look exciting, the practical results will only be apparent once the chip makes it to mainstream smartphones next year. Xiaomi has already announced that its next flagship will run on the Snapdragon 845, while Samsung should be using the chip on international variants of the Galaxy S9 as well. Other OEMs are also expected to make use of the chip.
So, what do all these numbers mean for your next flagship smartphone?
Better videos
The Snapdragon 845 supports a wider colour gamut than before, by as much as 97 percent, according to Qualcomm. To be precise, Qualcomm has added a bunch of functionalities to its new Spectra 280 ISP.
With this chipset, users can shoot videos in UHD Premium quality, which in turn allows a 64x bump in the colours produced. So, your videos will look more saturated and natural. To compare, the Snapdragon 835 could process 16.7 million colours, whereas the 845 will be able to process over a billion colours.
With increase colour depth, the Snapdragon 845 can produce videos for 10-bit display panels. As any cinephile will tell you, that's a sizeable bump in colour reproduction and an essential element for producing HDR10 videos. In essence, a video shot on your flagship phone should be ready for playback on your brand new UHD HDR television. It's worth noting that phones running on the Snapdragon 835 can playback UHD Premium content, but not shoot the same.
The bump to UHD Premium also means your videos will be brighter, as that's another requirement for this standard. The chipset allows flagship smartphones to shoot videos with up to 10,000 nits brightness. The Spectra 280 ISP also has noise reduction capabilities for still photos.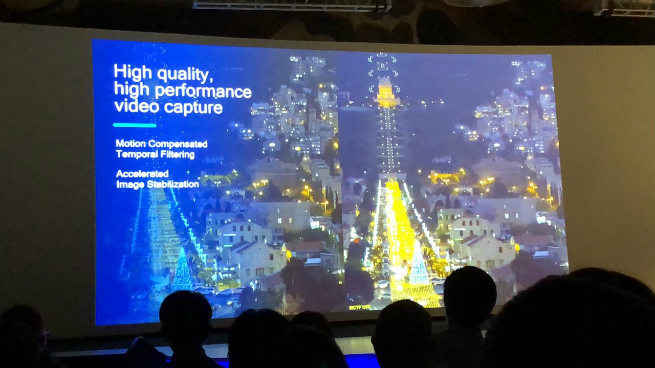 Photos and live photos
Apple wasn't the first to do Live Photos, but the company did set a trend with them. With the Snapdragon 845, Qualcomm introduced its ImMotion technology. This is a computational processing technology that allows movement within a still photo. It's almost the same thing as Live Photos, except that it can confine movement to a single part of the photo. Imagine a theatre scene where everyone on stage is standing still, while only one character moves.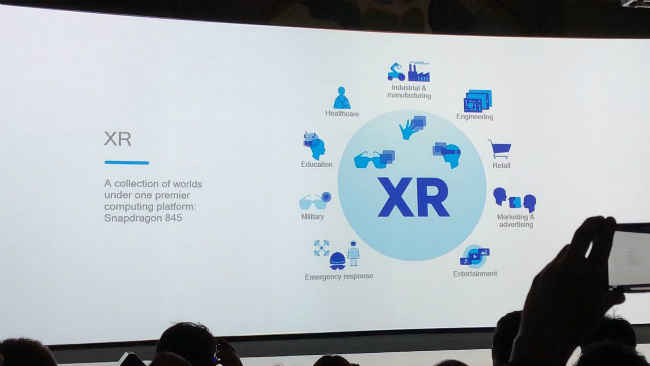 FaceID for Android
It was only a matter of time before Android OEMs devised their versions of Apple's FaceID. With the Snapdragon 845, Qualcomm is paving the way for the same. The Snapdragon 845 chip uses 50,000 infrared dots to map your face and use it for biometric verification.
In fact, this combined with under-display fingerprint sensors could give Apple a run for its money. Android phones could, theoretically have both fingerprint and face sensors now, on the same device.
Virtual Reality
The FaceID implementation could also allow better standalone mobile VR. The technology can be used to map your hands when wearing a VR headset, meaning you won't need controllers anymore.
Faster data speeds
Sometime in the near future, 4G networks will be replaced by 5G. The Snapdragon 845 is ready for this change, just like the company's older chipsets were supporting 3G/4G ahead of their time.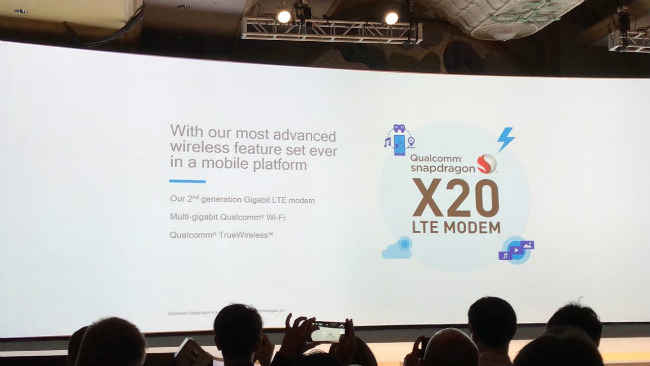 The company also said that the 845 will be 16 times faster in connecting to WiFi networks. And all of this is thanks to the new X20 LTE modem, which allows a 20 percent bump in peak and real-world data speeds over the X16 LTE used in the Snapdragon 845. Qualcomm says you will be able to download a 3GB movie in less than three minutes.
Bluetooth 5 and wireless audio
We saw Bluetooth 5 support on a bunch of phones in 2017, but speakers and other devices are yet to support the same. The Snapdragon 845 comes with support for Bluetooth 5 and in 2018, phones should be able to take full advantage of it. Qualcomm is also promising 50 percent better battery life when using wireless earbuds.
Faster performance
Qualcomm also announced 30 percent faster GPU performance on the Adreno 630 fitted on the 845 platform. That's important for VR and AR implementations. But that's not all.
Qualcomm is also promising a more efficient chipset, built on its second generation 10nmLPT architecture. The company says the Snapdragon 845 will be 30 percent more efficient.
The processor here is clocked at 2.8GHz for the performance cores and 1.8GHz for the efficiency cores. It uses Qualcomm's Kryo 385 architecture.
Artificial Intelligence
Keeping true to trends, Qualcomm touted the chipset's AI capabilities as well. The Snapdragon 845 allows phones to learn user behaviour and respond accordingly. With three times better AI functionality, Qualcomm is trying to make it simpler for everyone to implement AI on smartphones. In the long run, this might be useful for companies that cannot afford high R&D budgets like Samsung etc.
Security
The Snapdragon 845 comes with a Secure Processing Unit inside. This has its own random number generator, memory and processing power. It's completely removed from the rest of the platform, making it a vault to store biometric information. Your fingerprint, face id and more will be stored here.
Since it is a vault, it will not be accessible to any other parts of the system.
Dual-4G
Lastly, if a flagship smartphone runs on the Snapdragon 845 and has dual-SIM capabilities, then both those SIMs will support LTE speeds. Moreover, you can use Ultra HD Voice on both these SIms as well, provided your service provides supports the same.
UHD Voice allows better voice quality in low signal, which makes it extremely relevant for India.