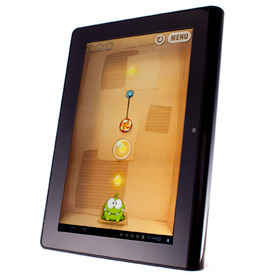 Sony is a master of design. Its products always look good, and the new Sony Tablet S is the prettiest Google Android Honeycomb tablet I've seen so far. It'll sell for a premium price, but not too bad, and if it works well, it'll definitely stand out in a sea of similar iPad competitors. I got some time with an early version of the tablet, and I'm impressed.
Sony hasn't made a great impression on me with its handheld products in the past. The one that jumps out at me is the
Mylo
, an awkward instant-messaging handheld. But the company seems to have finally come into its own with the Tablet S, which leverages Google's standard platform and wraps up a lot of Sony media services into the package.
The Tablet S has a beautiful, tapered look. It's all made of plastic, but it's classy plastic in black and gray. The tablet has a rounded top edge which narrows to a much flatter bottom; the effect, Sony says, is like holding a magazine that is folded back in your hand, and it makes the relatively large tablet much easier to hold one-handed, as its center of gravity is closer to your hand than you'll find with some other tablets.
A big, peel-away cover on the left side reveals a standard MicroSD jack and—woah!—a full-sized SD card slot, perfect for dropping a card in from your Sony digital camera. On the other side are the power and volume buttons. There's no HDMI port, as Sony would prefer you use its wireless DLNA technology to "throw" your video to a TV or wireless speaker.
[RELATED_ARTICLE]
The Tablet S runs Android 3.1, but Sony has made a lot of changes and added a lot of apps. Most notably, this is the first PlayStation tablet. No, it doesn't run PlayStation games out of the box—rather, Sony said a steady stream of rewritten PSOne and PSP games would become available through Sony's "Select App" app store. The tablet I played with came with Crash Bandicoot and Pinball Heroes, but of course the fun will really be based on how many more games Sony can get into the pipeline.
The S has an infrared emitter, meaning it can turn into a programmable remote control for your home electronics. The built-in Media Remote app works with most brands of home-theater gadgets, not just Sony's. But Sony's particular flavor of DLNA, which lets you wirelessly "throw" music or videos to Wi-Fi-enabled TVs and speakers, works best with Sony devices.
The customized browser on the Tablet S supposedly loads Web pages much faster than the standard Android browser, through a function called "quick view." Sony refused to explain this secret sauce (but showed it accelerating Web page loads), but it seems to be a data compression proxy like Opera uses to speed up its browsing.
Sony's a content company too, of course. So here you'll find Sony's Music Unlimited music streaming service, with 6 million tracks and streaming plans ranging from $3.99 to $9.99/month, and its Video Unlimited video rental store. The Crackle app is pre-loaded—that's Sony's free movie streaming app—and there's even an app for sending content to a
Chumby
, Sony's peculiar intelligent alarm clock.
There are a few false notes. That SD card slot is a bit odd. You can't actually access content on the SD card without "importing" it to the internal storage first, which is weird. That also means the SD card doesn't actually expand the S's memory.
I ran some benchmarks on the S, and it benchmarks right along with most Honeycomb tablets; like them, it has a Nvidia Tegra 2 processor, so that wasn't surprising. The S has a 5-megapixel camera on the back and a VGA camera on the front, along with Wi-Fi and Bluetooth.
The Sony Tablet S looks great, and it has a lot of neat features. Its real test will come in terms of stability and consistency, where many Android tablets fall down. If the tablet is fast and stable, it could get a comfortable high-end niche.
The Wi-Fi-only Sony Tablet S will be available in mid-September at $499 for a 16GB model and $599 for 32GB. A desk cradle will cost $39, and a dedicated Bluetooth keyboard $79.
---
Sony Tablet S : Horizontal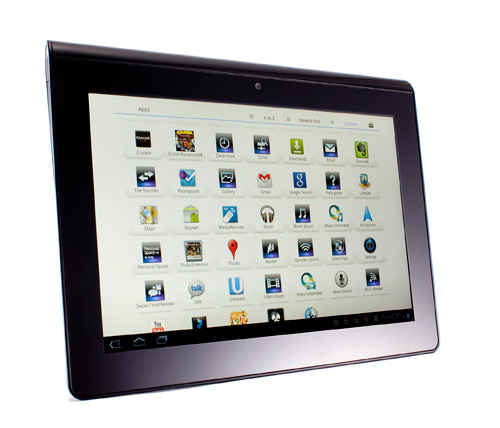 Sony Tablet S : Vertical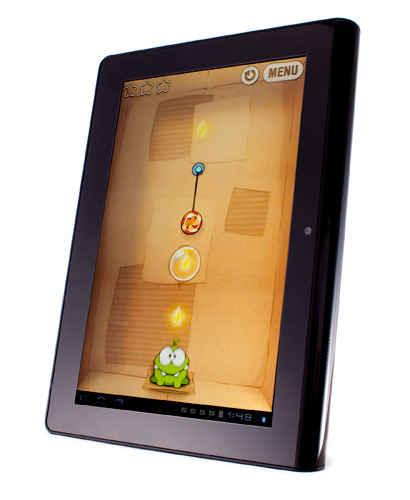 Sony Tablet S : Flat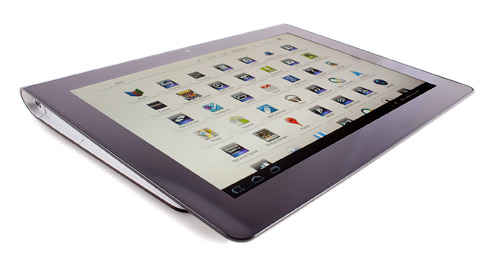 Sony Tablet S : Right

Sony Tablet S : Left Copyright © 2010 Ziff Davis Publishing Holdings Inc.