The Sony Ericsson Xperia Ray is by far one of the slimmest phones we have ever seen, and that lends a huge amount of uniqueness to the entire form factor. Basically, this phone has redefined the terms "slim" and "thin", at least in the smartphone ecosystem.
If you compare this phone's dimensions to its own slim (well, that terms is just relative now, isn't it?) sibling, the Xperia Arc S, the figures stand somewhat like this-
Xperia Arc S: 125 x 63 x 8.7 mm
Xperia Ray: 111 x 53 x 9.4 mm
Furthermore, the Arc S weighs 117 grams, and the Ray weighs 17 grams less!
The 3.3-inch LED backlit LCD display has a resolution of 480 x 854 pixels. Power isn't a shortage either, thanks to the Qualcomm Snapdragon MSM8255 processor clocking at 1GHz. This is a single core processor, paired with 512MB of RAM and the Adreno 205 graphics. There isn't a lot of internal storage space on this phone - 1GB shared among many things. Sony Ericsson very thoughtfully provides a 4GB microSD card with the phone. You can use one up to 32GB.
You must be wondering how comfortable it is to type on a display as slim as this, particularly in the portrait mode. Well, surprisingly comfortable, even though we switched from the traditional phone keypad to the full-blown QWERTY. The on-screen keys have a slight bulge design, which makes tapping the correct one a bit easier. Secondly, there is just that much gap between the keys to afford some breathing space for the finger, and allow you to type at a brisk pace.
Design and build wise, the Xperia Ray feels very classy. Despite being completely plastic, the materials used are high quality. The only design fault that we could notice straightaway is that the top panel has the lock/unlock key and the 3.5mm jack, and both have the same dimensions. So, if you want to unlock the phone without really looking but relying on the feel of the fingers, there are chances you will stumble upon the 3.5mm more often than not!
We have seen this phone retailing for about Rs. 19,000 in the market, and should definitely interest you if you want a sleek and lightweight Android phone.
Expect a detailed review from our side soon.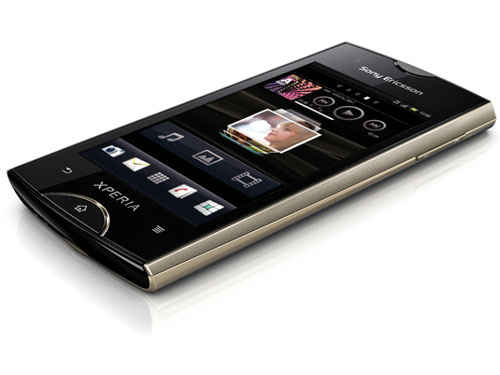 Vote and Win!

Digit Icons of Trust 2011 Survey

Visit http://thinkdigit.com/trust to vote for your favorite tech brands in India.
Survey participation gives you a chance to win exciting gifts like wireless input devices, earphones and special edition Digit branded T-shirts.
As an appreciation of your valuable time and input, every participant will receive an assured gift in the form of Digit discount vouchers.
We encourage you to participate in multiple surveys to increase your chances of winning more goodies.