With Google launching the Pixel smartphones yesterday, we have now seen the flagship smartphones of 2016 from every possible manufacturer. On this note, the thought that the time was ripe to compare the new flagship from Google, the Pixel XL smartphone, against its possible competitors in India - Samsung Galaxy S7 Edge, Apple iPhone 7 Plus, OnePlus 3 and Moto Z. Here's how they stack up:
Google Pixel XL
Samsung Galaxy Note 7
Apple iPhone 7 Plus
Moto Z
OnePlus 3
Price
Rs. 76,000
Rs. 50,990
Rs. 92,000
Rs. 39,999
Rs. 27,999
Processor
Qualcomm Snapdragon 821
Samsung Exynos 8890
Apple A10 Fusion
Qualcomm Snapdragon 820
Qualcomm Snapdragon 820
RAM
4GB LPDDR4 @ 1866MHz
4GB LPDDR4 @ 1794MHz
3GB LPDDR4
4GB LPDDR4 @ 1866MHz
6GB LPDDR4 @ 1866MHz
Max native storage
128GB
32GB
256GB
64GB
64GB
Expandable storage
No
Yes, up to 200GB
No
Yes, up to 256GB
No
Display size
5.5 inches
5.5 inches
5.5 inches
5.5 inches
5.5 inches
Display resolution
1440x2560 pixels
1440x2560 pixels
1080x1920 pixels
1440x2560 pixels
1080x1920 pixels
Display type
AMOLED
Super AMOLED
IPS LCD, Retina
AMOLED
Optic AMOLED
Thinness
8.6 mm
7.7 mm
7.3 mm
5.19 mm
7.35 mm
Weight
168 grams
157 grams
188 grams
136 grams
158 grams
Primary camera
12.19 MP
12.19 MP
12.19 MP + 12.19 MP
12.98 MP
15.93 MP
Image sensor
Sony IMX378 Exmor R
Sony IMX260 Exmor RS
Sony Exmor RS
Sony IMX214 Exmor RS
Sony IMX298 Exmor RS
Front camera
8.04 MP
5.04 MP
7.16 MP
5.04 MP
7.99 MP
Battery
3450mAh
3600mAh
2900mAh
2600mAh
3000mAh
Operating system
Android Nougat v7.1
Android Marshmallow v6.0.1
iOS 10.0.1
Android Marshmallow v6.0.1,
confirmed for Android Nougat update
Android Marshmallow v6.0.1,
confirmed for Android Nougat update
Each of these smartphones are powered by latest generation processors, with the Google Pixel XL housing the newest of the processors. The OnePlus 3 has the highest amount of RAM, powered by 6GB of LPDDR4 RAM. In terms of native storage, the Samsung Galaxy S7 Edge has 32GB, which can be expanded by up to 200GB. The Pixel XL, Apple iPhone 7 Plus and OnePlus 3 come with non-expandable storage, and have max native storage space of 128GB, 256GB and 64GB, respectively. The base variant of all these phones house 32GB of minimum storage.
While we have not yet managed to run benchmarks on the Pixel XL, publically available data on Geekbench's browser shows the phone to have scored 1547 in Geekbench 4 single-core test, and 4159 in multi-core computing. In comparison, the Samsung Galaxy S7 Edge scored 1855 and 5505 in single-core and multi-core tests, respectively, while the Apple iPhone 7 Plus scored 3440 in single-core tests, and 5344 in multi-core. While Apple's A10 Fusion SoC arguably packs more powerful cores, each of these phones should theoretically deliver very good performance - be it for everyday apps, intense mobile gaming and Virtual Reality. The Google Pixel XL, in fact, is the first smartphone to be certified as Google Daydream VR-compatible, thanks to the Snapdragon 821 SoC inside.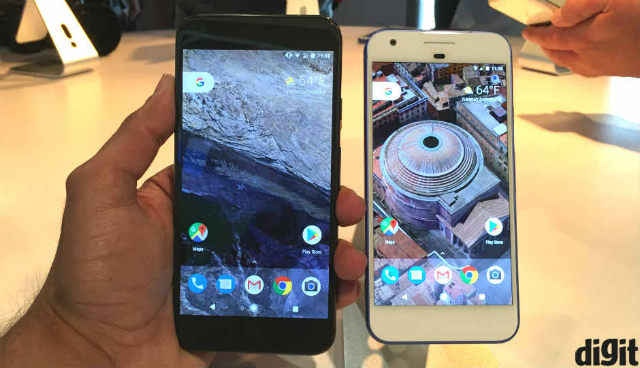 In terms of display, all the phones here use varying types of AMOLED displays, except for the iPhone 7 Plus, which uses a Retina display powered by an IPS LCD panel. The iPhone 7 Plus and the OnePlus 3 present Full HD display resolution, while the other three house 2K display resolution. It is a bit too early to comment on the quality of the displays, but on first impressions, the Pixel XL's display seems fairly bright and rich, and touch response seems fluid. The Pixel XL and the iPhone 7 Plus are also running on their respective latest generation operating systems, and while OnePlus 3 and Moto Z have already been confirmed to get Android Nougat soon, we have not heard from Samsung yet, regarding its update cycle plans.
The Moto Z is the lightest and slimmest of the lot, and the Pixel XL is the thickest, measuring 8.6mm at its borders. The heaviest, though, is the iPhone 7 Plus, weighing 188 grams. The iPhone 7 Plus is also the only phone here to flaunt dual-primary cameras, and offer optical zoom. We are yet to check out the camera performance for ourselves, but from the initial samples, the camera does look promising. Google, however, has flaunted a DxOMark rating of 89, which is the highest ever for a smartphone camera, and claims that the Pixel XL is the best smartphone camera, ever. It uses an upgraded Sony IMX378 image sensor, an upgrade from the Sony IMX377 sensor used in last year's Nexus 5X and Nexus 6P. Samsung's Galaxy S7 Edge has long stood as our best smartphone camera since launch, and OnePlus 3 is also among the top in terms of photo quality. How will the ratings change, with the advent of Moto Z, iPhone 7 Plus and Pixel XL? That remains to be seen.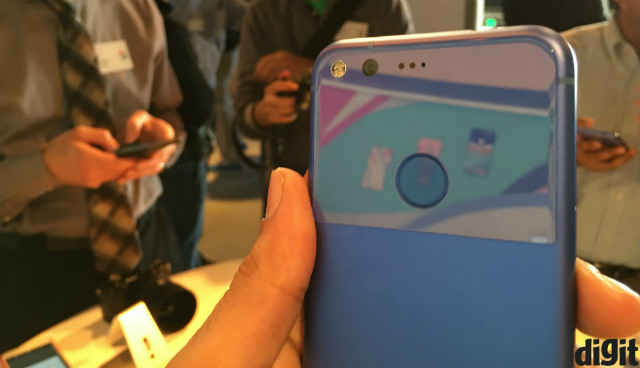 The Samsung Galaxy S7 Edge also has the largest battery of the lot, with the 3450mAh battery on the Google Pixel XL being the second highest in terms of battery capacity. With all the new flagships at hand, pricing may be key in the flagship smartphone industry now.
The OnePlus 3 is the least expensive of the lot, with its highest variant priced at Rs. 27,999. The Moto Z was launched yesterday at Rs. 39,999, and the Samsung Galaxy S7 Edge presently sells at Rs. 59,990. The highest variant of Google's Pixel XL is priced at Rs. 76,000, while the Apple iPhone 7 Plus caps at Rs. 92,000.
This comparison is to give you a basic idea of the phones line up against each other. Watch this space for more, extensive detail on the latest generation flagship smartphones in India.