Samsung recently unveiled two captivating phones, the Galaxy A34 5G and Galaxy A54 5G, that promise an impressive range of Galaxy innovations at an amazing value. These phones showcase advanced features, including superior durability, vivid displays, stunning designs, and a Nightography camera that ensures class-leading performance in low-light conditions. However, it is the attention to detail that Samsung has paid to these phones that truly sets them apart.
The latest additions to the Galaxy A-series are a testament to Samsung's dedication to both form and function. The sleek and minimalist design of these phones exudes elegance, toughness, and ergonomic comfort, making them instant head-turners. Let's talk a bit more about why you should consider them as your next smartphone.
Elevate your style and comfort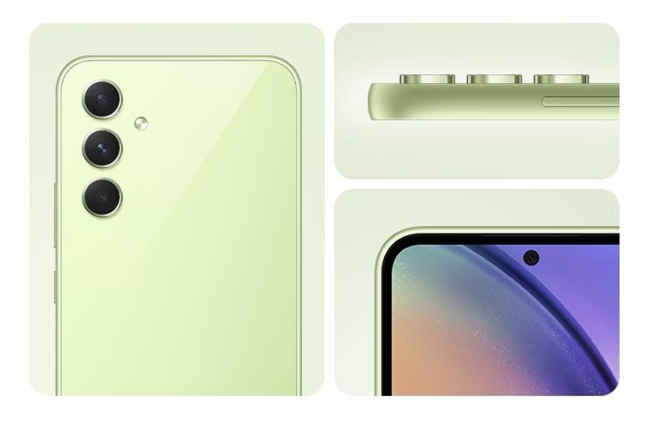 The design of your phone not only has a significant impact on its aesthetic appeal but can be a functional advantage. A well-designed phone offers a comfortable feel and is easy to navigate and use, with buttons and features placed in convenient locations. The Galaxy A34 5G and Galaxy A54 5G embody the true essence of premium design.
To start with, these phones brandish a luxurious premium finish and come in lively and captivating colours. You can choose from three fashionable shades for the Galaxy A54 5G, namely Awesome Lime, Awesome Graphite, and Awesome Violet. On the other hand, the Galaxy A34 5G has a reflective haze back in Awesome Lime and Awesome Graphite, as well as a prism pattern back in Awesome Silver. Whether you prefer vivid colours that exude confidence or subtle hues that display elegance, these phones have your preferences well covered!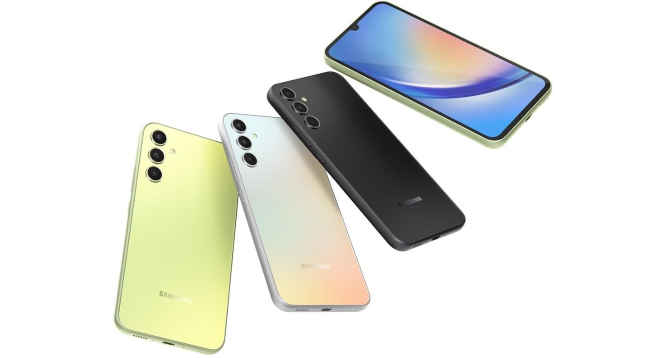 A premium design also needs to be distinct, and that is where the clean camera layout on the rear comes in. It maintains consistency with the flagship series, giving you the same sophisticated look and feel as the most premium Samsung phones out there.
The slim and uniform bezels around the screen enable an immersive viewing experience, while the bright and vibrant Super AMOLED displays offer outstanding outdoor visibility. The enhanced Vision Booster and a 120Hz refresh rate ensure a smooth viewing experience regardless of any changes in lighting conditions, such as transitioning from a brightly lit hallway to a dimly lit lift.
The solid curved metal frame of modern smartphones not only protects the screen but also ensures a secure and comfy grip, which should be particularly handy when you are snapping photos from the awesome Nightography camera, texting, or using navigation apps.
Furthermore, their sleek and lightweight profile should make them effortless to carry around or operate for extended hours without any discomfort, be it making calls or indulging in social media activities.
To sum it up, If you're looking for a premium phone that's both stylish and practical, the Galaxy A34 5G and Galaxy A54 5G, promise to be the ideal choice!
Built to keep up with your active lifestyle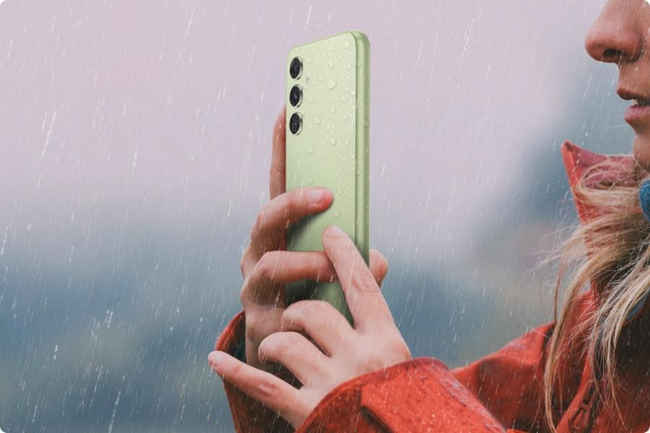 Durability is an essential factor to consider when buying a smartphone, as it can save you from the costly and inconvenient hassle of repairs. The Galaxy A34 5G and Galaxy A54 5G not only look the part but have also been built to easily handle the rigours of daily use. Equipped with Corning Gorilla Glass 5, the displays are highly resistant to scratches and impacts, which means your phones will be less likely to crack or break when dropped or bumped. Additionally, Galaxy A54 5G also comes with Gorilla Glass protection on the back as well, ensuring all-around protection.
Also, the IP67 water and dust resistance offers additional peace of mind. So whether you are caught in the rain, accidentally drop them in the pool or at the beach, or spill your drink on them - these phones can take it all! So, go ahead, and live your wildest and clumsiest life without worries!
Additionally, the phones are built to last with Samsung's commitment to providing four generations of OS upgrades and five years of security updates, which will keep your phone secure and up-to-date with the latest features and enhancements for years to come.
All these features make the Galaxy A34 5G and Galaxy A54 5G very reliable devices that you can count on for a long time.
Blend style with substance
Samsung's Galaxy A34 5G and Galaxy A54 5G phones offer a combination of style, substance, and durability. With sleek and stylish designs, dependable performance hardware, Super AMOLED displays, and IP67 water and dust resistance ratings, these phones are both fashionable and functional. Additionally, they also make room for a long-lasting battery and feature powerful cameras, including Nightography and No Shake Cam, for capturing clear and stable images and videos. Samsung also includes several innovative software features like Voice Focus and a secure Samsung Wallet for a seamless user experience.
If you want to join the awesome brigade, the sale is live - go ahead and take your pick! the new Galaxy A34 5G and Galaxy A54 5G start at Rs. 27999, inclusive of many exciting offers. Now get a cashback of Rs.3000* with SBI card and ICICI Bank credit cards or get an exchange bonus worth Rs.2500 with Samsung Upgrade. Additionally, you can get extra cashback up to 10 per cent on using Samsung Axis Bank credit cards. So, what are you waiting for? Hurry up and get your awesome now!
[Brand Story]