Since before the launch of the KitKat version of Android, Google has been talking a lot about optimising the platform for budget devices. With Android One, the company has perhaps reached the culmination of all those efforts. Under this program, Google provides OEMs with a set of specifications to choose from and provides the software to go with it. The result? A highly optimised budget smartphone that performs better than its competitors. Actually, it is too early to say that, so we'll hold off on our thoughts till the full review is done.
What we can do is give you a hands on first impression of the Android One smartphones. We tried out both the Spice Dream Uno and Karbonn Sparkle V at the launch event and if there's one thing that can be said for sure, neither of these manufacturers have made a device so fluid till date. In fact, there are many higher priced smartphones that don't provide such fluidity.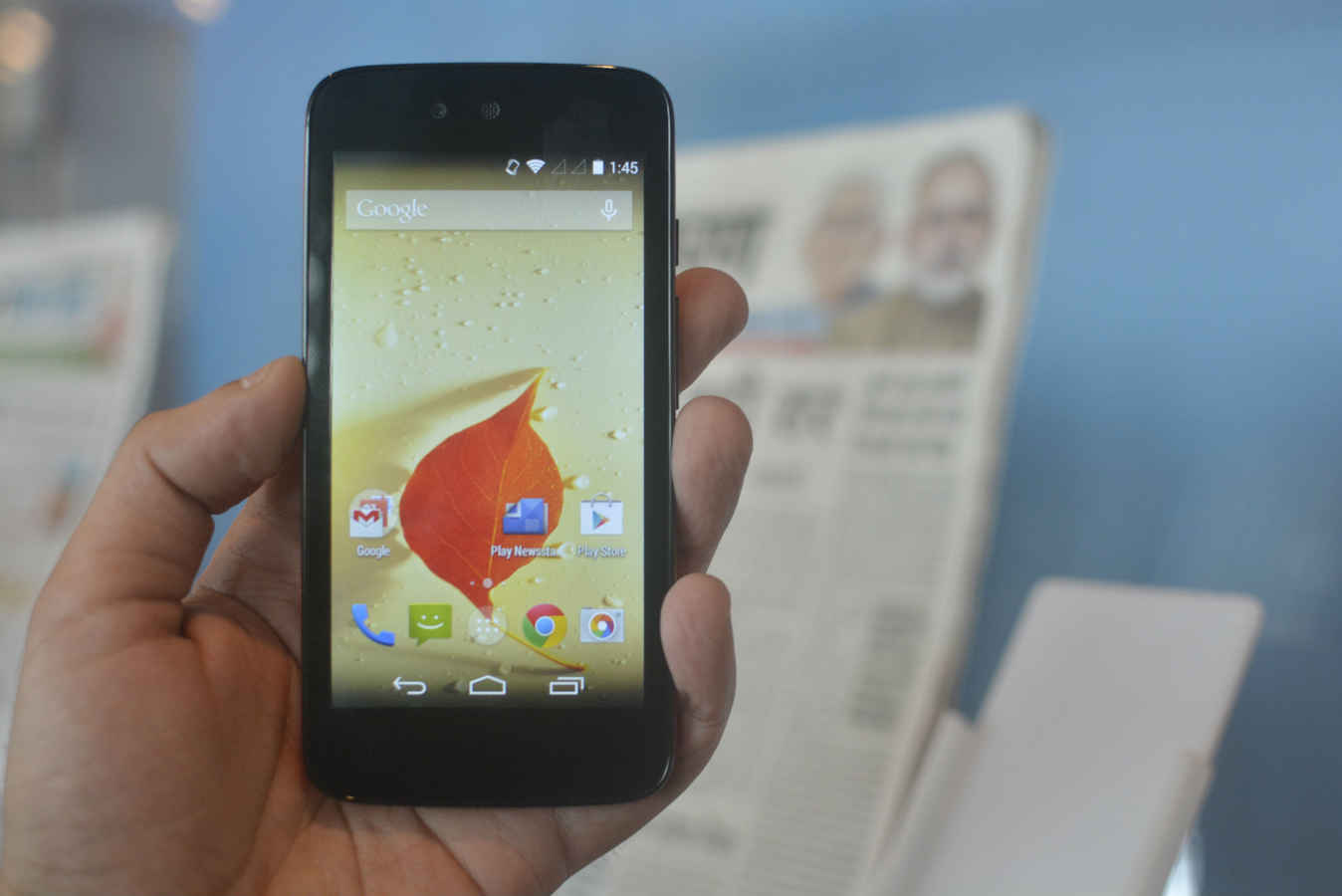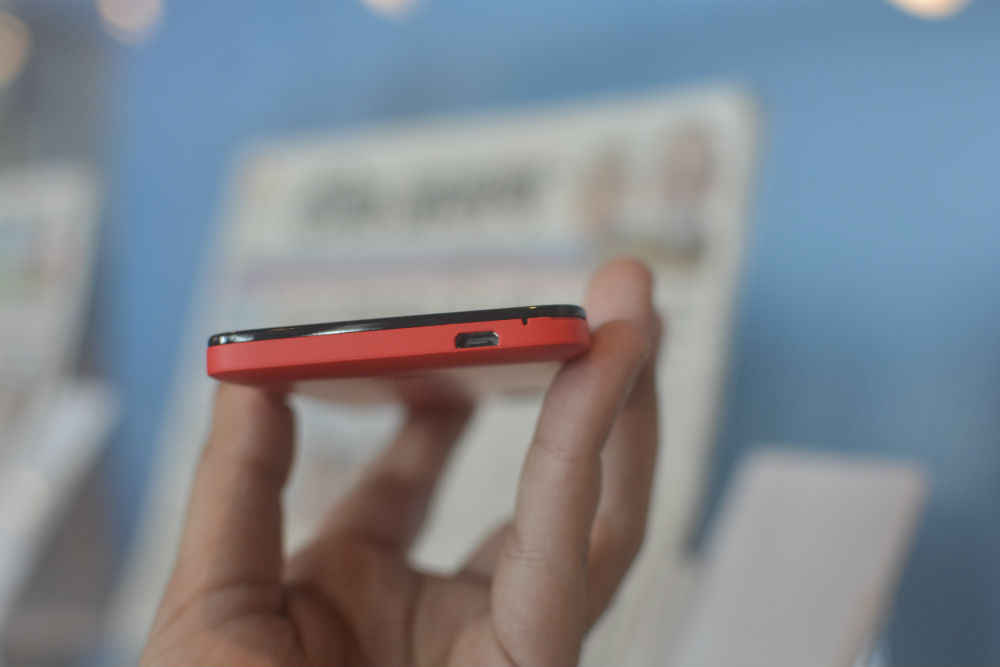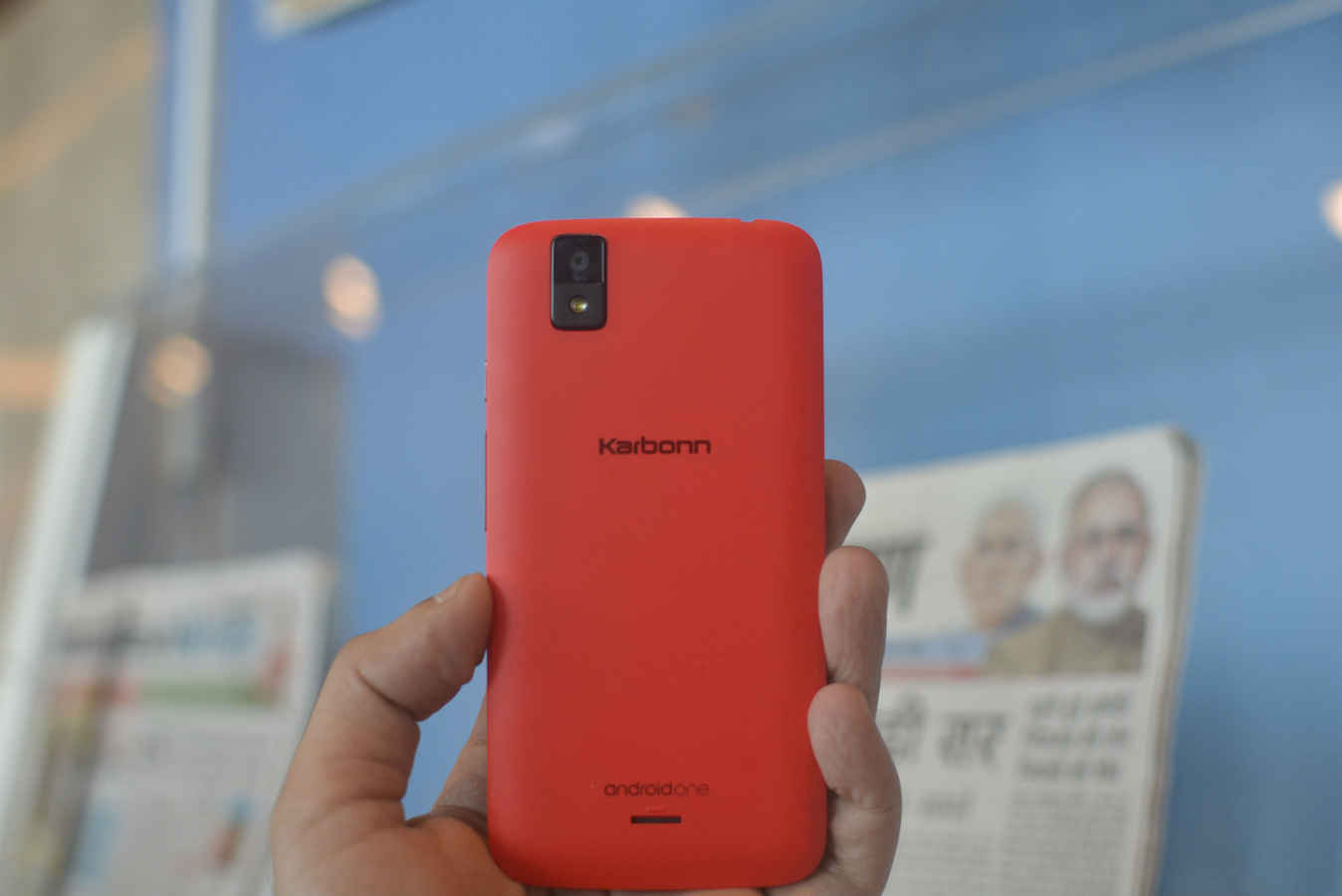 Karbonn Sparkle V (Click images to enlarge)
None of the first three smartphones (Micromax Canvas A1, Karbonn Sparkle V5 and Spice Dream Uno) are exactly good looking devices, but the build quality is respectable. Although, I did think the Moto E feels much sturdier. In addition, the lack of Gorilla Glass or any other kind of protection on the screen makes me a bit uncomfortable.
Specifications
4.5 inch 480p FWVGA Capacitive Multiport Touch display
5 MP rear camera, 2 MP front camera
1 GB RAM
4 GB ROM, expandable to 32 GB
1.3 GHz quad-core MediTek Cortex A7 CPU
Mali 400 GPU
1700 mAh battery
Simple games like Temple Run ran very well on this smartphone because of the surprisingly low RAM usage on these devices. On a barebones, almost app-less device, we could see almost 600 MB of free RAM. To put it in context, a new Xiaomi Redmi 1S has about 350-400 MB of free RAM, while a fully functioning Moto G has about 400 MB free RAM. The extra 200 MB on these is obviously the difference maker.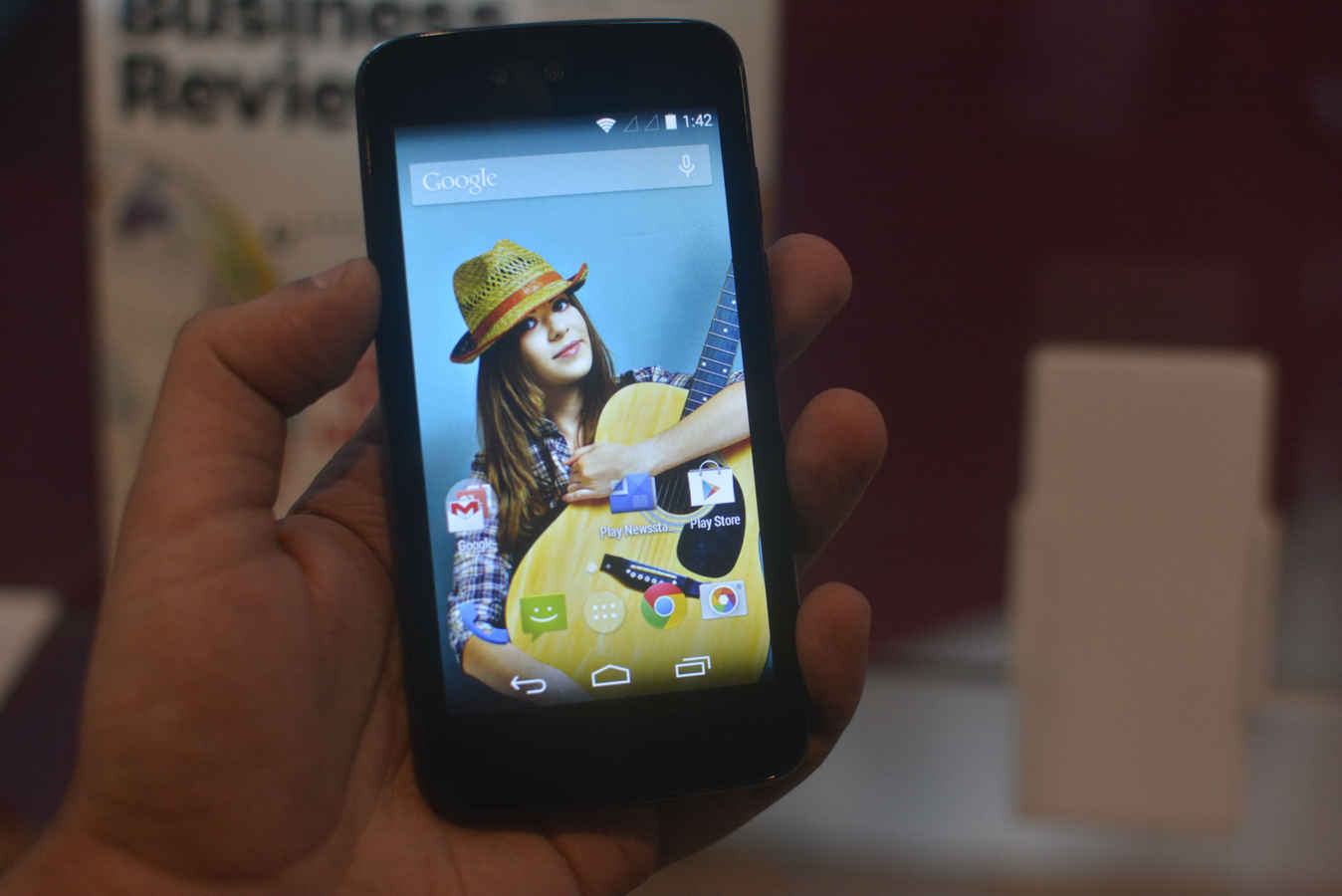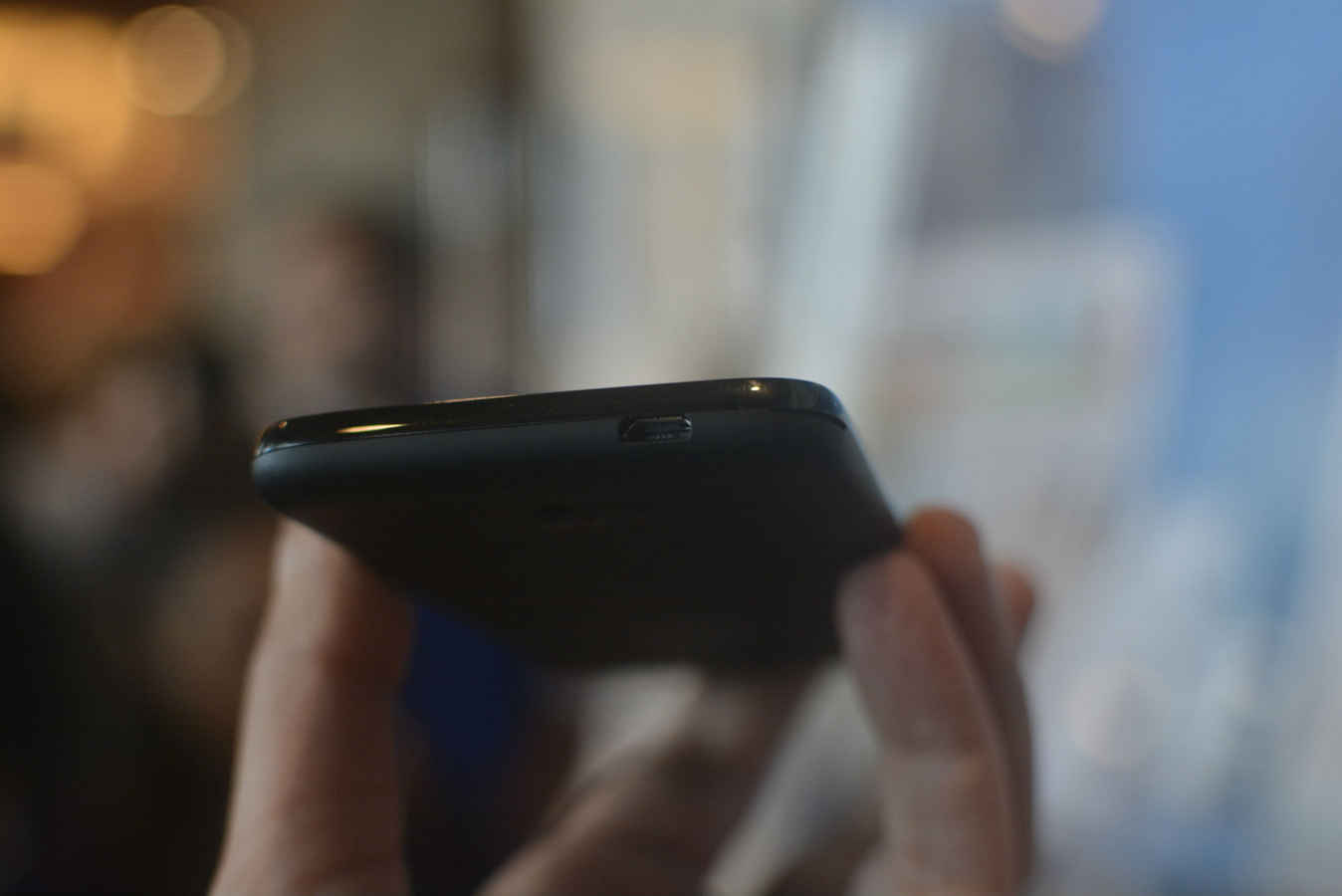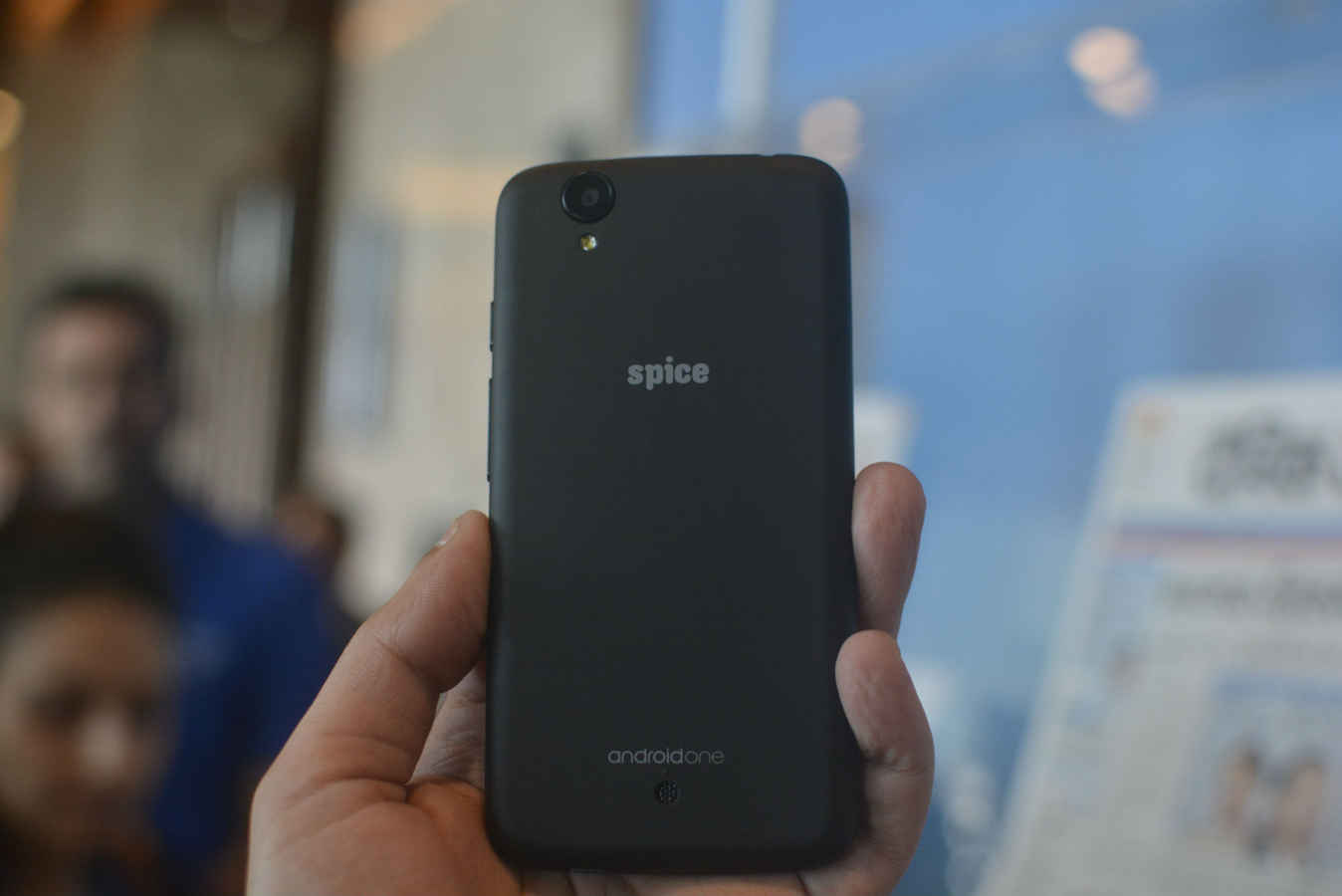 Spice Dream Uno (Click to enlarge)
A surprising aspect of these devices though was that you can not operate the camera without having an SD-card inside the device. In the stock camera UI, there is no way to change the primary storage memory to the phone's internal storage, which makes a memory card absolutely necessary. I'm hoping there's a way around this, but in the few minutes that I had there, I didn't see any.
Frankly, the Android One smartphones left me with one big question — Why are they here? I mean, they are obviously not as cheap as you perhaps thought they would be. They offer good performance, no doubt, but at the cost of build quality and some other elements. So, with brands like Motorola and Xiaomi already bringing high performing devices in this range, what does Android One add?
To answer that question — while brands like Xiaomi and Motorola make their devices less expensive by cutting down on advertisement costs and selling online, Google and its partners are spending amply on marketing, but still keeping them at low cost. So, the reach for these devices will effectively be increased and they can do well in Tier II and Tier III markets. Right now, there are many cities that haven't even heard of a Moto E and Xiaomi Redmi 1S. Also, the fact that Google will sell them in brick and mortar stores, and a lot of them at that, makes them much more accessible. E-commerce is picking up, but it doesn't yet account for a very big share of the consumer base, especially in the markets that we're talking about.
Google said ften at the launch event, that the next billion users need to be brought into the smartphones universe. It is evident that the company is hoping to get them from the Tier II and Tier III cities and it is on the right track to do so. The Tier I market doesn't need these devices, but the Tier II and Tier III markets could really use them.