Coolpad has launched its flagship smartphone for 2016 in India today. Being a flagship phone, the Coolpad Max covers all the basics. A metal unibody construction, a fingerprint scanner and an amply powerful Octa-core SoC from Qualcomm. But, is it enough? In the current smartphone market, there are a lot of phones that offer much more serious hardware, at lower or equivalent price, and it seems the Coolpad Max will have an uphill battle.
First thing we noticed about the phone is its beautiful metal construction. That said, it is not a fresh design and we have seen similarly designed phones earlier, such as the LeEco Le 1s or the Gionee Elife S6. However, the Max's design has a more premium feel to it. The design is also complemented by the 2.5D curved glass, which offers a better touch experience over a majority of phones out there. Coolpad has also opted to go for on-screen buttons this time. This has made the top and bottom bezels smaller and less intrusive. Further, these on-screen buttons can be reassigned according to preference from the Settings menu.
This brings us to the UI. It is not very colourful out of the box, but a more colourful theme can be picked from the theme manager. There is a new feature, which the company is calling Dual Domain or Dual Spaces. This is essentially Google's User Accounts option, introduced on Lollipop. Coolpad has added some enhanced security, though. This dual space system keeps your apps separately in two different partitions. However whether or not it segregates app data is yet to be tested.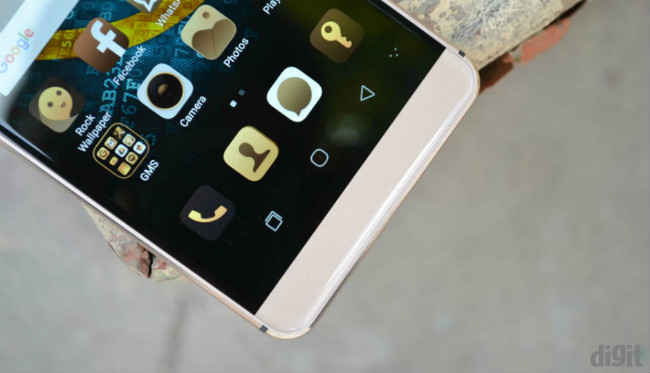 There is a Qualcomm Snapdragon 617 SoC inside, which is coupled with 4GB of RAM, and in the little while we spent with the phone we didn't feel it lagging or slow. We tried playing a couple of HD videos and it wasn't an issue for the Max. Here's a quick look at some of the benchmarks, since we've already started reviewing it.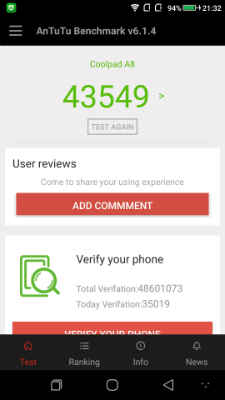 At first glance, the 13MP rear snapper seems okay in terms of focusing and speed, and is able to take pictures in quick succession. However, the image quality does not look very compelling. We will be reviewing the camera thoroughly and comparing the image quality against other competing phones in our full review. Meanwhile, here are a couple of sample shots from the rear camera of Coolpad Max.
Click to enlarge
If you go by the specification sheet, the Coolpad max loses out to the Xiaomi Mi 5 easily. However, the HTC One A9 is a prime example of how a phone may not have the right specs, but may still be likeable. It is not out and out fast by any means, but it's still a very good phone, as long as it works right. On initial impressions the Coolpad Max resembles the HTC One A9's performance, and that is a good thing.