Xiaomi has done a lot in India, but it's yet to launch a successful flagship in the country. On the other hand, OnePlus hasn't done well with its one attempt at the budget segment (the OnePlus X), instead excelling at the higher end. Neither company sells phones in the uber premium ranges, but for the Indian consumer anything above Rs. 30,000 makes for a difficult buying decision. With the Mi Mix 2 (review), Xiaomi's 2017 flagship takes on the much talked about OnePlus 5 (review). So, it's only fair that we compare the two devices.
Build and Design
The Mi Mix 2 and OnePlus 5 are close in many aspects, but Xiaomi's phone easily surpasses OnePlus' effort in the design department. The Mix 2 sports a more modern bezel-less design and is indeed a much better looking smartphone. The OnePlus 5 is not a particularly poor looking phone either, but its thick bezels and iPhone-like design does look pedestrian as compared to the Mix 2.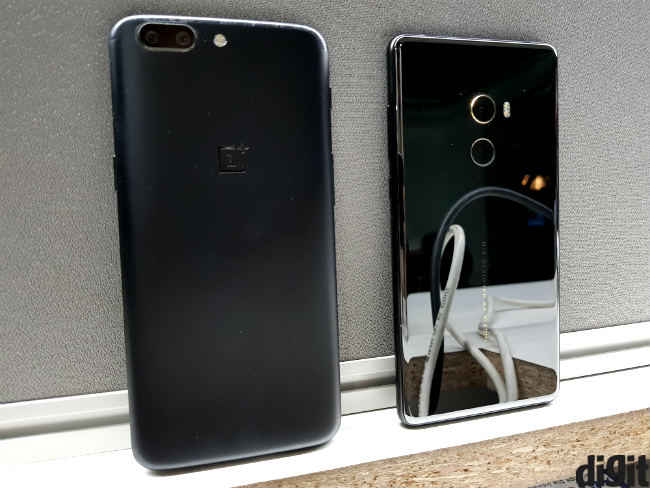 That said, it would be much easier to break the Mi Mix 2. A bezel-less design is precarious to start with, but Xiaomi also chose a ceramic back, which is brittle and will likely break on the first fall. The OnePlus 5 has a traditional metallic design, that is indeed sturdier.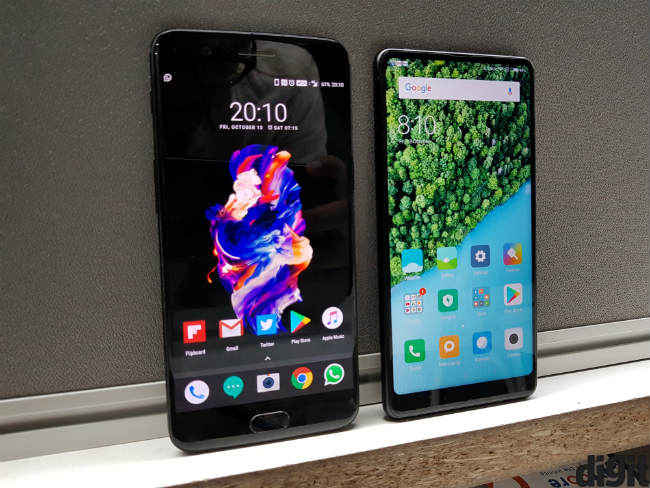 The choice here will be between premium and one of a kind looks, or functional design. The Xiaomi Mi Mix 2 excels in terms of looks, but the OnePlus 5 is decidedly sturdier. Hence, we'll call this one a tie.
Winner: Tie
Display
In our review we noted that the large, bezel-less display of the Mi Mix 2 begs for an AMOLED panel. That said, Xiaomi has tuned the contrast enough to make the display feel vivid. The OnePlus 5, though, drives higher contrast with its Optic AMOLED panel, and you can see this difference by placing the phones side-by-side.
That said, we would prefer the Mix 2 to the OnePlus 5, simply because its bezel-less nature makes for a more immersive display. Neither phone is bad at reproducing colours and both oversaturate them a bit. So, the Xiaomi Mi Mix 2's overall immersive quality makes for a better display to look at.
Winner: Xiaomi Mi Mix 2
Performance
At the chipset level, both these phones run on Qualcomm's latest and greatest. The Snapdragon 835 is also paired with gobs of RAM. The OnePlus 5 sports 8GB against 6GB memory on the Mi Mix 2.
Now, while higher is indeed always better in the case of RAM, the 2GB difference is impossible to spot here. You can open ample background apps on both devices, which is not a practical use case. We reviewed both the devices and have used them extensively, and truth be told, the difference in RAM truly doesn't make noticeable difference for practical usage today.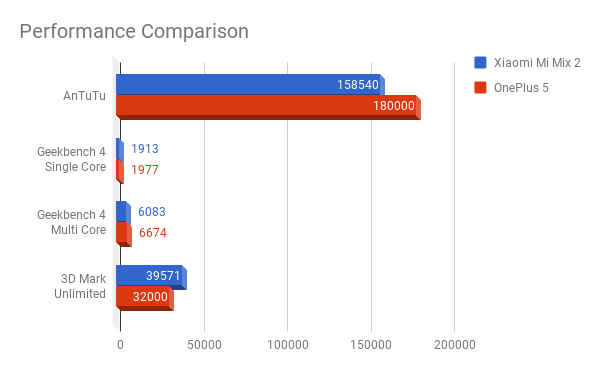 That said, the OnePlus 5 is indeed the faster phone. We've tested the Mi Mix 2 against both 6GB and 8GB variants of the OnePlus 5, and both are faster. OxygenOS is lighter, faster and noticeably snappier. It's not that the Mix 2 isn't a fast phone, but it takes a second more to open an app or load a game, where the OnePlus 5 takes the lead. It's a difference you will spot only on side-by-side comparison, so it doesn't actually make a practical difference. However, it does give OnePlus the performance crown.
Also, it's always better to start off faster when buying Android phones. The Mi Mix 2's comparatively heavier UI will take a toll on the device faster. Android phones will slow down with time as a rule, but it's likely that the OnePlus 5 will get to the frustrating levels later. In fact, our experience with last year's OnePlus 3T, which has now been under regular use for a year, suggests that OnePlus phones do retain speeds longer than Xiaomi's.
The benchmark scores reflect the difference quite accurately. Out of the box, the OnePlus 5 is about 10% faster than the Mi Mix 2.
Winner: OnePlus 5
Battery
The PC Mark battery test is the most objective way to compare battery lives in our arsenal today. That test puts the OnePlus 5 at a noticeable disadvantage. Where the Mi Mix 2 lasts for 10 hours and 42 minutes on that tests, the OnePlus 5's scores are more average at 8 hours and 42 minutes.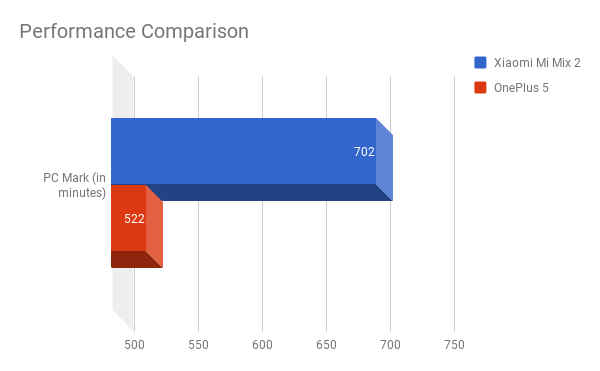 Having reviewed the two phones and used them side by side, our regular usage scores also concur with the benchmark test. On regular usage, the OnePlus 5 will get you through a work day, but the Mix 2 will easily grant at least two more hours of battery life. The OnePlus 5's battery life has improved since launch, but the Mi Mix 2 still does pull ahead here.
Winner: Xiaomi Mi Mix 2
Camera
While comparing the two phones side-by-side, we came to an interesting revelation. It seems the Xiaomi Mi Mix 2 shoots better photos in low light than the OnePlus 5. We must admit that we didn't expect that to happen, but it is how it is. The OnePlus 5 took better photos in daylight conditions, but indoors and in low light, the Mi Mix 2 is better.
Interestingly, the difference is almost the same in both conditions. That is, while the OnePlus 5 produces better colours in daylight, the Mix 2 deals with colours better when shooting in low light. That said, the Mix 2 isn't completely accurate either. It slightly oversaturates photos when shooting in low light, while the OnePlus 5 is undersaturated. The final image looks better coming from the Mix 2.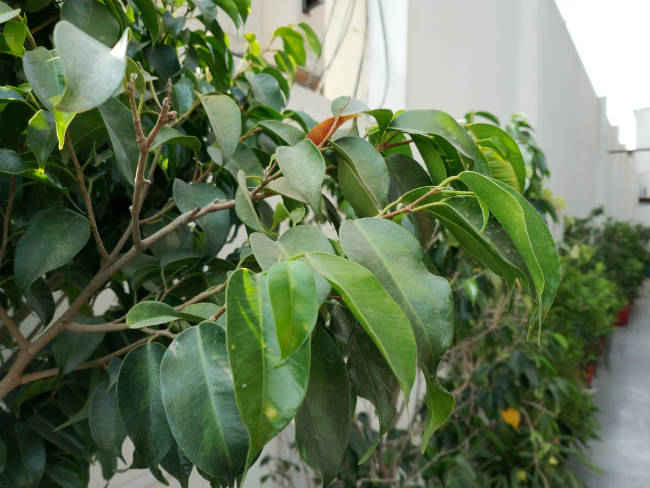 Daylight Sample

100% crop from Mi Mix 2 (left) and OnePlus 5 (right)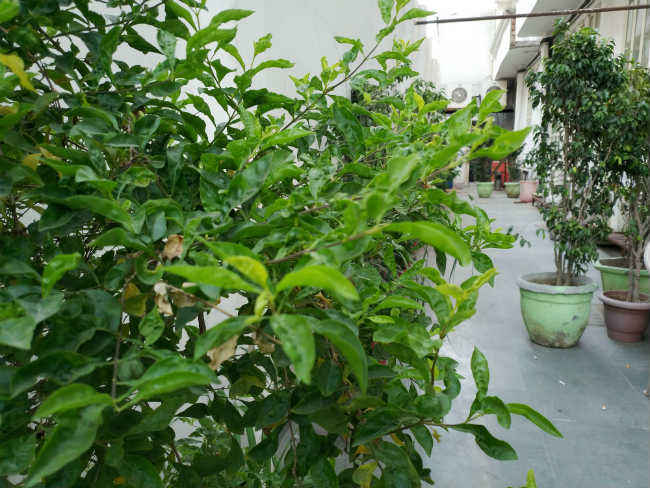 Daylight sample

The Mi Mix 2(left) sometimes tends to focus to infinity, when shooting macros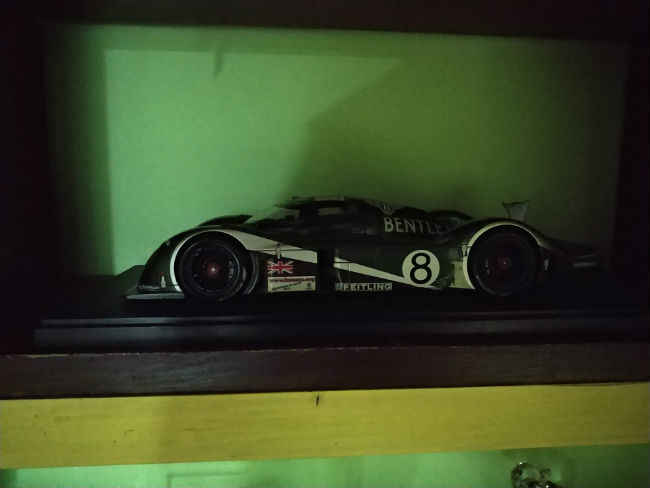 Low light sample

Xiaomi Mi Mix 2 (left) vs OnePlus 5 (right)

100% crop from Mi Mix 2 (left) and OnePlus 5 (right)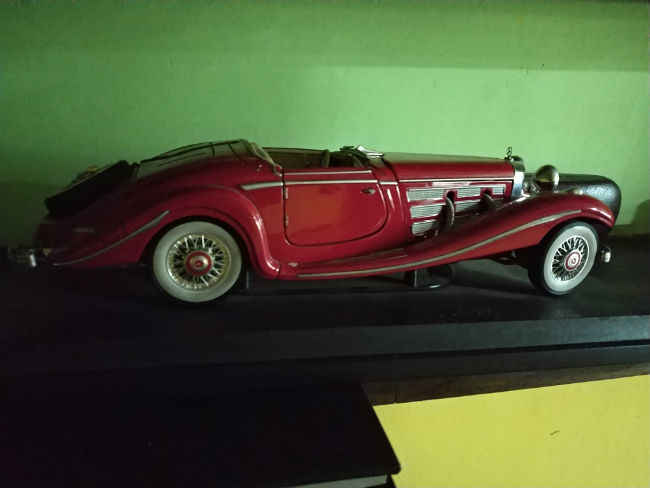 Low light

Xiaomi Mi Mix 2 (left) vs OnePlus 5 (right)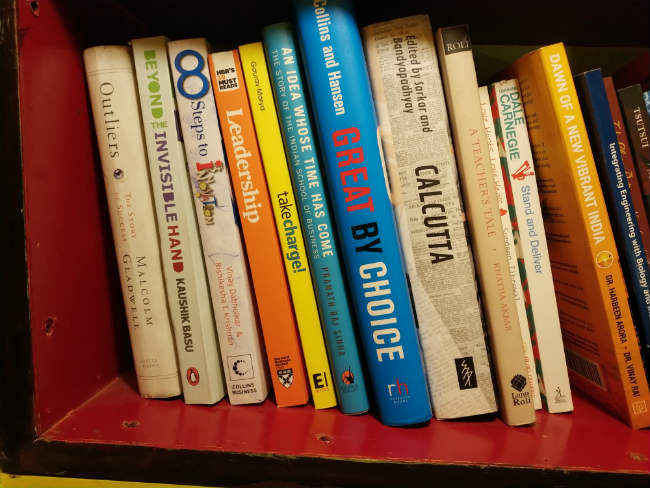 Incandescent light sample

Xiaomi Mi Mix 2 (left) vs OnePlus 5 (right)
On the other hand, the OnePlus 5 produced more true to source photos when shooting in daylight. Here, the Mix 2's oversaturated photos look a tad unnatural and both phones keep noise levels in check. Xiaomi's algorithms seem to mimic Samsung in a way here, choosing to oversaturate photos to make them look more vivid, and losing some details in the process.
So, for practical shooting purposes, we would have to call this a tie. The Mix 2 seems weak in the basic situations, while the OnePlus 5 needs some work in low light imaging. That said, the OnePlus 5 has a better camera overall, thanks to its second sensor. The camera can produce portrait/bokeh shots when needed, and 1.6x optical zoom comes in handy occasionally. OnePlus takes this one because of a more feature rich camera.
Xiaomi Mi Mix 2 image samples gallery
OnePlus 5 image samples gallery
Winner: OnePlus 5
Storage
We explained the RAM scenario in the performance section, but both these phones are aided by fast storage as well. They have 128GB UFS 2.1 storage chips inside, which helps them achieve smooth and fast performance. This spec will perhaps not make sense to a regular user, but in practice, UFS 2.1 storage does make noticeable difference in the overall speed and fluidity of a phone.
Winner: Tie
Bottomline
To sum up, it seems the OnePlus 5 and Xiaomi Mi Mix 2 are evenly matched smartphones, although they do have their strengths and weaknesses. The Mi Mix 2 is meant for those who want an uber premium smartphone at a comparatively low price. However, the OnePlus 5 is a more feature rich smartphone that's slightly faster as well. If you want you phone to turn heads, the Mi Mix 2 is the one to go for, while the OnePlus 5 comes off as a no nonsense device.