As expected, the BlackBerry 10 event saw the official unveiling of the Z10 flagship smartphone. The device has been with some journalists in the U.S. and the U.K., for a few days now.
They have had the chance to play with the phone, and as expected, were ready with their impressions and reviews at the time of the launch. It may still take a while for BlackBerry to launch the phone in India, which is why we have compiled a variety of viewpoints regarding the Z10 in this feature story.
Build & Design of the Z10
iPhone 5 Resemblance
The resemblance with the iPhone 5 seems to be pretty much there. This was pointed out by quite a few reviews. Joshua Topolsky, in his Z10 review on The Verge says, "The Z10's general form mimics the iPhone in more than a couple of ways. The curved corners of the slabs share an almost identical circumference, the screens are separated by an equal amount of surface space on either end of the front panel, and a solid band of what feels like light metal (it's actually plastic) runs around the casing of the phone. The Z10 does deviate in some notable ways, of course. Besides being larger (the phone has a 4.2-inch display), there's no home button on the front of the BlackBerry device. BlackBerry also places the sleep / power button in the center top of the bounding component (with a headphone jack next to it), and adds a mute button in the center of the volume rockers (located on the right side of the phone). microHDMI and microUSB ports are on the left side of the slab. Unlike the iPhone, the back pops off the phone to reveal the SIM, battery, and microSD. That back is made of a dimpled, soft-touch material that I found myself habitually running a finger across when I was using the phone. I like it, and would love to see more phone-makers considering the tactility of their devices like this." Jessica Dolcourt @ CNET echoes similar sentiments, "At first glance, the handsome BlackBerry Z10 looks suspiciously like Apple's black iPhone 5: tall and narrow, with straight edges that meet at rounded corners, and a roughly 4-inch screen. Like the iPhone 5, the Z10 is adept at one-handed operation. That's where the similarities end."
Build Quality
Interestingly, everyone seems to rather happy with the build quality of the Z10. TechRadar's John McCann says, "The weight gives it a reassuring presence in the palm and while the chassis is distinctly plastic, the handset's heft at least restores some form of premium feel. Round the back you're greeted with a textured plastic rear which is slightly rubberised, providing a decent level of grip. The BlackBerry Z10 doesn't wow us with a new design, but it's a sturdy handset with a decent build quality and functional layout which makes it easy to use." Ray S. at PhoneArena says, "We like that BlackBerry has taken its time do design a beautiful product. The design of the Z10 is both modern and strict. For that reason, it may not appeal to all consumers out there, but it will certainly be appreciated by those who want a more neutral-, yet stylish-looking smartphone. Everything in the external design of the device exudes class. Sure, the Z10 is made of plastic, but it seems like a pretty good example of a plastic phone done right."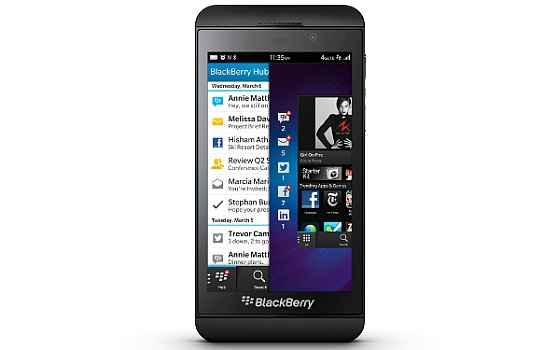 Specifications
The Z10 has a fairly impressive spec sheet, the dual core processor, 2GB of RAM and 16GB internal storage. Mr. Topolsky says, "We like that BlackBerry has taken its time do design a beautiful product. The design of the Z10 is both modern and strict. For that reason, it may not appeal to all consumers out there, but it will certainly be appreciated by those who want a more neutral-, yet stylish-looking smartphone. Everything in the external design of the device exudes class. Sure, the Z10 is made of plastic, but it seems like a pretty good example of a plastic phone done right." PhoneArena adds, "The silicon ticking inside the BlackBerry Z10 is a dual-core 1.5 GHz of an unknown type. We won't be shocked if it turns out to be a Snapdragon of some kind, but we can't be sure. The fact that it's a dual-core doesn't bother us much, because the system is very well optimized and everything runs quickly and fluidly. However, a quad-core solution might have helped BlackBerry achieve a better battery life."
Battery Life
Battery life was always going to be a bit of a 50:50 with the new software. However, the reviews aren't very glowing about the battery life. The Verge says, "Battery life is another story altogether. I regret to report that I've been deeply disappointed by the battery in the Z10. The company has historically made much of the BlackBerry line's power-sipping abilities, but those talents have not been on display while I've been testing this new phone. On several days during my test period, I found that the device could not make it through an entire workday without requiring a recharge or battery swap. If I took the phone off of the charger around eight or nine in the morning, by six or seven at night the phone was completely dead. It wasn't an everyday occurrence — some days I made it into the evening with no trouble — but it happened enough that it gives me cause for concern. LTE devices aren't really known for their modest power needs, and it would seem that BlackBerry's first entrant into the data-rich world of 2013 is no different than the competition... and perhaps worse."
Tech Radar had this to say, "With moderate use the Z10 will see you through a full working day, but don't expect it to make it through a second with a nightly charge definitely on the cards for anyone who picks up this device. BlackBerry is quoting up to 11 hours of talktime on BlackBerry Z10 and 408 hours of standby which we reckon is pushing the boundaries a little, but it's good to remember these figures are produced under lab conditions which are very different to real usage." Tim Stevens in his Engadget review writes, "Battery life is merely average. On our standard video rundown test, where we set the display to a fixed brightness and loop a video endlessly, the Z10 managed eight hours and 11 minutes. That's an hour less than the Verizon LTE-flavored version of the Galaxy S III and three full hours short of the record put up by the iPhone 5. But, of course, unlike the iPhone, the 1,800mAh battery pack here is user replaceable -- and it's small enough you might reasonably consider taking a second one with you."
BlackBerry OS
Jessica Dolcourt likes the new BB 10 operating system, "Here's what you need to know about the new BlackBerry 10 OS: it looks cool, it's gesture-driven, and it'll take you at least a few minutes to pick up. In some ways it's quite advanced -- I'm a fan of BlackBerry Balance and the virtual keyboard -- and in other ways, you wonder what RIM's been doing all these years. When it comes to multiple accounts and a unified inbox, BlackBerry 10 delivers. You can sign into multiple e-mail accounts and social networks, and populate your address book and calendar from these cross-pollinated networks. I didn't see contact duplicates, and my buddies' addresses also appeared neatly sorted in the maps app, basically the only really nice surprise there."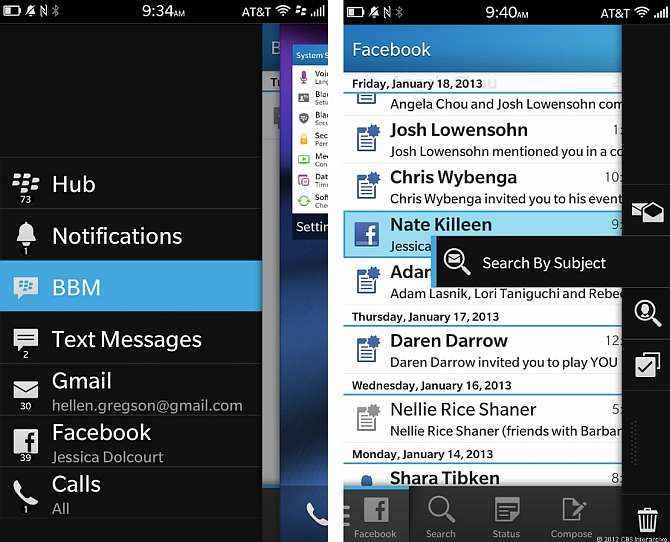 Image courtesy: Cnet
Joshua Topolsky at The Verge is not entirely convinced, though. He says, "The interface shares much in common with Android and iOS, and at times feels like a hybrid of the two. While you do have some widget functionality on your homescreen, it's strictly controlled and tied to running apps. The application drawer functions almost identically to iOS', allowing you to slide icons around and drop them into folders as the system automatically rearranges your grid. The homescreen concept is interesting, but failed to convince me that it was a better solution than what Android proposes. The idea that an app can become to a widget when not running is novel, but you have no sense of which app will become a widget, and you have no control over whether or not that widget will always be visible. In fact, you have no control over your multitasking / homescreen arrangement save for the fact that you can kill a process. The apps order, or if they stay in place, is determined simply by which one you've most recently had open. And once you get to app nine... your old apps are dismissed unceremoniously. The end result is a feeling of unpredictability. Not only can you not control which apps remain open or where they're located, you also don't have a consistent sense of where to find certain pieces of information. If you're like me, you like to be able to glance at things like the weather quickly and conveniently — even Apple gets this one kind of right in iOS' Notification Center — but BlackBerry 10 provides no such option." This could have a huge bearing on quickly tasks can be done on the phone.
Tech Radar says, "BlackBerry decided to move away from the physical buttons found on iOS and many Android devices, instead opting for a gesture based system as the main form of navigation. The BlackBerrry 10 platform succeeds at bringing RIM into line with the other smartphone operating systems and the BlackBerry Z10 has no trouble running it, but it doesn't seem to have a clear advantage over its rivals.
Display
The display seems to have been nailed by BlackBerry in the Z10. Engadget seems to like what it sees, "That LCD here offers a healthy resolution of 1,280 x 768, just slightly beating 720p and offering a fine pixel density of 356 ppi. This means text is rendered incredibly clearly, making web surfing a pleasure and photo viewing quite comfortable as well. The panel is very capable in other regards, too. It's officially rated at 800 nits, which is quite high for a mobile panel, making it easily visible outdoors in direct sunlight. Contrast and color saturation are also quite good and viewing angles excel when you're looking at the phone on either the left or right sides. That said, tilting the phone up or down introduces a slight yellowish hue to everything. It's hardly distracting, but it is noticeable." PhoneArena puts it slightly subtly, with the sense of a comparison, "If we pit the Z10's 4.2" display against something like the Galaxy S III's 4.8" display, it's apparent that the latter will be better suited for enjoying content such as pictures, movies and games, though other areas like web browsing won't necessarily suffer that much from the 4.2" size, because the way the software works is of bigger importance there. And hey, 4.2 inches aren't a bad size at all!"
Camera
Camera has always been the weak point of a BlackBerry device. With the new smartphones, there is the hope that this will be set right. However, the reality seems to be slightly different. The Verge says, "The Z10 has two cameras, a rear-facing 8 megapixel shooter capable of 1080p video, and a front-facing 2 megapixel camera which can do 720p video capture. Both are reasonably clear and useful, though you're not going to be doing much serious picture taking with the front lens. The backside cam produced decent if somewhat washed out looking shots, and focusing could sometimes be a problem (particularly in burst mode or with macro shots). The camera also seems to suffer from the all-too-common pink blotch in the center of the image, which can make shots with lots of pale or white tones look off color, literally."
Cnet points out the lack of features, "Budding photographers will also notice scant options and controls. There's no HDR, no ISO settings, no grid, no geotagging, no option to drop resolution, and -- one of its worst offenses in my opinion -- no way to silence the shutter's loud clacking." And Engadget talks about the slow focus while taking stills, "Standard stills taken when plenty of lighting is available are bright and clear, showing great contrast and color. However, focus was quite often off, resulting in a number of very soft photos. Manually dragging the reticle where we wanted it and waiting for the camera to refocus usually worked, but in times when we simply wanted the camera to focus on what's in the center of frame, it didn't always do that -- at least, not quickly enough to capture a good photo."
This is a simple summary of what the global media has to say about the BlackBerry Z10. We will hope to get our hands on this device, and here is to hoping that BlackBerry doesn't delay the India launch too much.
Sources: Cnet, Engadget, PhoneArena, TechRadar, The Verge