Apple fanboys rejoice! Just days after the roll-out of the latest version of iTunes, the iTunes 11, Apple has made the iTunes store live in a few more countries, including India. This means that you can now get access to a large library of songs and movies from the iTunes store that was previously not possible.
With the activation of the store, users in India can stream HD content, get access to iTunes match, and now, can even find a reason to pick up an Apple TV (it is not officially available in India).
We give you our First Impressions of the iTunes India store and here are some features you can expect to encounter:
Movies and HD content
Finally, users in India have access to a vast movies library. These movies are not only Bollywood but Hollywood as well. There is a filter that lets you view movies by genre such as Action and Adventure, Comedy, Drama, Romance and more. You can also browse by category such as Bollywood only or HD only and more.
The rates for renting and purchasing these movies are different but we checked out SRK's Don 2. The movie is available for Rs. 120 if you wish to rent it and Rs. 390 if you wish to buy the movie in HD. In SD, the movie costs Rs. 80 to rent and Rs. 250 to purchase.
When you decide to download a movie, you have the option to download it either 1080p or 720p. By default the settings are saved for 720p and can be simply changed with the click of a button.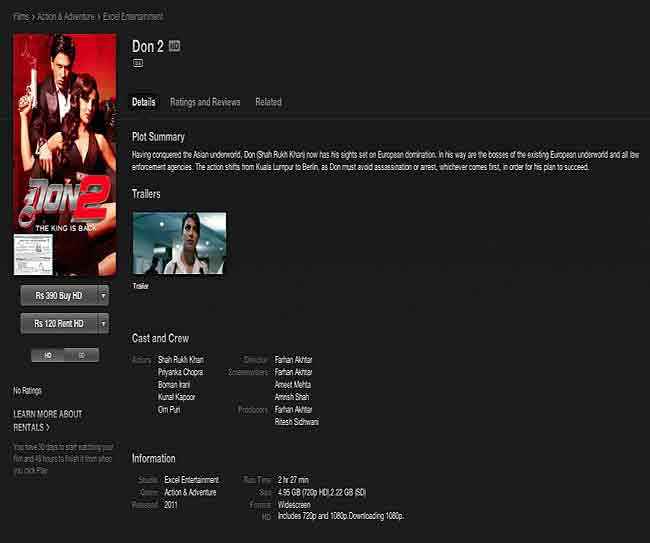 Purchasing_renting a movie in HD
Sadly, No TV shows
If you have used the iTunes US store, you know that you get access to a lot of popular TV shows via the iTunes store. In India, to enjoy your favourite TV soaps, you either need access to a TV or to YouTube. We wish TV soaps would have been included in the India iTunes store. The Indian household would be quite ecstatic if they got to see Balika Vadhu, Madhubala, Pyar ka dard hai, Parichay or even Big Boss on an Apple device.
We however would have been content with the likes of Person of Interest, How I Met Your Mother, Big Bang Theory and Archer made an appearance. Never the less, something is better than nothing and it is nice to see a wide variety of content making an appearance with the debut of the store.
It's also nice to see the content segregated based on peoples interest. If you are Shahrukh Khan fan, you can see all of his films listed under one head. If you a fan of the Late Yash Chopra's work, you can catch all his work in one place.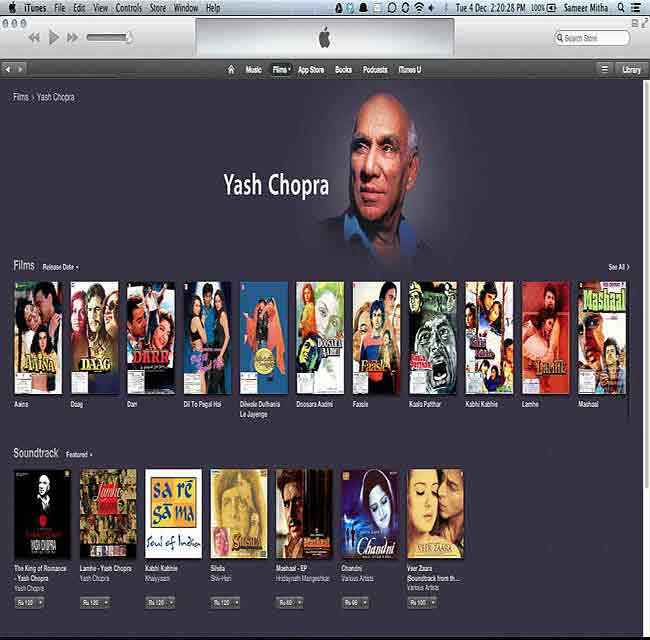 A list of films that express the talent of late Yash Chopra
The library of movies however doesn't have everything, especially if you are looking for Hollywood content. We were unsuccessful in finding the Dark Knight in the movies library and that isn't a good thing.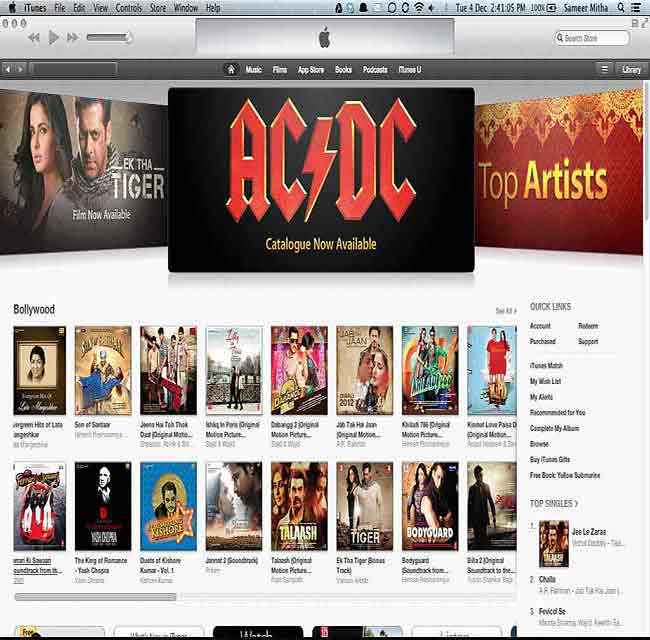 The interface of the store is the same that we have come to know and love
Desi Music at a Desi Price
The iTunes store is a treat for music lovers though. Again, the focus is Bollywood so don't be upset if your favourite western artists music is missing from the store. The music library is however a lot better than its film counterpart. You can pick up the entire music album of Talaash for a mere Rs. 72 or pick up a single song for Rs. 12. This does seem like a steal if you compare it to the 99 cents per song price tag followed in the US iTunes store.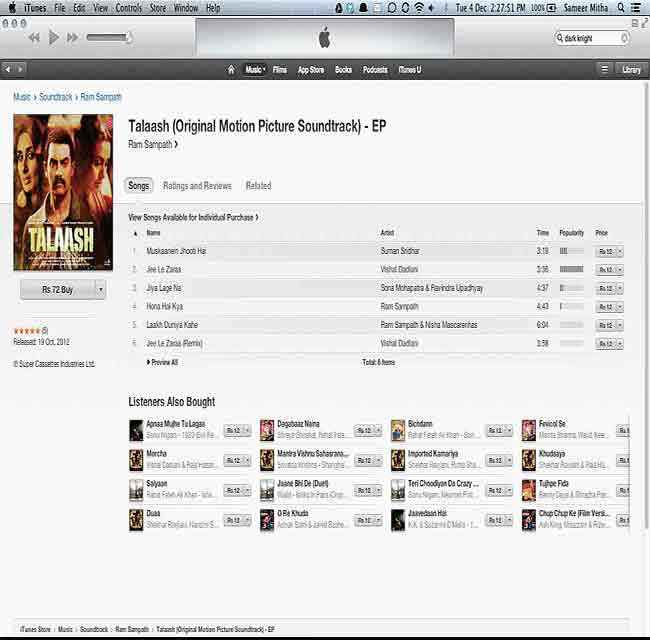 Purchase an entire album or individual songs on the iTunes store
The English music library is a lot more populated than English movies. We search for Soundgarden and their latest album, King Animal (Deluxe Version) is available for download at Rs. 200 for the entire album or for Rs. 12 per song. There are some songs on the store that have been priced at Rs. 15 as well.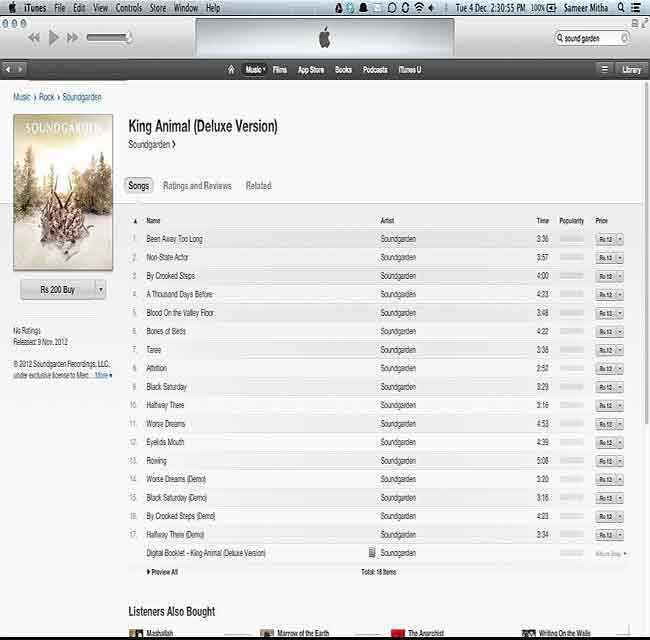 Download English songs as well from the iTunes India store
There's free stuff too here
The iTunes store in India has the "single of the week". You can download the one song for free and the free song will change on a weekly basis.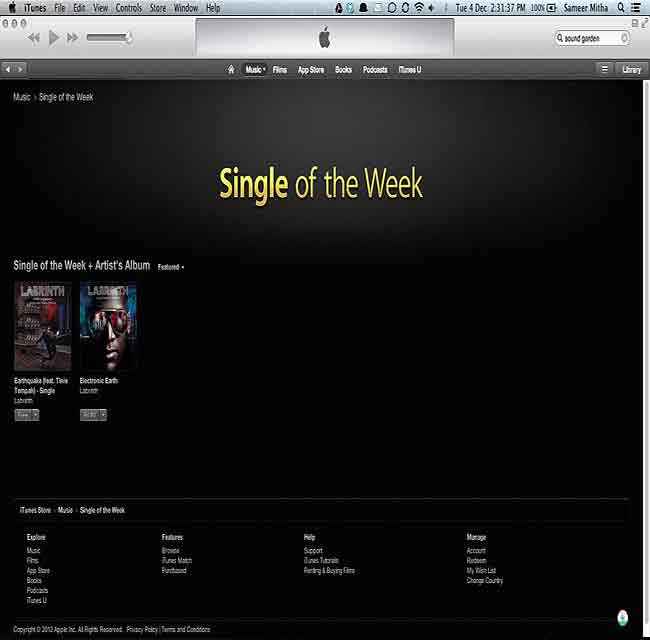 Get access top a new free song each week
iTunes Match
iTunes match too has made its debut in the iTunes India store. iTunes match is available for a fee of Rs. 1,200 per year and if you are a music junkie, this does seem like a sweet deal.
iTunes Match stores your entire music library in iCloud, including music you have ripped from CD's or acquired from other sources and lets you enjoy it anytime, anywhere on your iOS device, computer or Apple TV.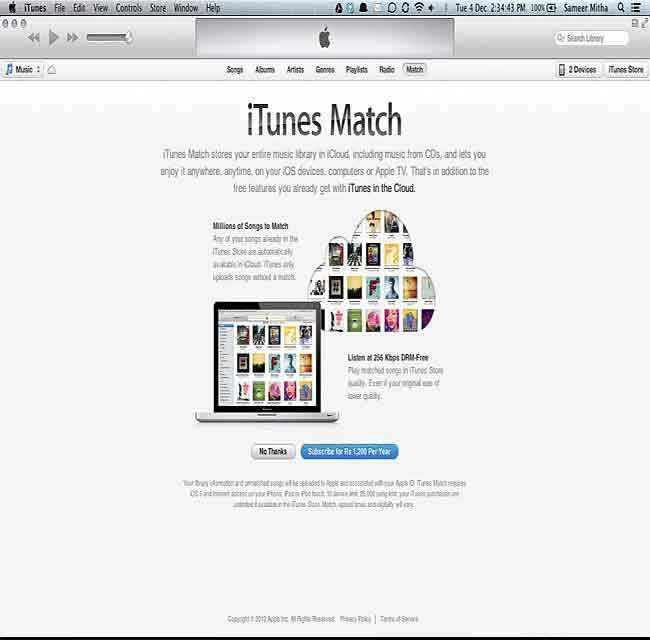 iTunes match at Rs. 1200 per year
Recommendations:
Recommendations also makes an appearance in the iTunes store recommending music and films to users based on their purchases made in iTunes. iOS devices
Apart from the desktop iTunes app, you also have access to the iTunes India store via the your iOS device. We tested the store on an iPhone 4S and the screenshots below give you a glimpse of what the interface is like. If you are one who loves changing your ringtone to suit your favourite song, you are in luck. You can download ringtones too from the iTunes India store.
Reason to buy an Apple TV?
If you are a part of the Apple iOS and OSX ecosystem, you know how seamless it is to synch your content between your devices. So does this mean it makes sense to pick up an Apple TV? Well, the device isn't officially available in India and until the launch of the iTunes India store; it was only good for Airplay Mirroring. With the launch of the store however, it makes sense to have an Apple TV as you can directly stream your favourite movies and music directly from the device.
Would you like to see Apple launch the Apple TV in India?
Competition
Google Music and Microsoft's Xbox Music too are streaming services available globally but not in India. iTunes may have taken first movers advantage here and they have launched with a considerable library. Will we see the search giant launch Google Music in India anytime soon? It does make sense seeing the plethora of Android devices making the rounds in consumer's hands.
Local Competition
This topic is a story in itself but we would briefly like to touch upon the competition that the iTunes India store will face in India. We have Reliance Big Flix that also gives users the ability to stream movies. We also have apps such as Saavn, which gives users the ability to stream music on any device. We also have Flipkart's Flyte digital store that gives users access to digital music content. Just like the iTunes India store, users can purchase a single song or an entire album digitally, as per their requirement. The Flyte store included English, Hindi as well as regional music
How the competition will pan out in the future? Only time will tell. Until then, the consumer is spoilt for choice with movie rental, purchase, music purchase and streaming services.
Better late than never, we have finally seen the iTunes India store launch and the initial library of content is impressive. The lack of Hollywood flicks and TV shows is a bummer and we hope that it gets added to the library soon. If you own an iOS device or a Mac, or are an iTunes user, you should definitely give this service a try.
Also read,