There's no foreseeable end to the iOS v. Android battle. The two most popular mobile operating systems in the world have their own pros and cons, and each have hardcore fans who have been at loggerheads ever since.
At WWDC 2017, Apple unveiled iOS 11, the latest edition of its mobile OS. The company has always custom-built its mobile SoCs, producing deep integration of software and hardware. As a result, its latest operating systems are built keeping in mind all the hardware that powers iPhones and iPads. That, though, has still not stopped Apple from including the iPhone 5s, now four generations old (ages in technology time) from getting the latest iOS 11 update.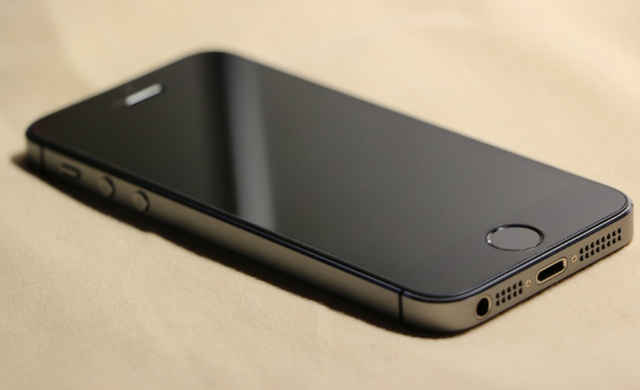 The Apple iPhone 5s: Updated till 2018
While the outdated hardware certainly shows signs of struggle (I happen to still own one, despite having moved on to newer iPhones for primary usage), the fact that it received the latest OS keeps it functional for at least another year. The Apple iPhone 5s will get all of Apple's latest security updates, new graphic interfaces and optimisations, even though it would not be able to make the most of all the new features like the new lock screen and control center designs, made specifically for larger displays.
Apple's commitment to its users
The deal is, even without all the new features, updating the iPhone 5s to iOS 11 is a big win for Apple. One, it reaffirms the company's once-unparalleled prowess at synchronising hardware and software to perfection, and assures new iPhone buyers, albeit unofficially, that the lifespan of their iPhones will be more than just a year. Seeing how iPhone buyers make a considerably large investment in buying Apple's devices, prolonged lifespan is warranted.
Long term investments
Secondly, it also gives its premium devices greater value for money proposition. Android Marshmallow (2015) saw the end of Google's Nexus 5, launched in the same year as the Apple iPhone 5s. While Google failed to continue support for a popular device in its own ecosystem, Apple has provided the iPhone 5s lifeline till at least 2018, for those who do not wish to buy a new device. Sure, the hardware weakness will be gaping, and most of iOS 11's new features will not run properly, but the iPhone 5s will be a functional device that would still shoot decent photographs and play the occasional lightweight game. If you bought it back in 2013 and are still using it, you'll have an updated device till 2018, which is way more than what any mobile phone maker has managed to provide since Nokia's golden era of non-smart mobile devices.
The full list of all Apple devices running on iOS 11 include the iPhone 5s, iPhone 6, iPhone 6 Plus, iPhone 6s, iPhone 6s Plus, iPhone SE, iPhone 7, iPhone 7 Plus, iPad Mini 2, iPad Mini 3, iPad Mini 4, 5th gen iPad, iPad Air, iPad Air 2, 9.7-inch iPad Pro, 10.5-inch iPad Pro, both generations of the 12.9-inch iPad Pro, and the 6th gen iPod Touch.
Where Android falters
Android OEMs are actually still producing phones running Android Marshmallow, promising updates that never actually make it to market. The latest report shows only 9.5 percent of all Android devices running on its latest Nougat, while Apple quoted an adoption rate of 86 percent across all iOS devices for iOS 10. There are a number of reasons as to how Apple achieves this. Firstly, the company has a limited number of devices to cater to, while Android has a significantly wider ecosystem with multiple device manufacturers. This makes it easier for Apple to roll out regular updates, while Google has it much harder to keep track of all devices running Android, thereby faltering in process of rolling out regular updates.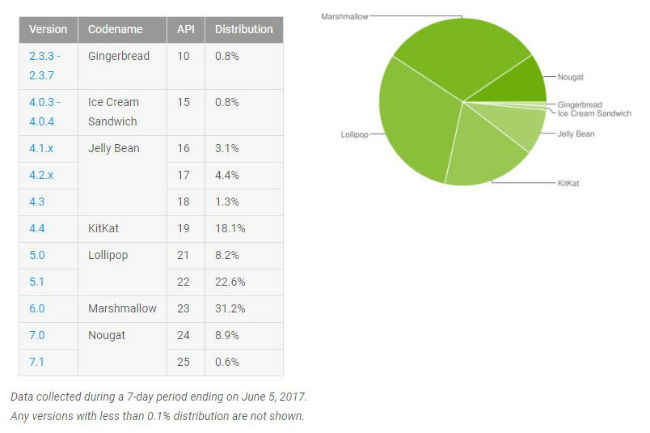 The Android adoption chart
A 2015 report by Quartz stated that there were more than 24,000 different Android devices in the world, and a more recent report by Google stated that there are more than 2 billion active Android users in the world. Of all these, 0.8 percent of Android devices still run on Android Gingerbread, released way back in December 2010. That still makes for a staggering 16 million Android devices around the world, that run on an operating system outdated by seven years now. This, in turn, leads to greater security threats, malware and an erratic user experience, something that Apple has succeeded in abating so far. With iOS 11 for the iPhone 5s, Apple has ensured that it gets more devices to be updated, the one area where Android has majorly faltered and fallen behind iOS.
Google's actually been trying to make the update process simpler since Nougat. But as Google does that, Android OEMs have completely ignored Nougat itself, let alone updating devices.
An all-new market strategy?
Lastly, the iPhone 5s has been one of Apple's most popular devices of all time, and has been increasingly popular in India, according to many reports. With its increased focus on India, Apple is essentially presenting first-time iPhone buyers with a fully updated smartphone in the sub-20k segment — a first for Apple itself. This may just be good enough reason for the company to have sustained the OS, and might be a criteria that Apple would rely on to gather momentum in the Indian smartphone market.
The fact that Apple still supports a device four years after launch, and that it can make one that can remain functional in today's age of rapid innovation and extinction is a feat in itself, something that Google and it many partners seem to have missed out on. Google's Nexus 5 users have long been history, adding count to Google's still-significant share of devices stuck on Android Marshmallow, which will soon be two generations old.
The Apple iPhone 5s might not be a fanciable device if you are at the cutting edge of consumer technology, but is an option that cannot be ignored if you are a first-time budget buyer, who has always wanted an iPhone. With iOS 11 for iPhone 5s, Apple may just have taken one of the best decisions that it has, in recent times. To be clear, I'm not recommending you buy the iPhone 5s right now. But for those who do have it/buy it, you still have a year's worth of usage left on the device.