At the Google I/O this year, the creator of Android had made an announcement that was especially interesting for Indians. It was the Android One, Google's attempt to revolutionize the budget smartphone segment. Well, that attempt materialized today and as the company had said, Micromax, Spice and Karbonn were the first three manufacturers to come out with smartphones. The first three smartphones are,
- Micromax Canvas A1
- Karbonn Sparkle V5
- Spice Dream Uno
Spice Dream Uno (Left) and Karbonn Sparkle V5 (Right). (Click to enlarge)
What is Android One?
Android One is a program from Google, where it gives manufacturers a set of device specifications to choose from. It is a means for manufacturers to provide a much better Android experience in inexpensive and easily affordable smartphones. Basically, you get a devices that is in a way certified by Google as the best Android can offer in the given price range.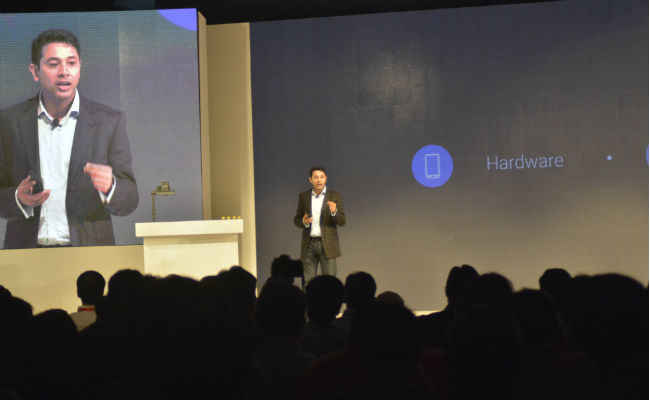 Caesar Sengupta, Vice President, Product Management, speaking at the Android One launch in Delhi.
What are the advantages?
- Better performance: The UI on these smartphones is very fluid, but more importantly, your things like navigation on Google Maps run more smoothly on Android One smartphones. Also, the first devices on Android One run on a 'stock' experience, which isn't new, but the OS runs as smoothly as a Moto E. So, if manufacturers can come up with cheaper devices, it would mean Moto E level performance on a cheaper smartphone.
- Customizations for India: According to Google, the Google Translate feature has been updated for better Hindi translation. Also, Google Now understands the Indian accent better. The company said there will be other customizations for India as well.
- Updates: In Sunder Pichai's own words, the Android One devices will be amongst the first to get the Android L updates. That's not something you hear everyday for a phone that costs Rs. 6,399.
- Camera: In sub-10k smartphones, the camera has till now gone up to 8 MP. With Android One, Google has room for 5 MP, 8 MP and 13 MP shooters. While the prices will vary, it could mean that you can get a pretty amazing camera for a relatively low priced device.
- Build and Design: With Google providing the software and the 'best specs' list, manufacturers can concentrate on things like design and build. According to Cesar Sengupta, VP, Product Management, manufacturers will be coming up with different designs for Android One smartphones in future.
- Brand: For the brand conscious, Google has announced with three brands right now, but nine more are joining the fray soon. This includes names like Asus, HTC, Acer, Xolo, Panasonic, Lava, Intex, Alcatel and Lenovo. It would mean that each brand has an affordable Google certified device for you to buy.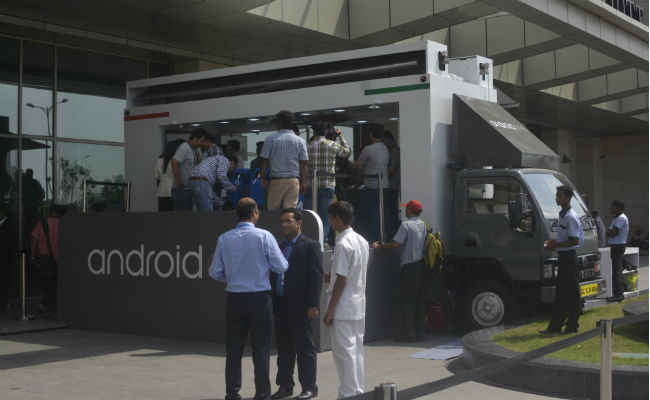 These vehicles will go around various cities, allowing people to get a hands on with the Android One devices.
What this means?
Android One is advantageous for the first time Android users and it is evident that both Google and its partners are looking to reach out to the 'next billion' users, who are all going to come from the tier II and tier III cities. If you've been following the Android smartphone market, you will be hard pressed to find a reason to choose an Android One smartphone over a Moto E (unless you the Rs. 600 difference makes a big difference to you). The reach for these smartphones is much higher, because they are inexpensive not without the advertising campaigns, but rather, despite them. Google is making efforts to take them to consumers and make them aware about them.