3G uptake in India hasn't been very impressive with a large number of users still relying on outdated 2G technology. The reason behind the slow expansion of 3G is said to be expensive tariff rates, with telecom operators focussing on improving margins and recovering costs due to steep spectrum costs. Though the Indian market is projected to have 100 million 3G users by 2014, it still might not be the most preferred network for end users by then.
Now, however, India is set to witness proliferation of the fourth-generation wireless data services, or 4G, with Reliance Industries (RIL), which owns a unified licence for the network, planning to roll out its services later this year. Also, Bharti Airtel, which already has launched 4G in select circles, is looking to push its 4G services with slashed data plans. Videocon is also planning to launch 4G services later this year.
With so much anticipation and hype around 4G, will the fourth-generation telecommunications services revolutionise the Indian data market? What could be the possible challenges to the expansion of 4G? Will the fourth-generation network help India emerge as a qualitative Internet market, instead of a quantitative one?
Affordability is certainly going to be the main mantra for the success of 4G. Reliance's Mukesh Ambani is also counting on the same factor for his company's 4G network. His company is in talks with Samsung Electronics Co. to launch 4G devices costing less than Rs. 5,000. RIL is also working close with other vendors to launch budget 4G smartphones and other devices.
"Broadband and digital services will no longer be a luxury item - a scarce commodity - to be rationed amongst the privileged few," Ambani, the world's 22nd richest person according to Forbes magazine, told shareholders this month.
It's notable Bharti Airtel has already slashed its 4G data plans by up to 31 percent, and is offering it at almost the same price as 3G. The move is believed to help the operator expand its 4G subscriber base before Reliance Jio rolls out its 4G network.
"Reliance Jio has already suggested offering 4G plans at 2G data tariffs, and the recent data rate cuts are a way for telcos to position themselves for imminent competition," DNA India quotes Mr. Mahesh Uppal, director, Com First (India) as saying.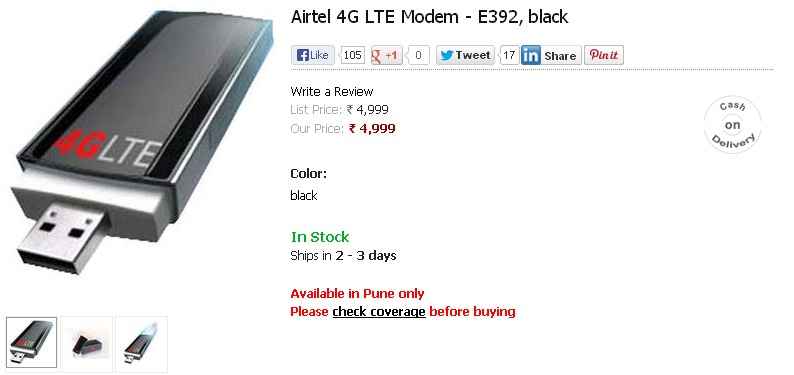 Airtel offers 4G dongle for around Rs.5k
Availability for budget 4G-enabled smartphones is also going to be a key factor.
India is the second largest cellular market in the world after China, with a massive subscriber base of 867.80 million, as of March 2013. Unfortunately, majority of smartphone users are still on 2G network. Budget 4G smartphones coupled with affordable plans, however, can very well drive 4G growth in India.
But, offering affordable 4G plans and phones can be cumbersome for the telecom operators, which are already bearing the brunt of ultra low-cost voice call plans and steep spectrum prices.
"As we are now at the forefront of rolling out 4G networks globally, we have to learn on our own and not from others. This will mean learning more about data usage patterns, customer," says Rajan S Mathews, Director General of Cellular Operators of India (COAI).
"...demand, customer sensitivity to price points, customer preferences for content, etc. Once such market intelligence is obtained by operators, they will be innovative enough to provide data services at affordable prices to customers while still maintaining profitability. This has been the case in offering voice services and we expect to do the same with data. As data services are still at an early stage globally, we will have to move forward cautiously. I has taken well over 3 to 4 years for data to pick up in international markets, so we are not lagging behind in this regard."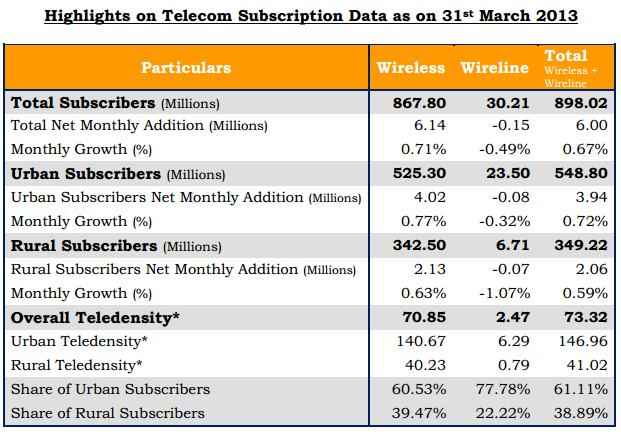 Highlights of telecom subscription data as on march 2013 (via TRAI)
The slow uptake of 3G has apparently discouraged developers to come up with content tailor made for the faster network. Mobile TV and multimedia streaming are growing but are still not eminent. Availability of a wide range of content for 4G networks is highly important for multimedia-hungry young smartphone users. But that being said, developers have to see revenue potential as well. Thus, consumption and availability will have to be complementary to each other.
Mr. Mathews, however, stresses on the usage of all of available spectrum to provide broadband services to users.
"Being the second largest mobile market in the world, India needs to take its place in the forefront of providing innovative services and applications to its citizens. Therefore, we cannot lag the rest of the world in providing 4G services. Also, we must use all of our available spectrum as soon as possible to provide broadband services to all of our citizens as soon as possible," points out Mr. Mathews.
According to him, "price points for data that meet the requirements of all segments of customers and roll out of government services such as e-education, e-medicine, e-governance, etc" are among the top keys to success of 4G.
Mr. Mahesh Uppal also believes 4G will be driven by "heavy users - schools, hospitals, bigger businesses – who cannot access DSL for any reason, would certainly need them."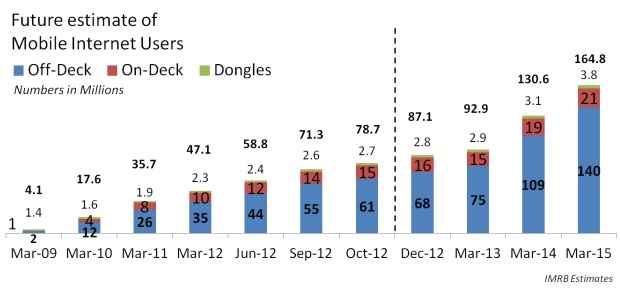 India predicted to have 165 million mobile Internet users by 2015 (via IAMAI, IMRB)
Last, but certainly not least, 4G needs a huge push from the government, which needs to lay out clear guidelines for the network. There should be a minimum roll back of policies after the implementation. We've already seen the regulatory body and operators tussle over intra-circle roaming arrangements, licence renewals and other things. Moreover, clearer guidelines will give a lot of confidence to the companies working in the 4G segment.
From the customers' point of view, it is obvious they would like to upgrade to 4G for better quality services as compared to the older generations.
"Customer are demanding faster speeds with little to no latency, on demand, to enjoy the various applications available to them (*e.g. games, entertainment, social media, etc.). This will be the main attraction for customers to upgrade to 4G networks," points out Mr. Rajan S Mathews.
Do you think India is ready for 4G? How soon you expect 4G to surpass 3G and 2G in terms of coverage in the country? Let us know your views in the comments section below: