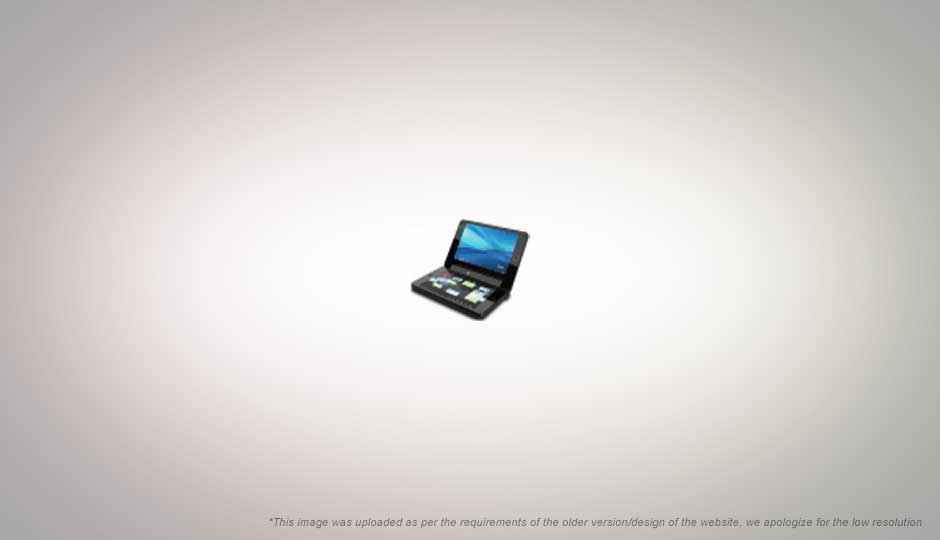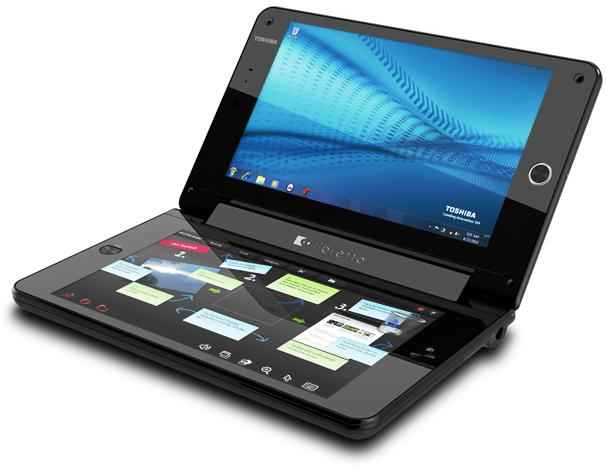 Called the world's first Windows 7 dual-touch-screen laptop, the Toshiba W100 Libretto weighs 819 grams, and has two 7-inch wide aspect capacitive multi-touch screens.
The device is hailed by Toshiba as a mini-notebook that showcases an "unparalleled blend of high performance, mobility and features", perfect for 'prosumers' looking for a combination of mobile and state-of-the-art computing.
We got our hands on the device in our just concluded visit to Toshiba's Hangzhou laptop factory, where we we invited to partake in its celebrations at the "25 years of Laptop Innovations and & Quality" anniversary, and we have to say, the W100 Libretto seriously responsive in all aspects, and it looks great! The device is certainly isn't conventional, and is something in between a laptop, a netbook, and a touch-screen tablet. This is why it can't be compared directly with an Apple iPad or Dell Streak.
What really makes it stand apart is the its 2GB DDR3 1066MHz RAM, LED backlit LCD screen, a 62GB SSD, USB 2.0 interface, a 1MP webcam, 729MB shared video RAM for the Intel HD integrated graphics solution, and a 1.2GHz Pentium U5400 processor with 3MB L3 cache.
Possibly the best part about the device is the way Toshiba has managed to split the Windows 7 OS across two displays vertically, giving users excellent video real estate, while ensuring a large sized onscreen keyboard, which ranges from 3-line, 4-line, and split-qwerty configurations, to a number pad. The dedicated keyboard button, is accompanied by a home and power/sleep button. The accelerometer works well to switch from laptop mode to book mode, and, you can drag and drop content from one screen to the other.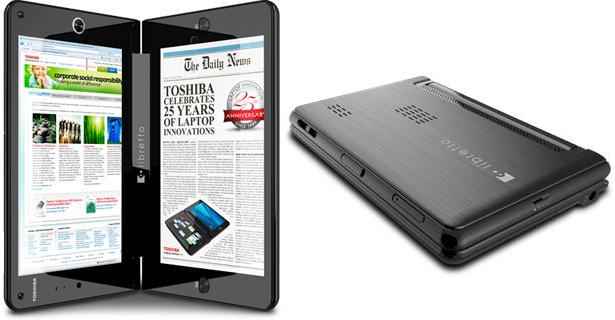 Software such as Toshiba LifeSpace (meant for the dual-screen interface, turning one of the screens into an organizer), and Toshiba Media Controller, and Toshiba Eco Utility are certainly useful, and, since this is Windows 7, expect an unlimited variety on your Libretto.
Unfortunately, the W100 device has some drawbacks right from the get-go, namely, its 4 hour battery backup, and a mono-speaker which when we tested it, was not very very powerful. We however have great hopes for the device, though at its price point, it will not become common as the iPad or netbook.
While the W100 device that's being launched in India currently does not have an integrated WiMax or 3G modem, Toshiba offers it to select areas abroad, and when 3G finally comes to India, it will come with the facility.
Check out the full specifications below:
| | |
| --- | --- |
| CPU | Intel Pentium U5400 (1.2GHz with 3MB L3 Cache |
| OS | Choice of Windows 7 Home Premium 32-bit and 64 bit |
| Chipset | Mobile Intel QS57 Express Chipset |
| RAM | 2048MB DDR3 1066MHz RAM |
| Display | Dual 7-inch capacitive touchscreen, WSVGA Wide Clear SuperView Multi-touch LED backlit display, 1024×600 pixels |
| Graphics | Intel HD graphics with up to 729MB shared video RAM |
| Hard Disk | 62GB Solid State Drive |
| Pointing Device | Virtual multi-mode software keyboard with haptic-feedback |
| Communications | Bluetooth v2.1 with EDR, integrated WLAN 802.11 b/g/n |
| Built-in Camera | Built-in 1MP web-cam |
| Sound System | Mono Speaker |
| Interfaces | 1xUSB 2.0, external headphone (stereo), microSD card reader |
| Battery Type | 8-cell Lithium-ion |
| Battery Life | 3.5 – 4 hours |
| Physical Dimensions | 202 x 123 x 30.7mm |
| Weight | 819 grams |
| Warranty | 1-year carry-in international limited warranty (parts & labour), 1-year battery (carry-in |