Launched at IFA 2017 last year, the Lenovo Yoga 920 is the crown jewel of Lenovo's 2017 consumer lineup. The 14-inch thin and light notebook is a reiteration of company's 2016 flagship, the Yoga 910 and while the dimensions are almost the same, the new machine features some cosmetic changes along with a newer Intel processor. This will be the company's flagship product and as such, it is priced upwards of a lakh rupees. Unlike the western markets, Lenovo has launched just one variant of the machine India. It is powered by a top-of-the-line 8th Gen Intel Core i7, features a 4K touchscreen display, a 512GB SSD and 16GB of DDR4 RAM. Priced at Rs. 1,50,037 (1,27,150 + 18% GST), the Lenovo Yoga 920 is undoubtedly a premium machine and will be going head-to-head with the likes of HP Spectre x360 and the newly announced Dell XPS 13.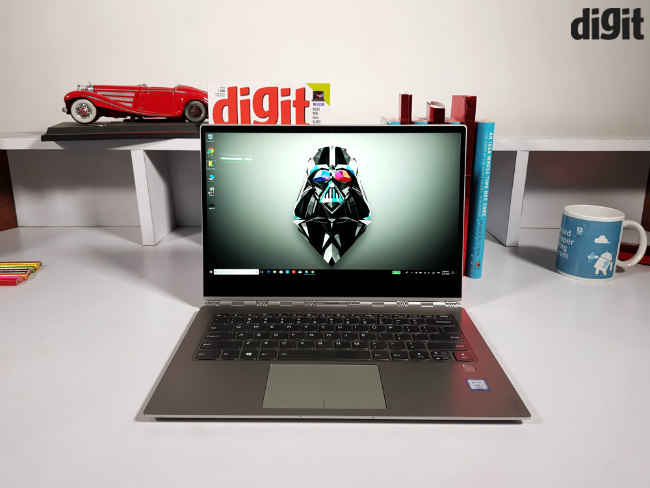 Specifications of our test machine
Display: 13.9-inch
Display resolution: 3840 x 2160p
CPU: Intel Core i7 8550U
RAM: 16GB DDR4
Storage: 512GB PCIe SSD
Features: backlit keyboard, fingerprint scanner, glass touchpad, far-field microphones, two thunderbolt 3 enabled ports
Solid build, unique design
Lenovo has maintained its design and build quality across all its products and price categories. The Yoga 920 is a well-built laptop, thanks to the all aluminum construction. There are no creaks, squeaks or even flex of any kind in any part of the laptop. The bottom portion is carved out of a single piece of aluminum and same goes for the lid. Although, unlike most premium laptops, Lenovo has given the lid a touch of character. This 'Limited Edition Vibes' variant of the laptop has a glass lid cover (Corning Gorilla Glass 5) with a design chosen from among 130 entries made by the students of design at Istituto Europeo di Design, Milan, Italy. The company says that it can withstand drops from 1.5 meters. However, we are yet to verify that claim in a real world scenario. Should be an interesting test.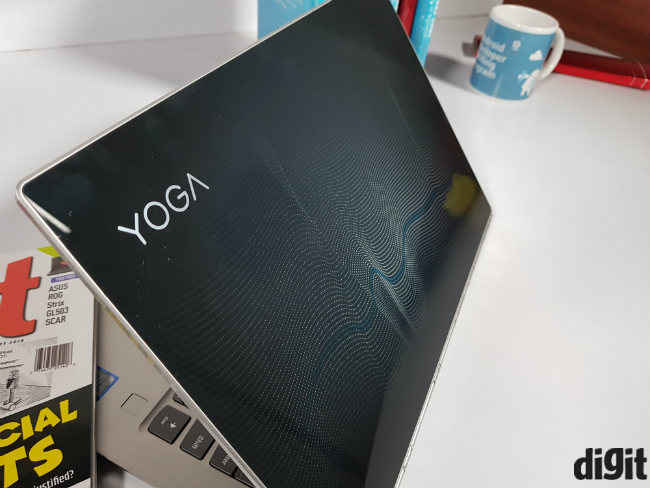 Adding to that is the signature watch band hinge Lenovo has been using on its 900 series laptop since the line-up's inception. The 13.9-inch almost bezel-less display now makes room for a camera at the top where it should be in the first place. (Ahem... Dell, are you listening?)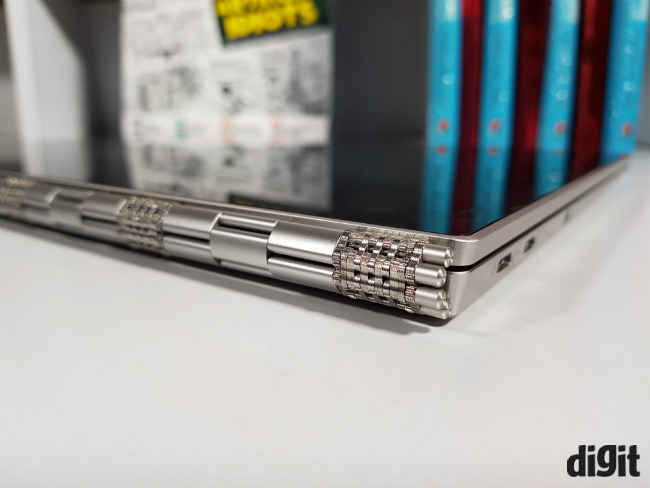 Say, Hey Cortana from across the room
One of newest features that the laptop has on offer are the far-field microphones. These new microphones are supposed to work in a similar fashion as Amazon Alexa or a Google Home works. Lenovo says that with these microphones, Cortana can reply to your queries from almost 4 metres away. I ran some tests with it in a silent room and Cortana did answer correctly most of the time. However, I still need to test it further to figure out how it works in noisy environments.
Performs well
The biggest update this year, besides the design, is the new 8th gen Intel Core i7 processor. While some initial synthetic benchmarks do point towards an overall better performance, there is no discernible difference in day-to-day performance compared to the last gen Intel processor. The point being, both the last gen and new Core i7 processors are immensely powerful to take on everyday tasks. The 16GB RAM is now even faster as it has moved to DDR4 and the 512GB PCIe SSD from Samsung is the best in business at the moment.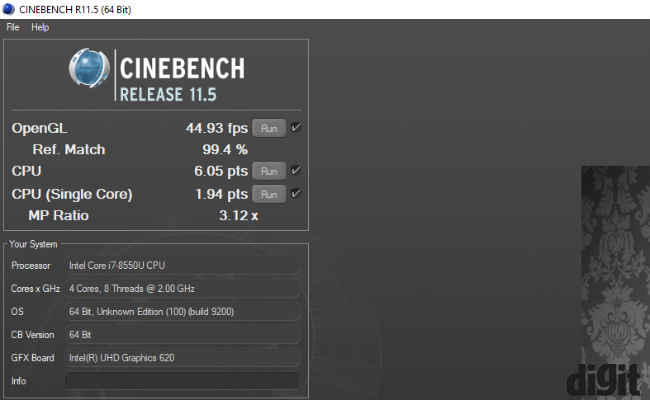 Cinebench 11.5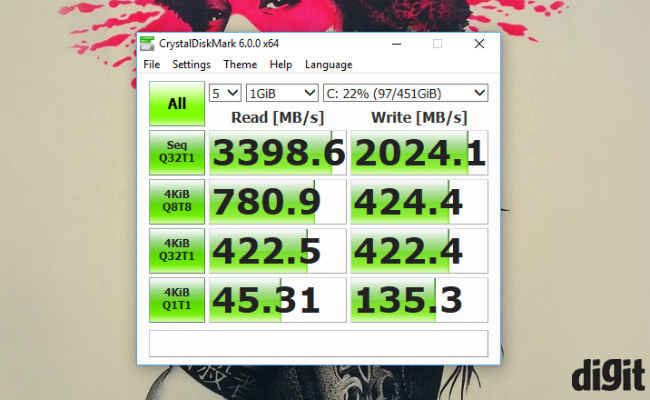 CrystalDiskMark 6
One peculiar thing I encountered with the laptop is that at times our test unit heats up while charging or while using either of the thunderbolt ports to charge another device from the laptop. I will have more info on why is it happening by the time we publish a full review.
4K is just overkill
The laptop offers a 3840 x 2160p resolution (4K) on a 13.9-inch display. While this does give you the bragging rights of having one, it is not very practical. I am a firm believer that laptops with screen sizes of 14-inch and below don't need a display with 4K resolution or even 2K for that matter. This is a two-part problem. Firstly, on a 13.3-inch or a 14-inch display, the higher pixel density makes no difference unless you are looking at the display from up close, which for the sake of your eyes you shouldn't. There is one major plus point though, having a 4K display will allow users to watch all the latest video content in native 4K. That said, you would see a minor dip in sharpness and contrast if you switch to a 1080p display, which isn't that bad. In fact, video content viewed on Lenovo's Yoga 720, which is a 1080p display looks just as good. On the long run, this will also save you some battery.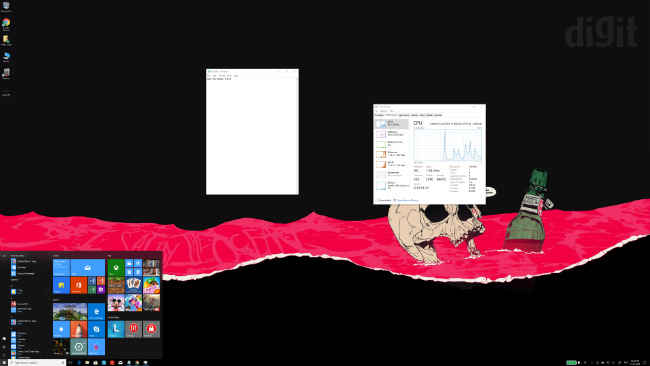 Native 4K resolution
On a 24-inch monitor or above, you can easily make use of a 4K resolution, as you have larger screen area at your disposal. This will allow you to open multiple apps side by side allowing you work seamlessly. On the Yoga 920, you can do the same. However, on a smaller laptop display, especially below 15.6-inch, you will end up squinting because the text and image downsizes to fit the resolution. Check the image below and decide for yourself.
1080p resolutiion
Having said that, content creators, especially who work with photo and video do benefit from a laptop with a 4K capable display. The Lenovo Yoga 920 is just not aimed at them though as it lacks a dedicated GPU to take on some of the graphic intensive tasks.
Battery life is good, but could be better.
While Lenovo has promised around 10 hours of battery life with MobileMark 2014, the laptop never clocked more than eight hours of usage for me. While this is a good score for a laptop featuring a quad-core processor and running a 4K touch display, I am certain it could have done better with just a 1080p display. Lenovo itself claims that the international 1080p variant can last upto 15 hours, which is awesome for road warriors. In India though, Lenovo is only launching the top spec variant with a 4K display.
All-in-all, I am quite convinced that the Lenovo Yoga 920 will be placed among the best ultrabooks of 2018, but I would argue that the 1080p variant might make more sense. That said, these are just my initial impressions of the Yoga 920, stay tuned for an in-depth review for our verdict on the Lenovo Yoga 920.