A thin and light laptop is the next best thing a working person needs besides his smartphone. An ideal ultraportable laptop should have a good display, ample performance with room to scale it, a good keyboard and last but not the least, a superb battery life. Only a few meet these parameters and last year's HP Spectre x360 (2017) was one of them. It had everything one might need, but there was a slight heating issue, which did not fit well with the over-crafted laptop. Now, HP has done some design changes and the x360 is back with newer hardware and a redesigned cooling solution. I've had the laptop for a few days and here are my initial thoughts.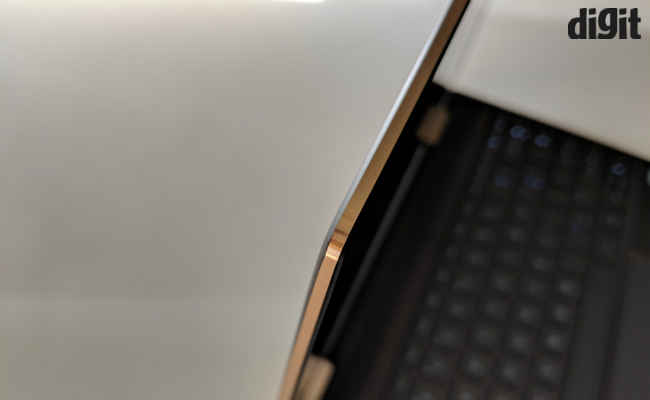 Performance and heat management
Let's start with the internals, which has been completely overhauled. Inside, you have an Intel Core i7-8550U, which is an all-new quad-core chip powerful enough to take on all kinds of tasks you may throw at it. I have been using this machine as a daily driver, opening tons of chrome tabs on multiple desktops, streaming video content and even some light game testing and it never slowed down on me. The UHD 620 integrated GPU is not the fastest onboard GPU anymore as initial tests indicate that integrated Vega GPUs on the Ryzen mobile chips might be faster. However, the UHD 620 is still a capable GPU, for all kinds of non-gaming and non-pro (for eg, video editing) tasks.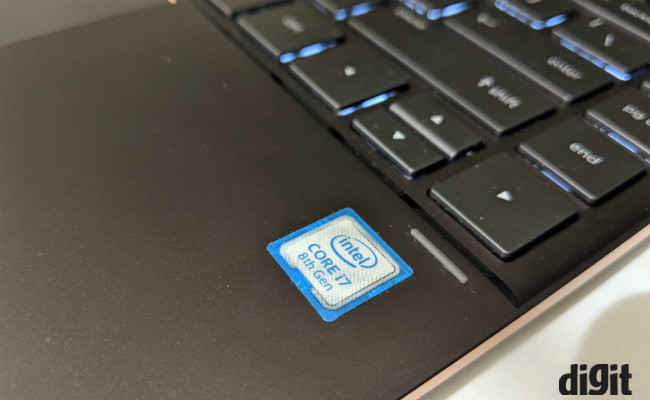 The best part is that HP has reworked the thermal issues that the previous Spectre was running into and has changed things accordingly. This time around, there is a dual fan cooling solution, which is taking air from the bottom, and breathing out from the back. This seems to have worked as under load, I found the machine to be quite comfortable to use. Moreover, the two fans remain very silent even under maximum load, which is quite the feet. While I am still in the process of fully testing its limits, it seems HP might have figured out the last missing puzzle from its last year's flagship.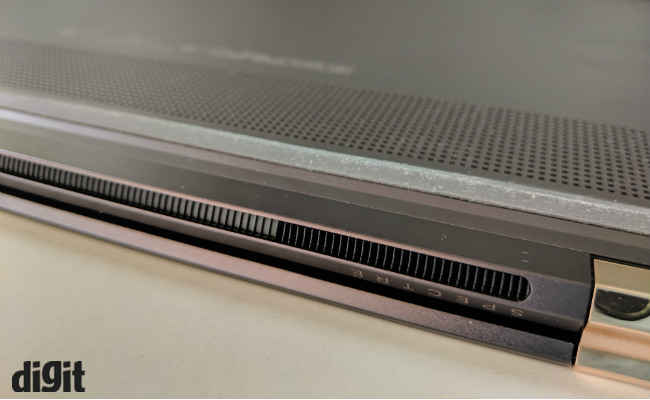 Keyboard and Display
That said, some things haven't changed and the keyboard is one of them. We really liked the key tactility on the last gen Spectre x360 and I have no complaints with this one either. The pitch is right, the keys feel precise and press down with an audible satisfying sound. It has a slightly different character to the Lenovo Thinkpad keyboard but is just as good. I just feel the smaller top and bottom arrows keys and the delete key at the far right are a bit annoying, but eventually, you get used to it. All-in-all the typing experience on this keyboard remains almost the same as last time and that is nothing to complain about.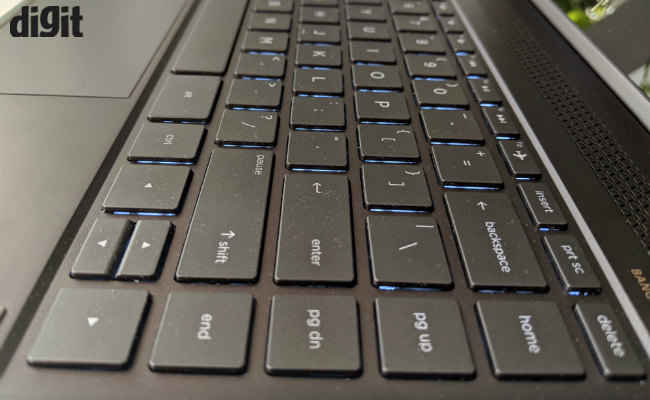 Same can be said for the display, which now has even thinner side bezels and a less rounded sides. Nevertheless, you still have the thicker top and bottom bezels, which may seem distracting at first, but are essential for tablet mode as this is where you will hold the device. The glossy touch screen panel is still no match for a matte display, but as far as touchscreens go, one can't really complain. I feel the display could have been a little more brighter, but the touch sensitivity seems quite good. It is well calibrated out of the box and has good viewing angles as well. HP has also added it's Sure View technology, which we saw earlier on the EliteBook 1020 G2 laptop here as well. So, with the press of a button, you can hide the content on the display from prying eyes. Furthermore, HP bundles an active stylus with the laptop, which should come in handy if you are the artistic kind or do like to take hand-drawn notes.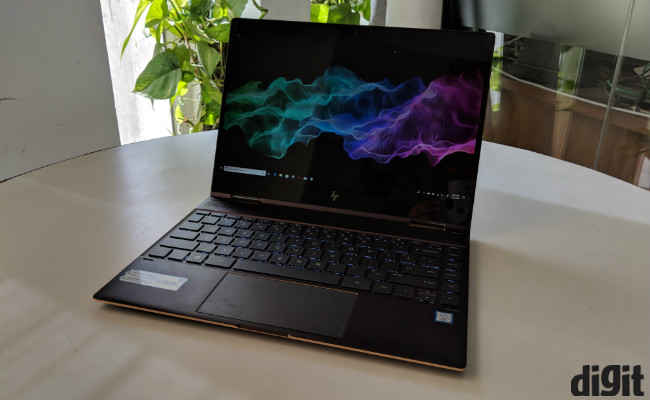 Battery life
All this brings us to the battery life, which completes the whole package as the laptop can easily run up to 8 hours between charges. Like the Lenovo Yoga 920, this machine can also be charged via either of the two USB Type-C ports and also supports fast charging. I am still testing the battery life, but it seems quite promising.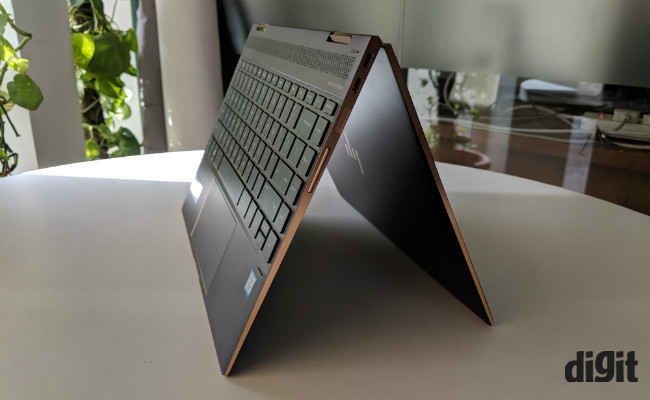 Bottomline
HP's last Spectre x360 was a really good machine in all regards, except for a slight heating issue, which marred its shiny reputation. In this new iteration, that one shortcoming has been addressed and for that it might just be the update they were looking for. The performance seems best in class, the build quality is good as ever, the display is nice, it has been offering ample battery life (at least in the last few days I have spent with it) and there are no heating issues as such. The design is still polarising, but that is something I like about this laptop, at least it has a different take at design, unlike most thin and light machines out there, which dress in silver aluminium shells, looking the same. The price is still on the expensive side, but that was expected as this is a "Premium Product" in the true sense of the word. All-in-all I am quite impressed, and it seems HP might just have the best thin and light convertible at its hands.