In a grand event, HP announced the ultra-slim Spectre 13 in India, and at just 10.4mm, it is the slimmest laptop in the world. It is made using carbon fibre and Aluminium with prices starting at Rs. 1.2 lakhs. Yes, it is not very affordable, but it is not supposed to be, as this quite simply is the most premium laptop HP has on offer. Even at the event, when a member of the audience asked about the high price, Ketan Patel, Director, Personal Systems Business, HP India, claimed that the Spectre is simply a luxury product. However, it is more than that and while HP believes the design is the better half of the laptop, I think, the innovation that has gone behind the slim profile is far more intriguing.
I say so because, putting a proper mobile core i5 and i7 processor in a chassis this slim, with active fan cooling, is definitely an engineering marvel. There are other laptops in the market such as the Apple MacBook or the HP Folio, which offer a rather similar slim profile. However, unlike the Spectre, they feature the less powerful, Core m series processors and don't really require active cooling. In a normal laptop which has active cooling, a single or a set of fans pump out hot air from the laptop. In its place, what HP is using is a Hyperbaric Cooling system. This is an age old technology which was developed by Intel back in 2000's and Dell Vostro V130 was the first laptop to employ this cooling system. In a Hyperbaric cooling system, cool air is sucked in and directed over the hot components precisely. This not only improves the life of the product but it keeps the noise at lower decibels as well. HP has further developed the design, but has kept the basic blueprint quite similar to the Dell Vostro V130. Hence, the battery is built in and all the ports lie at the back. So, at the back, you get three USB 3.0 Type-C ports, out of which, one is used for charging.
Back in 2010, Dell Vostro V130 was criticised for its low battery life but an HP representative told me that the Spectre should be able to provide 6-7 hours of battery life, which seems good enough for a Windows machine. To save battery, the screen resolution has been kept at a very convenient 1080p and there is no touch screen variant. That said, HP hasn't cut back much on the silicon. The Intel Core i5 variant features a 256GB PCIe SSD and the Intel Core i7 variant sports a 512GB in the same PCIe based flavour. There is 8GB of RAM on both variants but at a starting price of Rs. 1.2 lakhs, I would have preferred 16GB of RAM.
Technical stuff aside, HP has made sure that the Spectre stands out with its design. The matte black carbon fibre and Aluminium body flaunts a bronze finish at the back, giving it a very jewellery like look. HP is so proud of the design that it invited renowned designer duo Meera and Muzaffar Ali to showcase a whole collection of couture designed inspired by the laptop. While I can't comment on fashion, use of a carbon fibre shell also means the laptop is quite lightweight and at 1.1Kgs it is not breaking any records, but is quite light indeed.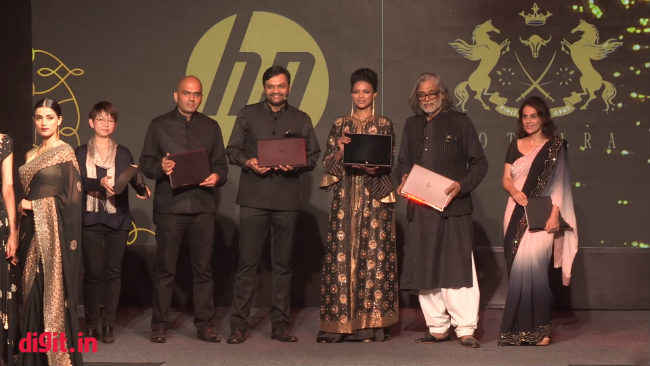 The HP Spectre definitely appeals to the masses with its wonderful design and an ultra slim profile, but it won't be the first choice for many since it is not that affordable. I would be bringing you a full review of the product once the laptop launches finally in July and it is quite possible that we might have a new "Best ultrabook for 2016" in our hands.