What's to say about a Chromebook like the Samsung Series 5, whose hardware is almost embarrassed to exist?
In December, Google unveiled the Cr-48, the first of what Google then called "Chrome OS netbooks," and seeded developers, the media, analysts, and corporations with the somewhat clunky prototype hardware in a beta program designed to work out the kinks.
Fast forward to 2011, and Google I/O. Acer and Samsung, both originally tapped as launch partners, revealed their first "Chromebooks" this week—or, to be specific, Google did it for them.
Samsung unveiled its Chromebook Series 5 at an event in San Francisco on Wednesday night. It will be available in black and white, and with either a Wi-Fi only option or Wi-Fi plus 3G. It features a 12.1-inch display, and will be priced at $429 for the Wi-Fi version, and $499 for the Wi-Fi/3G option.
We had a chance to play around with the Series 5 a bit, and if you're familiar with the Cr-48 (and subscribe to either the dev or beta channel of Chrome OS updates) then the Series 5 will feel like much of the same, but with improvements in all the right places. I suspect our review will have to ask some tough questions of the Series 5's price, however; in effect, you're paying a premium for the instant-on, quick-boot capabilities of the Chrome OS, and suffering the rudimentary media functions that Windows, Mac OS, and Linux left in the dust.
The odd thing, of course, is that Chrome OS was designed to get the user from doing nothing, out to the Web as fast as possible, no muss, no fuss. Acer and Samsung have a role to play—designer, manufacturer, promoter—but the focus isn't even on the OS, but the destination (the Web) and Google's services. It's unclear whether other OEMs will tolerate this role, free of the "crapware" that OEMs can load down a notebook with. With that said, Samsung has put its own touches on the Series 5.
The highlights: the Series 5's touchpad is stiff and clunky. The keyboard appears to offer a bit more travel distance, while still maintaining the Chrome OS key layout: a search key where the "Caps Lock" should be, keys to shift between windows, full-screen keys, and more. The touchpad, meanwhile, is functional, and doesn't require jamming it down to make it work.
Samsung claims that the Series 5 will last 8.5 hours with "active use," even though the chip inside it is now a dual-core Atom N570, according to Intel. Web surfing isn't that CPU-intensive, but now even 480p and even 720p video plays back decently on the 1280 x 800 display, thanks in part to improvements in Flash and the faster chip. Since Google constantly upgrades the Chrome OS, performance should continue to improve.
What's new (versus the Cr-48)? The addition of a card reader, for one, which, when loaded, brings up a rudimentary file manager in a new tab. We're talking basic, basic file attributes and a preview window—one man's "rudimentary" may be another's "optimized." But it's still a bit of a shock. Functions such as Gmail's video chat and Google Talk appear in small panes that "dodge" each other, not allowing one to be placed on top of and obscure the other. A basic, 1-Mpixel Webcam allows videoconferencing.
Samsung made an odd choice of obscuring a USB port and a mini-VGA-out connector on the left-hand side with some sort of rubber shield that will likely annoy users more than anything else. A second USB port on the right-hand side lacks the cover.
Samsung hasn't officially said what's inside the Series 5. There's clearly a GPU and a solid-state disc (SSD), but we haven't confirmed the specs on either. The 802.11b/g/n is complemented by a two-year 3G subscription to Verizon with 100 MB per month for free—that disappears fast, let me tell you. Cheapskates should expect to browse lots of text-based discussion forums. Originally, Google promised the Verizon 3G would last "the life of the device" with the Cr-48, which, if you think about it, may be two years as well; it depends on if you assume "life" isn't the time until it breaks, but the Google's official lifespan of the product. No matter.
Chrome OS's coolest features are the quick boot—under ten seconds—and instant resume. There's no need not to simply close the notebook while walking from place to place. The only drawback is that the OS occasionally resumes faster than the Wi-Fi can connect.
I suspect that Chromebooks are going to win their fans and their detractors, the same as most other platforms. For now, there's something to like in the Series 5 hardware and software—but oh, that price.
Editor's Note: The Series 5 Wi-Fi-only option is $429.
Click next to check out photos of the device during the hands-on, detailing it step by step... Copyright © 2010 Ziff Davis Publishing Holdings Inc.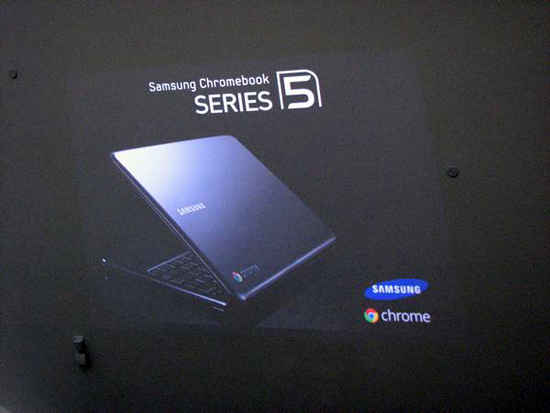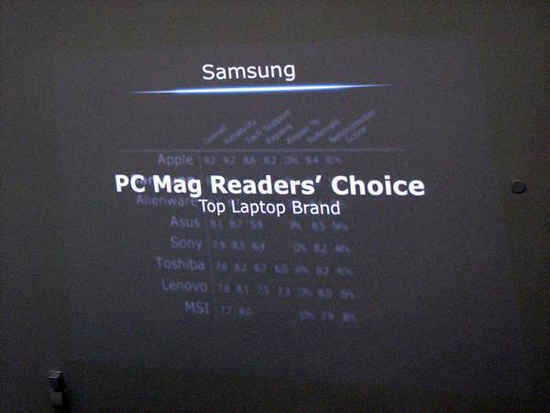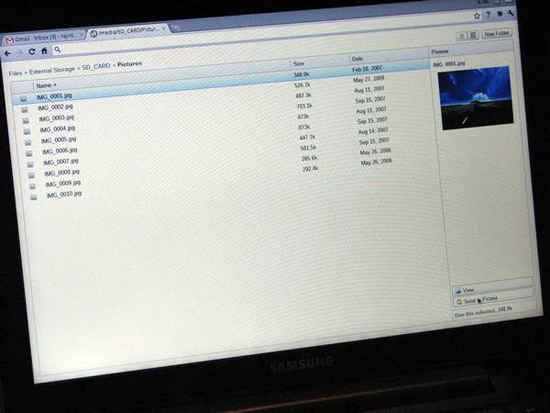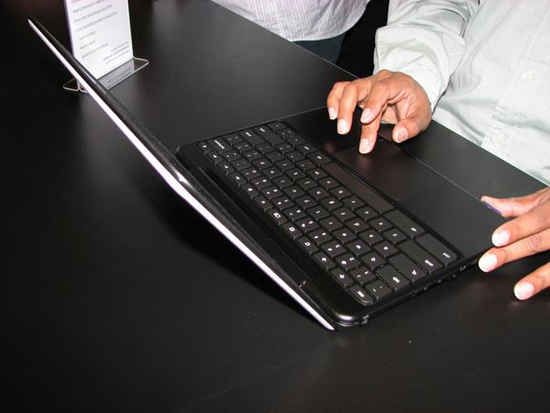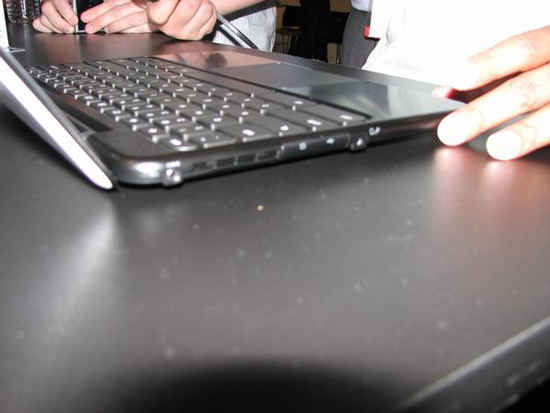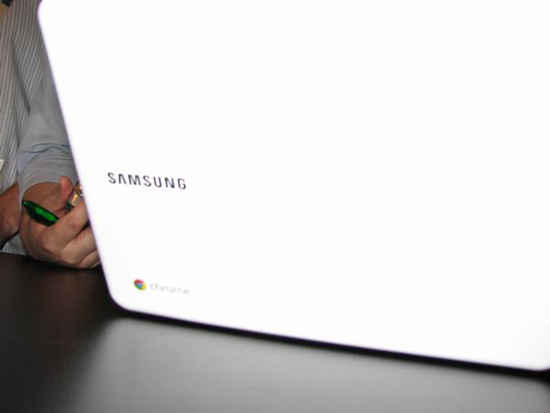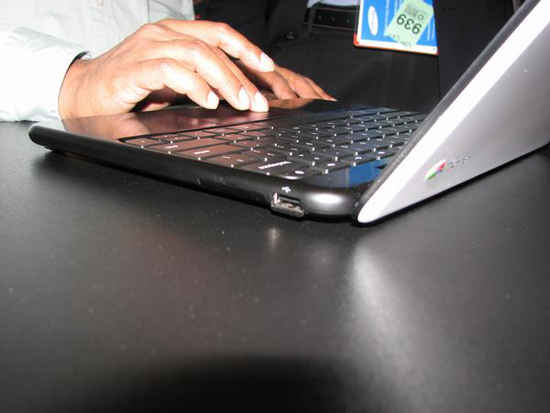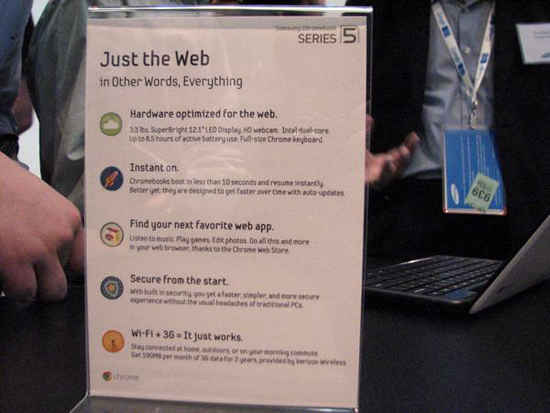 Click next below to continue seeing our hands-on images...