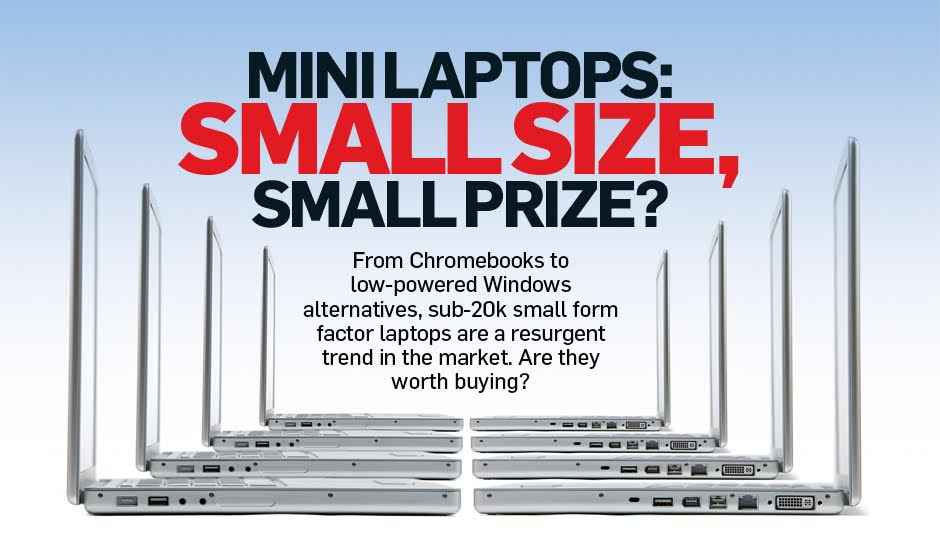 HIGHLIGHTS
From Chromebooks to low-powered Windows alternatives, sub-20k small form factor laptops are a resurgent trend in the market. Are they worth buying?
The push towards mobile, shrinking form factor devices has been evident and in full flow for a while now, but no matter what the tech gurus of the world say, laptops don't seem to be dying fast enough. New developments take place all the time though, and inexpensive netbooks giving mobiles a run for their money. With Google pushing its Chromebooks more aggressively in India, Windows OEMs have suddenly taken to building low cost, Chromebook like laptops that seem to make a lot of sense. These laptops cost less than Rs. 20,000 and rely mostly on cloud storage for functionality. And like anything in India, when the price is low, people are interested.
The question though remains as to whether these laptops are actually worth spending money on. After all, you don't want to buy a device simply because it doesn't cost a lot of money, only to find that you made the wrong decision buying what you bought. To bring the pricing down, companies have had to make sacrifices that may not suit a lot of users. So, without further ado, here's how things stand.
PERFORMANCE
MICROMAX LAPBOOK (Rs.13,999)
If you scoffed at the fact the Micromax is selling laptops, then the Canvas Lapbook will surprise you. While the device is of course not a hardcore performer, it'll suit basic users just fine. In terms of general performance, the Lapbook lets you continuously stream videos (between 480-720p) on it for over six hours, which is good for a laptop in this price range. Even while playing videos from the device's hard drive, the Lapbook can last for 6+ hours, which means you can get quite a bit of work done on the battery.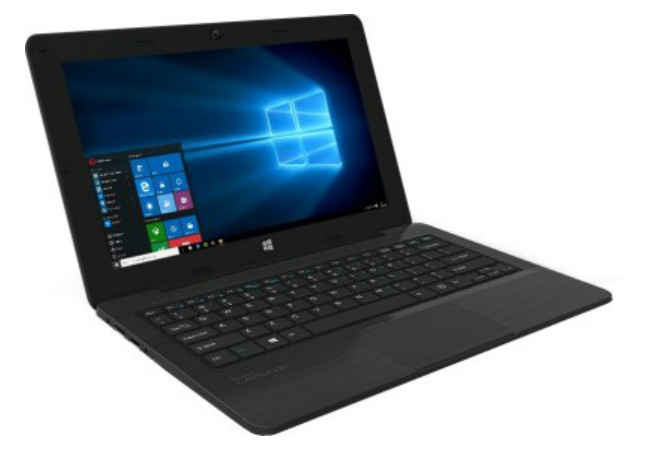 The Lapbook's downfall, as mentioned in the features section is that it doesn't come with any additional storage offers. In addition, the ASUS E402MA can perform slightly better than the Micromax Canvas Lapbook and is much better built. The area where the Lapbook really lacks though is in its display, which is sub-par to say the least. Still worth considering for first time, basic users.
Benchmarks
BrowserMark. …………………………..1324
Sunspider. …………………………………….914
Battery (Video). ………………..6.6 hours
Battery (Streaming). ………6.5 hours
Screen Quality …………………….7 /10
File copy. ………………………………..274 sec
XOLO CHROMEBOOK (Rs. 9,999)
The XOLO Chromebook actually works quite smoothly and offers battery life that is better than the Micromax Canvas Lapbook. The device can go over eight hours when it comes to native video playback, while online streaming can be done continuously for over 7.5 hours. In terms of battery life, the XOLO Chromebook is undoubtedly the best out of the lot. At 10k, no other laptop that can provide this kind of battery life. If you're simply browsing and typing, this Chromebook would even last for 10 hours.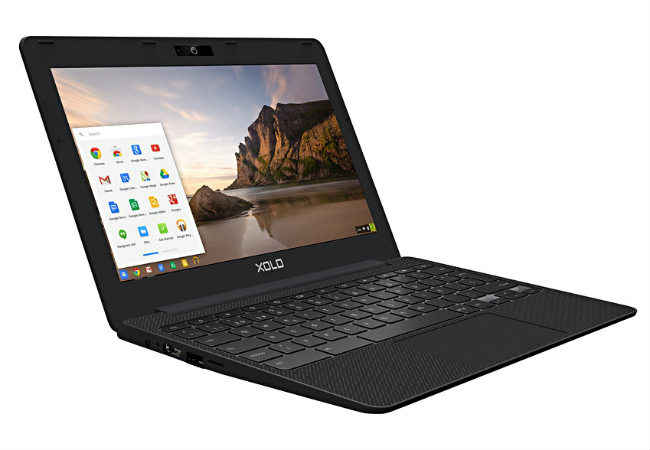 The Chromebook's weakness though is in the fact that it has no apps. While Chrome OS isn't the most difficult to learn and understand, the app support on Google's Chrome Web Store is really little right now. The Chromebook fits the bill for basic users, just like the Micromax Canvas Lapbook, but it needs a lot of work before we can adopt the always-online ecosystem of Google.
Benchmarks
BrowserMark. ………………………….2463
Sunspider. …………………………………658.4
Battery (Video). ………………8.3 hours
Battery (Streaming). ………7.5 hours
Screen Quality …………………6.2 / 10
File copy. ……………………………….230 sec
ACER ASPIRE ES1-131 (Rs. 18,500)
The Acer Aspire ES1 lags one too many times at basic tasks, like clicking on Cortana to search for something. Of the four devices that we used, this one lagged the most and the fact that its keyboard is too cramped made it quite painful to use. While browsing on Google Chrome, we could hardly multitask with a heavy website open in some tab.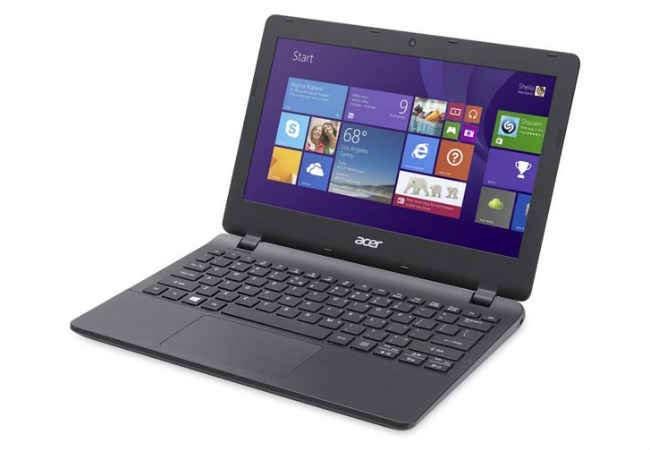 It's actually quite sad, considering that the ES1 is the only laptop that gives the kind of storage that we wish to have on such devices. The 500GB HDD and 100GB of Drive storage would have been perfect for users like us, but the ES1's performance isn't quite up to the mark. That, when combined with the fact that the ES1 also costs nearly Rs. 2k more than the Asus E402MA, makes the E402MA a better laptop to buy.
In addition, the laptop also lacks in terms of battery life when compared to the other three that we chose.
Benchmarks
BrowserMark. ……………………………..510
Sunspider. …………………………………889.6
Battery (Video). ………………..5.8 hours
Battery (Streaming). ………5.2 hours
Screen Quality …………………6.2 / 10
File copy. …………………………………61 sec
ASUS EEEBOOK E402MA (Rs.16,990)
The ASUS E402MA is definitely the best performer amongst all of these laptops. It costs less than the Acer Aspire ES1 and provides over seven hours of battery life on streaming. In addition, it's display is also the best in terms of contrast, colour reproduction and other elements. The device has a larger 14-inch display to boot and is priced at only Rs. 17k. If you're buying a laptop in this price range, then chances are you'll appreciate the bigger display and better build quality.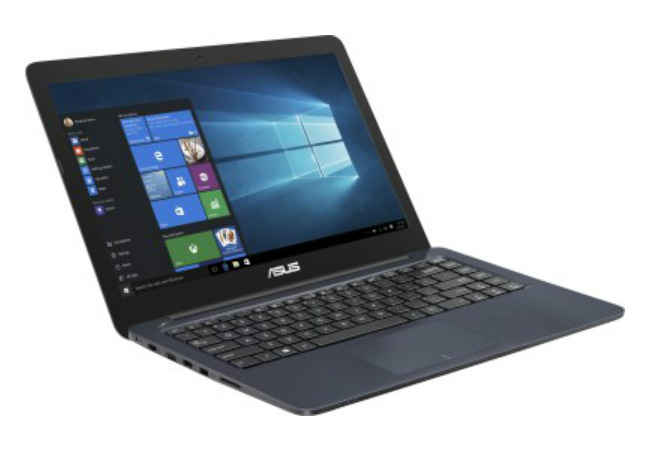 While the E402M does have the same processor as the Aspire E11, it's performance is much better and the laptop seems much more prepared for Windows 10, which of course comes out of the box on this device. It doesn't lag as much and provides a comparatively seamless usage experience. If you have a budget above 15k, but below 20k, then this is the laptop that you should be going for. Hands down!
Benchmarks
BrowserMark. …………………………..1037
Sunspider. …………………………………800.3
Battery (Video). ……………………7 hours
Battery (Streaming). ………….6 hours
Screen Quality …………………7.4 / 10
File copy. ……………………………….144 sec
FEATURES
MICROMAX LAPBOOK
The Canvas Lapbook has two USB 2.0 ports, an HDMI port, a 3.5mm headphone jack and a micro-SD slot. Like most others in this price range, the laptop has 32GB of internal storage (19GB usable), but is expandable to only 64GB using the micro-SD card slot.
The Lapbook runs on an Intel Atom Z3735F quad-core processor, clocked at 1.83 GHz and has 2GB of DDR3 RAM. It has an 11.6 inch HD (1366x768p) IPS display, but the viewing angles are still quite poor for an IPS panel. There's also a VGA camera on the device.
What the Lapbook lacks is additional cloud storage. You can of course use OneDrive, Dropbox and any other cloud service that you want to, but there's no additional free cloud storage with this device, a downer for a laptop that is basically a Chromebook that runs on Windows. This device doesn't have enough of a unique appeal in its features.
Specifications
Display. ….11.6-inch, 1366×768 IPS
CPU. …..1.8 GHz Intel Atom Z3735F
RAM. ………………………………….2GB DDR3
OS. ……………………………………Windows 10
Ports ……USB 2.0, HDMI, micro-SD
Weight. ……………………………………….1.3 Kg
XOLO CHROMEBOOK
Buying a XOLO Chromebook on the other hand provides you with 100GB of free Google Drive storage, which you can use for documents, movies, sheets and more. Unfortunately though, 16GB of internal storage on the XOLO Chromebook is abysmal. It's also only expandable to 64GB using the micro-SD card slot.
Like the Lapbook, the Xolo Chromebook also has two USB ports and an HDMI port, accompanied by the 3.5mm headphone jack. It runs on a 1.8GHz Rockchip RK3288 quad-core processor along with 2GB of DDR3 RAM. Unlike the Lapbook though, the camera here lands at 1 megapixel, which may matter to some.
It goes without saying though, that the XOLO Chromebook depends on Google Services, which means if you're not a fan of those, stay away. Another problem with the OS is the scarcity of apps that matter.
Specifications
Display. ….11.6-inch, 1366×768 IPS
CPU. ……….1.8GHz Rockchip RK3288
RAM. ………………………………….2GB DDR3
OS. …………………………………….Chrome OS
Ports ……USB 2.0, HDMI, micro-SD
Weight. ……………………………………….1.5 Kg
ACER ASPIRE ES1-131
If you want big storage options in this price range, then the 500GB HDD on the Acer Aspire ES1 is probably the only choice for you. There's also 100GB of Drive storage to boot. In addition, the device has an SD card slot, one USB 3.0 and one USB 2.0 port, an HDMI port and even a LAN port on the back. The display of course stands at 11.6 inch 1377x768p HD display, like the others in this comparison.
While all that is definitely good for the Aspire ES1, the device runs on a 2.16GHz dualcore Intel Celeron N2840 processor and 2GB DDR3 RAM and it doesn't perform as well as the others. In addition, the device has a comparatively small 2670 mAh battery and that hurts it quite a bit.
The Acer Aspire ES1 is also the most expensive amongst the device in this price range. The device costs around Rs. 18.5k, which is more than all of the other laptops used in this comparison.
Specifications
Display. ….11.6-inch, 1366×768 IPS
CPU. ..1.6 GHz Intel Celeron N2840
RAM. ………………………………….2GB DDR3
OS. ……………………………………Windows 10
Ports ..USB 3.0,2.0, HDMI, SD Card
Weight. ……………………………………….1.2 Kg
ASUS EEEBOOK E402MA
The E402MA once again is quite impressive in this department. While the device has the same processor and RAM as the Acer Aspire E11, it performs better. In addition, ASUS has packed in 25GB of storage on Dropbox and its own ASUS WebStorage facility into the laptop. Combined with your own Google Drive and OneDrive storages, it makes for a pretty tidy cloud support option.
In addition, the E402M has a 14-inch HD (1366×768 pixel) display, which makes it better for watching movies, browsing and other activities. The display though is not the best when it comes to viewing angles. It also has one USB 2.0, USB 3.0 port each, like the Acer device, and more I/O ports.
Of course, the ASUS E402MA's strength is in the fact that it has a larger display than the others, while being cheaper than the Aspire ES1, at Rs. 17k. A win-win on both counts.
Specifications
Display. ……..14-inch, 1366×768 IPS
CPU. 2.16 GHz Intel Celeron N2840
RAM. ………………………………….2GB DDR3
OS. ……………………………………Windows 10
Ports ..USB 3.0,2.0, HDMI, SD Card
Weight. …………………………………….1.45 Kg
DESIGN
MICROMAX LAPBOOK
The Lapbook looks quite pedestrian, which many may not like. It weighs 1.3kg, which may be a tad heavy for some, but its small size makes the device quite easy to carry about. Considering the fact that none of its competitors are much lighter, we don't quite hold the weight against this device.
The laptop is built sturdily, with no creaks anywhere. But the plastic body feels much less premium than most others present in the lineup.
XOLO CHROMEBOOK
As a budget product, the matte plastic on this laptop looks quite good, but raise the lid and you see a glossy plastic panel around the keyboard, which is prone to both smudges and dust. The glossy plastic inside is really a downer.
The XOLO Chromebook's keyboard though is not meant for long term usage. In our unit, the keys make that creaking sound often and hamper the typing experience. The keys are also wobbly.
ACER ASPIRE ES1-131
This device carries a really old school design, which some may like, but it looks dated today. It's also thicker than the other three laptops in this comparison. This in turn makes the device feel bulkier, even though it weighs 1.2 kg, pretty much the same as the XOLO Chromebook (1.5 kg) and the Micromax Canvas Lapbook.
The use of plastic also continues here and the ES1 actually feels somewhat like the XOLO device.
ASUS EEEBOOK E402MA
Amongst the laptops in this comparison, the E402MA is by far the best looking and best designed of the lot. So much so that we don't mind the bigger size and footprint. Of course, the fact that the device has a 14 inch display plays a big role in that.
The E402M though makes the right use of plastic. It's slightly heavy, but its metallic finish makes the laptop look much more premium than any of its competitors. Its full-sized keyboard aids typing.
VERDICT
BEST PERFORMER: ASUS EEEBOOK E402MA
PROS:
Good performance
Good looks and build
Cloud backup
Screen quality
Keyboard and touchpad
CONS:
BEST BUY: XOLO CHROMEBOOK
PROS:
Battery life
Built-in Google services
Cloud backup
Inexpensive
CONS:
Restrictive OS
Not enough apps
EDITOR'S PICK: ACER ASPIRE ES1
PROS:
USB 3.0, features
Lightweight
Fast-paced, large hard drive
Cloud backup
CONS:
Battery life
Look and feel
HOW WE TESTED
Remember netbooks? Like a phoenix rising from the ashes, they refuse to die out. These laptops are aimed at bringing back the netbook form factor, but with a more mobile-like experience. So, we tested them the same way. It's evident that these devices are meant for the basic users, which means functionality is limited. We took one Chromebook (Xolo Chromebook) and three Windows 10-based devices, namely, the Asus E402M, the Micromax Canvas Lapbook and the Acer Aspire ES 1.
We started out with two trusted benchmarks in Sunspider and Browsermark. Both these browser-based benchmarks employ various CSS, Javascript and other tests to determine what kind of browsing performance you can expect from a particular device. Given that these laptops are cloud based and want to stay connected all the time, this is an important parameter.
Next, you'll most likely be browsing and watching movies on these devices, which means that the battery life is of utmost importance. Here, we broke up the battery life tests into two different parts. The first includes testing the battery when you're simply playing a 1080p movie local to the device. The second test though is more important and includes the time these laptops can spend streaming videos online. Given the low storage space on these PCs, this matters.
We also tested the storage I/O speeds, data transfer speeds, and more. Further, we inspected the keyboards, touchpads, displays and the overall design of the devices to determine their usability as well.
This comparison was published in the January 2016 issue of Digit magazine. To get the comparisons first, subscribe to the Digit magazine or download the Digit e-magazine app.​