ASUS held a pretty big press event one day prior to COMPUTEX 2017 because apparently, that's how they roll. At this event, they unveiled a host of different products across most of its product lines including ZenBook notebooks, Vivo and Zen AIO (All-in-Ones), ROG external graphics card dock, ZenFone smartphones and even a router. We managed to get some extra time with some of the products and first up is the ASUS ZenBook Flip S, a really thin notebook which ASUS claims to be the World's Thinnest Notebook as of May 1st, 2017. The convertible notebook will begin retailing this September starting from $1,099. Here's a closer look at the specifications and what we thought of the ASUS Zenbook Flip S.
ASUS ZenBook Flip S UX370 Specs
Let's get the specifications out of the way before taking a look at each element closely.
CPU - Intel Core i7-7500U
OS - Windows 10
Graphics - Intel HD 620
Display - 13.3-inch 4K UHD (3840x2160) with touch
RAM - 16 GB LPDDR3 2133 MHz
Storage - 1 TB PCIe x4 SSD
Audio - Harman Kardon certified 2-speaker solution
Keyboard - Fully backlit 1.0 mm travel
Touchpad - ASUS Precision Touchpad (PTP+) with 4 finger support
Wi-Fi - 802.11 AC 867 Mbps
Bluetooth - 4.1 Support
Battery - 38 Wh 2-cell Lithium Polymer with Fast-charge
Webcam - VGA
Connectivity - 2x USB 3.1 Gen 1 USB Type-C
Colours - Royal Blue and Smoky Grey
ASUS ZenBook Flip S UX370 Display
Being a convertible, the ASUS ZenBook Flip S has opted for a 13.3-inch display panel giving consumers not only a sufficient working space but also keeping is small enough to be a comfortable hold while in tablet mode. The hinges turn 360 degrees all around so and don't seem to take up a massive footprint. The bezel is 6.11 mm at its thinnest side and ASUS calls this NanoEdge, and we don't see anything wrong as it gives you an 80% screen-to-body ratio. Higher ratios are easy to attain as the screen size increases but at 13.3-inches, it's a pretty good feat.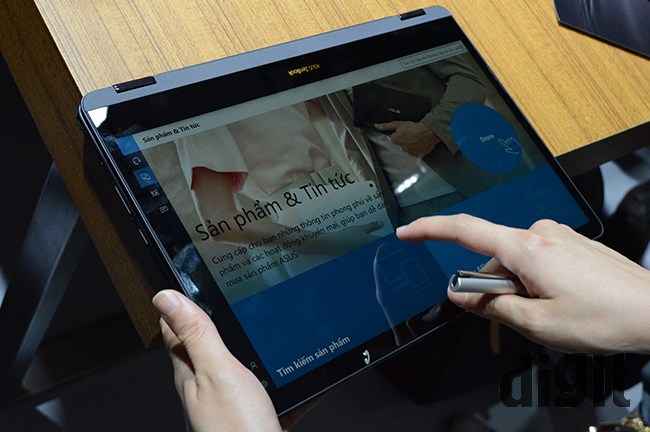 You'll obviously have read the specs to know that this is a 4K display and that too with touch which makes the screen density at 282 PPI. After all, who comes out with a convertible without touch. The panel's brightness was overwhelmed by the show floor's bright lights so we can't comment on the brightness as such but the colours sure seemed to be quite vibrant. It reportedly hits 72% of the NTSC colour gamut and 100% of sRGB which puts it right up there with all the flagships. Moreover, it boasts of a 178-degree viewing angle, this is because it's an IPS panel.
Lastly, the panel also features ASUS Eyecare which is their version of blue light reduction. Blue light is more stressful for the eyes and this panel claims to reduce that by 30%.
ASUS ZenBook Flip S UX370 design
By the first few images we've put here, you should have guessed that the ASUS ZenBook Flip S has an aluminium unibody design. And throw a few eyebrows up in the air, ASUS says they've used an aerospace-grade aluminium alloy (6013). It's got a golden highlight along the edge which apparently involved a 2-phase anodising process.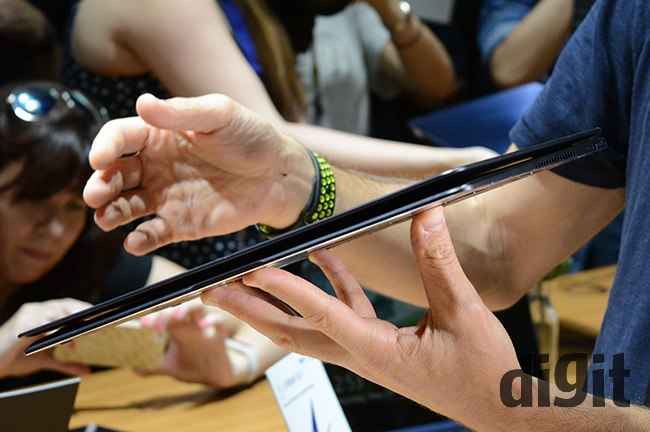 The webcam only supports VGA resolution which is quite a bummer in this day and age. However, we understand why that has to be. You can't make something this thin and throw in a high-res image sensor, it would increase the dimensions across all three axes.

Once you flip the unit around, you get to see rubber pads on all four corners. While the big round pimples do look a bit ugly, it is functional. The smaller ones tend to rub and fall off while these would stick around for a lot longer. So it may be ugly aesthetically but it more than makes up for the ugliness with functionality.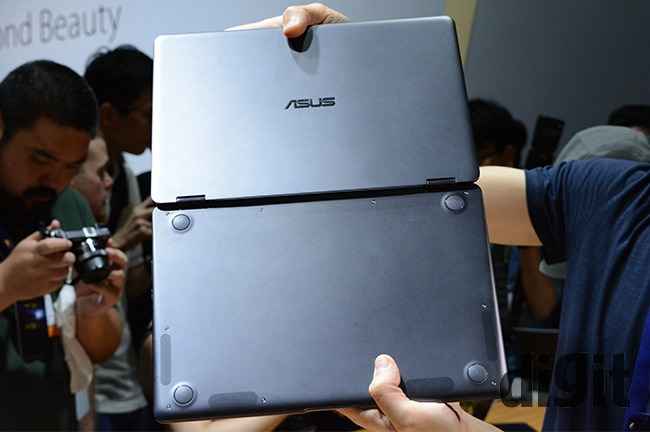 As for the cooling, it still has an active cooling solution. And they're claiming another World's first with the fan thickness as well. It's supposedly a liquid-crystal-polymer fan that's just 0.3 mm thick. We don't know if it was meant to be 0.3 cm but if it indeed is 0.3 mm then it's just crazy thin.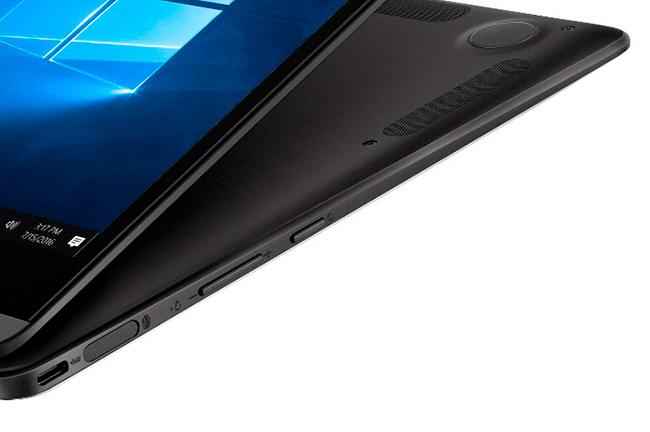 Coming to the sides, there are 2x USB 3.1 Gen 1 Type-C ports, one on each side. We saw quite a few ASUS products on the show floor that had support for Windows Hello, a personalised way to sign into Windows. There was an ASUS Vivo AIO which used infrared cams to take iris scans for singing in. The ASUS ZenBook Flip S uses a fingerprint sensor for Windows Hello. You can spot is right beside the USB Type-C port. And to its right is the volume up/down rocker and the power button.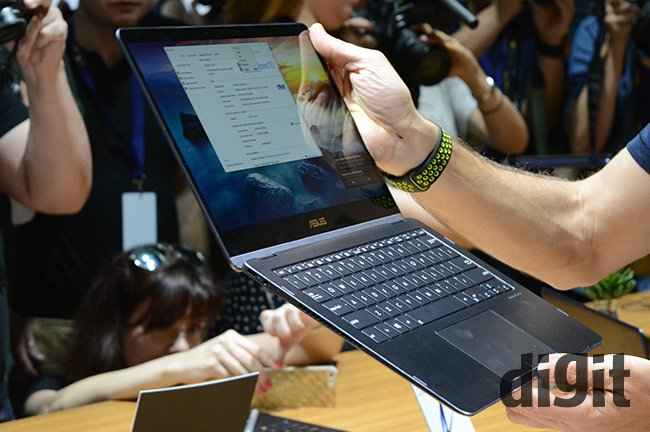 The hinge on the ASUS ZenBook Flip S is only 3.9 mm thick and has been reportedly tested for 20,000 open/close cycles. Lastly, the 10.9 mm z-height makes this the World's thinnest (or as some prefer, slimmest) convertible notebook. The HP Spectre x360 is 13.8 mm thick and the MacBook Air is 17 mm thick. There are a lot more devices in the market but this should be sufficient to give you an idea as to where the ASUS ZenBook Flip S lies.
ASUS ZenBook Flip S UX370 connectivity
There aren't many ports which can fit into a chassis this thin. So you have just the two USB Type-C ports. However, you can squeeze out 45 watts of power from Type-C and you can even daisy-chain two displays. So you aren't exactly missing out on much. Most thin notebooks come with Type-C adapters for other interfaces and we expect ASUS to include at least an Ethernet to Type-C adapter with this SKU.
As for the other connectivity options, the ZenBook Flip S has 802.11ac Wi-Fi with a peak transfer rate of 867 Mbps and Bluetooth 4.1 as well.
ASUS ZenBook Flip S UX370 battery life
We didn't run any tests of the show floor so we can't comment on the battery life but we can certainly tell you what it packs. Under the hood lies a slim 39 Wh Lithium Polymer battery that supposedly lasts 11.5 hours. It even supports fast charging that's designed to bulk up 60% of the battery capacity in 49 minutes.
ASUS Pen i.e. The stylus
Every convertible has to come with a stylus. It just makes life a lot easier, especially, when you deal with multimedia editing. The ASUS ZenBook Flip S has one such device, it's called the ASUS Pen. The stylus has been around for a while but we'll extol its virtues upon you anyways. Its design isn't outlandish and it isn't heavy which makes it easier to use over prolonged periods of time. Windows came out with Windows Ink last September and since then using a stylus with a Windows machine has become all the more intuitive.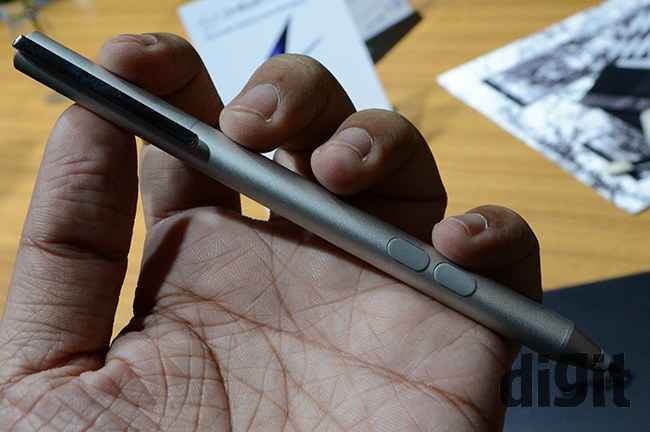 The ASUS pen has 1024 pressure levels which can be triggered by varying the force on the pen tip between 10-to-300 grams. What would have made things better would be if ASUS had provided different colour options for the ASUS Pen. We couldn't spot any on the show table so this is still an assumption.
ASUS ZenBook Flip S UX370 price and concluding thoughts
The ZenBook Flip S was surely the centrepiece at today's event and at USD 1,099 it's quite decently priced as well. However, by the time it does come to India, we expect a hefty price premium to be slapped on as has been the case so far. It packs a pretty good configuration in a compact form factor but there are a few compromises that come with that. The webcam is the first and there could be more once we peer under the hood. The convertible is slim and has raced ahead of the competition in the thinness game but COMPUTEX 2017 is yet to being so don't rule out the other brands yet. You might have something better right around the corner