ASUS' ROG Gaming laptop usually stands out from the bunch mainly due to its striking design and sturdy build quality. I am a sucker for bold and garish gaming laptops and the ROG machines fit the boat for me very well. The ROG Zephyrus G14 is a very good example to bring up here. On top of the compact form-factor, sharp edges, and great colour options, the AniMe matrix display makes it very distinguishable from other notebooks on the market.
But a couple of weeks back, ASUS reached out to me and said they've come up with something very special for the fans, seemingly making the ROG Zephyrus G14 laptop better than it already is. That's when I found out about the ASUS ROG Zephyrus G14 Alan Walker edition. Here's a video detailing everything about the ASUS ROG Zephyrus G14 Alan Walker edition -
ASUS ROG Zephyrus G14 Alan Walker Edition Overview
So the ASUS ROG Zephyrus G14 is essentially the same laptop as the G14 that we got earlier. Asus has made some changes internally to fit it with some upgraded hardware. But the outside is where you'll see all the bling, right? This one comes with a lot of custom accents to showcase the uniqueness of being a special edition.
On the top, as you can see, this one also comes with the AniMe matrix panel which lights up when you are using the laptop or even when it's resting. There are these custom accents here made out of a cloth material actually that says "Join the Republic" and "ROG X Alan Walker". There's also a nameplate here on the side with both ROG and Alan Walker logo and there's also Alan Walker signature here, which is really really cool.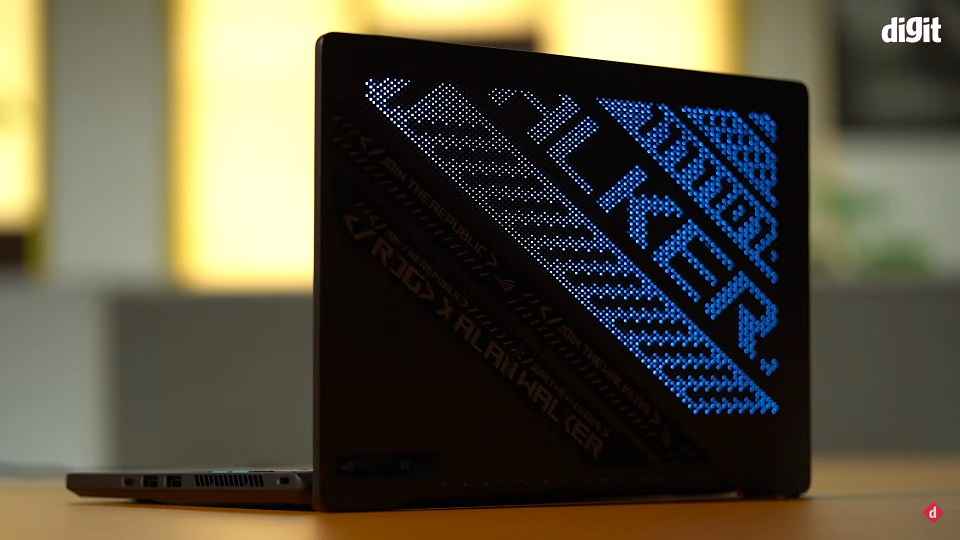 Inside you get a beautiful 14-inch WQHD display with support for up to 120Hz refresh rate. ASUS tells me that it covers 100% of the DCI-P3 colour space, and it's a Pantone validated display with support for Adaptive Sync.
Another interesting thing that you see here is the keyboard. Some keys have custom accents to match Alwan's signature colours. Not only that, the A and W keys have the Alan Walker logo here. How cool is that? Another thing that I want to quickly point out here is the glass touchpad which is shaded with a customized pattern inspired by a music equalizer. So that looks pretty cool again.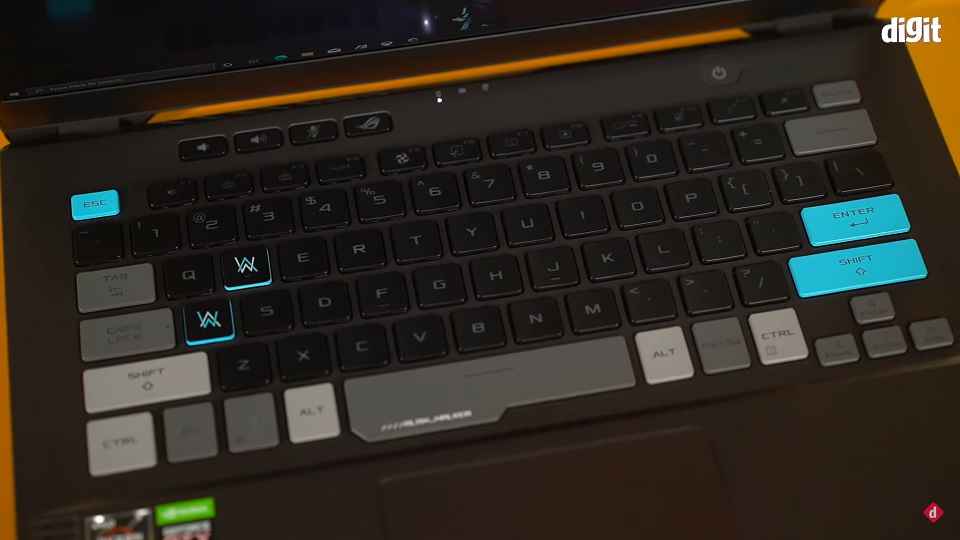 And as you power on the laptop, you will see that the laptop features a custom boot animation. So instead of the regular ROG logo, this one shows Alan Walker's logo with a startup new chime. And once you enter the main screen, you'll also see a custom wallpaper.
ASUS ROG Zephyrus G14 Alan Walker Edition Specifications
And that's basically everything that's new and cool about the new ROG Zephyrus G14 Alan Walker edition gaming laptop. The rest of the stuff is pretty standard here. This particular laptop is powered by the AMD Ryzen 9 5900HS CPU which is an octa-core CPU that we've seen on many other ASUS gaming laptops recently. This one comes with an RTX 3050Ti GPU with 4GB GDDR6 VRAM.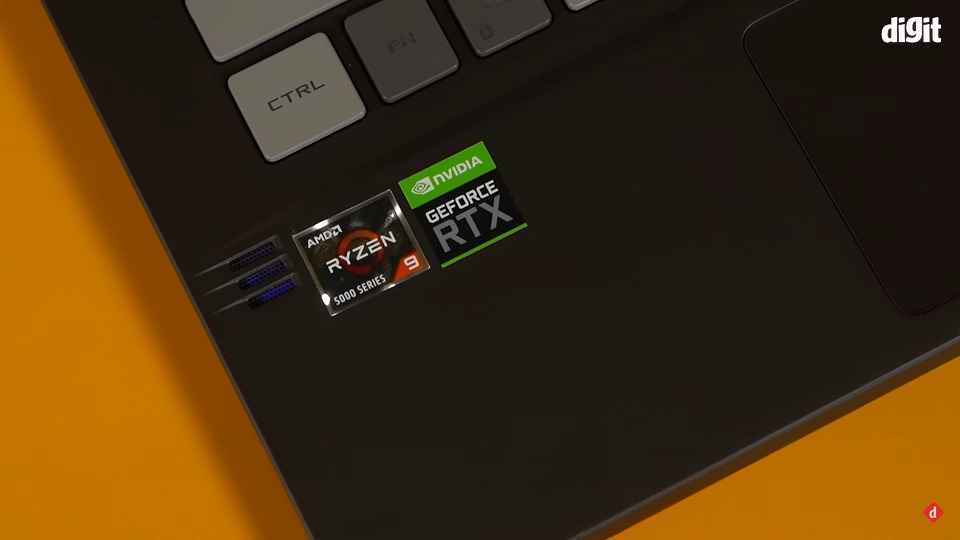 You also get 16GB DDR4 RAM clocked at 3200Mhz and there's also a 1TB M.2 NVMe PCIe SSD. This particular laptop has a quad-speaker set up - two of them being 2.5W speakers with Smart AMP technology and 2 of them being 0.7W tweeters. As for the ports, on the left side, you get a USB3.2 Gen2 Type-C with DisplayPort 1.4 and Power Delivery, an HDMI 2.0 port, a 3.5mm headphone and microphone combo jack along with the power port. On the right side, you get a USB3.2 Gen1 Type-A port, another USB3.2 Gen2 Type-C port, and there's a Kensington Lock.
ASUS ROG Zephyrus G14 Alan Walker Edition Pricing & Availability
ASUS has launched the ROG Zephyrus G14 Alan Walker edition in India for Rs 1,49,999. It comes in only one variant and a single colour option with the custom design that we talked about. You will be able to buy one starting today from ASUS ROG Store, Amazon, and a bunch of retail partners.