At 22, Navi Mumbai-based Naman Mathur is taking a year-long break from higher education after having secured a Bachelor of Commerce degree. Like many young'uns from a middle-class family, Mathur had plans to study further and if fate would have had its way, he would currently be studying to become a lawyer, whilst completing his Company Secretaryship. But as Naman says, luck has always favoured him, and what he's doing right now is far from pursuing a traditionally "safe" career. Naman or Mortal, as he is popularly known, is a professional PUBG player and live streamer. He is part of a fast expanding community of Indian youngsters who rely on game streaming as their single and only source of income.
Live Streaming is now a $10.1bn industry globally and is expected to reach $13.1bn with over 19 million creators projected to live stream in 2019. A large chunk of this pie is made up of game streamers on Amazon-owned streaming service Twitch, closely followed by YouTube and Facebook. Games like Fortnite, Playerunknown's Battlegrounds (PUBG), League of Legends, Call of Duty: Black Ops 4 and more are raking in extraordinary numbers in terms of hours streamed. According to popular streaming software provider Streamlabs, Fortnite was streamed for upwards of 18 million hours in Q4'18, while PUBG was live streamed for upwards of 3 million hours the quarter before. The numbers are even rosier for mobile game streaming, which is also contributing to the growth in annual tips and donations made by streamers around the world.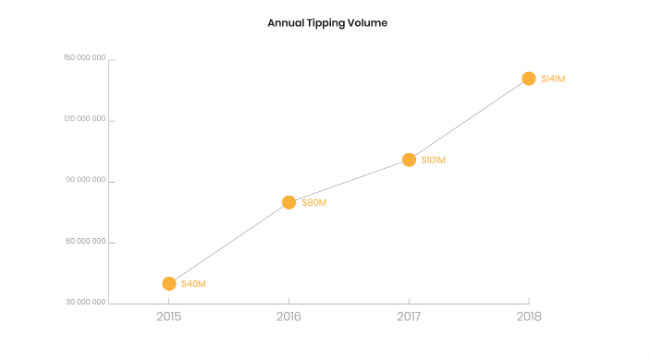 Annual Tipping Volume for Streamers since 2015. Courtesy: Streamlabs
In India, the online gaming market is projected to become a billion dollar industry by 2020 on the back of Mobile Gaming. In fact, India is one of the top 5 countries in the world for the sheer number of mobile gamers in the country. More than video streaming, people are gaming and watching games on their handheld devices in India.
"PUBG has about almost 10 million daily active users in India. About six months back it was around 5 million," Ashwin Haryani, Co-founder of popular Indian eSports organizer GamingMonk tells Digit.in.
Folks over at Nodwin Gaming, another highly popular eSports company in India, concur. "Internet penetration, the boom of high-end mobile phones and rising governmental initiatives for Digital India has made the public more exposed to online digital content more than ever, be it mobile gaming, PC or console gaming," Akshat Rathee, CEO and Founder of Nodwin Gaming tells Digit. "From all the tournaments we've been conducting, the gamers who have dedicatedly put down their time and money for esports has increased over time," he adds.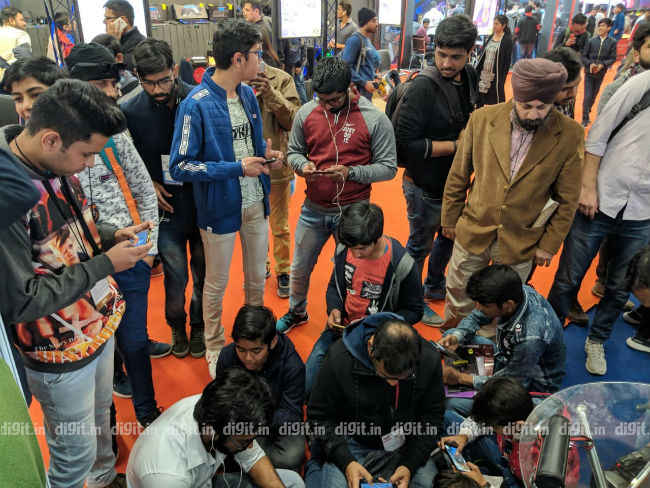 PUBG Mobile Players on Digit booth at India Gaming Show 2019
In online gaming and live streaming, PUBG, specifically, has taken the country by storm. While trends in the west favour Fortnite, the battle royale genre for India has come to be defined by PUBG (both Mobile and PC), so much so that gamers are making entire careers on the back of the game. "The whole concept of professional streaming as a career took off only a year-year and a half back," Vamsi Krishna, Head of Consumer Marketing (South Asia), at NVIDIA tells Digit. Nvidia, like many other hardware and technology giants in India's gaming landscape, sponsors budding PUBG game streamers in the country. "In India, the whole industry is led by mobile gaming, followed by PC and Console gaming. Mobile gaming has taken the lead in terms of getting close to 250 million mobile gamers in the country. The good news is more and more people playing on mobile platform enables us to get gaming as an accepted phenomenon in the average household," Krishna explains with reference to the growing popularity of mobile as a gaming and streaming platform.
Favourable trends like these are making more and more gamers want to jump on the PUBG streaming bandwagon, and a lot of them are zeroing in on some serious moolah with their skills. Speaking to Digit.in, Rahul Pandey A.K.A GoldyHindiGaming says, "Before PUBG I had around 17K subscribers on YouTube. As soon as I started streaming PUBG Mobile, it took me 50-60 days to reach around 70K subscribers." Pandey, who has been a gamer since he was 7 years old, was quick to capture Hindi live streaming audiences. His PUBG game streams in Hindi have earned him almost 200K subscribers on YouTube, which happens to be the medium of choice for Indian game streamers.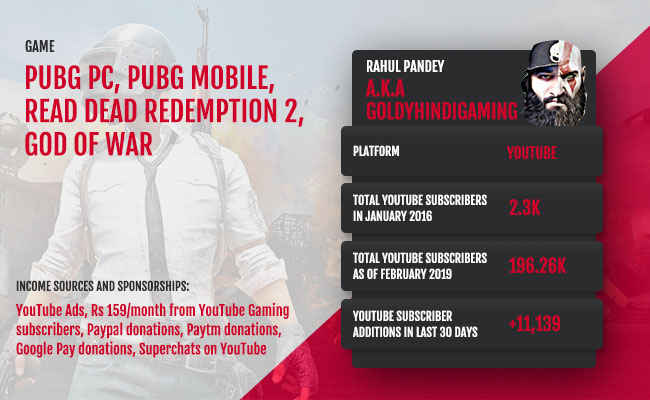 Naman A.K.A Mortal, who started his YouTube journey in 2016 was a mere uploader of content with hardly any subscribers till August of 2018. "I used to upload regularly and then in May 2018, I requested my parents to purchase an iPad for me, so I can play games in much better quality. They bought me an iPad and then slowly I switched onto PUBG mobile and then I started uploading videos of PUBG mobile. One of my tips and tricks video went viral," Mortal tells us retracing his steps over the past year. "In August 2018, I had like 600 subscribers. After my video went viral, I ranked third in Asia on the leaderboard. That's when people started encouraging me to stream," he says. We checked, and in fact, Mortal went from 300 odd subscribers on his YouTube game streaming channel in August of 2018 to a phenomenal 800,000 subscribers as of February 2019.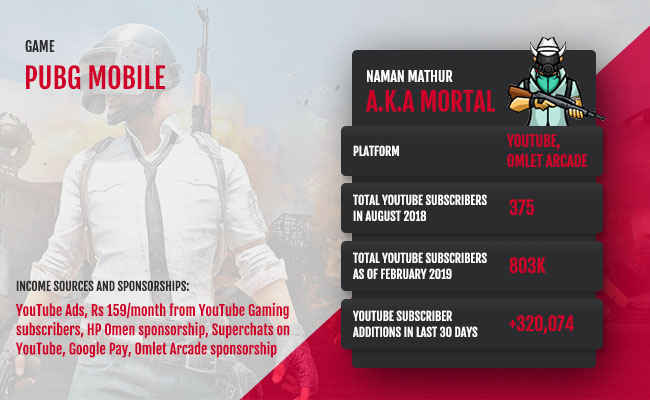 While Mortal streams mostly in English or Hinglish, industry insiders agree with GoldyHindiGaming's tactic of going vernacular. According to the gamer, "Regional language is the only reason why PUBG is getting so famous in every state in India." He even tried streaming in English, but says that "it didn't last long." Noticing the trend, Rathee over at Nodwin Gaming tells us, "We have seen great content creation happening in vernacular languages. The success of ShareIt, share chat, tik tok and YouTube in Hindi are testimony to the power that digital media is having on the gaming landscape." Haryani from GamingMonk also backs vernacular streaming and says, "people are streaming in different languages. That is something that's really picking up in India. We've seen lot of customer base that is not fluent in English, but is playing PUBG even though the game might be in English."
Be it English, Hindi, or any other vernacular language, PUBG is the game making streamers in India rich. "Battle Royale is obviously what attracted everyone and then PUBG took the limelight in India. There are many new titles that are coming in this particular format. And when they come, it all depends on local servers, it depends on accessibility, it depends on how many platforms they support. Based on that, There could be new titles that become a rage in the next two years, but the way PUBG rage is happening, I think it's here to stay for some time," says Krishna from NVIDIA. The company sponsors Indian gamers Rishab Karanwal A.K.A RakaZone Gaming and Shagufta Iqbal A.K.A Xyaa, both of whom are PUBG PC players.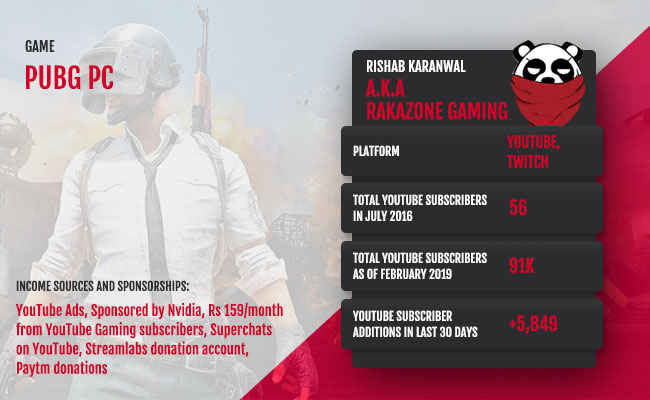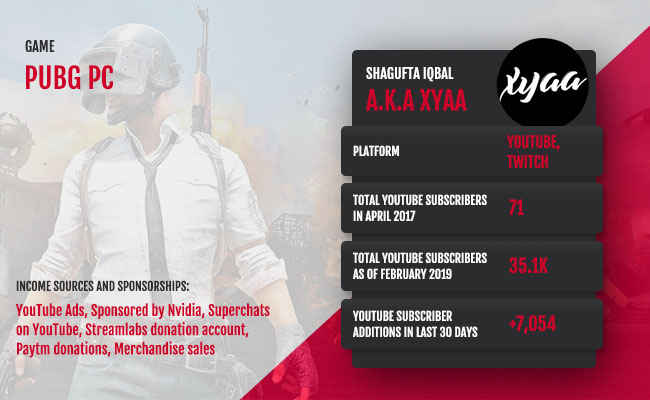 "Rishab/RakaZone Gaming has a full-time job in the day in an IT company and evening he comes back and streams from 8PM - 10-10:30 PM. He has a dual revenue stream right, he makes money out of streaming and he makes out of publishing. Xyaa quit her full-time job and went into professional streaming," says Krishna, emphasising on the fact that even though professional game streamers are not in the hundreds of thousands in India, the last year has seen a phenomenal rise in gamers choosing streaming as their sole career thanks to PUBG.
Where is the money?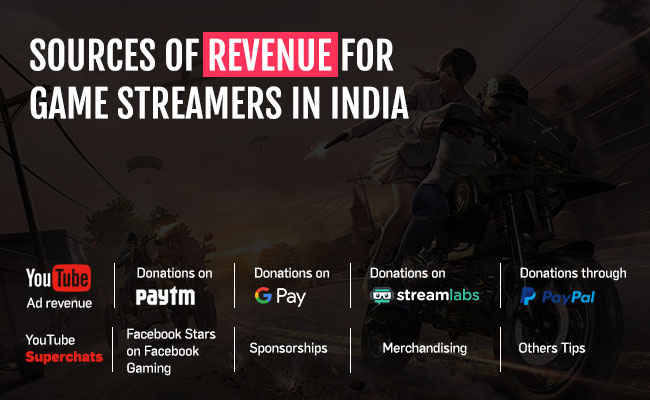 In India, game streaming is synonymous with YouTube Gaming, while platforms like Facebook and Omlet Arcade are also picking up after Google's legacy video streaming portal. "In India at the moment. YouTube has maximum number of streamers streaming at the moment. Facebook Gaming has picked up in the last few months," says the NVIDIA exec.
Gamers not only rely on the typical ad revenue generated on the basis of video views on YouTube, but they also accept donations through payment applications like Paytm and Google Pay. Some also accept money in the form of YouTube Gaming subscriptions which costs Rs 159/month per subscriber. YouTube Superchat, which allows watchers to send money through chats while a stream is on, is another viable revenue stream for game streamers in India. Beyond these, streamers also generate income from Paypal donations as well as contributions made on platforms like Streamlabs. Recently, Facebook Gaming's Stars programme gained popularity and is now helping Indian gamers mint some tips while streaming.
"I am from a middle-class family and I do not have my dad. My dad passed away when I was four. Any income from this field was very helpful for my family. At an average, I earned around Rs 1 lakh for the first few months. It has actually helped me a lot," says Mortal who is now contributing to his household income. Pandey from GoldyHindiGaming did not disclose his earnings, present or past, but tells us that streamers with good skills and a penchant for entertainment can expect to start earning anywhere between Rs 45,000 - Rs 50,000 within the first few months of streaming PUBG. And, this is only the ad revenue one can expect to churn. Sponsorships and other avenues add to this income greatly.
Sharing GamingMonk's own experience, Haryani tells us, "Sponsorships and advertising is a big game where people get lot of money. Facebook has recently started something called Stars. You can give Stars to the person that streams. So when you donate stars to that person, you actually buy these stars from Facebook and it's available in India as well. You can donate those stars to the personality that's streaming online, whether it's a page or whether it's a person streaming. This is a very good way to monetize the streams."
Facebook pays creators $0.01 per Star and GamingMonk, which does its own three-hour-long PUBG stream every night, manages to secure $100 worth of Facebook Stars on a daily basis. Yes, people in India are actually pulling out their wallets to donate money to game streamers and this is a fairly recent trend, propelled by games like PUBG, broadening internet access and familiarity with digital payment avenues.
"The funny part is that what we've noticed that people on Jio (Reliance Jio) generally get 1-1.5GB data free per day right, so these guys watch the stream till 12PM, drop off for a minute, and as soon as they get data, they then come back again, because their data refreshes for the day. That's a really cool thing that we noticed and we divide our streams between 12 o'clock equally," Says Haryani. Both Mortal and Goldy also prefer evenings for their streams, but feel the hours can be flexible as long as consistency is upheld by streamers.
Aim Down Sight
"You get this feeling from inside that you can do it. I didn't go to anyone, I didn't reach out to anyone. It was my hobby and I thought, oh man, I can earn a few bucks out of this, buy some peripherals. So if you have the skill, then you must go and reach out for that passion. It will take time. If you want to get good, practice or watch someone who is better than you. Try and build an audience around PUBG Mobile. Start with it. There won't be any shortage of viewers," says Pandey from GoldyGaming.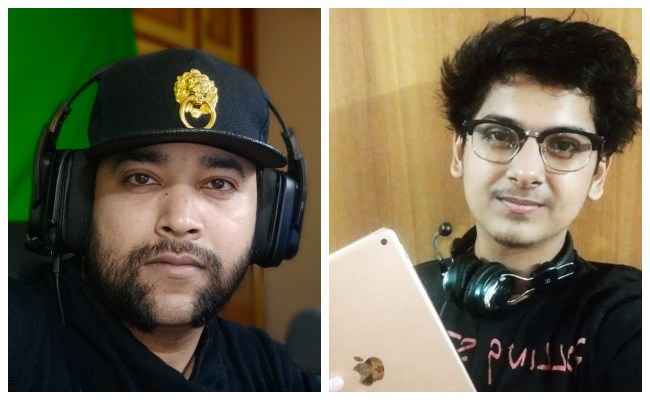 From Left to Right: Rahul Pandey/GoldyHindiGaming and Naman Mathur/Mortal
Gamers and experts in the industry believe game streaming is here to stay and is now becoming a solid career option, but talent is certainly a factor that determines the success or failure of a live game streamer.
"You keep playing, learn by watching pro players, participate in amateur leagues and grow by competing. Now there are online platforms and plenty of offline tournaments to polish your skills and be better at your game. Additionally, practice does not mean playing games. You should focus on drills on finger agility and multi tasking. You should work on scenarios. Just like getting better at cricket means practicing skills and not just playing matches," advises Nodwin Gaming's Rathee.
Mortal advises good quality content, good streaming devices, good graphics, ensuring no frame drops, polished skills and practice. He streams for 7 hours a day, with one break, so according to him, it's also important to be entertaining for that long a duration. Rage-quitting is not an option!
For Haryani, listening to your audience, tweeting stream timings, consistency and punctuality, are key for someone who is just starting out in the world of game streaming. The "audience come gradually," he says.
In conclusion, there has never been a better time to get into game streaming in India. From super cheap internet access to viral games to some real interest from the industry in cultivating the space, all signs point north. Riding the PUBG wave could be especially beneficial to players and there are plenty of success stories in India that are testament to that fact. It's just a matter of taking that plunge. Are you ready to jump?
Cover Image: GoldyHindiGaming/Rahul Pandey
Naman Mathur image courtesy: @ig_Mortal