The ongoing lockdown is a summer no one imagined. However, that does not mean you still can't have fun at home. Intel is hosting a 6-hour online gaming marathon called the #GamerInTheHouse marathon. The marathon not only gives you a chance to play PUBG PC with some of India's finest gamers but also the opportunity to participate in flash contests and earn loads of giveaways. Not only that, but you also learn how to #GameResponsibly, which in turn should make you a better gamer as a whole. The online event will be held on May 23, from 5 PM to 11 PM.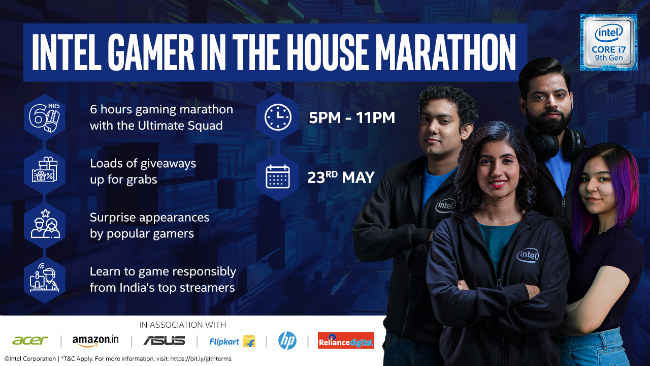 Who's gonna be there?
As mentioned earlier, the event gives you a chance to play PUBG PC with some notable pros like Rakazone Gaming, Xyaa, Ankkita C, PC Peasants Gaming, and a few other surprise gamers! All these gaming professionals are also members of the Intel Ultimate Squad. So who better than these guys to spend an evening of gaming, and help you become responsible gamers!
Earn some swag
Of course, there are also going to be a number of contests where you can win some really cool swag. There will be six contests in total, namely Top 20, Ultimate GamerInTheHouse, Hunt for the Swag, Scramble, Perfect Gamer Selfie, and Caption Me. Before we explain the details of each contest, it should be noted that the contests are only eligible to those who are a legal resident of India and are eighteen years of age or older at the time of entry.
Here's what you can win
Top 20 will reward the top 20 performing players in each match. Winners will be determined based on their match standings. Each winner will be awarded a Steam gift card worth Rs 500.
The Ultimate GamerInTheHouse will award the top-performing player across the whole of the gaming marathon. The player will be selected based on a number of factors like Kills, Knocks, Total Damage, K/D ratio, and Survival Time. The player also needs to be a part of the top 20 players in any match during the marathon to be eligible for the contest. The winner of this contest will receive a 9th Gen Intel-powered gaming laptop! That's right, a gaming laptop!
The remaining four contests, namely Hunt for the Swag, Scramble, Perfect Gamer Selfie and Caption Me will be played on social media, particularly Instagram. The winners of these contests will be judged on the creativity and originality of their entry. Hunt for the Swag participants will be competing to win one of 10 Flipkart vouchers worth Rs 1,000 each, while the contestants of Scramble stand to win one of 15 Amazon.in vouchers worth Rs 500 each. The Perfect Gamer Selfie and Caption Me participants will be competing to win one of 15 HP Gaming Mice or three Acer Nitro Gaming Headsets respectively.
Long hours of gaming, professional players to interact with, and awesome swag to win. Intel's GamerInTheHouse marathon is shaping up to be a gamer's nirvana. If you want to know more, then click here. Hurry up! A gaming fiesta awaits you!