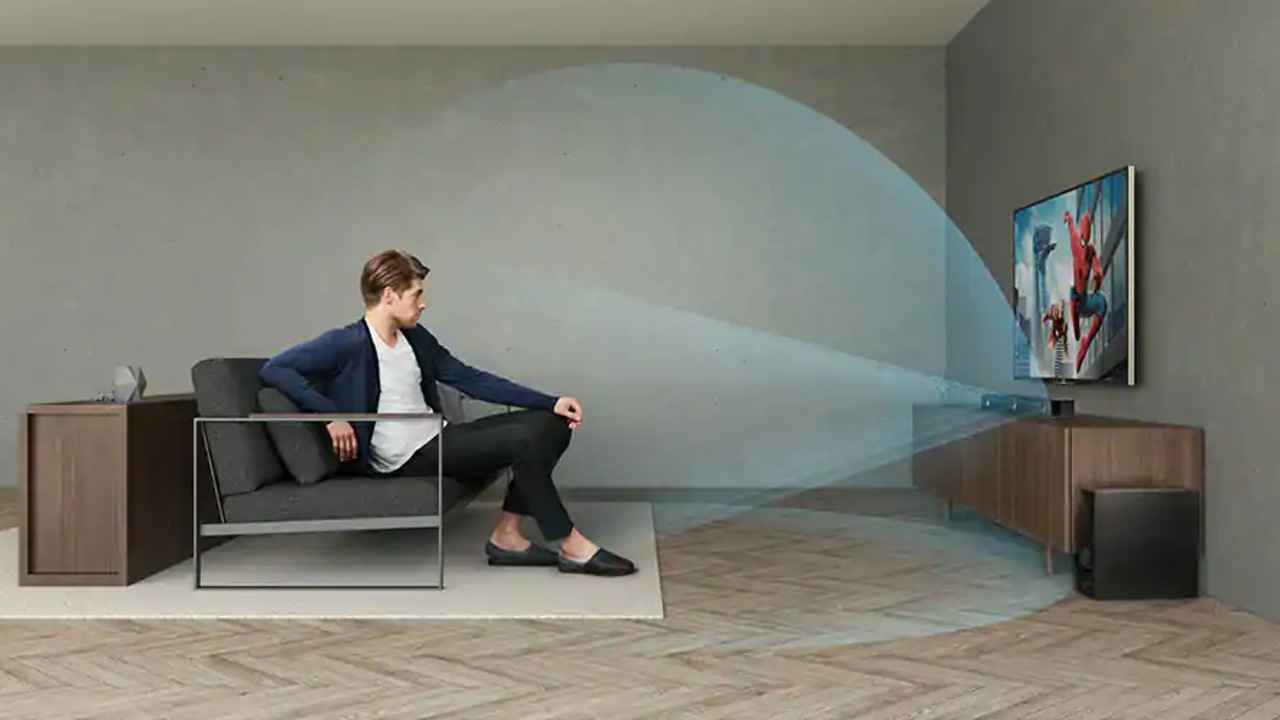 HIGHLIGHTS
Technology like Dolby Atmos immersive sound provides a cinematic experience to those consuming content at home.

You no longer need to have a dedicated speaker set up to enjoy an immersive sound experience.

Sony offers a range of Dolby Atmos enabled soundbars from the affordable to the premium price segment.
2020 was quite a challenging year. With people spending more and more time-consuming content from the comfort of their homes, one thing was clear – it was time to bring the theatre home. TVs today pack in a host of technology like HDR, Dolby Vision, 4K resolution, smart capabilities, built-in streaming services and more. Some of these TVs are thinner than a Rs 5 coin.
While the picture quality from TVs has transformed dramatically, the one technology which hasn't evolved with equal speed is the sound output from the TV. Even though Sony has its impressive Acoustic Surface technology powering its high-end TVs, you still can't hear the rain from above you like you would in a movie theatre. Needless to say, while the visuals will impress you sitting at home, the audio will leave you wanting more.
A few years ago, if you wanted an immersive home theatre experience with immersive sound, you'd have to spend a lot of money buying an amplifier, dedicated speakers for each channel and then spend even more time installing it in your house. Having set up multiple home theatres, I can confidently tell you, this is not for the faint-hearted.
There has been a category of products that has steadily gained market share over the years for a couple of reasons – plug and play setup, no need to drill holes and lay long cables around the house and most importantly, ease of use.
The soundbar gained immense popularity for not only enhancing a consumer's cinematic experience at home, but you no longer need a professional to come home and set it up for you. Setting up a soundbar is as easy as…. Well, why don't you watch the video below?
Over the years, soundbars have brought impressive technologies and support for surround sound. From Dolby 5.1 surround sound to Dolby Atmos, a little bar sitting in front of your TV can actually make you feel like it's raining above you. IMAGINE THAT!?
While Dolby licenses its technologies such as Dolby Atmos, it is brands like Sony that offer customers the option of different soundbars to enhance their home theatre viewing experience. From the simple plug and play Sony HT-G700 (review) to the modular Sony HT-Z9F (review) to the uber premium Sony HT-ST5000, the consumer is spoilt for choice. Whether you are looking for a budget Dolby Atmos soundbar like the Sony HT-X8500 (review) to test the waters or invest in a premium system, Sony has you covered in almost all price ranges.
So how does this work? How does Sony take Dolby's technology and implement it in a device that sits below your TV? How does Dolby ensure you are getting the best experience from its partner's products? Well, we sat down (virtually, of course) with Ashim Mathur, Senior Regional Director, Emerging Markets, Dolby Laboratories and Mani Balan, Product Manager, Audio Business, Sony India and spoke to them about how they can make you feel like it's raining in your living room when it pours on screen!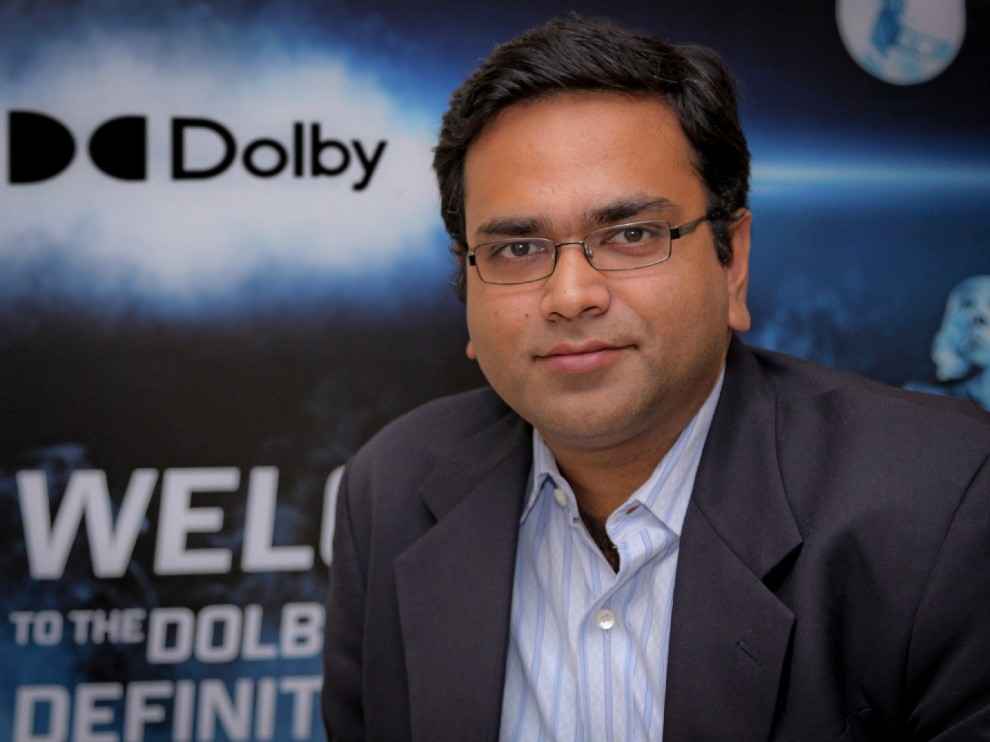 Above: Ashim Mathur, Senior Regional Director, Emerging Markets, Dolby Laboratories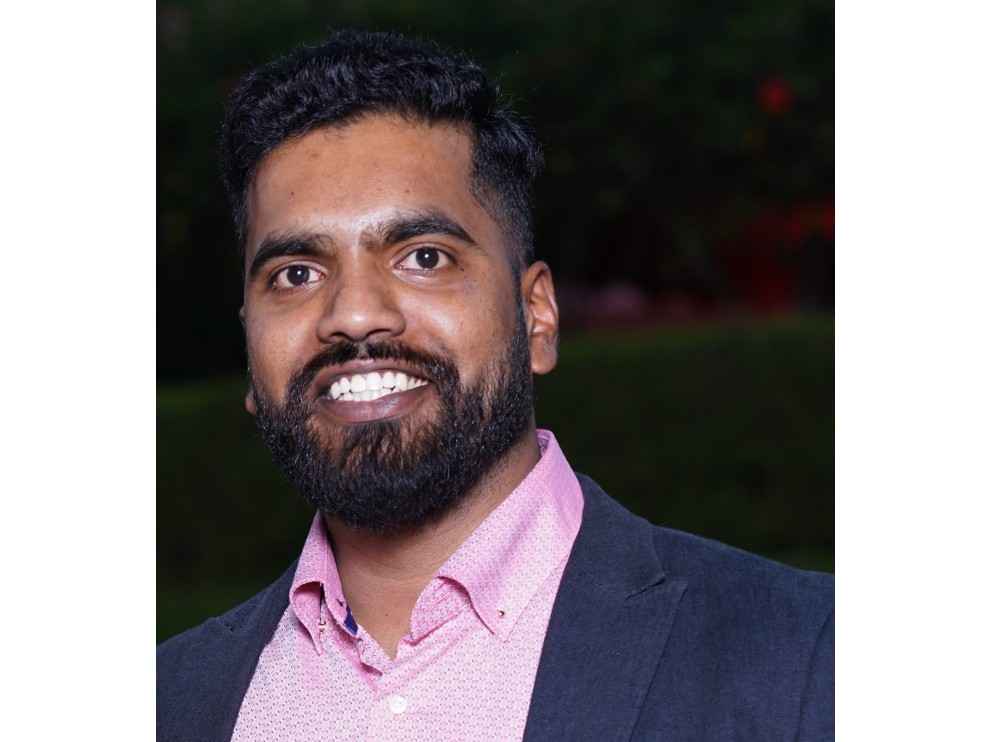 Above: Mani Balan, Product Manager, Audio Business, Sony India
Q: Dolby Atmos hit Indian theatres around 2012. While theatres have been closed due to the pandemic, can you talk a little bit about the adoption of Dolby Atmos on the big screen? how many theatres have converted or have a Dolby Atmos screen? what has the adoption been like?
A: Ashim Mathur: This technology (Dolby Atmos) started in cinemas in 2012. December 2012 was when the first screen opened in Chennai, in India. The technology of course started with few movies, few titles and few screens, it's always a chicken and egg situation whether the titles come first or the screens come first. It took us some time to get people excited about the technology, the consumers to know what this is all about. But I'm fairly happy and satisfied with the growth which we have seen over the last few years from a cinematic perspective. Dolby Atmos is available in all major languages, whether it is Hindi, English, Tamil, Malayalam, Telugu, and more.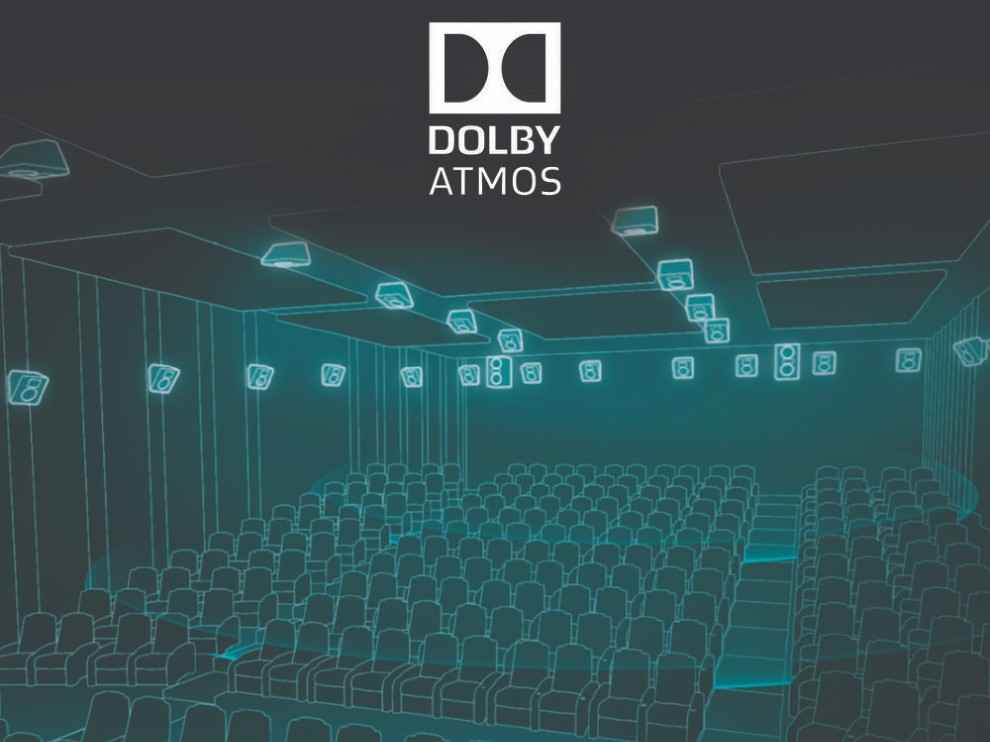 There are over 800 titles that have already released with Dolby Atmos. On the exhibitor side, we have had some fantastic traction. All the big chains and even smaller towns and cities. And it's not a phenomenon, which is only in big cities, or metros, it's actually trickled down to a lot of small cities and towns as well. There are more than 700 screens offering consumers the Dolby Atmos experience. So yes, over the last few months, for obvious reasons, cinemas were not operational, but now they are. Of course, there are rules and regulations in each state, and we expect everybody to be happy and safe at the same time. But yes, those experiences are slowly coming back. And people are going back to theatres too. And the best part is movies have started releasing again. When you talk about consumer experience, the grand experience of Dolby Atmos comes alive in a cinema theatre.
Q: A few years after Dolby Atmos hit theatres, we started seeing the first Dolby Atmos audio systems for the home. Can you talk about the challenges of bringing object-based immersive sound to the everyday living room? and the evolution of how the Atmos-enabled soundbars have evolved over the years?
A: Ashim Mathur: I'll take a step back. Just to give you a perspective of how we see things from Dolby's perspective. At Dolby, we work very closely with the content creators to ensure their stories are experienced without compromise no matter where the audiences are, wherever the consumer is watching on a big screen or the smaller screen or even the smaller screen – mobile phones. Our promise is to create a spectacular experience.
And if you talk of Atmos, whether you're watching in a cinema or a living room, our effort is to make that experience really unique and the best for the consumer. It's not that cinema is better, or the living room is worse. It's not that these experiences are fighting each other. But our endeavour is to make sure that the experience for the consumer is better.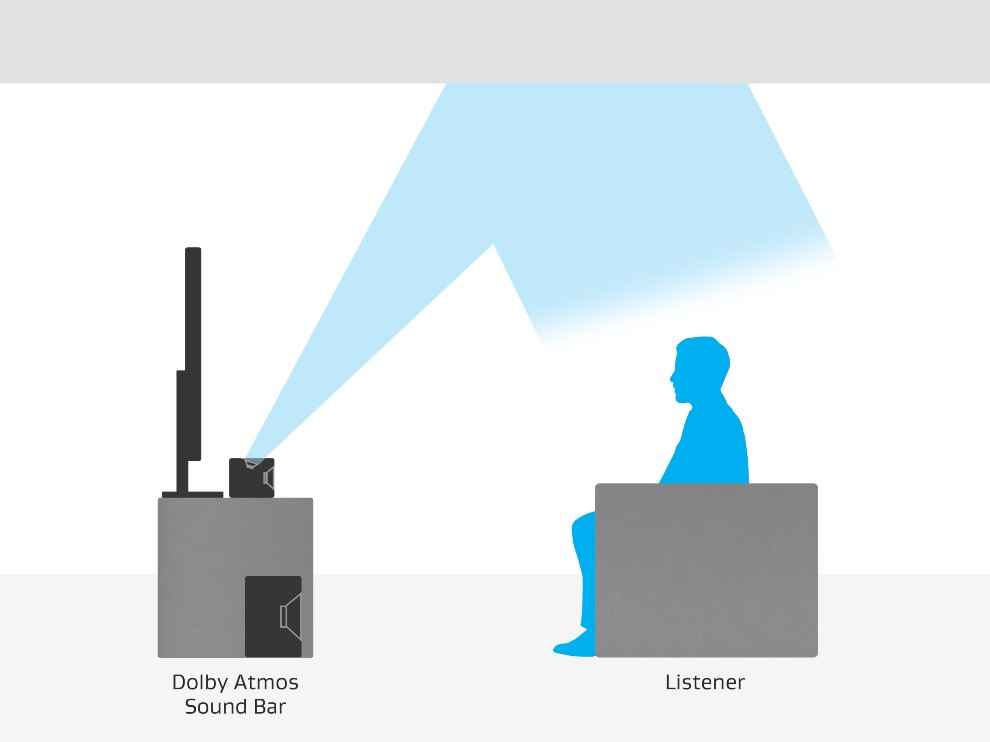 In the last few months, we're operating from home, and the need for these experiences has really risen. People realize the need for this experience at home because obviously there's great content. And we should not forget that ultimately, it's the content that flows and takes the experiences along with it. There's a huge library of content, which is now streaming day in and day out from global OTT services and local OTT services.
Consumers now realize the importance and the need to get the best experience and there is a need to upgrade their devices. In fact, we recently did a survey, which was a global survey across the world in key cities. India had one of the highest percentages, 94% of people were willing to upgrade their home entertainment products.
Q. Sony has a portfolio of soundbars in India that offer Dolby Atmos ranging from Rs 30,000 to Rs 1,50,000. Can you talk about the challenges of implementing surround sound in a device that literally sits below the TV?
A: Mani Balan: I'm happy to say that Sony has the widest selection when it comes to Dolby Atmos soundbars. We have products ranging from Rs 30,000, Rs 50,000, Rs 75,000 and around Rs 1,00,000. These soundbars come in various configurations like 3.1, 5.1, 7.1 based on customer's needs and requirements.
You are aware of the conventional home theatres, 5.1 channel home theatres, wherein we have five speakers – two in the front and one in the centre, and two in the back. It's easy to reproduce surround sound with that kind of setup because there is support from the hardware. But when it comes to a soundbar, it's mostly a very sleek and beautiful single bar. And you don't have that hardware support to create that kind of surround sound experience with a single bar. And that's where this technology comes into play. Over the years, Sony engineers and the audio engineers in Tokyo have been working very hard on this technology. And thanks to the technology, and thanks to the software today we have been able to achieve the desired surround sound experience in a single soundbar.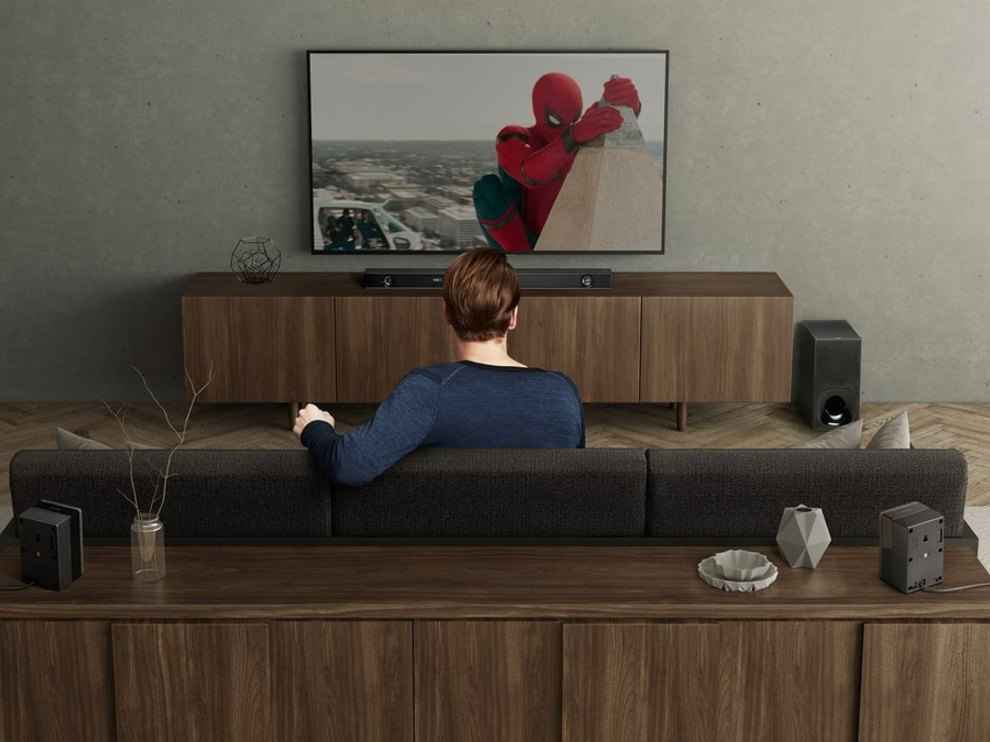 We have several technologies which we have developed for our audio products. One technology that I would like to mention here is DSP. It's Digital Signal Processing technology, which does an amazing job when it comes to creating surround sound. Any audio signal that you fade into this Digital Signal Processor, is converted into a very immersive surround sound experience. That's the magic that technology can create. And along with DSP we also have technology like Vertical Surround Engine and S-Force Pro Front Surround. All of this actually creates the kind of immersive experience one gets in the theatre. When you go to the theatre, you actually get to have an immersive experience. But when you go home, you say that TV does a decent job, but you don't get that WOW experience at home. But with these Dolby Atmos-enabled soundbars we can actually reproduce a similar experience to the theatre. That's all possible with the technology and I'm sure going forward this technology will improve and offer a better experience.
Q: Sony has been in the movie business for a very long time (Sony Pictures). How has Sony's understanding of cinema and Dolby's technologies help bring a more cinematic experience home? From Blu-rays to Streaming services, there is a lot of Dolby Atmos content available to consumers. Can you talk about bringing this technology to streaming services and the breakthroughs made to ensure object-based immersive sound offers a cinematic experience without the compromise on quality usually associated with "streaming"?
A: Ashim Mathur: There are various ways consumers can get a Dolby Atmos experience in their living room whether it is a Blu-ray or OTT and of course those experiences may differ based on the gadget you are playing it on. The quality which is available today from OTT services I think consumers tilt towards the experience which is easily accessible, it's there in your home, it's plug and play, it's very convenient and you get various forms of genres of content, multiple hours of content, and you have the best of choice. When you put all these aspects into the practical home content consuming scenario, that's where you feel that the OTT experience is by no means any lesser. And of course, we have fantastic Sony products. You can consume the content on the Sony television and soundbar and you get the best audio and video experience through Dolby Vision and Dolby Atmos.
A: Mani Balan: For me, whenever a new technology comes into the market, there is always this debate that 'yeah this technology is good, the previous one was better'. Let me just quote a similar example from the audio industry itself. When wireless headphones started becoming very popular people said 'yeah wireless headphones are good; they're very convenient and easy and wire-free but if you want great sound quality you still have to go for wired headphones. That was the conversation that happened for a couple of years. But today if you think about wireless headphones, there's nothing that they cannot do. They can play high-resolution content, play high-resolution formats like FLAC and more. Dolby sound can also be reproduced through headphones and even 360-degree surround sound. All of this is possible through wireless headphones. This is possible through advancements in technology. So, you don't necessarily have to have a Blu-ray player and hardware support to have an immersive experience. Technology has advanced that even in soundbars you can have a Dolby Atmos experience.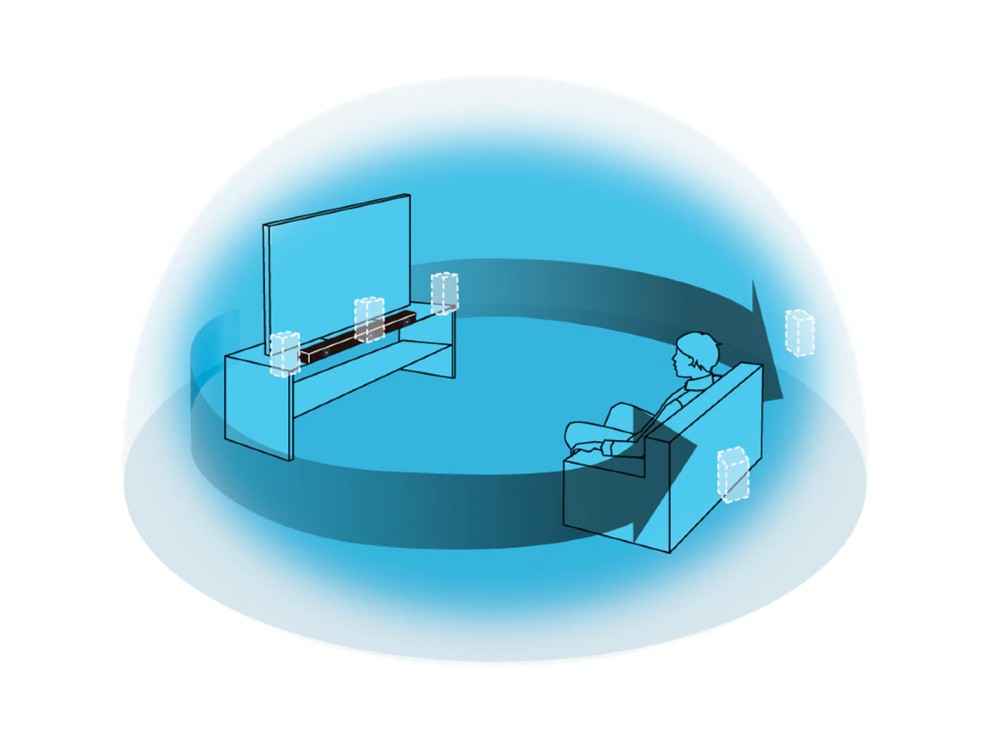 Let me talk about the technology behind Sony's soundbars. There are two technologies – one is Vertical Sound Engine. What Vertical Sound Engine does is creates a vertical sound field thanks to the software that has been used inside the processor. It gives a feeling like the speakers are set up in the ceiling and the sound is coming from the top. We have another technology called S-Force Front Surround. This creates a wider sound field. These 2 technologies brought together we actually get a 360-degree experience sitting at home and that's Dolby Atmos. Dolby Atmos gives you a 3D or 360-degree sound experience and the same has been reproduced in our soundbars thanks to these technologies. With technology everything is possible and yeah, you don't have to have a physical Blu-ray player or a conventional speaker system to enjoy a Dolby Atmos experience.
Q: Dolby and its premium technologies like Atmos and Vision are considered as a badge of quality and were found on select devices. Today we have the Dolby moniker especially Atmos and Vision on budget TVs and budget soundbars some of which offer a lacklustre experience. Don't you think this is diluting the brand Dolby stands for?
A: Ashim Mathur: Yeah, so it's possible. The way we look at it is we enable this technology to our partners, for example, Sony. We make sure that that technology is used to create differentiation, it is used to create USP's at retail and finally, benefit the consumers. I think that's the core value of the technology we bring to the table to the OEMs.
Beyond that, it's basically their (OEM's) discretion for the price points, what pricing they adopt, which models they want to take it up to; it's their strategy, whether they want the premium range, mid-range, entry-level, whatever else it may be. The other thing which we are really interested in is to make sure that this technology is not just kept at one level. We would rather like this technology to be democratized as much as possible. We would love our brand and those experiences to be really seen and heard and visible to as many people as possible. We see this as growing the brand and the experience for more and more people.
There are lots of other things than just Dolby in a device. There are a number of factors that will determine the price points of those devices which is not our prerogative at all. It's OEMs discretion and decision how they want to take it to the market.
Q: Dolby Vision IQ is a term we've heard a lot with flagship TVs in 2021. Can you shed some light on what consumers can expect from this?
A: Ashim Mathur: Dolby Vision IQ is something we recently announced. Dolby Vision IQ is the next level of Dolby Vision. Of course, Dolby Vision gives you the best HDR technology with the best picture, ultra-vivid images, brightness, contrast, and more. But what Dolby Vision IQ will do is that it will use the full intelligence of your TV, and gives you the best picture performance. Dolby Vision IO dynamically adjusts as per the changing light in the room. If there is a lot of ambient light in the room or if there's sunlight coming into the room or it is a dark room, the television will dynamically adjust to the lighting in the room giving you the best experience.
Q: Sony is yet to unveil its 2021 Soundbar lineup for India. Can you shed some light on the same?
A: Mani Balan: As far as FY 21 lineup is concerned, we are going to further strengthen our lineup. Existing our FY 20 lineup will continue into FY 21. In addition to this, we will introduce a new lineup. I would be happy to share more details, but closer to the launch. We have exciting products and exciting technologies in the models that we are going to introduce in FY 21. We will definitely take the experience of home entertainment to the next level.