Bose has undoubtedly been one of the most premium audio makers of our generation. Sticking true to its strength, the company showed off its flagship home audio portfolio in India today. The new products include the surround home audio setup, Lifestyle 650, and an upgrade to its existing sound bar in the form of the SoundTouch 300.
Looking at the latest products, particularly the Lifestyle 650, you feel slightly underwhelmed, albeit the premium tones to the build. Bose intended to keep every element of the home theater system understated and suave, but it may just end up looking a bit too inconspicuous at the corner of wood-floored, texture-walled rooms. That aside, there is no doubt about the premiumness of the new Omni Jewel speakers. Firm floor stands combine with rounded edges of the striated metal cuboid, and the fine grille pores are drilled to millimetre perfection.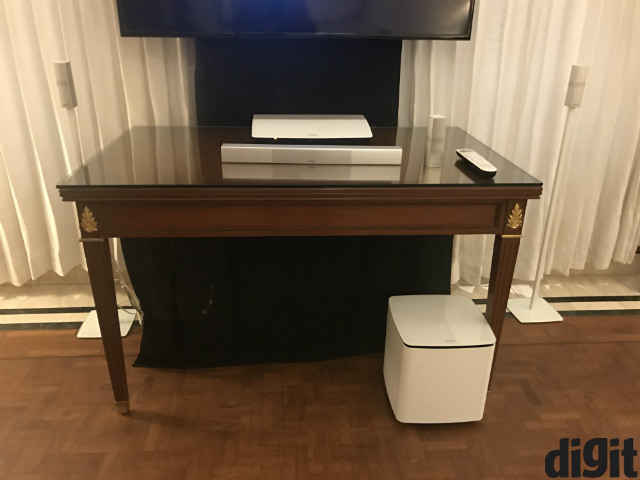 The dual-driver Omni Jewel speakers use the structure of the chassis to deliver 360-degree, omnidirectional audio, and the overall soundstaging and clarity is quite impressive. There is a definite improvement to the new 5.1-channel home theater system in terms of audio clarity, dynamic range, frequency balance, distortion levels and soundstaging, and coupled with the redesigned chassis, the new speakers of the Lifestyle 650 home theater system are genuinely impressive. The three speakers placed up front connect to the central, glass-top audio hub with 20m wires, and Bose's expertise with presenting a clutter-free, minimal wire audio experience has led to two of the satellites being wireless. They are not truly wireless - you still fit a receiver to the speakers and a power dock to keep them going, but Bose's peg here is to make your smart home theater clutter-free, and this is achieved with style.
The central, horizontal speaker piece includes five drivers, along with a new, patented technology called QuietPort. This essentially minimises internal tube distortion, thereby drastically improving on harmonic distortion and improving audio clarity and precision of tone, alongside adding smooth warmth and a distinctly sweet sense to the audio. The anodised metal exterior fits seamlessly with the Omni Jewel speakers, and looks more definite than them. The best part here is a full-bodied characteristic to the audio that delivers ample power, clarity of voice and elaborate frequency distribution, which make the Lifestyle 650 a wonderful surround system for music playback as well.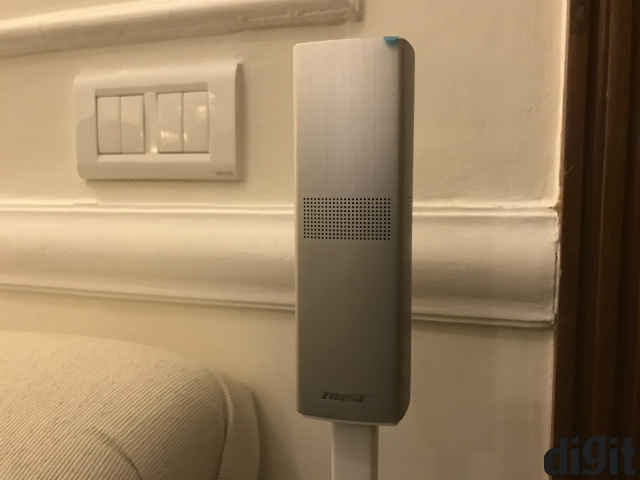 All of this is topped by the Acoustimass 300 bass module - an intrepid, unassuming and wonderful bass driver that also uses QuietPort inside, along with a bigger bass driver and a dedicated digital signal processor to deliver superior, directional bass frequencies. Place it anywhere in the room, and you do not feel an imbalance in the direction of low frequencies. It is this, of all things, that truly complete the Lifestyle 650 and makes it a significant upgrade over its previous iterations. Bose has focused on fundamentals to present a new home theater that delivers better soundstaging, superior directional distribution of sound, higher clarity and depth in the sound, making this system impressively deft.
The central hub looks sleeker than before, employing a glass top to improve signal reception. It supports Bluetooth, NFC, WiFi, 4K Ultra HD audio playback and six HDMI ports. You also get a 3.5mm port and a pair of ADAPTiQ headsets. This essentially gauges the parameters of your room, alongside judging the directions to best balance soundstaging and overall audio output. You calibrate your system by putting on the headset and placing yourself in five different places in your room, and let the system play audio to adjust the parameters. We did not get a chance to try it out yet, but the inclusion of ADAPTiQ in a pre-bundled home theater signifies Bose's acknowledgement of smarter, more demanding consumers and giving them more personal control over how they want their plush new audio setup to be. You also get compatibility with Bose's SoundTouch system, roping in multiple speakers into the ecosystem. You can pair the Lifestyle 650 with your home WiFi network, install the app and get access to multiple streaming services including Spotify, Netflix and more, 20,000 internet radio channels, multi-room multi-track playback and the ability to control your entire home's audio while sitting in one room.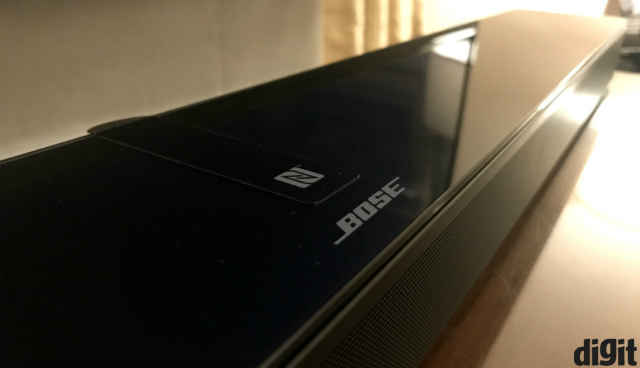 It is on these notes that we continue to the SoundTouch 300 sound bar. Yet another minimalistic, intrepid home audio equipment that does not amaze you with futuristic looks, the SoundTouch 300 looks like a seamless fit underneath any television, and its slim glass chassis wrapped around the vertical edges by a fine metal mesh reiterate Bose's focus on fine designing. Alongside the wireless capabilities and the inclusion of QuietPort here too, you get PhaseGuide - a specialised tube that directs the five-driver sound bar into delivering finer soundstaging, better room calibration, and excellent directional audio. It also houses better bass drivers and delivers cleaner, crunchier bass thanks to QuietPort.
You can also pair the SoundTouch 300 sound bar with the Acoustimass 300 bass module, two Omni Jewel wireless units and the rest of the SoundTouch ecosystem as well. The sound bar also gets ADAPTiQ for superior room scaling, bringing one of Bose's more premium expertise into more, comparatively affordable pre-designed home audio setup.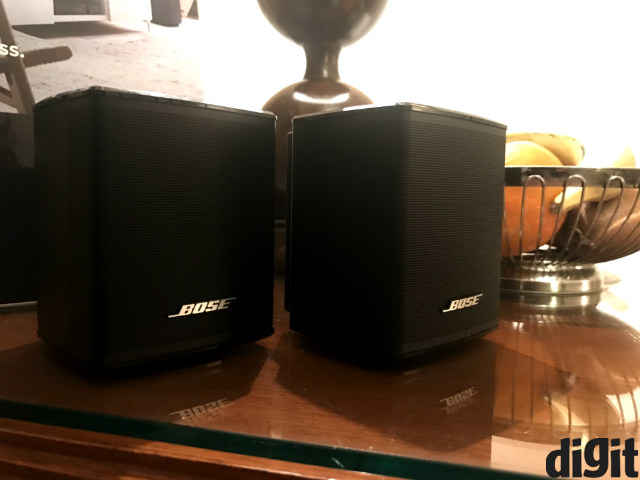 While we are indeed impressed with what Bose has in store for India in 2017, you pay a fair bit for the systems. The Lifestyle 650 home theater will cost you Rs. 3,99,990 in all its glory, while the SoundTouch 300 sound bar will cost you Rs. 69,990. The Acoustimass 300 bass module will cost you Rs. 69,990 too, while a separate pair of wireless Omni Jewel speakers will cost you Rs. 36,000. Bose further states that India is gradually but definitely maturing as an audio market, and the company is seeing a steady increase in the number of customers willing to shell out a premium for plush audio equipment, particularly over the last three years. The new designs are also aimed at a younger audience, which Bose now acknowledges is the younger professional, and not the older segment.
The new systems are certainly impressive, but will they play a major role in Indians gradually spending more in home audio? The technology is tempting, and it's only a matter of time to see if the bandwidth permits so.