Intel Device Protection Technology and McAfee Mobile Security for Android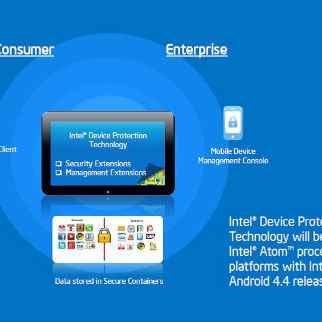 Intel® Device Protection Technology
Recent industry reports indicate Android* is the OS in more than 59 percent of laptops, tablets and smartphones worldwide. While its growth has been explosive and continues, vulnerabilities exist because Android is an open platform. Additionally, corporate IT departments are looking for security and manageability functionalities for Android-based devices that meet the needs of their organizations. Intel recently announced its Intel® Device Protection Technology (IDPT) that includes enhanced security capabilities for Intel-based devices running Android OS. Coupled with the strong security baseline features on existing Intel SoCs, IDPT further strengthens Intel's security offering. Security extensions for Android OS proactively block and help secure devices from malware that is delivered through malicious applications and websites. These devices need to be paired with an enabled security service, such as McAfee Mobile Security v3.2. In addition, the security extensions optimize routine scans to minimize the impact on performance or power. It allows the enabled security service to monitor new and changed files and scan only those files, thus streamlining the scan so it takes seconds, rather than minutes, as it is able to ignore unchanged and previously scanned files. McAfee Mobile Security now supports kernel-level security through integration with Intel Device Protection Technology. This development when used in conjunction with McAfee Mobile Security allows you to block and protect the device from malicious software, while maintaining device speed and conserving battery power.
McAfee Mobile Security
The following are cited as primary concerns for Android open platform OS:
Insufficient protection from malicious apps and Trojans
Incomplete device security/management APIs
RootKit exposure
Unauthorized boot-loaders
McAfee Mobile Security helps solve these problems. McAfee is a leader in the development of anti-virus products. In this article, we describe McAfee Mobile Security for Android.
Downloading McAfee Mobile Security
You can download McAfee Mobile Security from Google Play.
After you download and start the antivirus software for the first time, the app requires you to pass its activation process via SMS and email.
McAfee Mobile Security has a well-designed and intuitive interface. The Home screen displays the main anti-virus components: security check, application security, Web security, and others. Let's consider the main ones.
Basic components and function
Security scan
With this function, you can check the files for viruses. Checking a 2GB micro-SD card took exactly 10 minutes, and two threats were found. For comparison, other antivirus took three and a half minutes and didn't find any viruses.
Privacy
With the help of this function McAfee scans and checks your apps for different types and levels of access to the data and functions of your Android device. For example, Google maps requires access only to the user's location, but Facebook collects detailed information about the user, such as location, access to the network, contacts, and other data. If you don't want an app to have access to your data, you can quickly delete the app.
Web security
This is an advanced tool to block malicious web pages. Unfortunately, this component does not have extensive settings. You can only enable / disable it. Total use antivirus never signaled bad sites.
Find device
This component allows you to remotely manage the data on the device. You can lock the device and it lets you display a message on the mobile device to request its return. It is also possible to track the location of your phone. You can remotely wipe all data on the phone or make a backup copy.
Conclusion
Some people underestimate the risk of malware infection on phones and tablets. Others believe that if they download an application from Google Play, they do not have to worry about security. But malware is happening more and more all the time, and it's better to be safe than sorry. And McAfee Mobile Security is a very functional choice to protect your device.
This paper has talked about the advantages of McAfee Mobile Security, namely:
Large database of anti-malware scans apps
Easy-to-use interface
Remote data management over the Internet (to protect against theft and loss of the phone)
For more such Android resources and tools from Intel, please visit the Intel® Developer Zone
Source: https://software.intel.com/en-us/android/articles/intel-device-protection-technology-and-mcafee-mobile-security-for-android