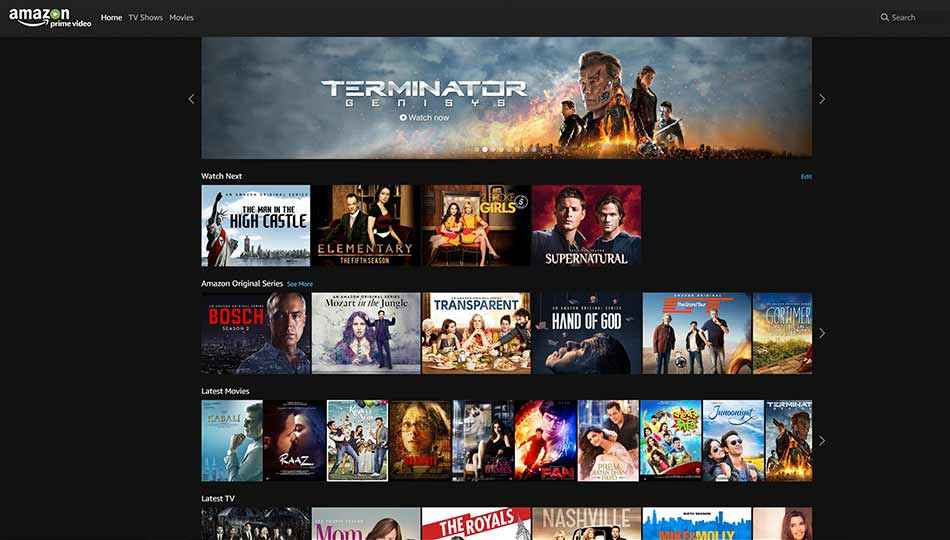 HIGHLIGHTS
We explore the different features, content library, restrictions and technicalities of Amazon's newly launched Prime Video in India
The launch of Prime Video in India had been rumoured since Prime was released. Now that we finally have the service available in India, we tried it out on both web and mobile. To get access to Prime Video, you'll need to be a Prime member which has an annual fee of Rs.499 (currently an introductory offer, fees will be raised to Rs.999 once it ends). Essentially, you get the facilities of a Prime membership such as same-day and two-day delivery, and early access to lightning deals, and Prime Video membership in the same fee. We played around with the service on web and mobile, exploring the available content and minor technicalities incorporated into the service, along with a couple of useful features.
Content library
You can search across a vast library of content using the curated homepage with separate tabs for TV shows and movies. Scrolling down will showcase more curation based on the latest content and the exclusive content available only on Prime Video. As you scroll down further, you'll find the content categorised into genres, making it easier to find and discover more content based on your preferences. For now the service doesn't throw up a recommendation list based on your watching history or rather it doesn't even ask about your preferred genre. Rather than mindlessly browsing through all the basic genres to discover content, implementing a recommendation engine would have been a better idea, making it easier to suggest users content based on their tastes. It's a surprise to us that they haven't implemented one and we'll keep a lookout on whether a recommendation list appears later after watching more content.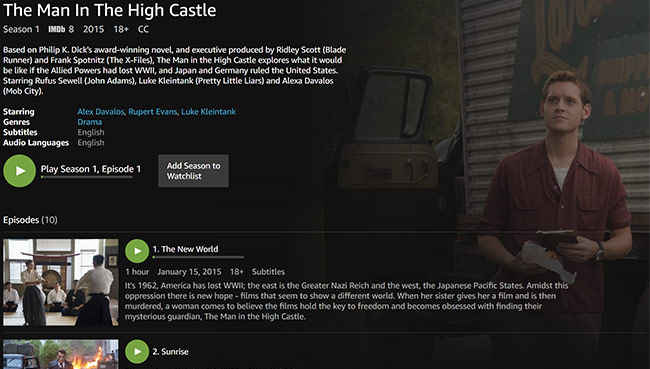 Speaking of the library, it appears to be huge but we don't have the approximate count on the number of TV shows and movies available. Amazon already has popular original content including TV shows such as The Man in the High Castle, Transparent, Mozart in the Jungle and the highly anticipated 'The Grand Tour' starring Jeremy Clarkson, Richard Hammond and James May, of Top Gear fame. Amazon is also working with local content creators across several genres including drama, comedy, psychological thriller, political satire, etc., with few of them listed below:
Bodhidharma: Master of Shaolin | Equinox Features | Ram Madhvani, Prasoon Joshi and Sunil Doshi
Breathe | Abundantia Entertainment | Vikram Malhotra, starring R Madhvan and Amit Sadh
The Ministry | AIB and OML
Powerplay | Excel Media & Entertainment | Ritesh Sidhwani and Farhan Akhtar starring Vivek Oberoi, Richa Chadda and others
Mirzapur | Excel Media & Entertainment | Ritesh Sidhwani and Farhan Akhtar
Stardust | Phantom Films | Vikramaditya Motwane, Madhu Mantena, Anurag Kashyap and Vikas Bahl
The Family Man | D2R Films | DK Krishna and Raj Nidimoru
Vishpuri | Big Synergy | Vikas Bahl, Vikramaditya Motwane, Anurag Kashyap and Madhu Mantena
Made in Heaven Excel Media & Entertainment and Tiger Baby | Ritesh Sidhwani, Farhan Akhtar, Zoya Akhtar and Reema Kagti
Apart from original content, Amazon has tied up with many Indian studios including Yash Raj Films, Dharma Productions, T-Series, etc., to exclusively host the corresponding blockbuster movies in Prime Video a few weeks after their release in theatres. Not just Indian studios, tie-ups with international studios including Warner, Paramount, CBS, Lionsgate etc., will ensure their content is streamed first on Prime Video a day after their US broadcast. Prime Video users will also get to watch already released movies from the same studios mentioned above. You can also find plenty of regional movies in Tamil, Telugu, Bengali and Marathi, including newly released movies.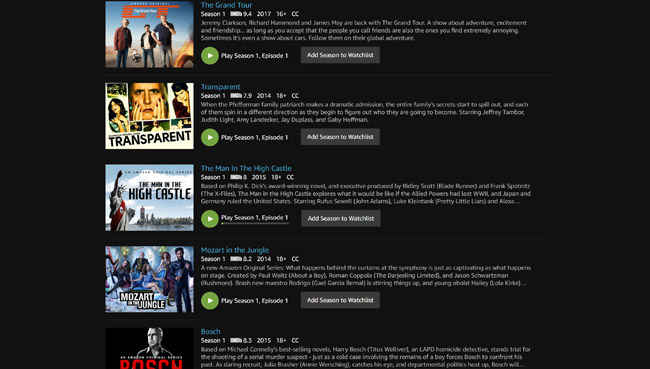 Streaming quality
According to Amazon's official help page on video quality and formats, Prime Video is available in SD, HD, UHD and HDR. The format is subject to two factors including the content itself and your internet connection. While all the content is available in SD and HD (720p), not all titles in Prime Video are available in UHD and HDR formats. The second and most important factor is your internet connection since based on your bandwidth, Prime Video will decide the quality of your video.
We tried streaming The Grand Tour and found the playback to begin at SD, and as it progressed and detected more bandwidth available, it upgraded to HD and then finally to HD 1080p. In the web player, you can toggle between SD and Auto, where Auto scales to a higher quality based on your bandwidth. Whereas the mobile app has different streaming quality levels to choose from including Best, Better, Good and Data Saver (only on Android) that also displays the amount of data it will be downloading. We are yet to receive an official word from Amazon about the exact resolution of each quality level. The app also offers offline playback so you can download and watch your favourite movie or TV show at every available quality without worrying about internet connectivity.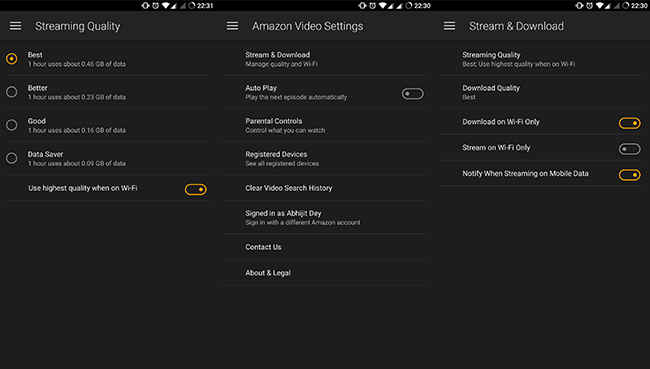 We used the Android app with a 4G connection and were disappointed with the time it took to buffer the video. While on the move, the quality kept dropping several times, hence, it's advisable to watch downloaded content when you're on the move. On Wi-Fi, we observed the same problem of the video pre-loading on a poor quality and then scaling to a better quality later. This is a continuous test that we'll be conducting everyday and we'll update this article accordingly.
There's no official Chromecast support in the Prime Video app and we tried casting the app using Google's Home app and also tried casting the web player from Chrome. The resulting quality on your TV will be highly dependent on your router and internet speed. Another thing to note is that the older Chromecast device can't stream content above 720p, so you will require the newer Chromecast for 1080p streaming. iOS users should be able to stream content to their Apple TV using AirPlay but we haven't tested that out yet. If you wish to watch Prime Video on your TV, it needs to be a smart TV capable of installing the Amazon Prime Video app, from where content can be streamed. Referring to the help page, UHD content, if available for a movie or TV show, is restricted to UHD TVs only, and although you might have a higher bandwidth (UHD requires a bandwidth minimum of 15Mbps), you will be restricted to 1080p.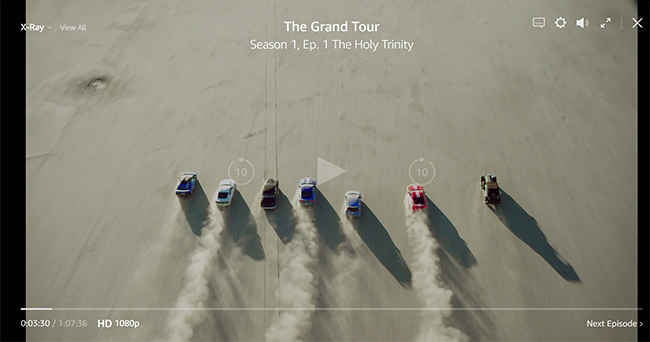 Web and mobile player
The interface of the video player on the web and app are similar, and fairly easy to use. English subtitles are available on almost every video, including other languages. On the web, you get a bit more customisability to edit the look of the subtitles. The availability of a desktop software would have been useful to control playback from your phone, similar to how you can control music playback from your mobile device in Spotify. Since it's a web player, an implementation similar to YouTube's remote control feature to control videos on your desktop browser would have been great. We do hope Amazon listens and adds this feature to their future update pipeline.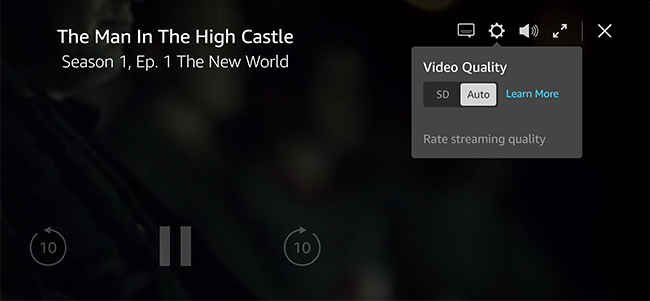 X-Ray for Movies and TV Shows
An interesting feature homegrown at Amazon is X-Ray and in Prime Video, it further improves the experience while watching movies and TV shows. Kindle users will be already familiar with the tool that helps them dig deeper into books by providing them additional relevant content. With Prime Video, you have access to metadata such as scene details with timestamps, so that you can jump to that specific scene at will. The other features included in X-Ray are information about the cast, key characters, music and general trivia. All the data visible in X-Ray for movies and TV shows are being pulled from IMDb. The implementation is seamless as it pauses the video and opens up an overlay over the player, where you can browse through the different tabs of information mentioned above. X-Ray will surely add to the viewing experience of users as it doesn't hamper the playback and goes back to playing from where you had paused automatically.
We sat down with Nitesh Kriplani, Director and Country Head, Amazon Prime Video India, who talked about the research that went on for several months in understanding the local consumers. According to him, Amazon is experimenting on how TV shows are being pushed on to the service by following different models of releasing them once a week and making the entire season available at once. Once they can justify a particular model, they will take a final call. On being asked about the possibility of having separate memberships for Prime and Prime Video, and streaming quality as well, he mentioned Amazon will take user feedback into account. He also added that content from Prime Video can be streamed to a maximum of three devices (Android, iOS or web) simultaneously with a single Prime account.\
Bonus advice
Taking into account the experiences of our team and several other users consuming such content, we have discovered one simple technique to distance yourself from the unavoidable binge-watching epidemic on Prime Video. Head over to the Account and Settings menu, then to the Playback tab and switch off Autoplay. It's your choice and your's alone. Otherwise, you can go ahead and drown yourself into an abyss of endless TV shows and movies on Prime Video, as observed on another competing service.