Nowadays, it is becoming increasingly difficult to come across an innovative, new chat app that does not borrow elements from its predecessors. Who knew change would come in the form of a chat app for kids? Disney Mix, the company's latest addition to its family of children's apps follows a "PG rated" approach to the world of instant messaging and it's not at all boring!
The Concept
Disney Mix is especially tailored for children above 13 years of age. Many parents struggle with online privacy, security issues when it comes to their children. Popular messaging apps such as WhatsApp, Snapchat and Facebook Messenger, those that have a large chunk of teenage user base, rarely deploy any checks on language use, inappropriate content/information sharing and more. Disney Mix attempts to change the rules of chatting, without the need for constant parental oversight.
The app checks the use of inappropriate words in a conversation by blocking out such messages. If a message contains blocked words, it is automatically replaced with blanks and the user on the other end receives the same filtered message. The app does not even allow sharing of personal information such as a user's real name, location, picture, or even the status of messages sent, delivered or read. Disney has added a rulebook to the app, which one gets to read during the sign-up process. The rules, as shown in the image below, are pretty simple and state the guidelines for using the app. Infact, one does not have any option but to follow the same, for reasons I will elaborate in due course.
Rules for Disney Mix
The App
On sign-up, the Disney Mix app prompts users to create an Avatar of themselves. The process is quite fun, as one gets to customise their costumes, hairstyles, facial features, hair colour, skin colour, and much more. One can even opt for a Disney themed avatar, with a list that features a number of its cartoon characters. Once you create an Avatar, you can save the same in a list, just incase you decide to edit its features in the future.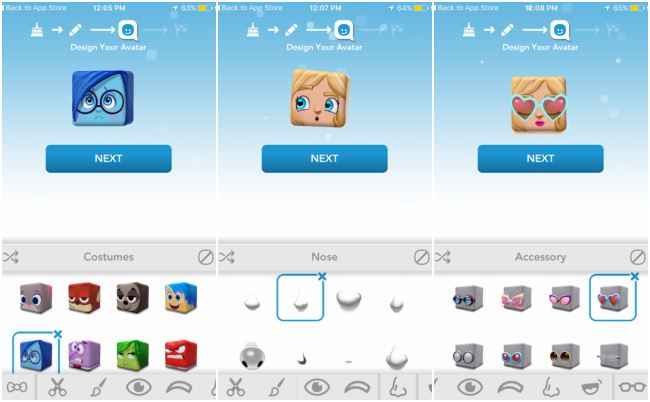 The app also features a quirky bot, called Mixbot, which guides children on how to use the various features of the app. This seems like a great addition to introduce kids to the world of bots.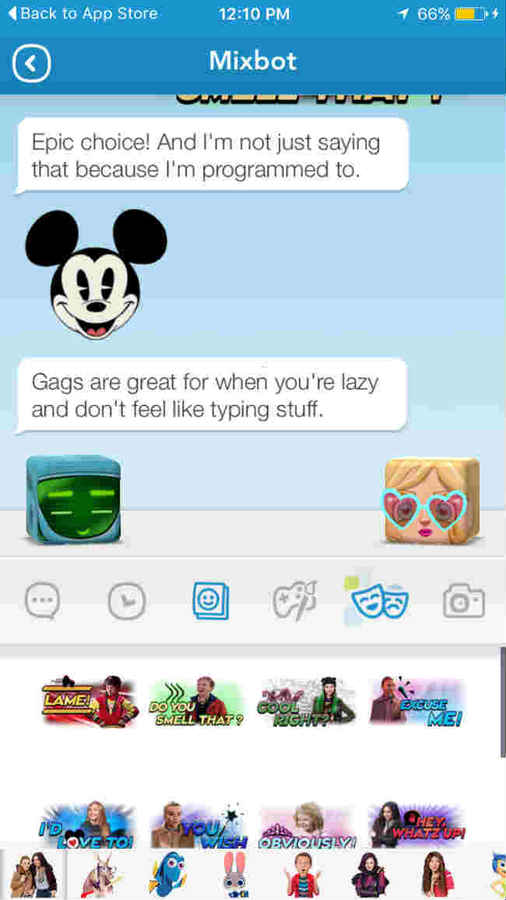 Once you are done signing up, the app is pretty simple to navigate. With a clean, yet colourful UI, Diney Mix maintains that it is an app for children, yet it does so without an in-your-face corniness. So, although I am way past my teens, It was a refreshing change using Disney Mix for its ingenuity and lack of social/peer pressure of constantly updating profile pictures and status messages. The rules, as I had mentioned before, are pretty strict. Not only does the app keep a constant eye on inappropriate language, it also does not allow a user to share personal information, and actually punishes them for doing the same. In this case, I tried sharing my email address with a friend, and as a result, my account was blocked for 24 hours, with a warning about the same displayed on top of the app screen.
If you are on the receiving end of some inappropriate information or are requested to share your personal information by any user, you have an option of reporting the user/conversation to a Disney Moderator (See image below).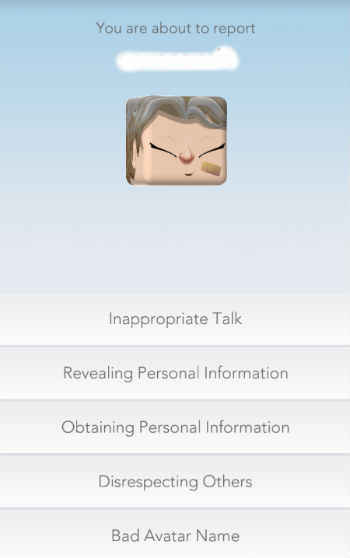 With the rules out of the way, let's now get to the best part about the app. Instant Messaging is all about interactivity, and when it comes to children, there can never be enough interactive elements in a messaging app. Disney mix goes beyond emojis and adds an option of sharing gags, memes and playable animations. The most exciting of them all is the option of playing games through conversations - 'Spikes' is a mario-like game that allows users to create their own levels or choose from a range of preloaded levels. Your avatar is the protagonist in the game. Once you complete a level, you can compare scores with your friends and even challenge them to beat you at the game. Another in-chat game called 'Cards of Doom', makes players exchange entertaining action cards with each other. A Big Hero 6 themed game allows users to create their own fireworks show and share the same with their friends.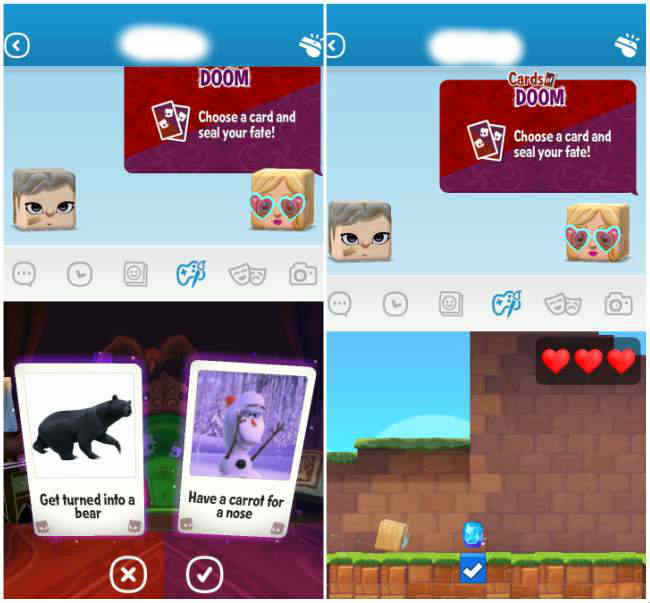 These games are a great example of how to use screen real estate in a chat app. By using half the screen, the Disney Mix chat app beautifully brings out its interactive elements. Not only is the app enjoyable for kids, it also has the ability to rewind the clock for us adults. Now, Disney does have plans to include a photo/video sharing feature in the app, but we are not exactly sure how they will manage to do the same and prevent the use of unsuitable images. Nevertheless, with its fun, feature packed app, we think Disney may just have a winner on its hands.
Header image courtesy: YouTube