Apple Music has been endlessly spoken about and discussed, ever since rumours initiated with Apple acquiring Beats. Midnight yesterday, Apple Music has finally been aired across 100 nations. The initial offering from Apple Music is a three-month trial duration, in which users can access all features of the music streaming service. Post-trial, Apple Music can be subscribed on a subscription model.
Meanwhile, India has seen a growing number of music streaming services enter the country. Apps like Saavn and Gaana provide free ad-based streaming, along with a subscription model which allows users to access music offline. With increasing demands for curated playlists and unending music libraries, we take a look into Apple Music to find how good it fares when it comes to Indian music.
Setting up and Payment procedure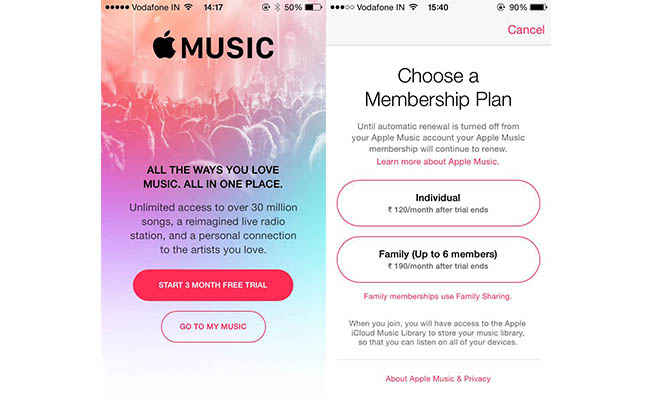 Post-updating to iOS 8.4, the biggest notable difference is the Music app. The theme of the icon has changed, and opening it leads directly to the welcome screen of Apple Music. Your three-month trial starts here, and once you begin trial, you will be asked to choose a subscription plan for post-trial usage. You will be required to sign in through your Apple ID and enter your card details.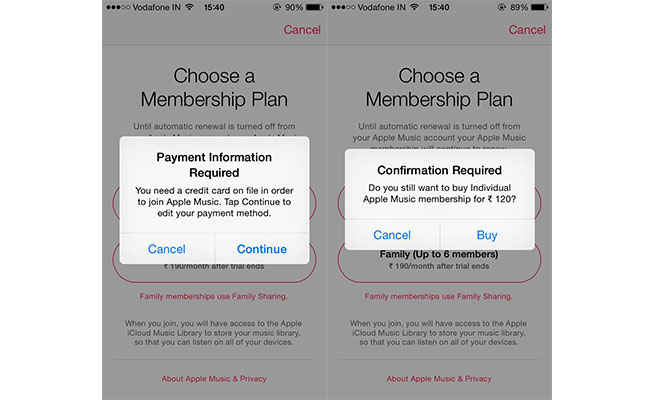 It is here that Apple has made it slightly confusing. To begin your three-month trial, you will have to select either of the two subscription plans: the Individual plan for Rs. 120 per month, and the Family plan for Rs. 190 per month. While no money is charged for the first three months, choosing a subscription scheme for future has been made mandatory by Apple, and auto-pay is enabled by default. However, you can deactivate auto-pay once you log in and set up Apple Music. All you need to do is access your profile settings, view your Apple ID and see your payment status under 'Subscription'.
Also, if you are setting up an Apple ID for the first time, Apple charges you Rs. 60 for iTunes registration. Apple requires a Credit Card on file to set up your Apple Music account, so unless you provide valid credit card details, you will not be able to start your trial.
Selecting music preferences
Apple Music has five tabs: For You, New, Radio, Connect and My Music. You will be prompted to choose your favourite genres, which appear as floating red bubbles. Indian music on Apple Music has Bollywood, Indian Pop, Indian Classical Fusion, Indian Classical, Ghazals and Sufi. For regional Indian music, there is Tamil, Marathi, Malayalam, Kannada, Telugu and Punjabi Pop. A fair number of categories, seeing that Saavn - that focuses more on Indian music - has nine regional settings, apart from Hindi (that covers Bollywood) and English.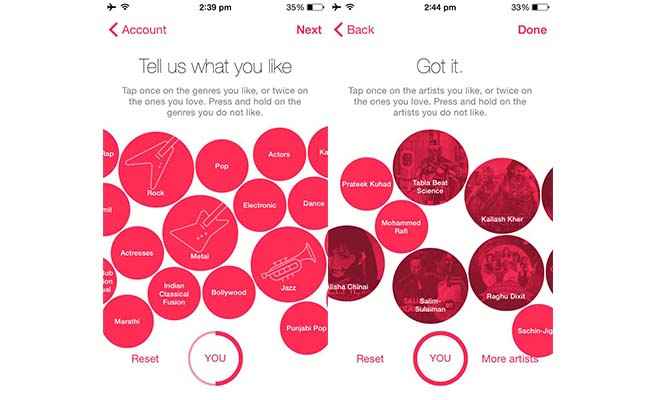 Tap on the genres of your choice, and double tap on the ones that are your favourite among the chosen, and you will be led to choosing your artists among the genres. The appearance is the same as that of the genre-selection screen. Apple Music showed up a number of Indian musicians, including bands and music ventures like Advaita, Tabla Beat Science, Raghu Dixit and Paradigm Shift, along with old Indian singers like Kishore Kumar and Ghulam Ali, on first selection. Once you're done selecting, tap on 'Done', and a curated feed will open on the 'For You' tab. The list has tiled windows, displaying a cover image and a brief on each playlist. Tap on one to see the playlist. You can choose to play the entire list by tapping on the play icon on the album art tile, or tap on a song anywhere in the list to begin playing.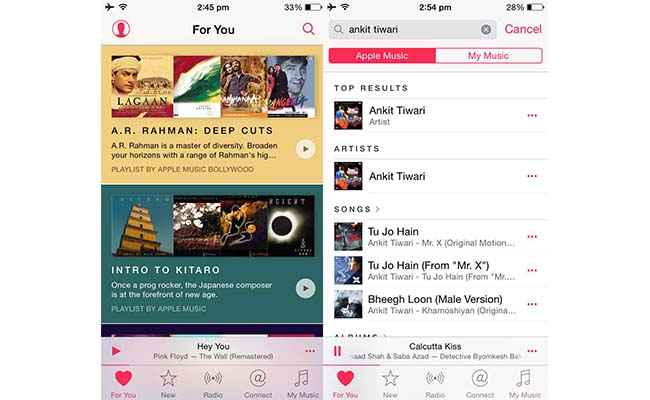 Automated playlists feed
Apart from curated playlists, you get artist-specific and album-specific playlists. In our curated feed, we got a 22-track A-list of Bollywood, a 16-track Best of Indian Pop featuring Viva, Bombay Vikings, Shaan, Lucky Ali, Ram Sampath and Adnan Sami, the OST of the film 'Agneepath', and Karsh Kale's album 'Liberation'.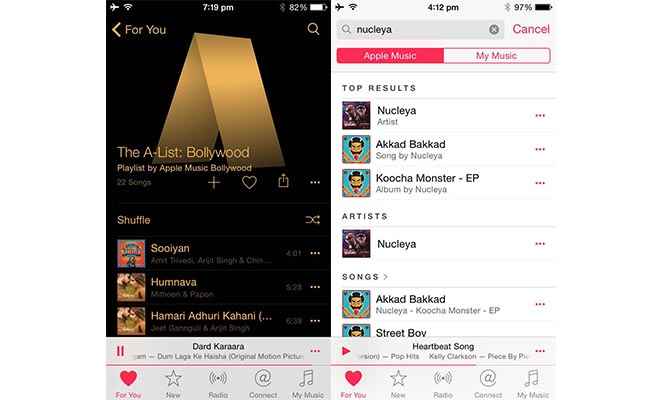 You can search for artists of your choice from the search button on the top-right of the screen, that appears on each tab. To look for Indian artists, we searched for Nucleya, Mohammed Rafi, Parikrama, Neha Kakkar and more, and each of them returned us results. On deeper search, we even found a good number of Bengali tracks - a regional genre that wasn't mentioned in searches. There are more tracks by Indian artists than we expected, and on international artist search, Apple Music seems to have an unending database of artists.
All that's trending, and mood-curated playlists
Moving to the New tab, it has a dropdown list from which you can select a genre of your choice, or search for all genres. The curated feed displays a long, categorised list, viz. New Music, Hot Tracks, Recent Releases, Top Songs, Apple Music Editors, Activities, Curators, Recommended Music Videos, Our Favourite Romance Playlists, New Artist Spotlight, Road to Discovery and Essentials.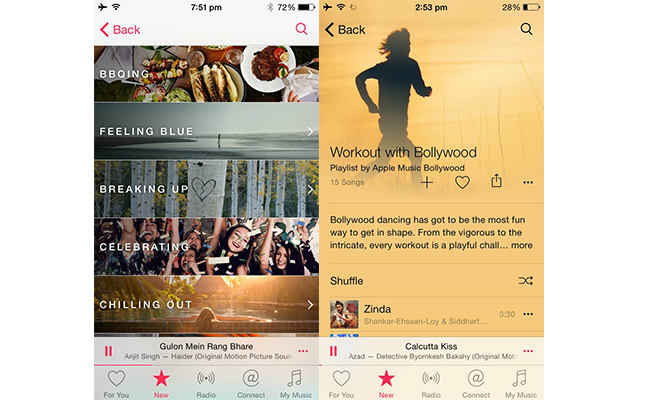 An entire list of recent music trends curated according to recent tracks played by you, playlists will range from latest international and vernacular movie OSTs and EPs, latest albums by artists and bands, and lists of top tracks trending across the world. The Apple Music Editors features 15 sections of hand-selected playlists, for all the genres that you select while setting up Apple Music. Opening Bollywood, we found three tabs, Featured, Playlists and Connect. There's a feed by Apple's curators, "We're loving these". Connect will give you feed by Indian artists: we had Sunidhi Chauhan and Amit Trivedi's choices listed when we checked in.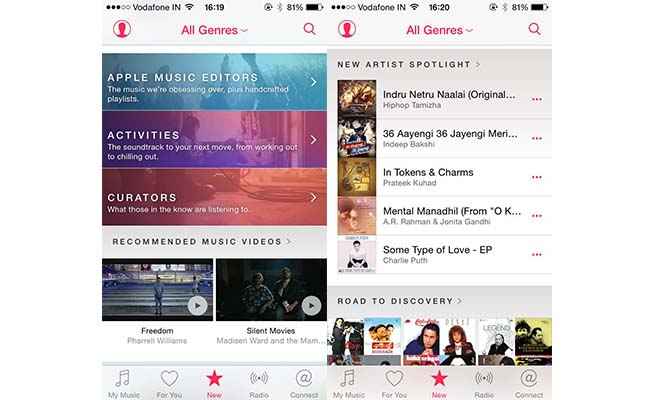 The Curators tab gives you a list of all that Apple's music curators are listening to: something where you wouldn't really come across Indian tracks. Apple Music's Activities include BBQing, Breaking Up, Running, Working Out and 15 other activities. Select each activity, and the music feed for each of them will have a balance of various tracks among the genres you have chosen. Activities will also have genre-based sub-playlists. For instance, Working Out had a playlist to work out with Bollywood.
Radio: Live music and pre-curated lists
The radio tab's first and largest tile is reserved for Beats 1. Other featured channels are All-City, Pop Hits, On the Floor, The Mixtape, Soundsystem and Charting Now. Bollywood and Tamil get stations to themselves, which mean that you will get a continuous curated mix of tracks on these channels. There is a large variety of tracks from which Apple chooses the mix, although we noticed more of the recent Bollywood tracks on radio, than the older ones. By recent, we mean most songs that have been released within the last two years.
In radio, you can see the next track while playing one. There is, however, no playlist shown. While playing, you can share the station or song. You can also start a station based on a playing track, which will curate itself based on the type of track you were playing. You can also download the track to your device to listen offline, or see it on iTunes store. We did find a large number of repetitions, though, strewn across the quite extensive number of playlists that Apple Music makes for Indian music. The curation, however, is good, with a continuous and smooth flowing rhythm across all the tracks.
Connect: Stream through your favourite artist's day at work
Apple Music's "Connect" feature has a Twitter-esque timeline, with various artists posting in-work photographs with short message captions, that you can either like or comment. We found Salim-Sulaiman sharing a photograph from their Saturday night concert, Anoushka Shankar sharing a snippet of an upcoming live home studio performance, and Arijit Singh sharing his rehearsal photograph: a nice, intuitive feature that may interest a lot of devoted Indian music listeners. Internationally, we found the Red Hot Chilli Peppers gearing up in the studio, and their bassist with a smiling face and a broken arm.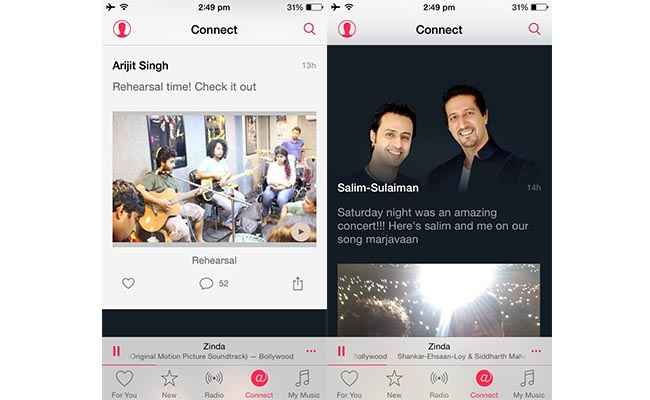 Connect is a great place for fans to get an inside view into the world of music. It is a stream of stories by musicians, and if you're a musician or a music fanatic, be rest assured that you will love it.
A few things we didn't like
First, the entire confusion about having to sign up with a credit card on file. While it does make sense if you're planning to subscribe in future anyway, not all might have such a long-term plan. Although you can disable auto-pay to ensure that no money is deducted from your account, this doesn't aid functionality. Additionally, most of the young crowd in India uses Debit cards for their payments, and Apple Music doesn't accept anything except Credit cards. This might detract a lot of people right at the onset: something clearly not favourable.
Secondly, search options within Apple Music seem slightly impaired. Quite often, we found it rather difficult to spot artists, or specific albums. Apple Music had problems, and often took time, to find prominent albums and tracks. Although navigation and interface are fairly smooth, there are times where Apple Music felt a bit too full of options: so much that you might even get a bit confused with what to find and where. This, however, is not a problem, per se. It would be dependant on personal usage.
Summing up the first experience
Apple Music has not only arrived in India, it has provided India with an extensive selection of music across a number of regions and timespan. We found Mohammed Rafi and R.D. Burman's collections that go more than four decades back, and current generation's Arijit Singh and Ankit Tiwari, who also post updates via Connect. You will be more than satisfied with the collection. You can download and listen to tracks offline: an important feature in India owing to slower connection speeds. Apple has synced the local music library that you have with Apple Music, so all the tracks and albums you download can be instantly synced and organised once you open the 'My Music' tab.
To sum it all up, Apple has provided an extensive base of Indian tracks on Apple Music, and even focused on regional Indian music. With a large number of playlists curated by listening choice, and pre-programmed ones for different times and moods, Apple Music has every capability to strike the right chord among Indian listeners. We wait for Apple Music's Android version, and hope that most of the features, clutter-free interface and smooth functionalities will be carried over to it too.