Once upon a time, staying fit and healthy meant having an expensive gym membership with a personal trainer to keep tabs on your workout routine. Now, personal fitness trainers reside inside apps and workout stats can be monitored on wearable devices and smartphones. But, Before you go into a fitness frenzy and decide to download a whole host of apps with similar features, take a look at these 6 unique fitness apps that promise to give you everything from actual gym workouts to healthy relaxation tips, virtual exercises, diet counselling, and much more!
FitMeIn
Long-term gym memberships require a certain level of commitment that most of us lazy bodies lack. Why pay a king's ransom to a gym, when you can barely manage to workout 2-3 days in a week? FitMeIn is a new fitness app that gives you freedom and flexibility in your workout schedule, along with a fitness plan of your choice. It allows anytime access to 700+ premium fitness studios and gyms across Delhi/NCR & Bangalore providing 100+ different workouts every day, without the monotony of one long term gym membership and same workout routine.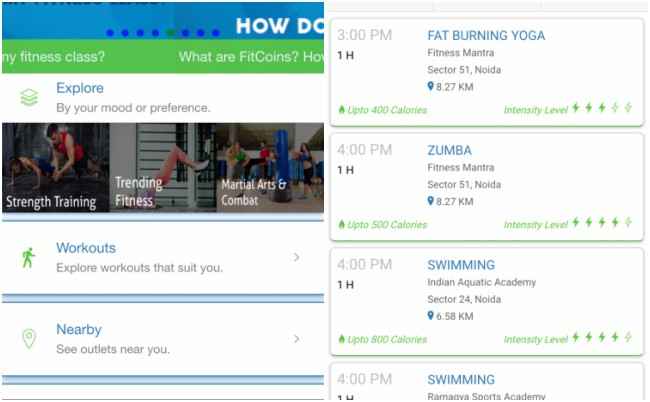 Here, you can find a variety of workouts such as gyming, swimming, yoga, martial arts, zumba, etc. In app currency or as they call it 'FitCoins' can be used to pay for sessions of your choice. For a value of Rs 1099, users get 10 FitCoins with 99 days validity, and for a value of Rs 2,499 users can get upto 30 FitCoins, with 99 days validity. A single sessions starts can cost anywhere between 0.5 to 2 Fitcoins (or more, depending on the activity). The app is new, hence the UI is a little buggy right now, but it solves the purpose of getting custom workouts at the institute of your choice. The FitMeIn app is available for both Android and iOS platforms.
Asana Rebel
A wise man once said, "A photographer gets people to pose for him. A yoga instructor gets people to pose for themselves." With this in mind, get the Asana Rebel Yoga App. Learning the art of Yoga was never simpler, thanks to the customised Yoga workout videos you can find on Asna Rebel. The app offers a range of Yoga videos of varied lengths. On downloading the app, users are directed to their 1st Yoga workout, followed by other free videos on cleansing, fat burning, flexibility and strength.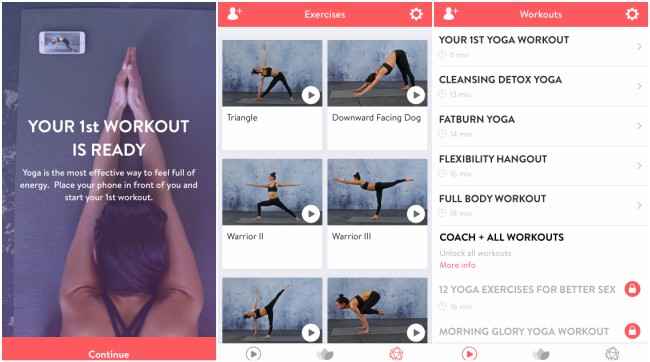 Users can also opt for a personal Yoga coach, with 3 in-app subscription offers starting from Rs 208/month to Rs 6,200 for a lifetime of Yoga bliss. The app is user friendly and simple to navigate. The only downside is that users need to be connected to the internet to access the workout videos. The Asana Rebel app is available only on iOS.
Breathe2Relax
Being stress free is one of the most important prerequisites for a healthy body. In our ever connected, fast-paced lives, we sometimes forget to take a deep breath and relax our minds. This is where the Breathe2Relax (B2R) app helps. B2R is a tool for stress management, which helps identify stress points in the body. The app was developed by the National Center for Telehealth And Technology, an arm of the US Military Health System.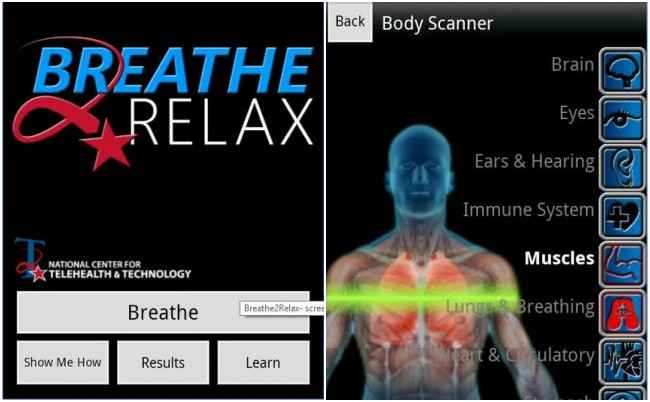 The app takes its users through various guided breathing exercise with an aim to relieve stress. It also houses instructional videos on breathing techniques and postures. The app requires minimal effort, as a calm voice imparts breathing instructions depending on self stress assessment by the user. App users can input their stress levels into the app, after which it determines the number of breathing cycles required for relief. Breathe2Relax is available on both Android and iOS platforms.
Pact
Exercising has some huge rewards and benefits for your body, but what if you were actually paid to excercise? Now, that would give you a whole new incentive to get off that couch, won't it? Users of the Pact app can set weekly workout targets for themselves, with a monetary value attached to the target. If the user meets his/her target, they are paid that pre-determined sum of money. Similarly, if a user is unable to achieve his/her target, the money is deducted as a penalty.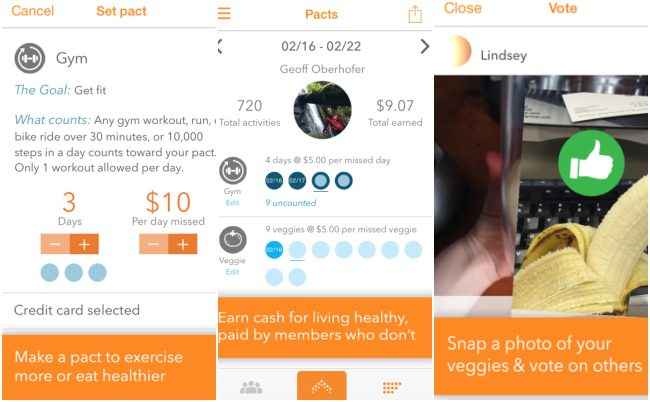 The app can also be used for GPS, motion and step tracking, along with some fun community features for in-app socialising. So now, put your money where your mouth is, because missing a workout can literally cost you! Pact is available for both Android and iOS platforms
Cody
What if you could watch and learn from some of the biggest fitness gurus in the world? Now, you can do so with the Cody app. Cody combines video-based training from the world's top coaches with a fitness community of like-minded, goal oriented users. If there ever was a Facebook for fitness enthusiasts, this would be it!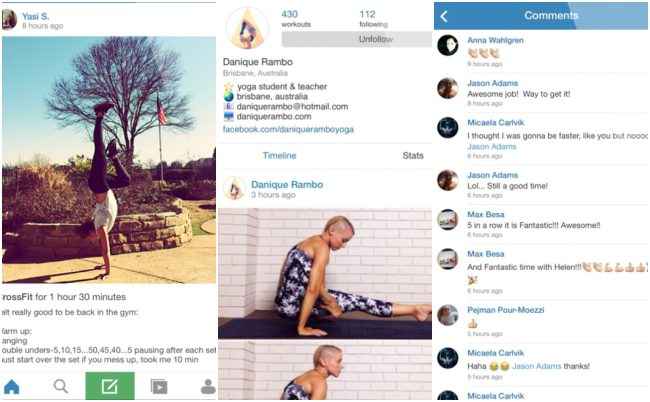 Cody users can rave about their own workouts or opt for training plans made by top fitness instructors. With the ability to upload photos and videos, Cody gives users an option to maintain virtual fitness journals. Users can also review their fitness history by browsing through the in-app calendar, timeline and personal stats records. The best part is that the app allows you to download workout videos for offline viewing. iPhone/iPad users can also wirelessly stream Cody videos to a television, with the help of an Apple TV. The Cody app is available for both Android and iOS platforms.
The Walk
The Walk is a paid fitness tracker and a game. Created in collaboration with UK's Department of Health, the game is for those who love to go on long walks. To stay alive in the game, users need to walk the length of the UK, while achieving certain targets and evading dangerous encounters with the police, enemy agents.
The adventure spans the length of 65 episodes, 800 minutes of audio and hundreds of walking miles. Immersive and motivating, The Walk is available on the iOS App Store for Rs. 190, while it's a tad more expensive on the Play Store, at Rs 210.
So put on your workout gear and get ready to get fit with these unique fitness apps. Once you try them out, don't forget to share your feedback with us in our comments section below.