Best RGB Keyboards for Gaming
Gaming peripherals today are pretty much synonymous with RGB. The best RGB gaming keyboards could be used to light up a dark room or just make your gaming setup look as flashy as possible. While we'd be the first to tell you that RGB doesn't do anything for performance, we'd be lying if we said it didn't up the overall "cool" factor of your gaming rig, especially if you've got all the lights synced up with a proper software and theme. Of course, while RGB doesn't impact performance, that doesn't mean you shouldn't go for an RGB gaming keyboard that already has great performance. Fortunately, we've got a list of the best RGB gaming keyboards for you right here.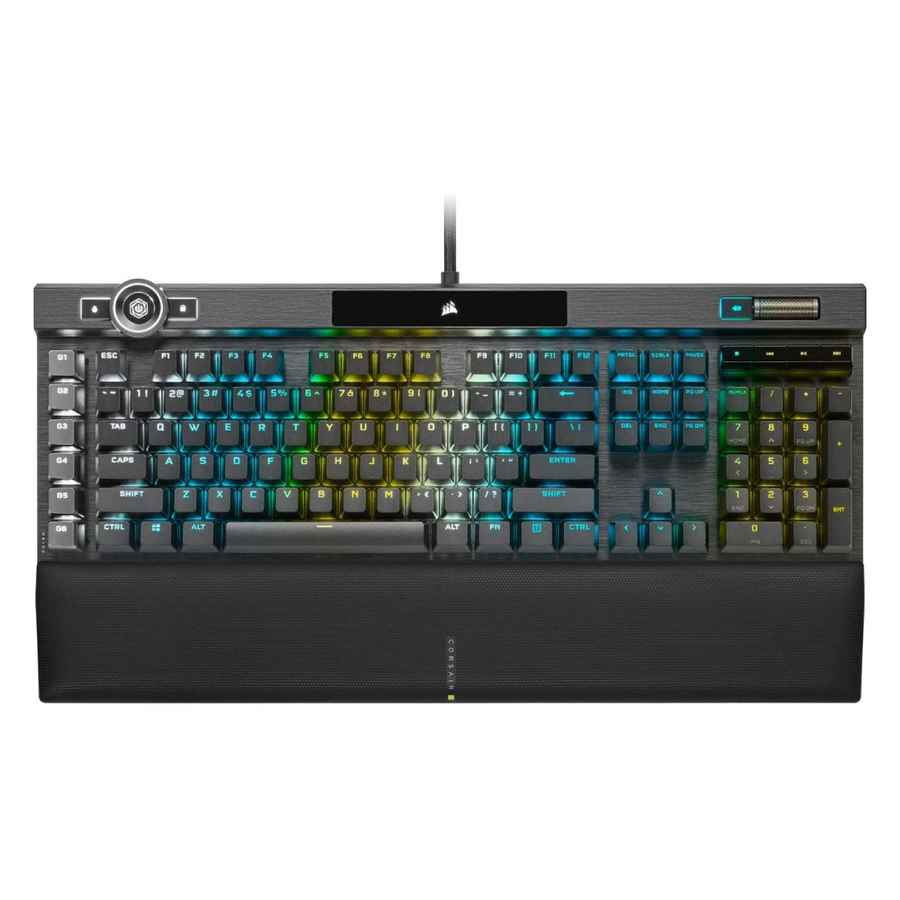 Corsair K100 Optical Gaming Keyboard features stunning RGB lights over mechanical switches that can last years of rough gaming. This professional keyboard comes with 5 colour profiles that could be changed to suit your gaming mood. With the use of Axon technology, the keyboard provides four times better performance than its competitors in the same price range. It layers your keyboard with advanced functionality while simultaneously keeping the backlights on.  Corsair gives you exclusive access to an integrated software Elgato. You could use this stream deck for quickly activating the commands on your keyboard with your desired customisations. The keyboard can be easily placed on any surface, and it provides you with a long and comfortable experience of gaming with its cushioned soft surface that allows your arm to rest while gaming. This cushion comes in a separate section at the bottom of the keyboard that is only designed for resting your arms. You can either stick your badges on this magnetic bottom surface or use it as a plain resting surface for your hand; the choice is yours.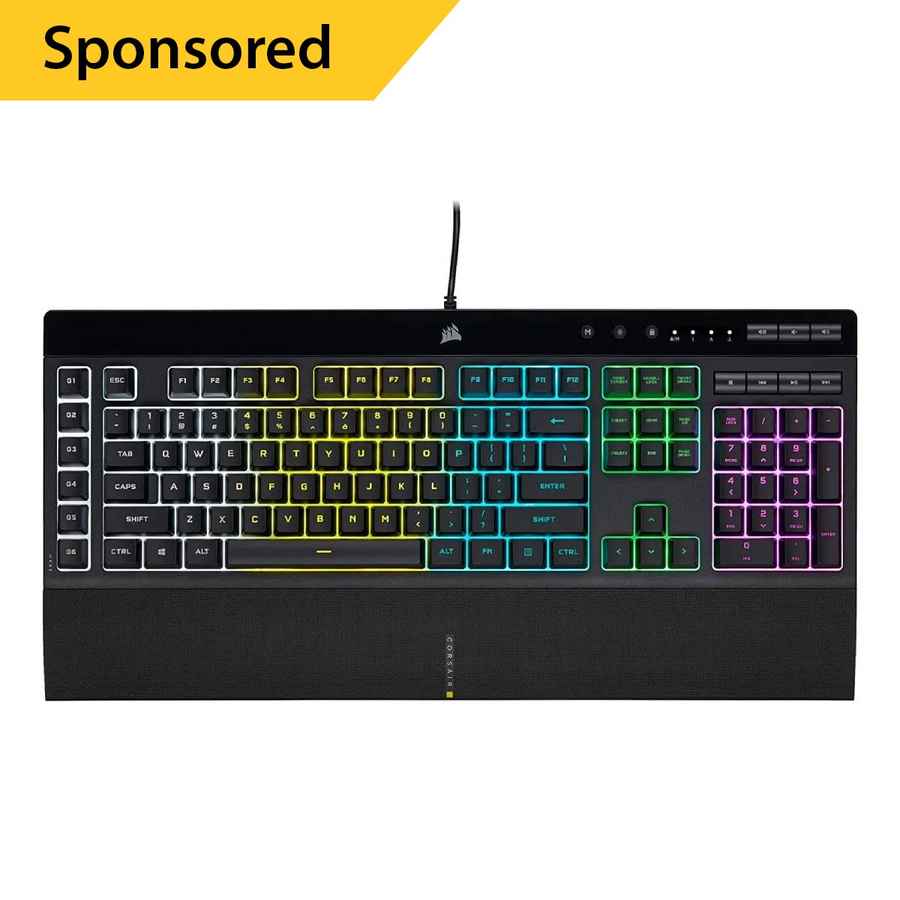 SPONSORED: Slip on the CORSAIR HS35 Stereo Gaming Headset and play comfortably for hours on end thanks to its plush memory foam, adjustable earcups, and lightweight construction. Custom-tuned 50mm neodymium speaker drivers and a fully detachable unidirectional microphone offer high-quality sound and voice clarity. On-ear volume and mute controls let you make on-the-fly adjustments even in the heat of battle. The HS35 is Discord-certified to be voice-chat ready and is compatible with multiple platforms including PC, Xbox One, PS4, Nintendo Switch and mobile, so you can enjoy high-quality sound and excellent voice clarity whatever and wherever you play.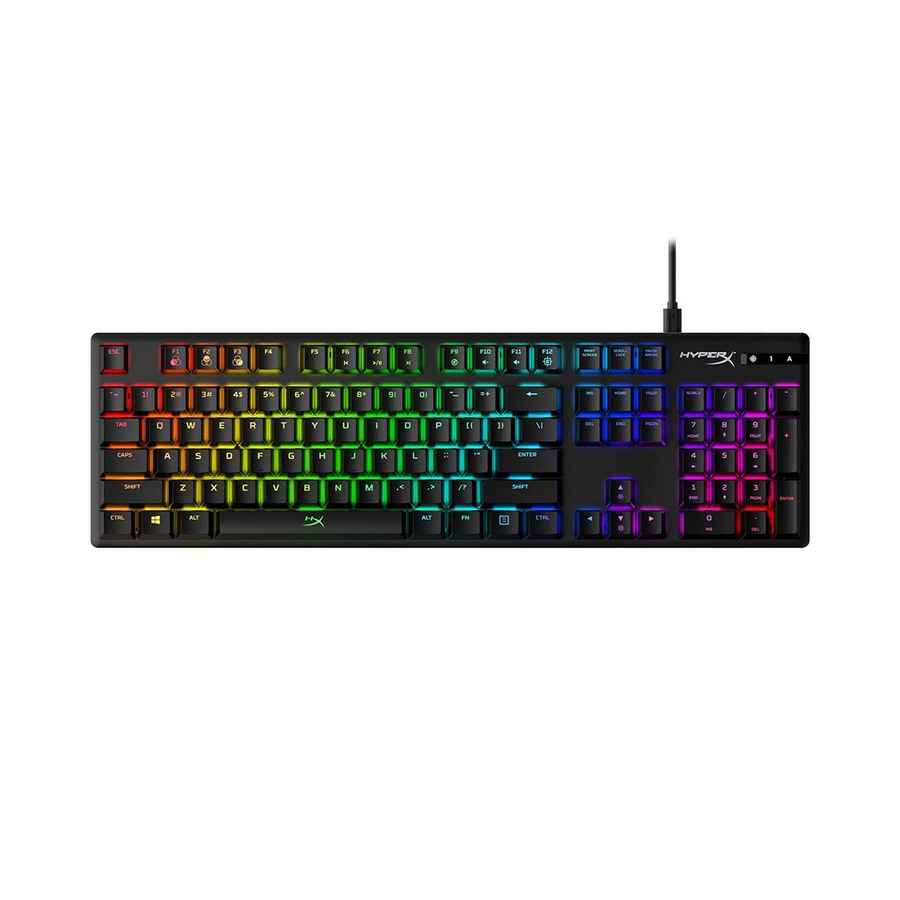 The HyperX Alloy Origins keyboard is a lightweight, rugged keyboard with custom HyperX mechanical switches built to provide gamers with the best combination of style, performance, and dependability. These main switches feature uncovered LEDs for dazzling lighting and an elegantly designed actuation force and distance traveled for sensitivity and precision. Alloy Origins has a complete aluminum body to keep it stiff and steady while keyboard strokes are going, and it also has keyboard feet with three unique tilt degrees. Its elegant, lightweight style leaves more space for cursor operation, and it comes with a detachable USB Type-C cable for maximum portability. The main switches are custom-designed to be sensitive and accurate, with a short travel time and low actuation power. They're still dependable, with a lifespan of 80 million keypresses and no lack of accuracy. Customize the Game Mode, gain more control over the lighting effects, and create your macros. Build your light shows, transfer them straight to the keyboard, and bring them with you when you go out. Ensure that all of the keystrokes are registered and that you are not inadvertently exiting the game at critical points.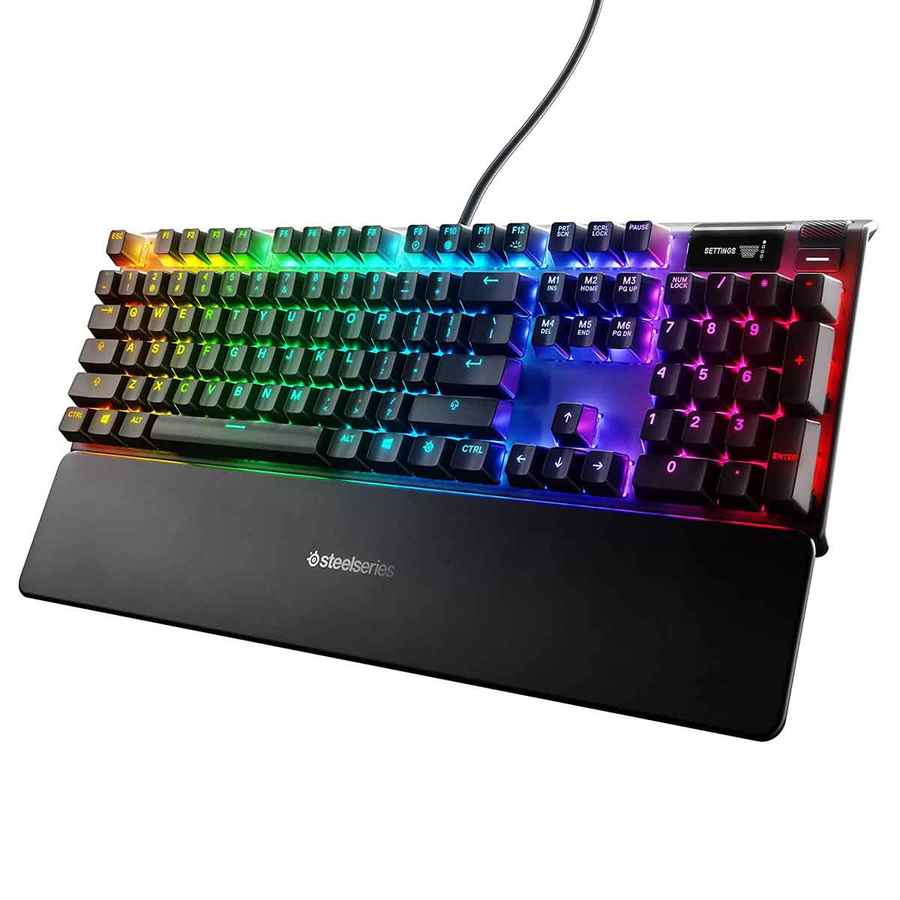 Every gamer wishes to have all the best things that can take their gaming sessions to an all-new level. If you were looking for a good keyboard, then rest your hunt at SteelSeries Apex Pro. It is simply an outstanding keyboard that satiates the hunger of every gamer. Made with the best components, this keyboard comes equipped with 8x faster response, 5x faster actuation, and 2x more durability than what you would have demanded. Though the keyboard misses out on the wrist rest and macro keys, there are still a lot of things that it offers. Here are some outstanding features that a person can enjoy while using this keyboard.  It comes with an adjustable pre-travel distance.A quality built design that lasts longer.It also has a very good typing quality. Another very intuitive feature of this keyboard is the RGB (Red-Green-Blue) key lights allowing the players to enjoy relentlessly even in the dark. The one thing that would interest any gamer is the three-way cable routing that is available on the keyboard. Most hardcore gamers usually suffer from tampered keyboard wire very often. But with the help of in-frame built-in channels, your wire won't suffer pulling and stretching, and it will last longer than usual keyboard cables.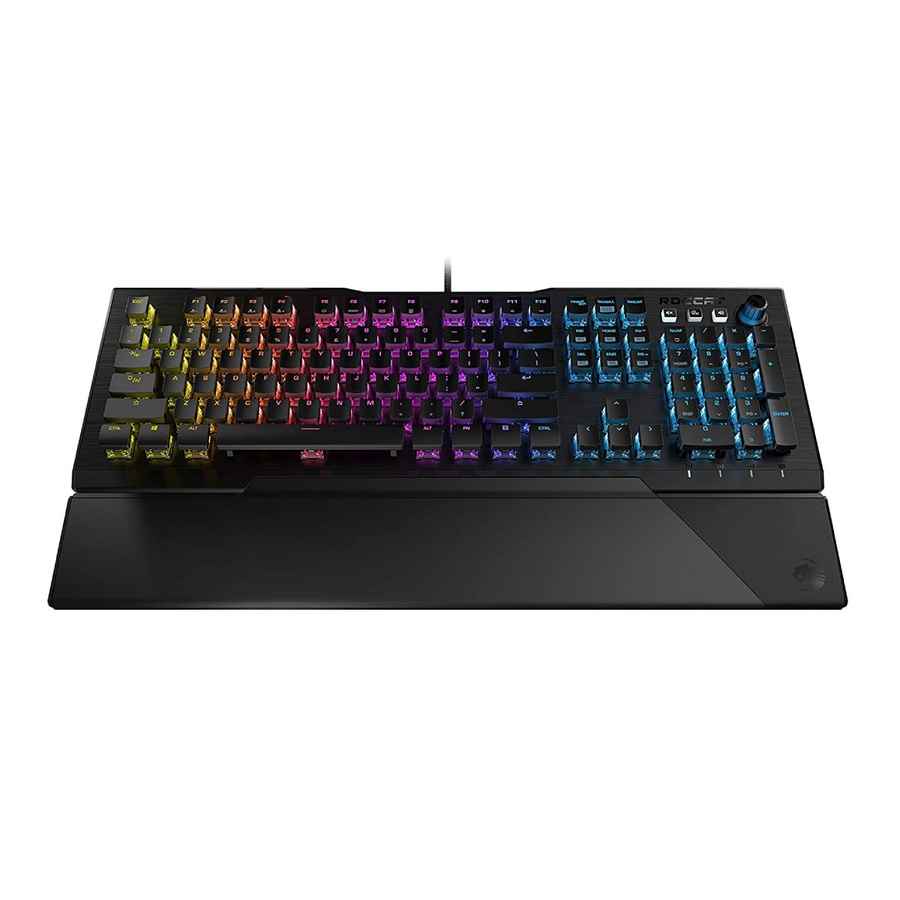 The ROCCAT Vulcan keyboard is going to make your gaming experience struggle-free. The mechanical keys are spaced evenly to handle long hours of play. The ergonomic design ensures that lesser impact falls on your hands and wrists so that you can continue to play without interruptions. The lucid keys decrease the typing time, which is an added advantage in the gaming world. Here are some factors which make the ROCCAT Vulcan a great keyboard. The key speed - The keys convert the command to action within no time, and the key bounce is greatly reduced to deduce inputs. It has a 1.8-millimeter actuation point that increases detection accuracy. The Build - It comes with a removable hand rest that you can use depending upon your game levels. The anodized external aluminum build is sleek and robust. The keyboard is designed to repel dust accumulation in the crevices. Lighting - It is supported by the AIMO intelligent light system and has an efficient, long-lasting LED display. The transparent key switch makes viewing easier at night, owing to the bright display. About 16.8 Million coloured beams illuminate the gaming device. The keys - The media keys provide quick access to the audio and video settings, thereby helping you send prompt commands. The wheel has LED back up for the overall aesthetic impression.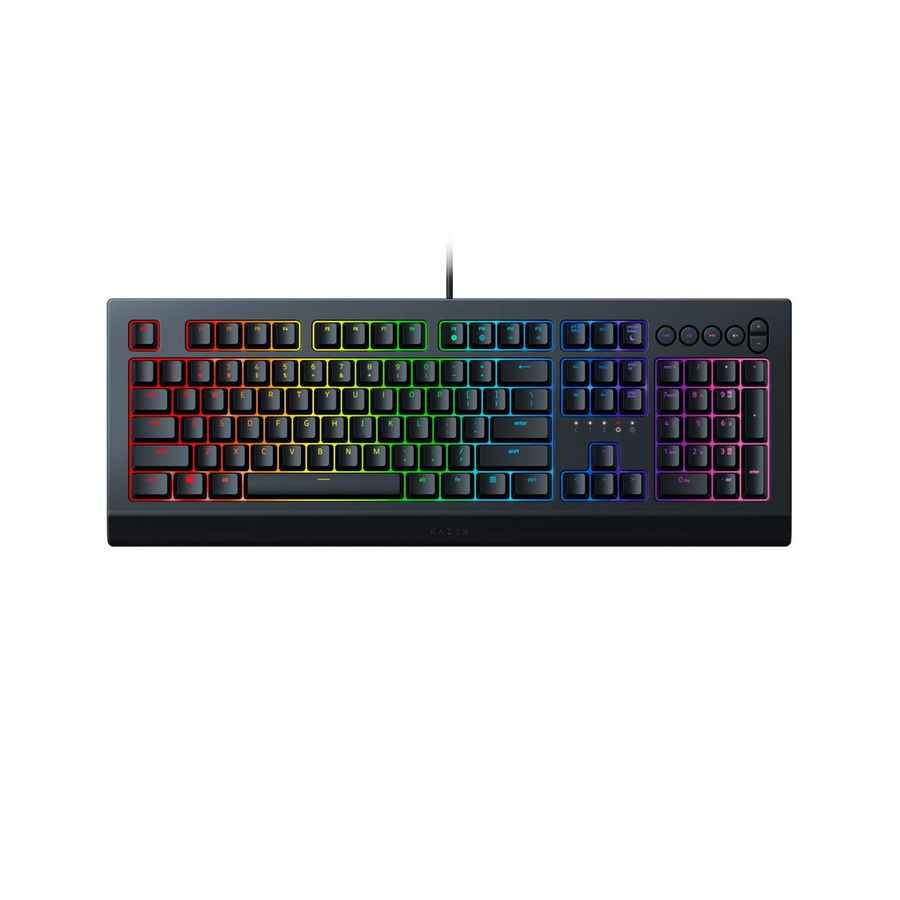 With the Razer Cynosa V2, the critical RGB gaming keyboard, you can paint your game in a completely immersive light. With adjustable lighting throughout every key, watch it come to life while you play Chroma-integrated titles and enjoy a gaming environment you'll never want to leave. The Razer Cynosa V2 is heavily cushioned. So, every keystroke you create on it makes close to zero noise. The premium-key lighting works amazingly well for the immense depth of RGB customization. This lets you play for longer hours without any hassle. Play the game more effectively by mapping your commands with the Razer Synapse 3 and customize this RGB gaming keyboard to your preferences by making and storing custom profiles and macros. The Razer Cynosa V2's rugged build is tough enough for competitive gaming sessions. It can withstand minor spills. Designed with grooves that allow you to neatly tuck in its cable and feed it out in three directions; it keeps your workspace clutter-free and mess-free. The dedicated media keys enable better configuration from brightness to volume. Customize this RGB gaming keyboard with over 16.8 million colors and a wide range of effects. Enjoy enhanced immersion with complex lighting effects that appear when playing over 150 Chroma-integrated games such as Fortnite, Apex Legends, Warframe, etc.