Compact phone lovers can rejoice with the launch of the new Samsung Galaxy S23, packed with a new SoC, a larger battery, and a revamped design. Being the smallest among the three Galaxy devices that launched recently, the Samsung Galaxy S23 can sometimes go under a few phone buffs' radar, especially if they're not invested in compact phones. However, Samsung has refined this phone quite a bit – and there are some notable changes in comparison to its predecessor, the Samsung Galaxy S22. Starting at ₹74,999, the Galaxy S23 is still not easy on anyone's wallet, but the promise of speedier performance courtesy of the new chipset, better camera performance, and longer battery life does make it seem enticing enough on paper. Is the Samsung Galaxy S23 worth its hefty price tag though? Or does it lose ground to the Pixel 7 (review) and the iPhone 14 (review)? Let's find out in our detailed review.
Samsung Galaxy S23 Review: Build and Design
The first difference you will notice about the Samsung Galaxy S23 when compared to its predecessor is the lack of contour-cut camera housing – a design language Samsung introduced with its S21 series. The cameras now have a simple metallic ring around them, mimicking the design of the beefier S22 Ultra, and now S23 Ultra.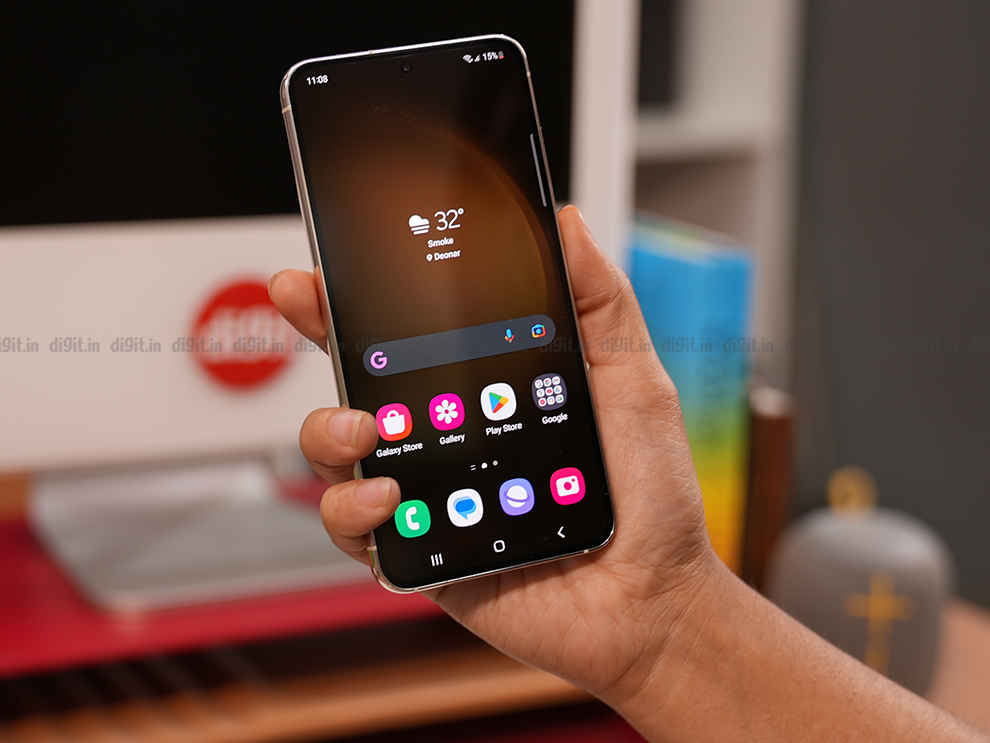 The smartphone is still lightweight, weighing merely 1 g more than its predecessor, while still being lighter than the iPhone 14. It is also thinner than Apple's iPhone 14. This, combined with the rounded-off edges, gives the phone a very pleasant and ergonomic in-hand feel. The back glass has a matte finish that does quite well at rejecting fingerprints and smudges. We got the Cream colour variant for review, which looks classy, but some may argue that the look is uninspired – which is ultimately, subjective.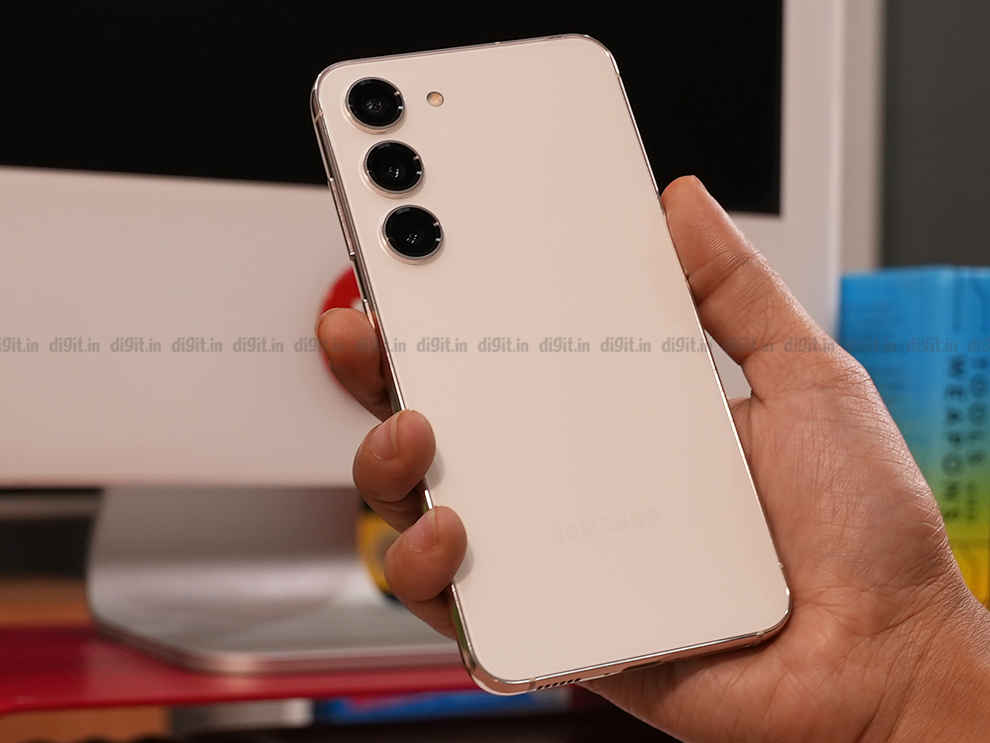 The aluminium frame looks premium but is more prone to dents than stainless steel, which the iPhone uses. However, Samsung has advertised that their new "Armor Aluminium Frame" comes with tougher drop and scratch resistance, but we'll have to drop the phone a few more times to know for sure. The display is protected by Corning Gorilla Glass Victus 2, with improved drop resistance. Additionally, the phone is also IP68 dust and water-resistant. Overall, the phone's compact yet premium build is a breath of fresh air amidst the gargantuan phones we often see today.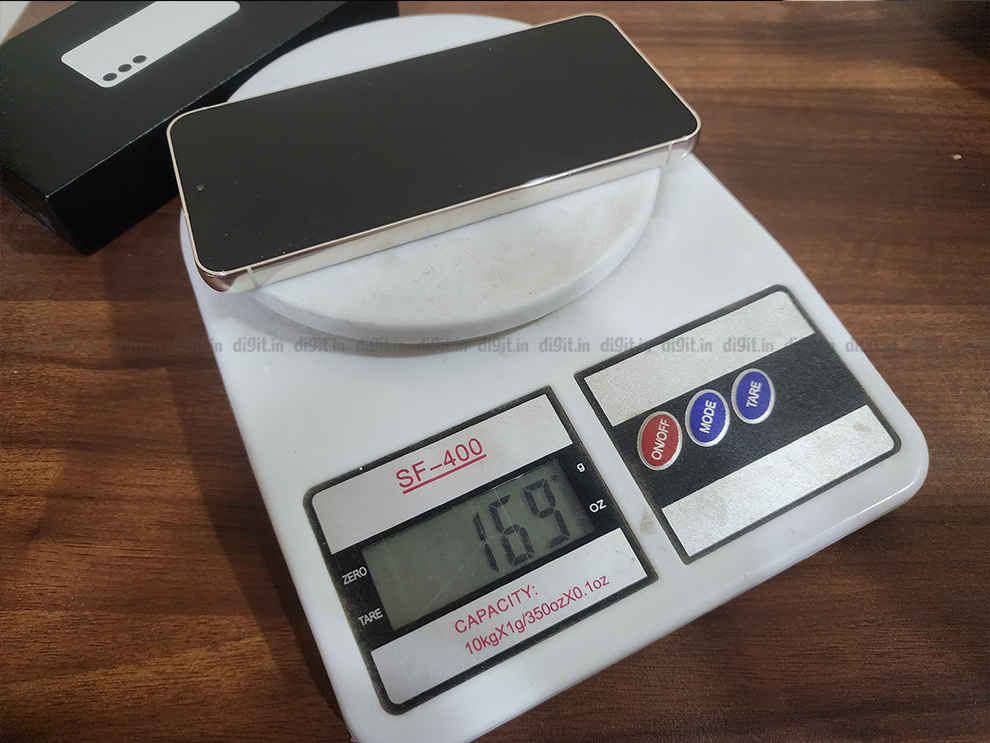 Samsung Galaxy S23 Review: Display
Moving on to the display, the Samsung Galaxy S23 houses a 6.1-inch AMOLED 2X display with 1080 x 2340 pixels resolution, the same as the Galaxy S22 from last year. The improvement here this time around is higher peak brightness. The Samsung Galaxy S23 is capable of hitting 1,750 nits of peak brightness compared to the 1,300 nits on the S22. We measured around 580 nits of brightness on High Brightness Mode and 1,290 on Auto-Brightness under sunlight.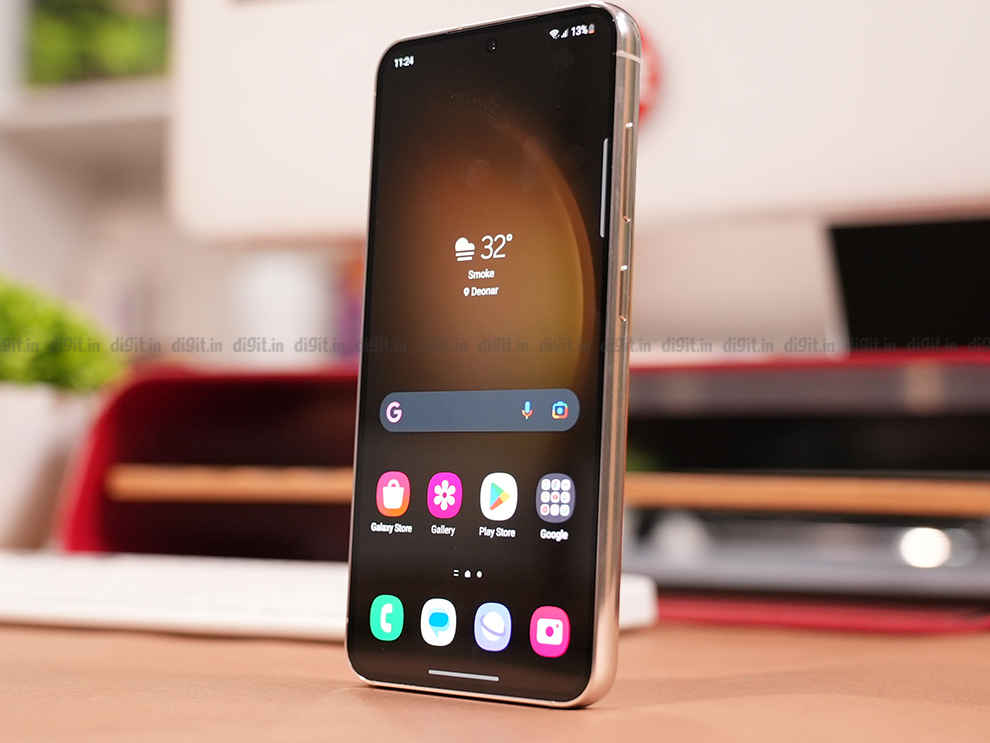 While we didn't record the rated peak brightness levels in our tests, that is something that is usually attainable under certain circumstances in labs. The display is still plenty bright for outdoor usage, even with the sun beating down on the screen. The display is also HDR10+ complaint, however, unlike some other flagships on the market it doesn't come with 10-bit or 12-bit colour and it doesn't have Dolby Vision either.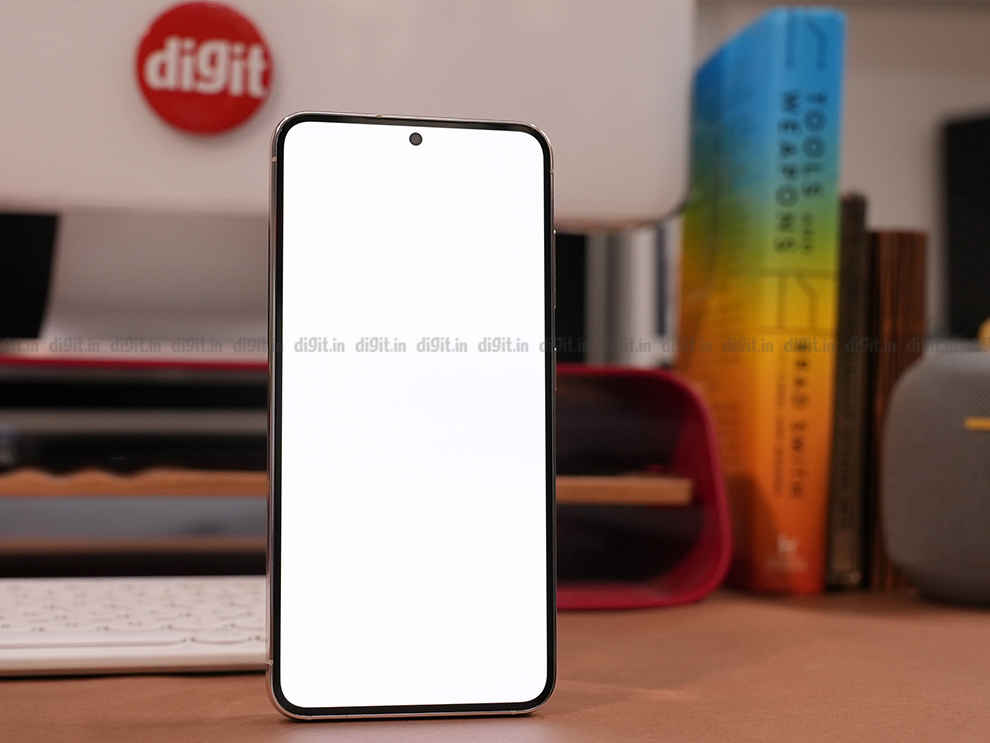 The Samsung Galaxy S23 has thin bezels all the way around
Despite that, the Samsung Galaxy S23's display is fantastic with rich, vibrant colours, deep blacks, and really good viewing angles. With a PPI count of 425, everything looks super crisp and detailed as well, so viewing content on this screen will still be a treat. The display also has 120 Hz Adaptive Refresh Rate and refreshes in steps starting from 10 Hz, 24 Hz, 30 Hz… all the way to 120 Hz according to the content on the screen. However, we didn't really witness it going below 24 Hz even on the Always-On display.
Samsung Galaxy S23 Review: Performance
Samsung took fans by surprise when they announced that their Galaxy S23 series of phones would be powered by a customised version of the SD8G2 dubbed the Qualcomm Snapdragon 8 Gen 2 for Galaxy. This is essentially a Snapdragon 8 Gen 2 chipset that has an overclocked CPU and GPU. This chipset promises 35 per cent improved performance and 40 per cent improved efficiency for the CPU, 25 per cent performance improvement and 45 per cent efficiency improved on the GPU front, and support for faster memory compared to the SD 8 Gen 1 SoC.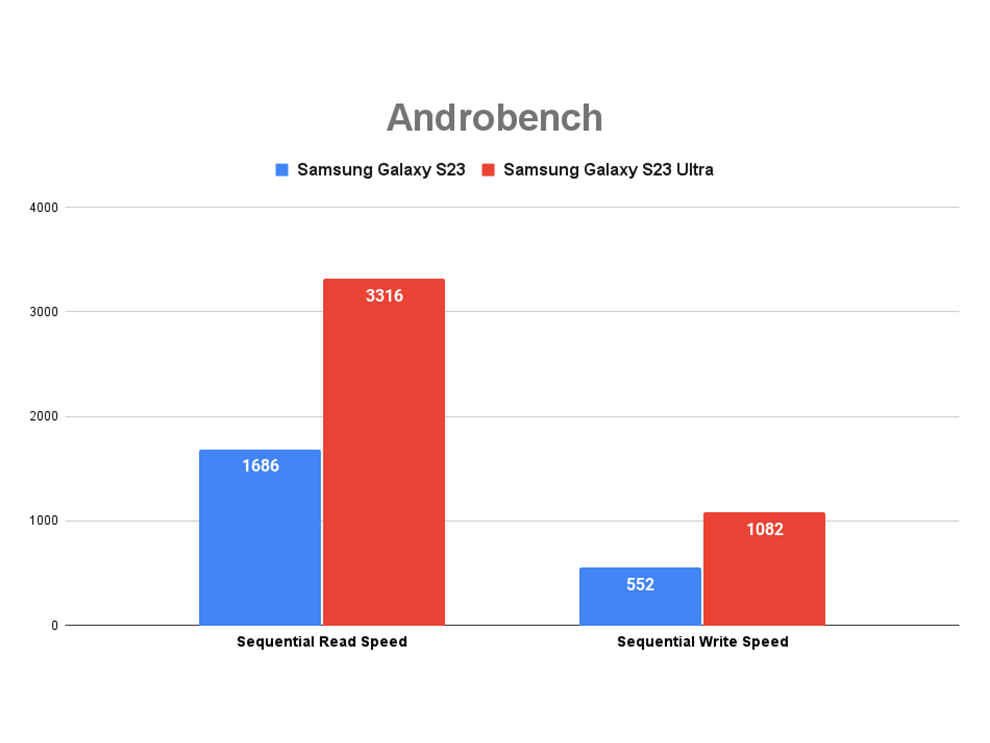 The core configuration has been reworked with this Samsung-exclusive version flaunting 1x3.36 GHz Cortex-X3 core, 2x2.8 GHz Cortex-A715 cores, 2x2.8 GHz Cortex A710 cores, and 3x2.0 GHz Cortex-A510 cores. In this case, the prime Cortex-X3 core is the overclocked one. One area of disappointment is the memory, while this chipset is capable of supporting newer and faster memory technologies such as LPDDR5X RAM and UFS 4.0 storage, the 128 GB entry-level variant comes with 8 GB LPDDR5 RAM and 128 GB UFS 3.1 storage. So those who opt for the base variant will lose out on faster memory speeds. Fortunately, the 256 GB variant is available at the same price point as the 128 GB S23 during the pre-order phase, so those who are buying early can avail the benefit and get the variant with faster memory speeds.
We got the 128 GB model of the S23 for review and to confirm the slower memory speeds, we fired up the Androbench app. As you can see in the picture here, compared to the Galaxy S23 Ultra, with the same chipset, the scores are approximately halved on the 128 GB S23 with 1686 MB/s Sequential Read Speed and 552 MB/s Sequential Write Speed. You will also feel the difference when transferring files when compared to the S23 Ultra.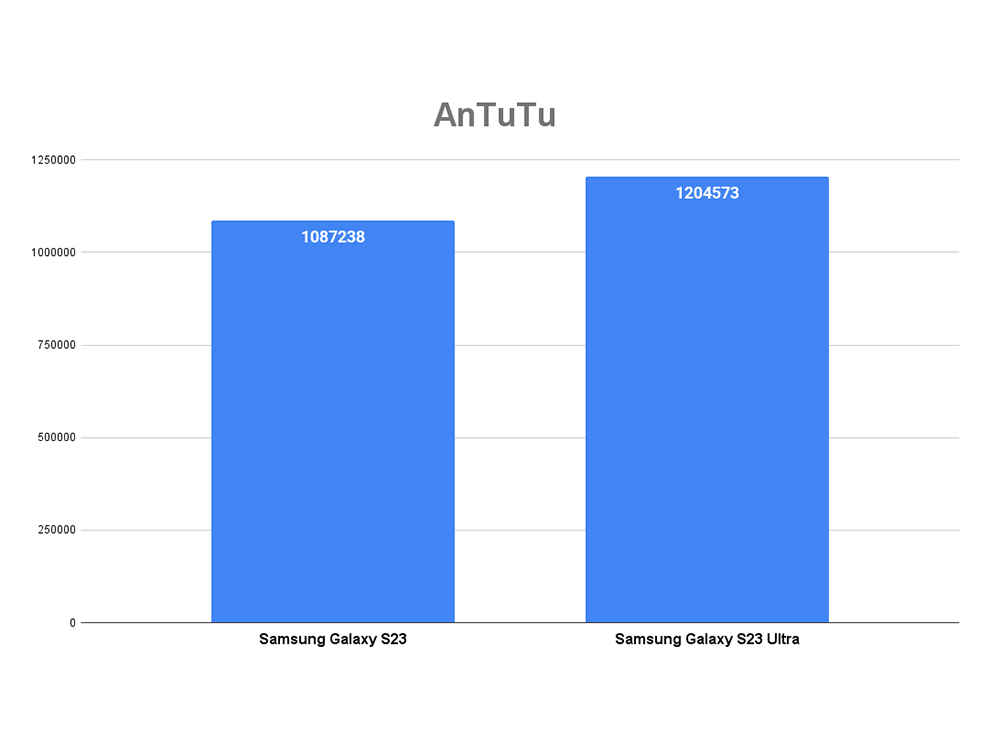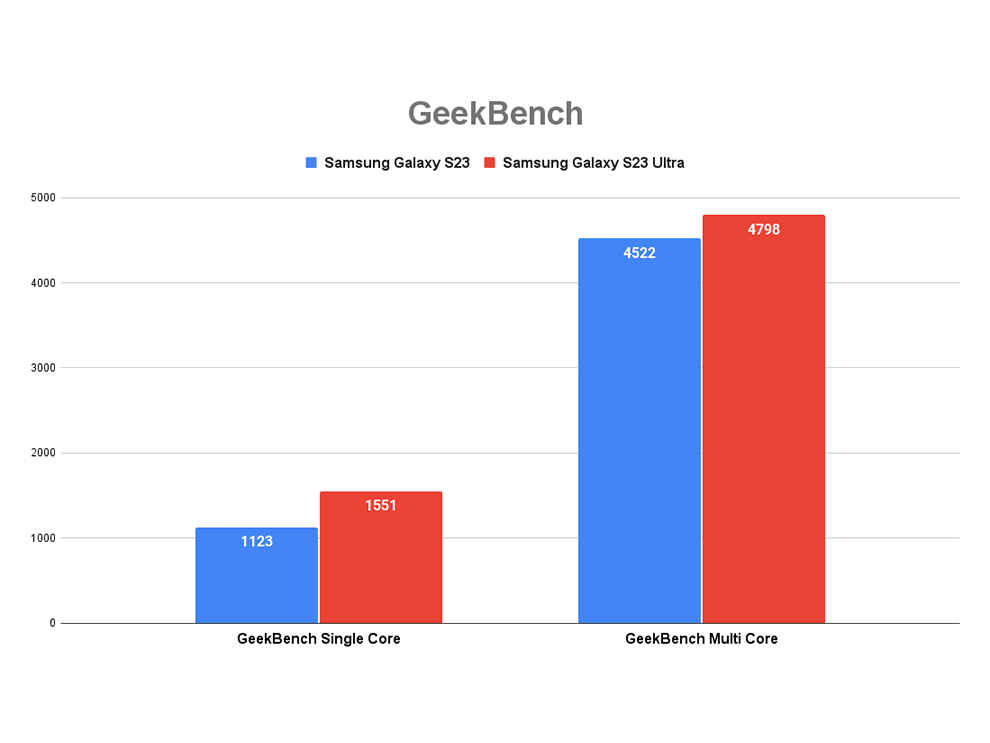 In our usual slew of benchmarks, the Samsung Galaxy S23 performed admirably well. However, it didn't quite hit the numbers our S23 Ultra unit did in AnTuTu and GeekBench. Nevertheless, compared to the iPhone 14 and the Pixel 7 – its main two competitors – the phone was comfortably ahead in numbers in AnTuTu. Geekbench saw the iPhone 14 take the lead back, but the S23 still came out in front of the Pixel 7. In PCMarkWork, which simulates general workload, the S23 came out on top yet again, which wasn't the case last year compared to the iPhone 13. So, definitely a step in the right direction.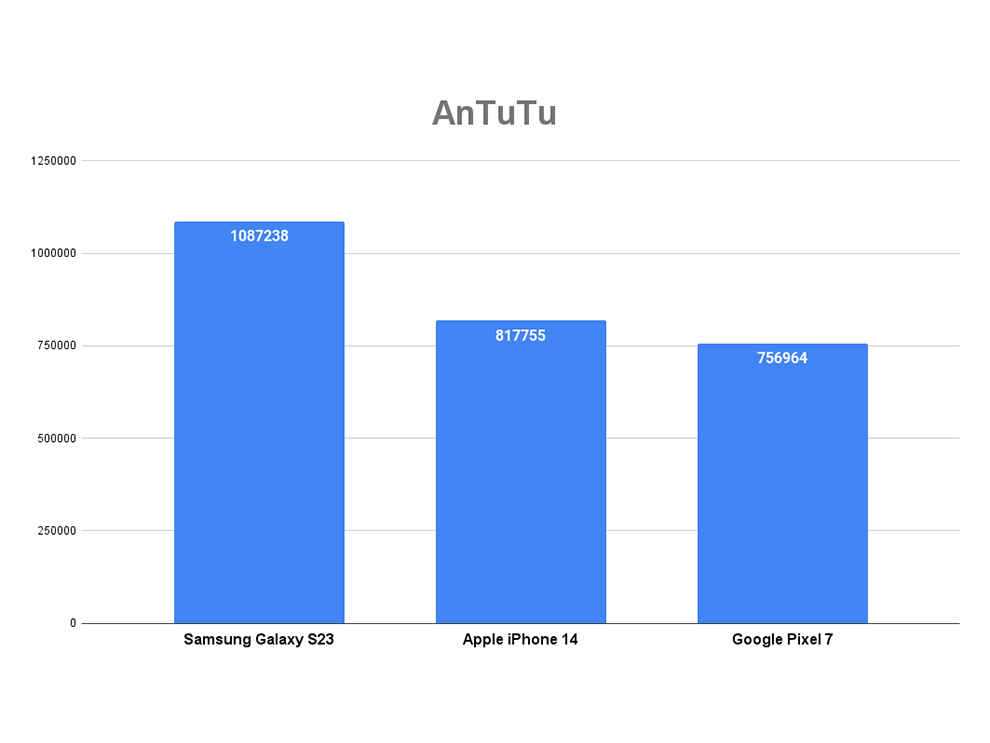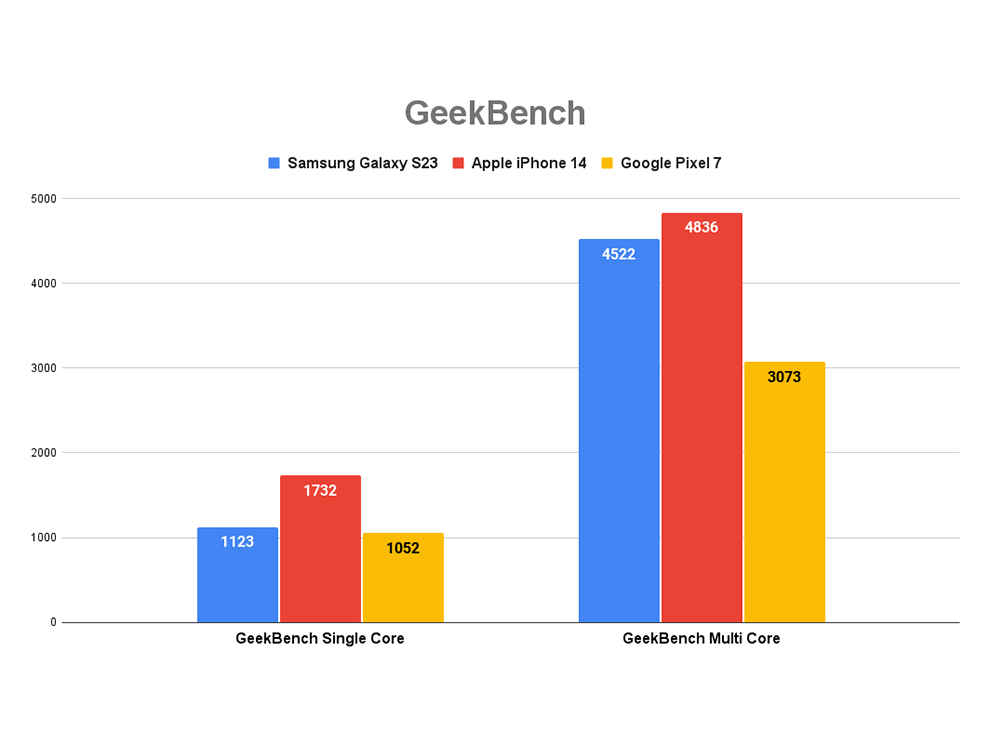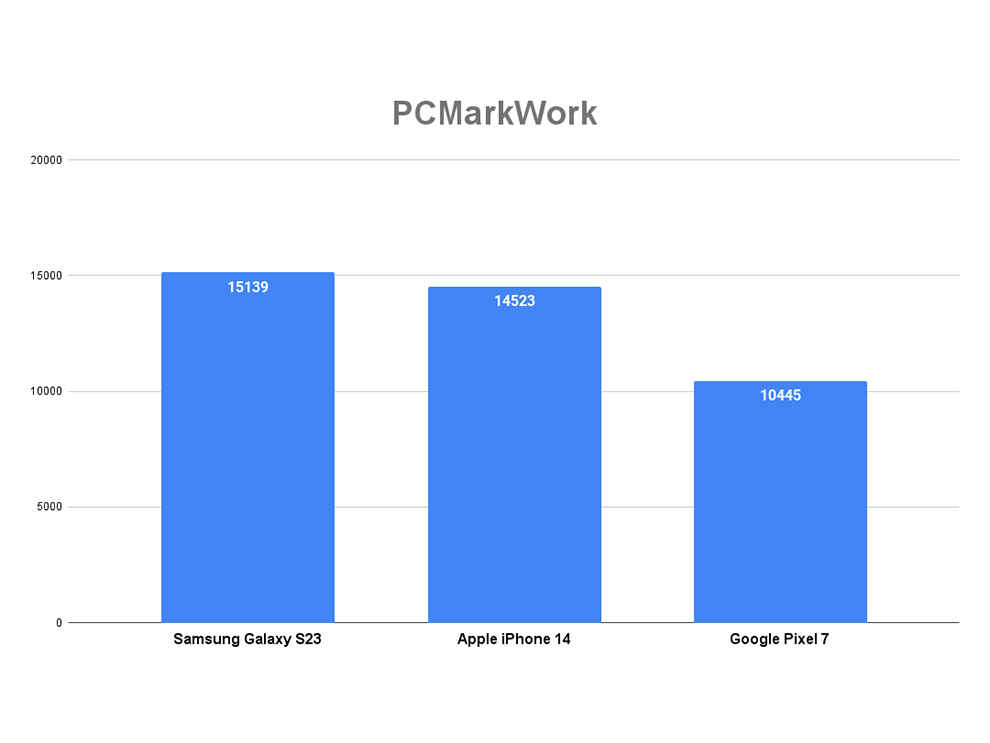 Coming to GPU tests, the Galaxy S23 clocked in fantastic scores in 3D Mark and GFXBench. We also played Call of Duty: Mobile and Asphalt 9 while recording the gameplay metrics on Gamebench Pro. The S23 ran COD: Mobile at Very High Graphics and High Framerate at a smooth 60 fps at 100 per cent stability and Asphalt 9 at 60 fps yet again with 99 per cent stability. We ran COD: Mobile once again at Very High Graphics and Max Framerate, and the phone yet again impressed us with 60 fps gameplay at 98 per cent stability. However, the phone does get warm to the touch when playing intensive games and running intensive benchmarks, since it doesn't have as robust of a cooling system as the S23 Ultra.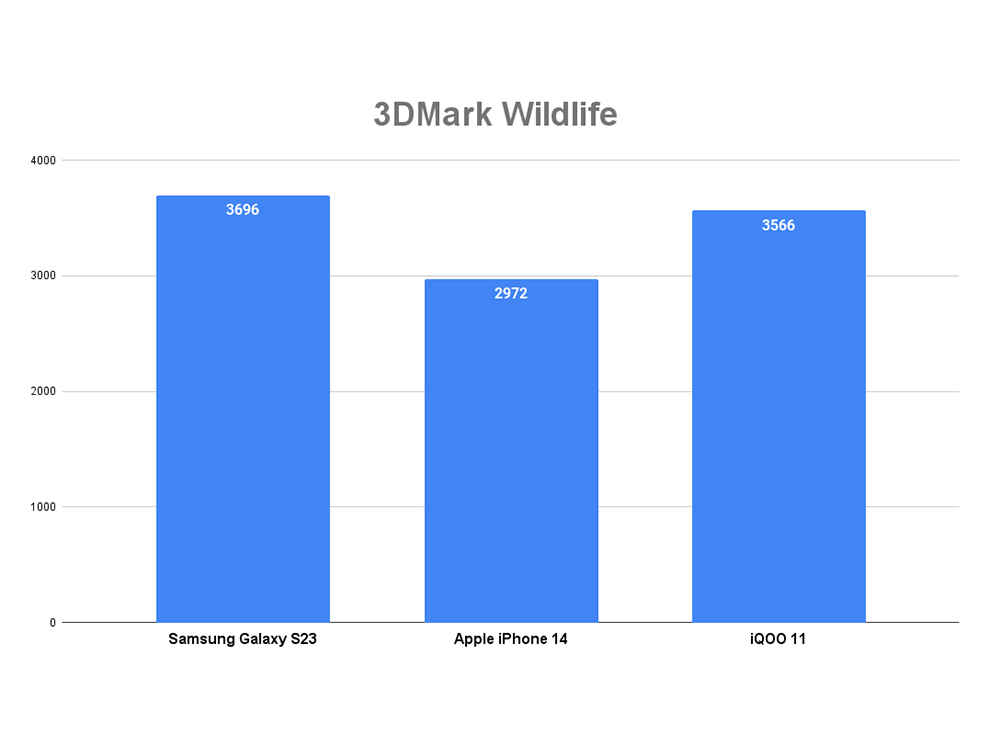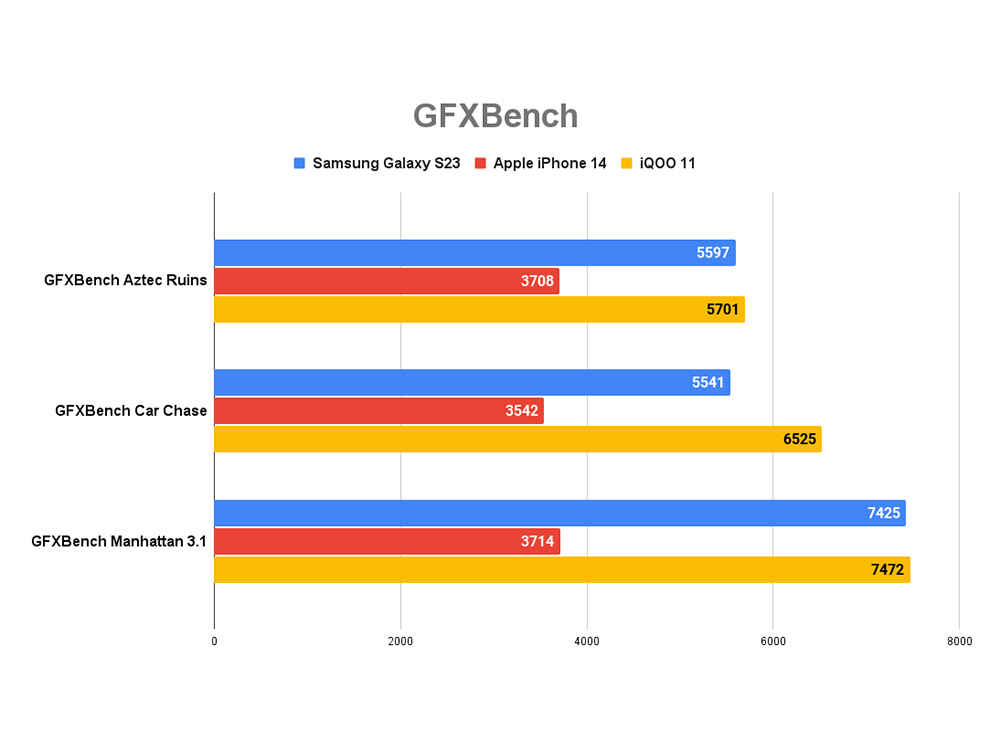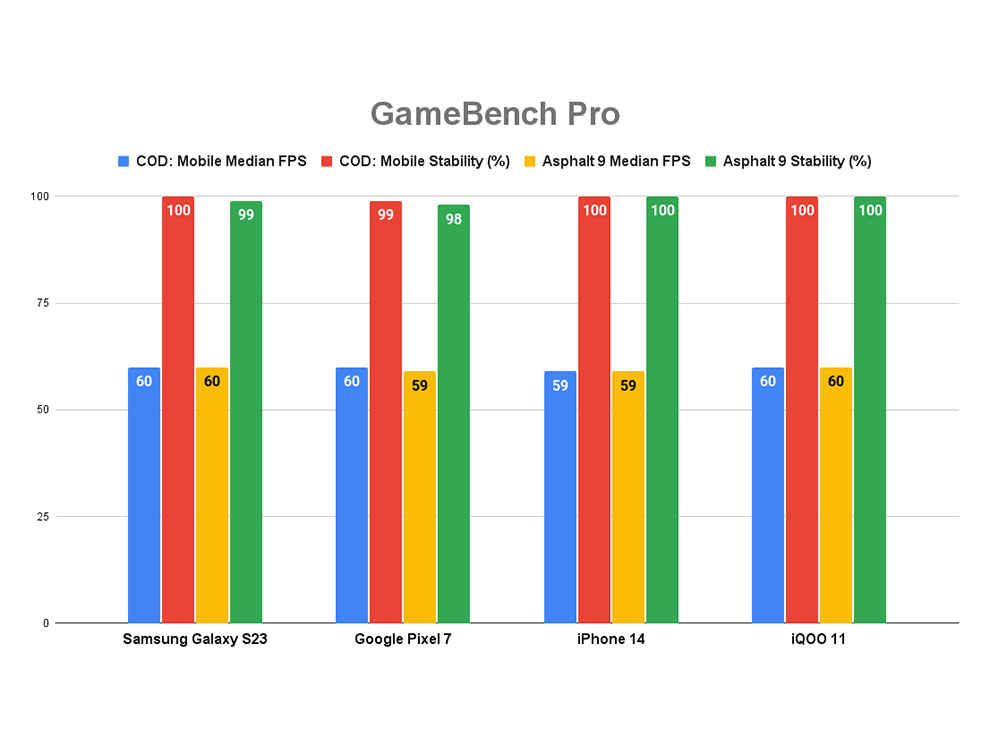 We also ran the CPU Throttling Test to see the S23's performance under sustained workloads. After 15 minutes of the test, the phone throttled to 68 per cent of its peak performance, meaning it slightly throttles its performance under intensive workloads, so that the heat doesn't go overboard to ensure device longevity. The phone still runs warm while running benchmarks, playing intensive games, and recording 4K/8K video, however, the thermal performance is improved compared to last year.
Benchmarks aside, even in day-to-day usage, the phone feels fast and responsive. While the fluidity of the iPhone hasn't still been matched (due to the iPhone's exceptional synergy between hardware and software), the S23 feels much more responsive than its predecessors. Multitasking is a smooth affair for the most part, however, we'd still recommend the 256 GB variant over this one to make use of faster memory speeds. You've got One UI 5.1 based on Android 13, and it is as charming as ever. There are some improvements in widgets, gallery, connectivity options, and Dex mode this time around that you can play around with. Samsung has even optimised animations and transitions to make the user experience smooth than ever.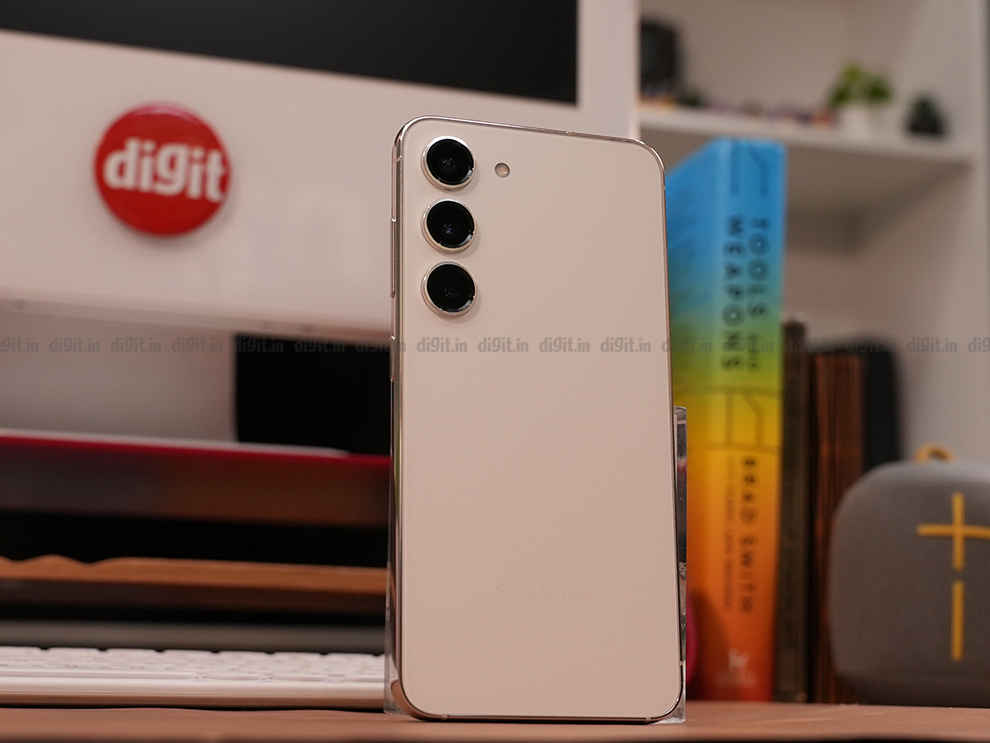 Overall, this compact phone packs quite a punch with impressive performance across the board, be it gaming, photo/video editing, social media, web browsing, or more. The Samsung Galaxy S23 can handle it all, albeit it does get slightly warm doing so, at times, especially when running more demanding apps.
Samsung Galaxy S23 Review: Camera
The Samsung Galaxy S23 features an identical rear camera setup as the Galaxy S22 but you do get a new selfie camera with a higher-resolution lens. The phone comes equipped with a 50 MP Samsung S5KGN3 primary camera with OIS and dual-pixel PDAF, a 10 MP telephoto camera with 3x optical zoom and OIS and PDAF support, and finally, a 12 MP Sony IMX564 ultrawide shooter. The new selfie camera is a 12 MP Samsung S5K3LU sensor with dual-pixel PDAF as well.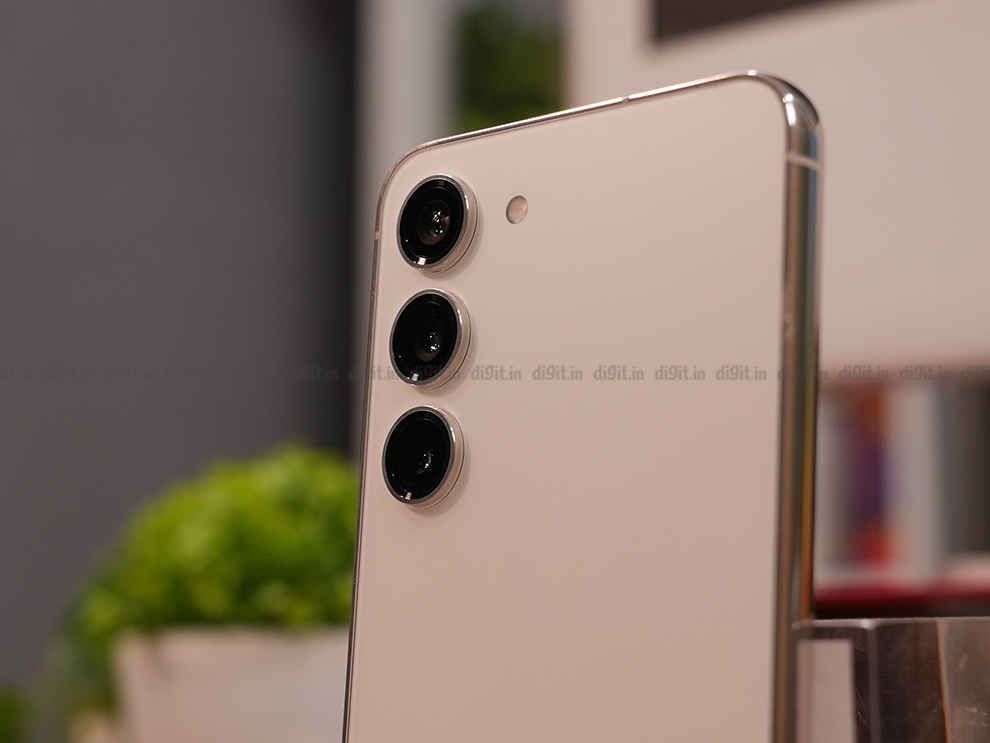 The 50 MP main lens captures quad-binned photos at 12 MP (instead of 12.5 MP for some reason) but you can also click full 50 MP resolution shots. Samsung has also retained Expert RAW mode from last year, which is now built into the main camera app and unlocks full manual control and RAW image data.
Now, moving on to photo quality, the main camera provides excellent shots in daylight with good detail, sharpness, and vivid colours. The dynamic range is also top-notch in daylight, with the phone exposing highlights and shadows in a pleasing and natural manner. In tricky lighting conditions, you can see some noise creep in the shadows when you pixel peep, but it's not too jarring. There's good natural background blur as well owing to the large 50 MP sensor. Full 50 MP shooting mode is available, as mentioned before, which provides higher levels of detail and accurate colours, however, the shots are slightly noisier than the standard binned images. Here are some shots, do note that these are compressed for the web.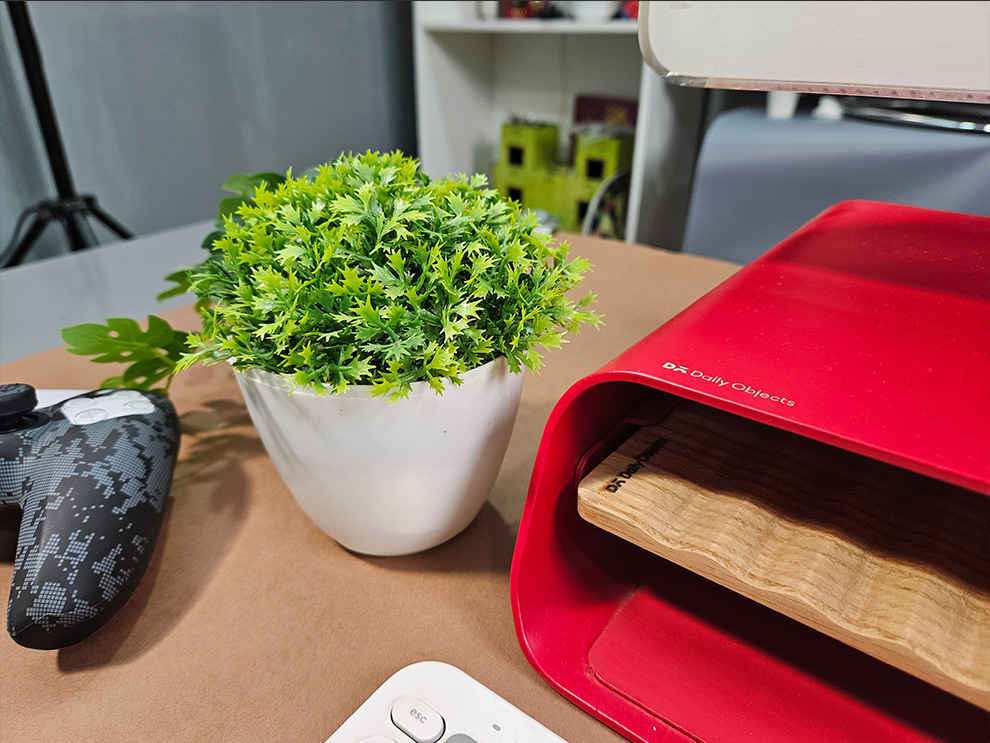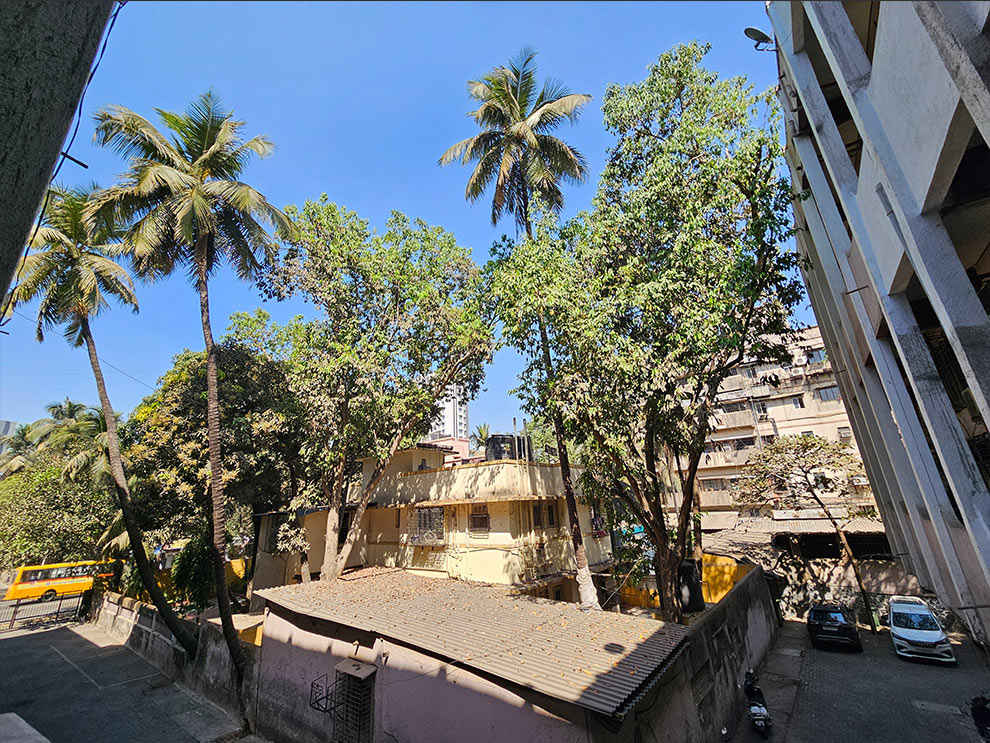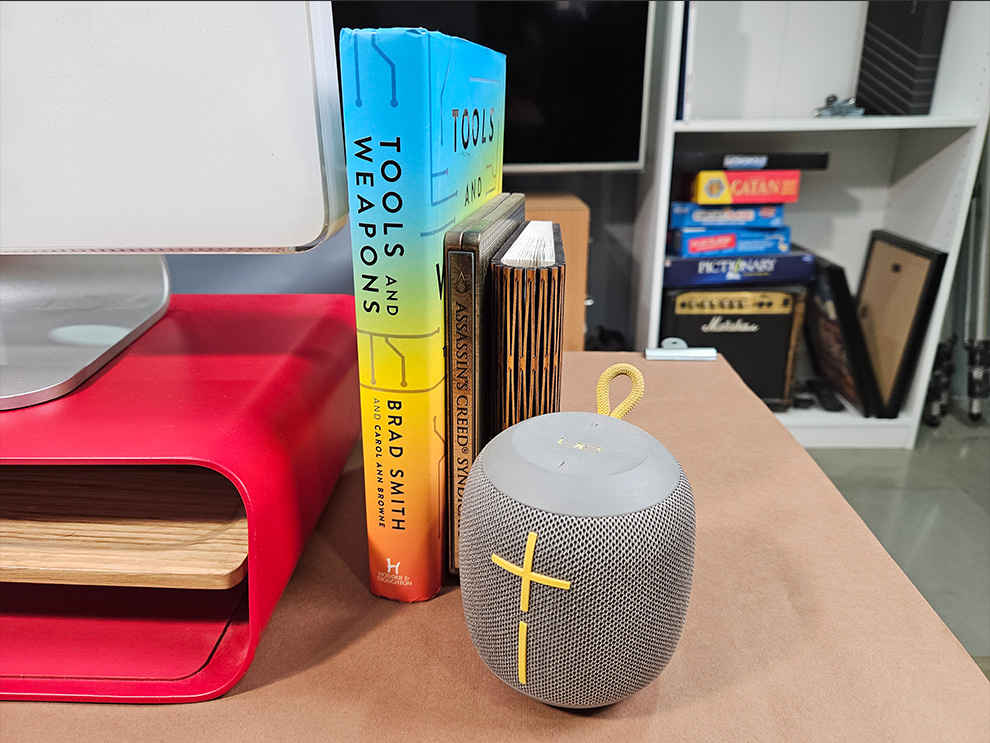 The 3x telephoto lens clicks rich-looking photos as well with incredible detail, accurate colours, and great dynamic range. The telephoto lens is, honestly, vastly improved over last year and even takes some fantastic low-light shots with Night Mode active with minimal noise. The ultrawide lens is impressive, as usual. Samsung S series phones are known to deliver solid UW shots and the S23 doesn't disappoint. The photos are detailed with minimal noise and lens distortion. The dynamic range is quite decent as well, but with harsh backlight, the highlights can get a bit overexposed.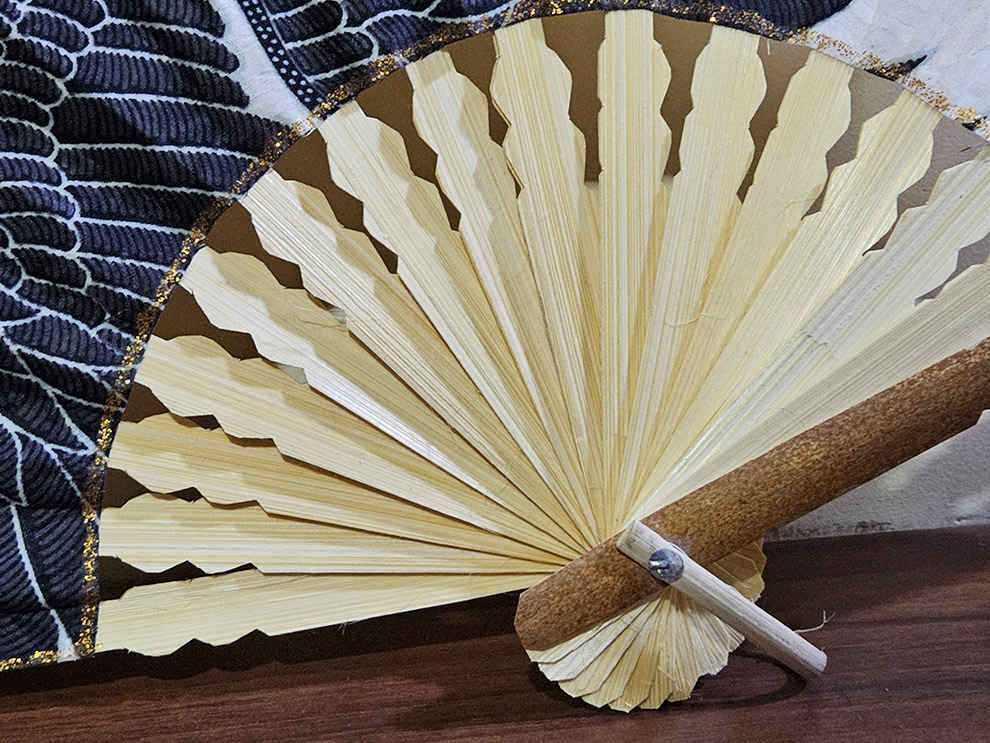 Portrait shots from the main camera are excellent with great subject separation and detail – however, the default blur levels are a bit too extreme, and the Pixel 7 and iPhone 14 have much more natural levels of blur. But you can always edit the blur level of a photo clicked in the Gallery after the fact. The 3x portraits are also surprisingly good with impressive background-foreground separation and good colour.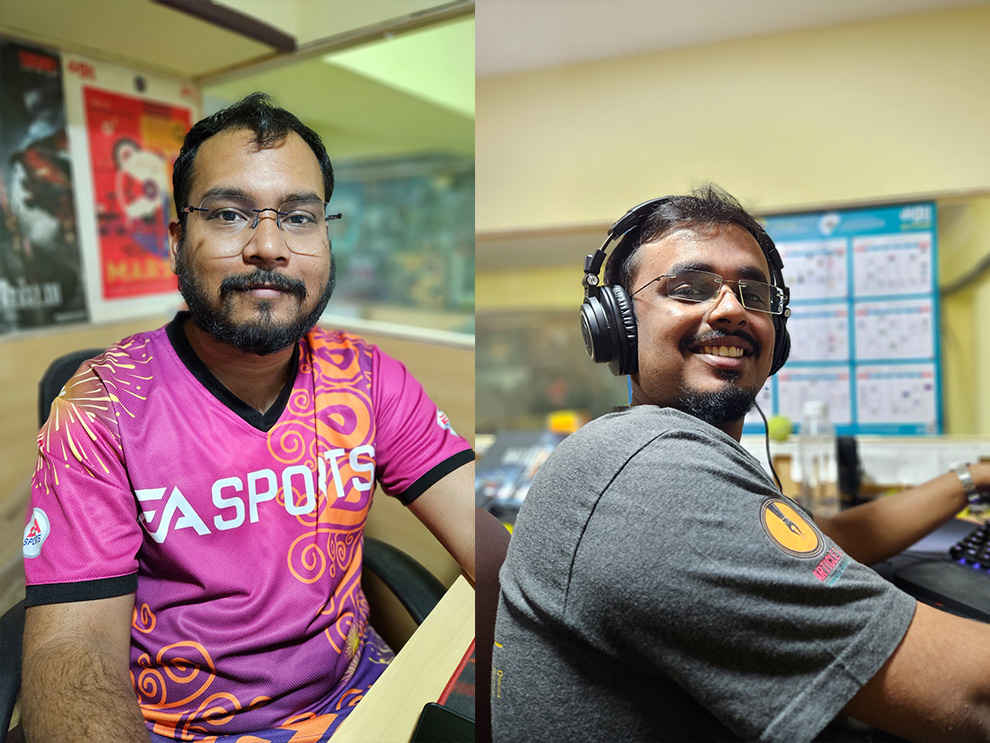 The selfie camera, with its new HDR abilities, offers great dynamic range. The detail is good enough and there's not too much oversharpening either. Colours are natural and noise is minimal as well, the same goes for low-light photography. All cameras come with Auto Night Mode, so most of the shots taken have excellent detail with plentiful light, but remember to keep your hand steady to avoid blur.
Low-light shots on the main camera offer great levels of detail, nice exposure and good colours. The dynamic range is decent as well. Even in extreme low-light situations, the phone manages to somewhat light the subject up convincingly. There are some instances when Night Mode does blow out the highlights. Shots with Night Mode off are far noisier though but they tend to keep the highlights in check. However, that's us nitpicking, and for the most part, the Samsung S23 will provide you with consistently good photos.
As for video, the S23 can record 8K at 30 fps on the primary camera, up from 8K at 24 fps on the Samsung Galaxy S22. You also get 4K at 60 fps across all four cameras, which is great. Video from the primary and telephoto lens has great stability due to OIS but you can also enable electronic stabilisation across all cameras to get stable video across the board. There's also Super Steady mode at 1440p resolution, an improvement over last year's 1080p limitation.
8K video on the S23 is surprisingly good in daylight, with good colours and dynamic range. The detail is decent as well, slightly like upscaled 4K content. 4K video clips look outstanding, a real improvement from last year, with great detail, accurate colours, and likeable dynamic range. Low light footage from the main camera is decent, however, you will find noise creeping in. However, low light from the telephoto is quite noisy and not very usable. The ultrawide camera though still pulls up usable detailed low-light video clips with good exposure and minimal noise.
Samsung Galaxy S23 Review: Battery life
Powered by a larger 3,900 mAh battery, the Samsung Galaxy S23 provides excellent battery life for its diminutive size. The chipset also provides improved efficiency which is one of the reasons the battery life has improved drastically. We got over 17 hours of runtime in our 4K video loop test, which is excellent performance. The performance is definitely vastly improved compared to the Galaxy S22 which ran for merely 10 hours in our 4K video loop test.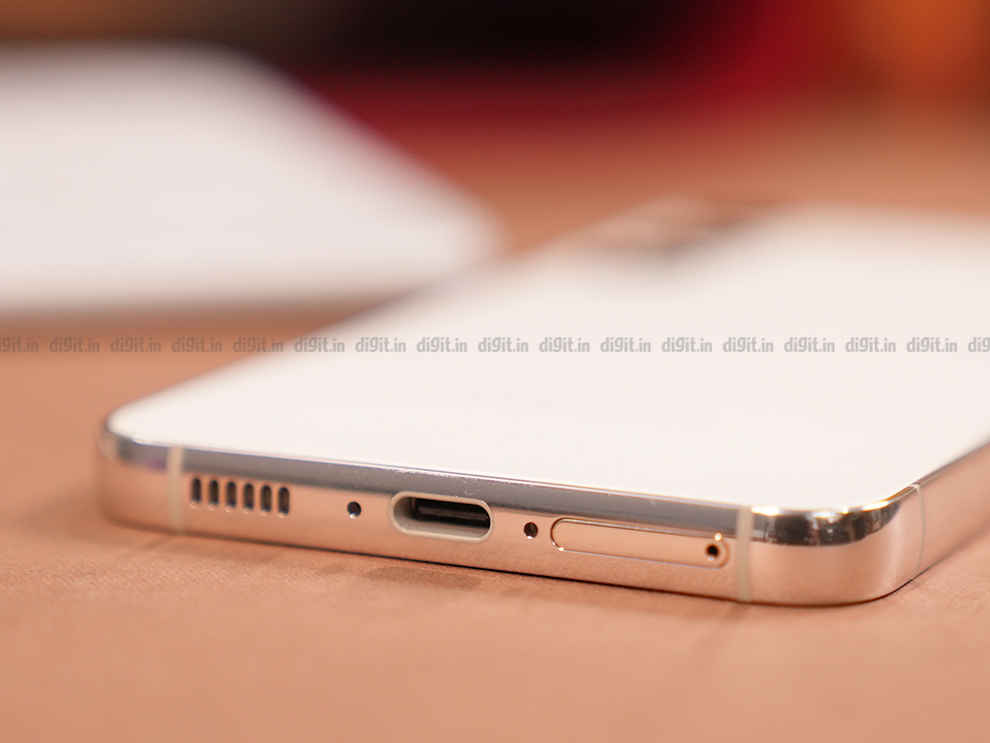 We also ran other battery tests, where 30 minutes of streaming Netflix dropped the battery by 3 per cent (from 85 to 82), 15 minutes of Call of Duty: Mobile dropped the battery by 3 per cent (from 62 to 59) and 1 hour of GPS navigation took 5 per cent off the board (from 18 to 13).
As for charging, while the S23+ and S23 Ultra support 45 W wired charging, the Galaxy S23 is limited to 25 W charging. The phone tops up from zero to full in about 65 minutes but this still feels laboriously slow on a pricey phone in 2023. However, the 45 W charging brick from last year was merely a few minutes quicker to charge to full than the 25 W one, so keep that in mind as well. Nevertheless, Samsung really needs to up its charging game, to compete with brands such as Xiaomi, iQOO, OPPO, and others.
Samsung Galaxy S23 Review: Verdict
As the current smartphone landscape goes, we can say without a doubt, the Samsung Galaxy S23 is the best compact Android phone we've ever tested. Despite its compact form factor, the phone manages to win you over with not just its premium build and design but also its speedy performance, refined UI, fantastic battery life, and superb camera. It is a well-rounded phone in every sense of the word that offers flagship-grade performance without the premium of spending over a lakh. While iPhone users may still prefer the iPhone 14, this phone will give compact iPhone users tethering the edge a real reason to make the switch, especially due to the higher refresh rate screen and the presence of optical zoom. However, we'd urge everyone to go for the 256 GB variant of the phone over the base variant to leverage faster memory speeds across the board. That aside, Samsung has made a truly commendable compact flagship that excels in almost every aspect of a smartphone.