The Realme GT was recently launched in India and it is the most affordable phone to be powered by the Qualcomm Snapdragon 888 chip in India. It is also by far the most ambitious phone from the company.
The reason why that's important is that this phone is the most expensive phone by Realme to launch in India after the Realme X2 Pro from 2019, which, by the way, was a solid phone for its price at the time. But it's 2021 and Realme is not a new kid on the block anymore.
Fun Fact: Recently, Realme became the fastest brand ever to ship over 100 Million smartphones globally in just 37 months which is a testament to its popularity, especially in India.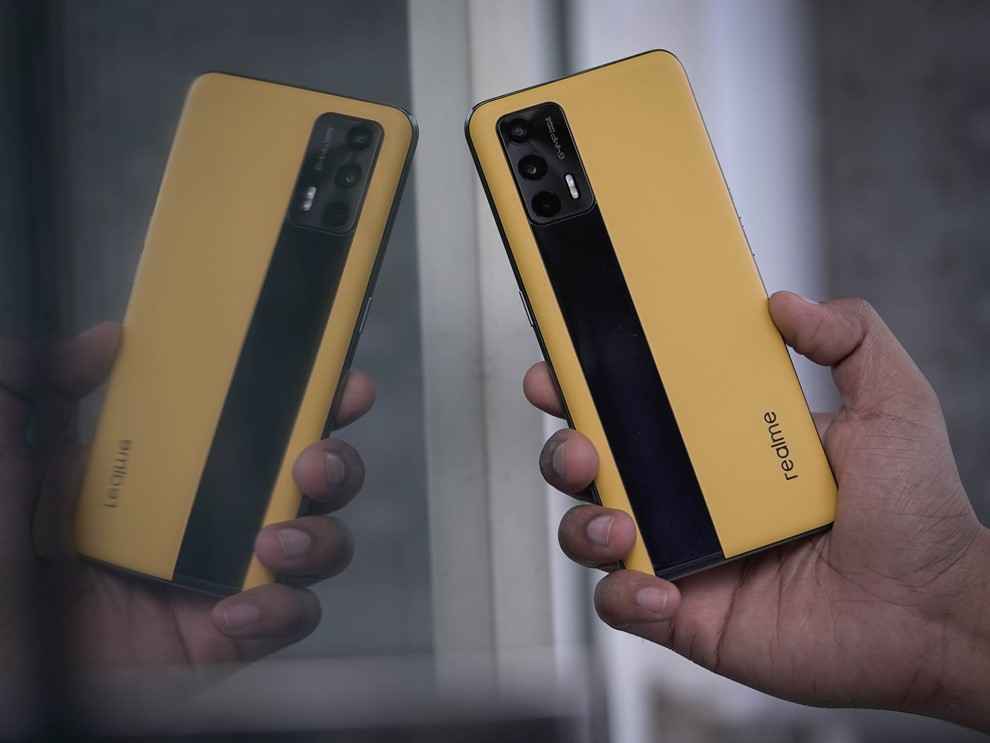 With the Realme GT, the brand has now entered the Rs 40,000 price bracket with an aim to topple incumbents like Xiaomi and OnePlus.
The Realme GT even has a dual-tone vegan leather design that stands out in this world of phones with glossy backs. But is all of that enough for the Realme GT to qualify as a flagship experience? Here's what we found out?
The Realme GT is priced starting at Rs 37,999 with 8GB RAM and 128GB storage and is available in two colours: Dashing Blue and Silver. Then there is the Racing Yellow variant with leather finish priced at Rs 41,999 which has 12GB RAM and 256GB storage.
Design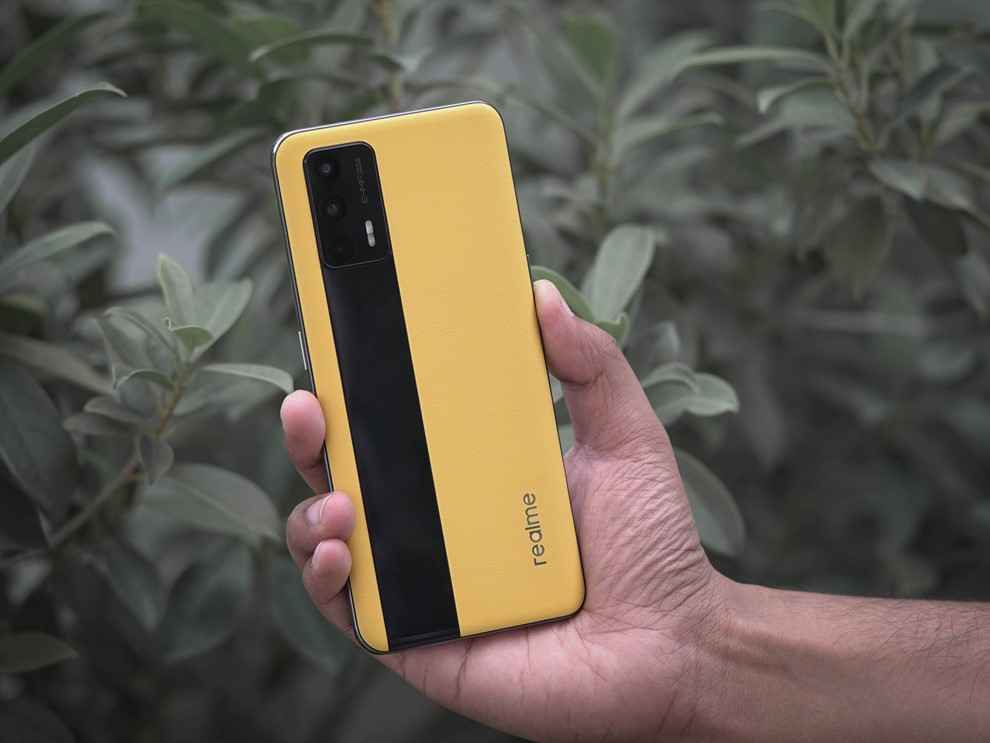 One of the highlights about the Realme GT is its design, in particular the Racing Yellow version which is what we have with us. It has a layer of vegan leather on the back which feels very great to hold in the hand. It's soft to touch and gives you a grip that also helps in using the phone with one hand.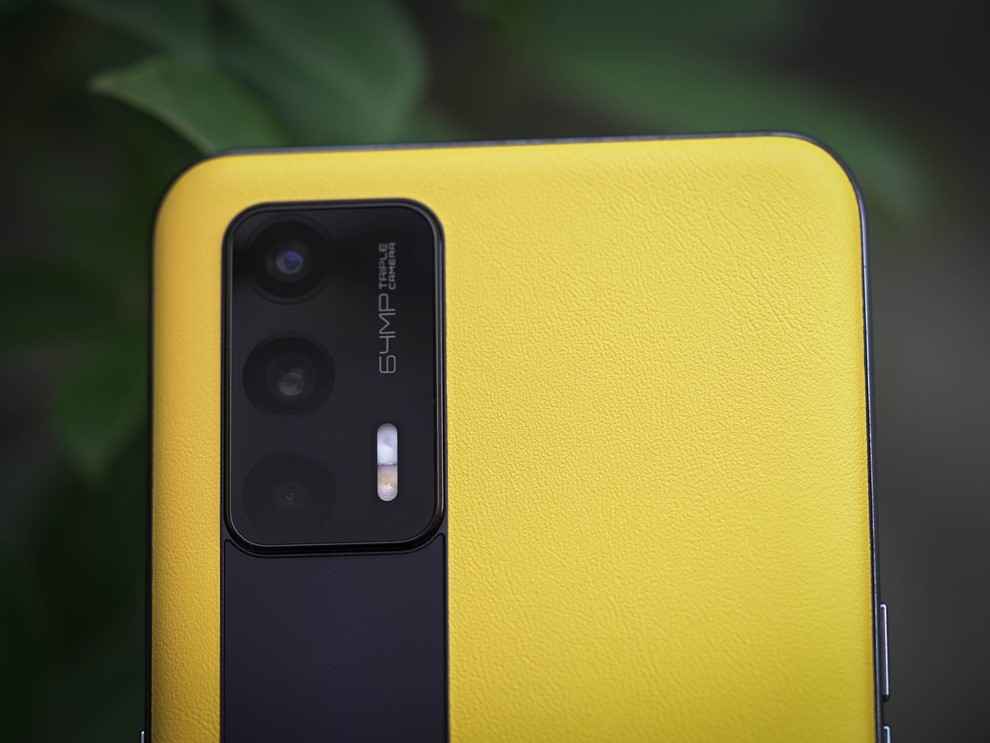 While the yellow colour may look like too much for some of us, it's the brand's signature colour and looks peppy.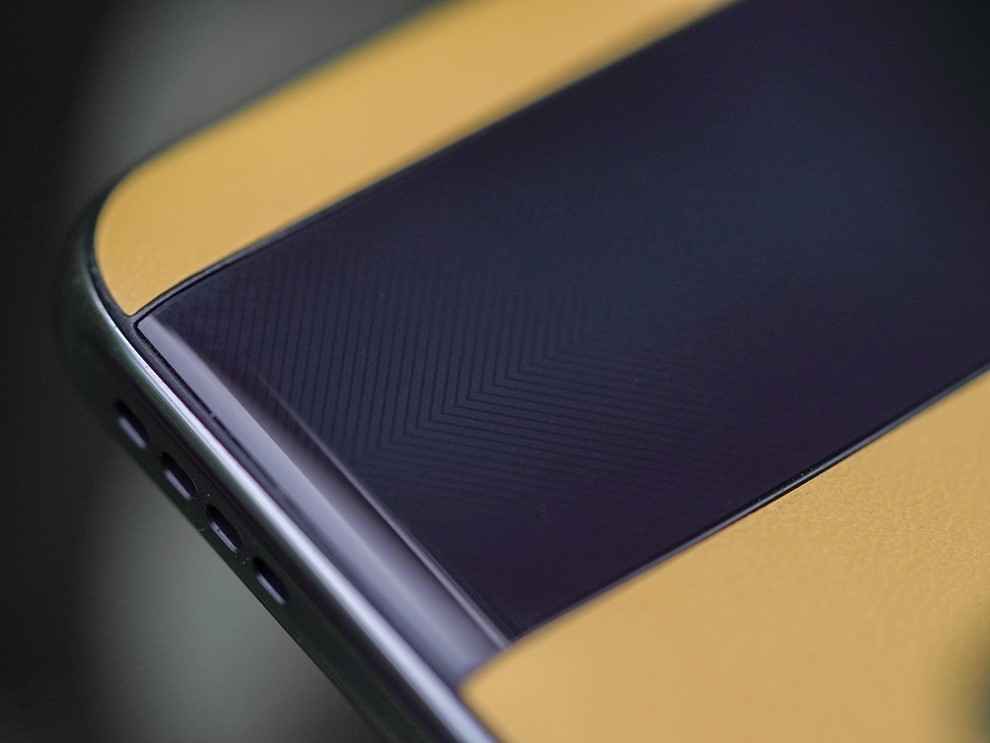 There is a glass strip that runs across the back and it looks like an extension to the camera module, giving it a striking dual-tone look that is sure to grab some eyeballs. If you look closely, this glass strip has V-shape patterns which is a cool addition.
Since it has leather on the back, it is both fingerprint and smudge resistant. The same, however, cannot be said of the glass strip which attracts fingerprints and smudges easily. It is also not covered in any kind of protective glass to withstand scratches.
The Racing Yellow variant is slim at 9.1 mm and weighs 186 grams while the glass versions are even thinner measuring 8.4 mm. So, if you are looking for a thin and light phone, the Realme GT is right up your alley.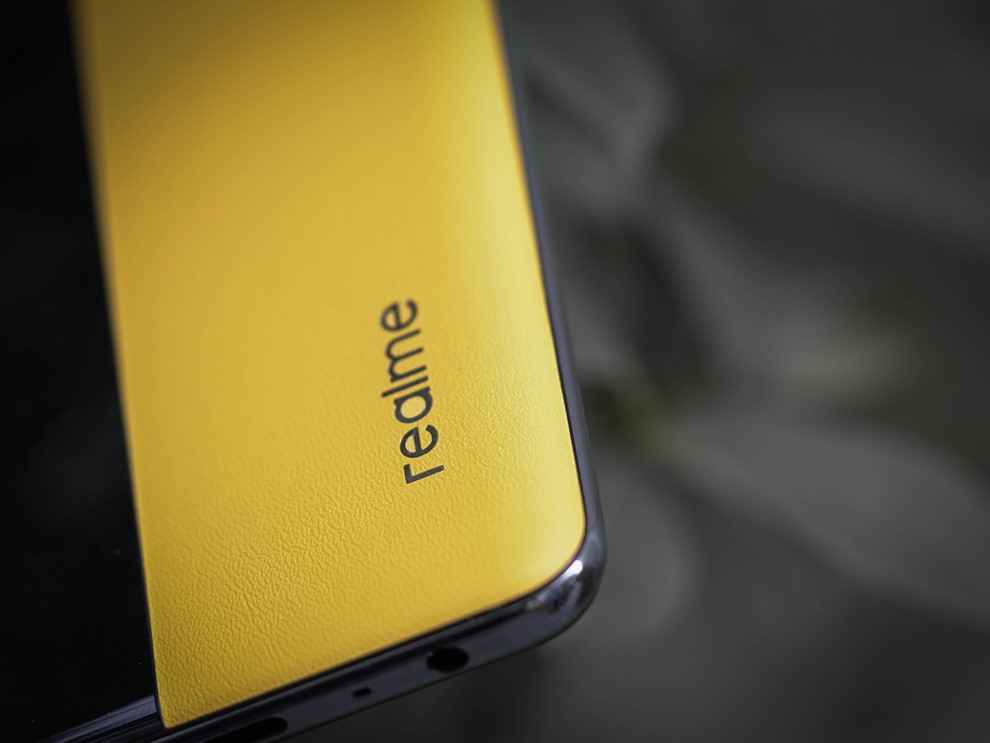 Other than that, we get a SIM card slot, volume rockers, a power button with a yellow accent, a Type-C port and a 3.5mm earphone port which is quickly missing from most phones as we move up the budget range. It's also got a dual speaker and microphone units.
The build quality of the Realme GT is very good and the design of the Racing Yellow version is unique as it uses real leather which holds up in day-to-day use. One gripe that I have here is that Realme went with a plastic frame and I'd have loved to see a metal chassis instead.
Display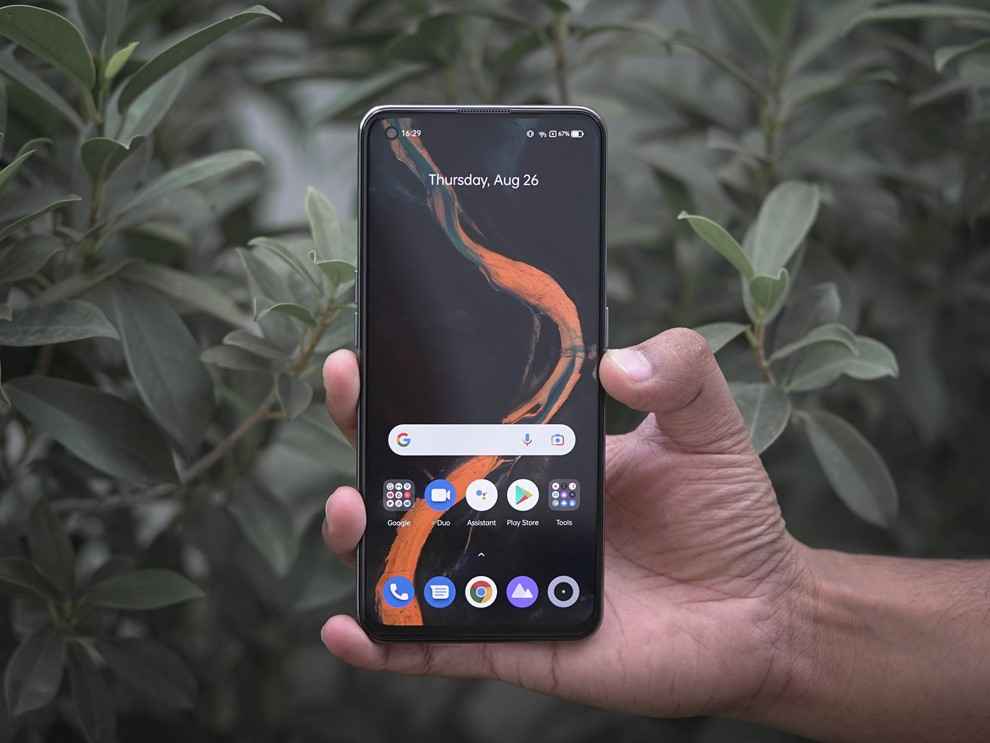 There is a 6.43-inch Full HD+ Super AMOLED display on the Realme GT and it supports upto 120Hz refresh rate. On the top-left corner, you will find a punch-hole notch cutout that houses the selfie camera. It is not as tiny as the notch on the Mi 11X Pro, but it is not distracting and doesn't break the experience of watching a film, video or binge-watching a TV show.
The display settings let you choose between 60Hz or 120Hz refresh rates and there is an auto-select option that automatically selects a refresh rate for a particular app. Needless to say, if you keep the refresh rate as 120Hz all day, you will see a drop in battery life but the whole experience of opening and switching between the apps, transitions and just generally using the phone is a whole lot smoother.
It also supports a 360Hz touch sampling rate which means that the display is quick to register touch inputs which are really handy while gaming on this phone.
The display supports HDR, HLG and HDR10+ and since it is a high-resolution screen, pictures and videos look crisp and detailed on it. That said, for some reason, the Netflix app did not play HDR content but Prime Video did not have the same issue. Though this isn't something that can't be fixed via a software patch and we do hope Realme fixes it soon.
The brightness levels on this phone are good and the phone seems bright with good viewing angles. The screen offers around 552 nits of peak brightness levels and can go as low as 5 nits. Though, it's not as bright as you would come to expect from a flagship phone.
There are three colour modes: Vivid, Gentle and Brilliant so you can choose the one that pleases your eyes the most. One of the other tweaks you can do is to enable the Ultra Vision Engine which enhances the video resolution and colours. There's also an option called Bright HDR video mode which increases the screen brightness when playing HDR videos.
Overall, the colours look really good and vibrant on this display with an ample amount of sharpness and the high refresh rate support means everything looks and feels fluid to the touch. And if you're wondering whether the screen has a layer of Gorilla Glass, it came as a surprise to me that Realme did not opt for an additional layer of protection on the display.
Performance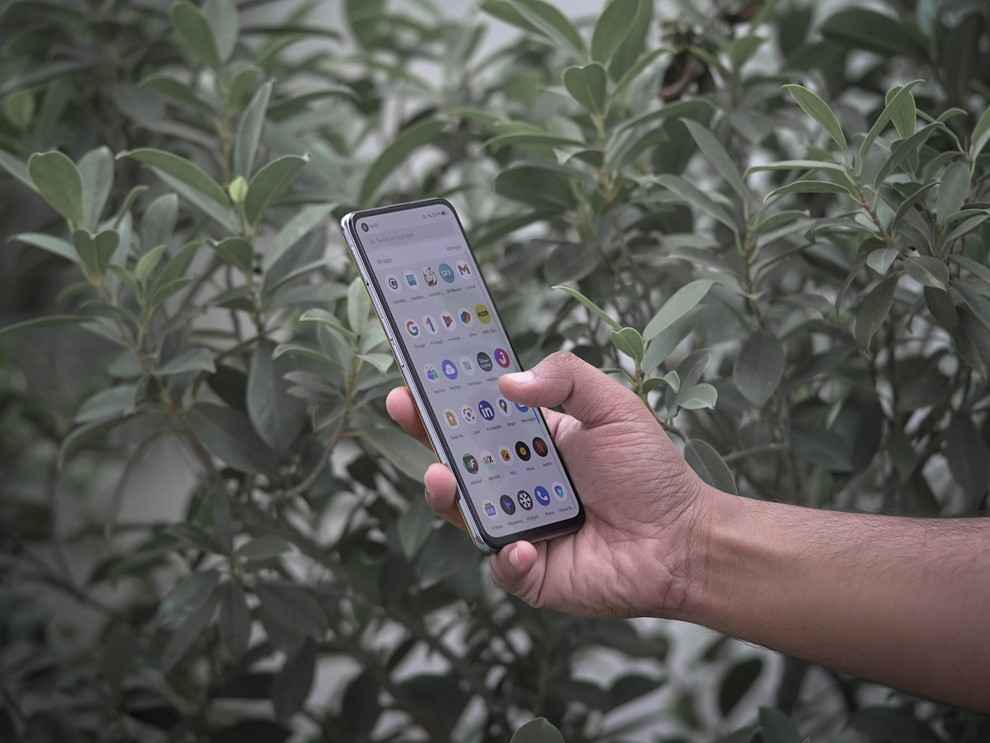 The Realme GT is powered by the top-of-the-line Snapdragon 888 chip which means that it can power through anything and everything you throw at it. Be it any apps or games from the Play Store, this phone can run them all without breaking a sweat.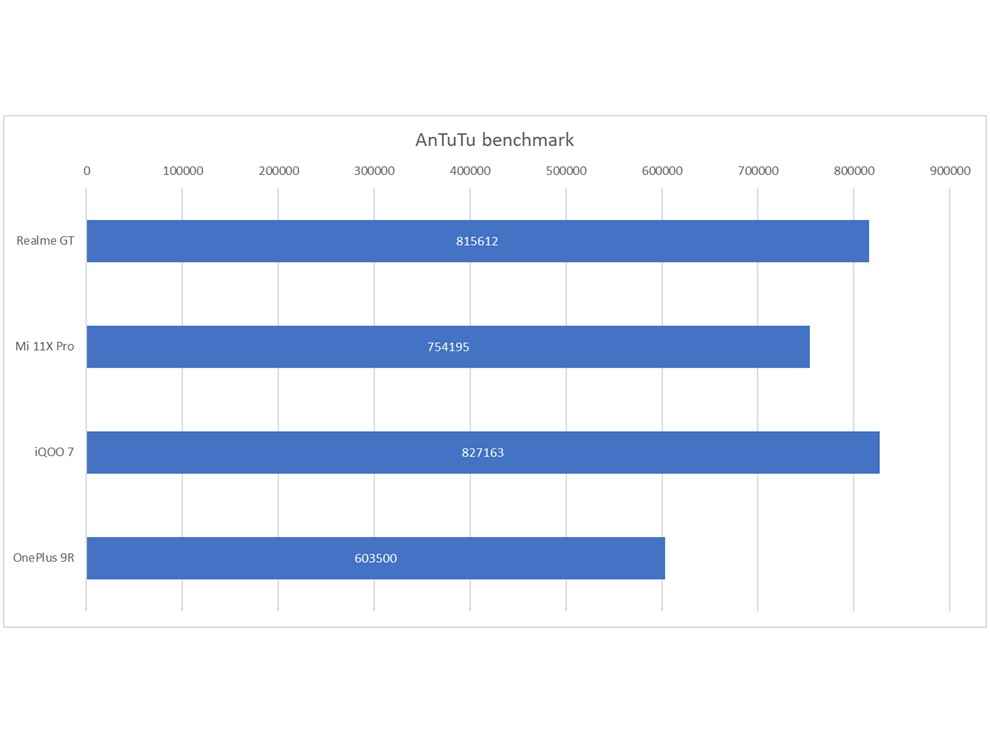 In my use, I did not face any lags, stutters, frame drops or anything else that would hamper the otherwise smooth experience of using this phone.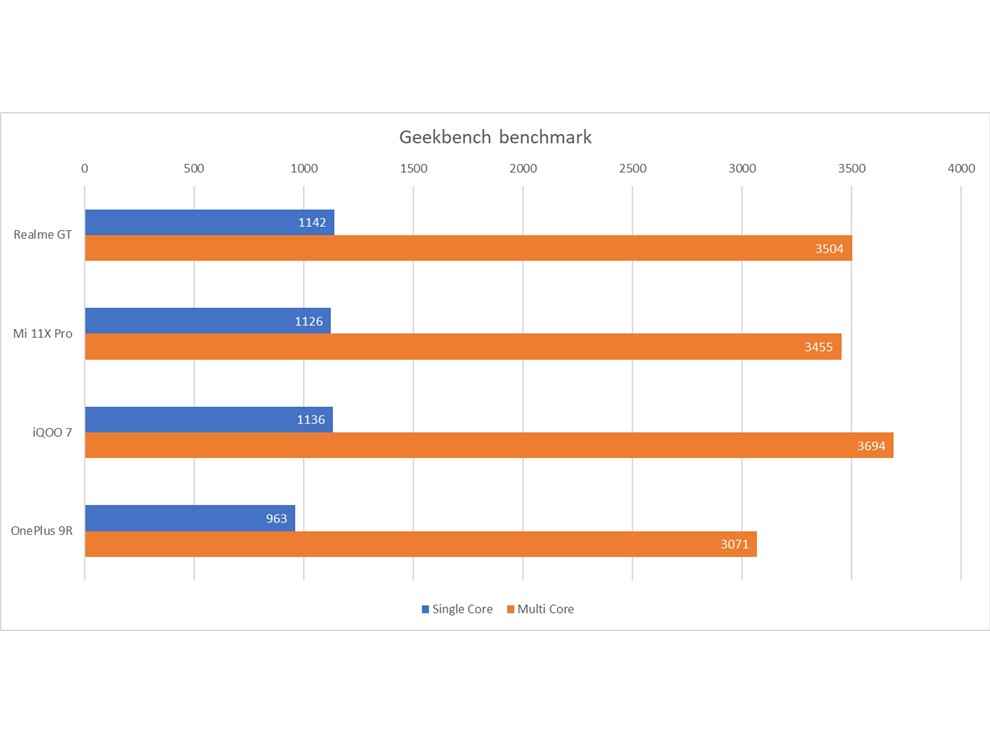 When it comes to benchmarks, the Realme GT aced in nearly all tests. In the AnTuTu Benchmark test, it got one of the highest scores only bested only by the iQOO 7 Legend.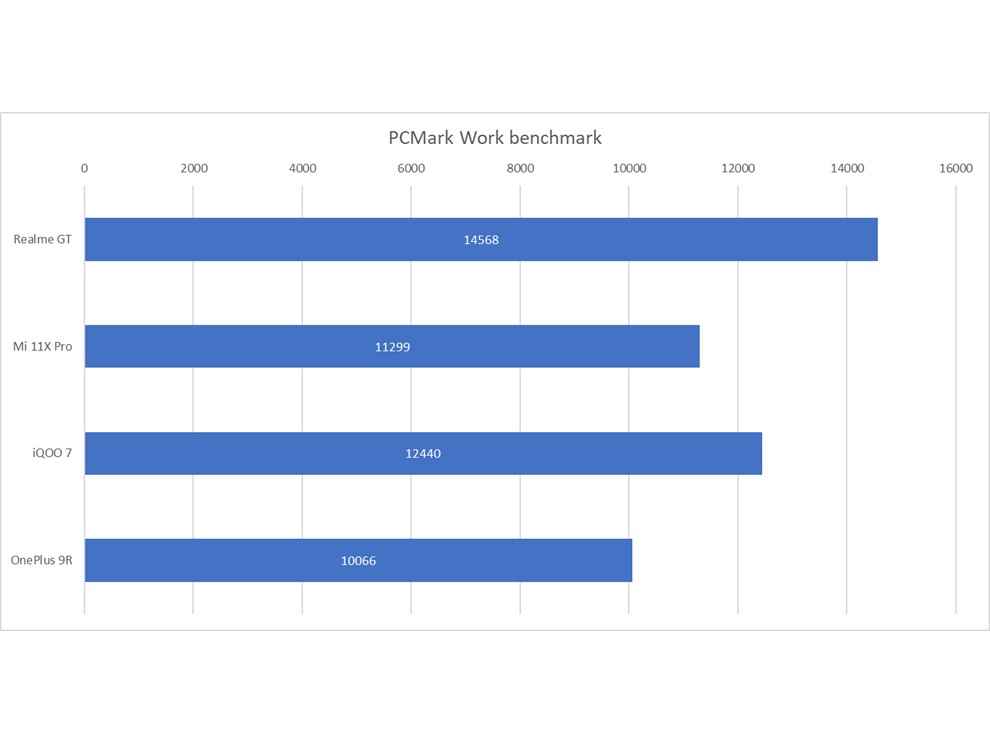 Similarly, in Geekbench, Mobile XPRT, PCMark, 3DMark, GFXBench and more, the Realme GT held up on its own, proving that it can deliver flagship-level performance when needed.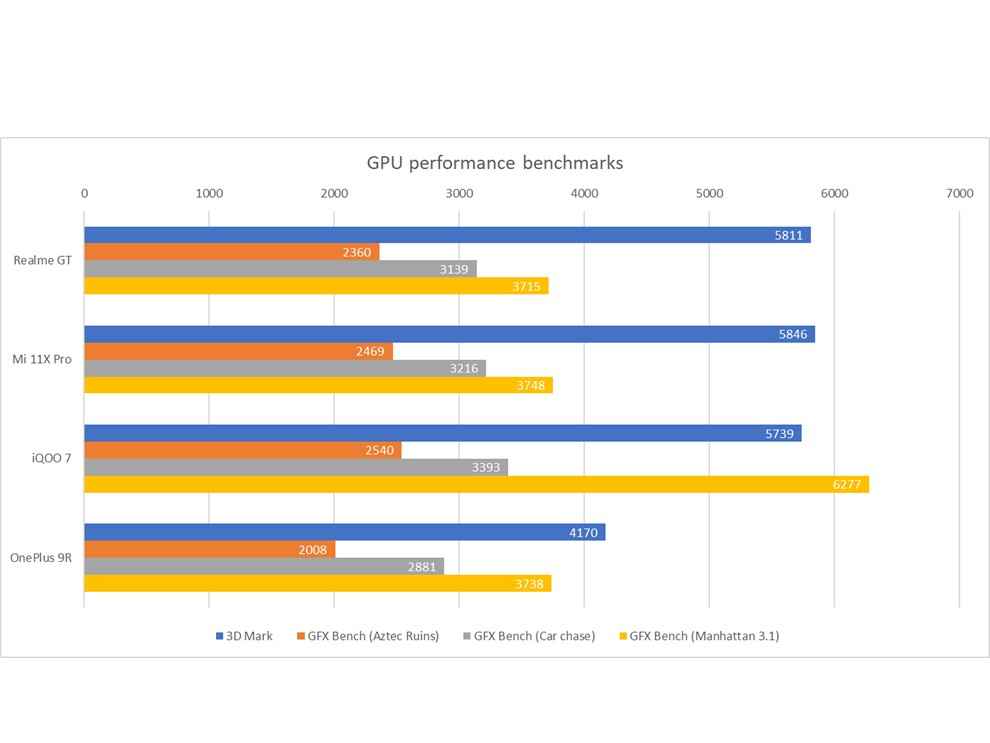 In the CPU Throttling test, the Realme GT throttled to around 86% of its maximum performance which means that it was not able to run up to its full potential for a sustained amount of time.
This brings us to the thermals of the phone which is decent while playing more than 2-3 rounds of Call of Duty Mobile and BGMI. There's also a stainless steel cooling system in place to keep thermals in check and lets you play these games at a stretch without compromising on the performance.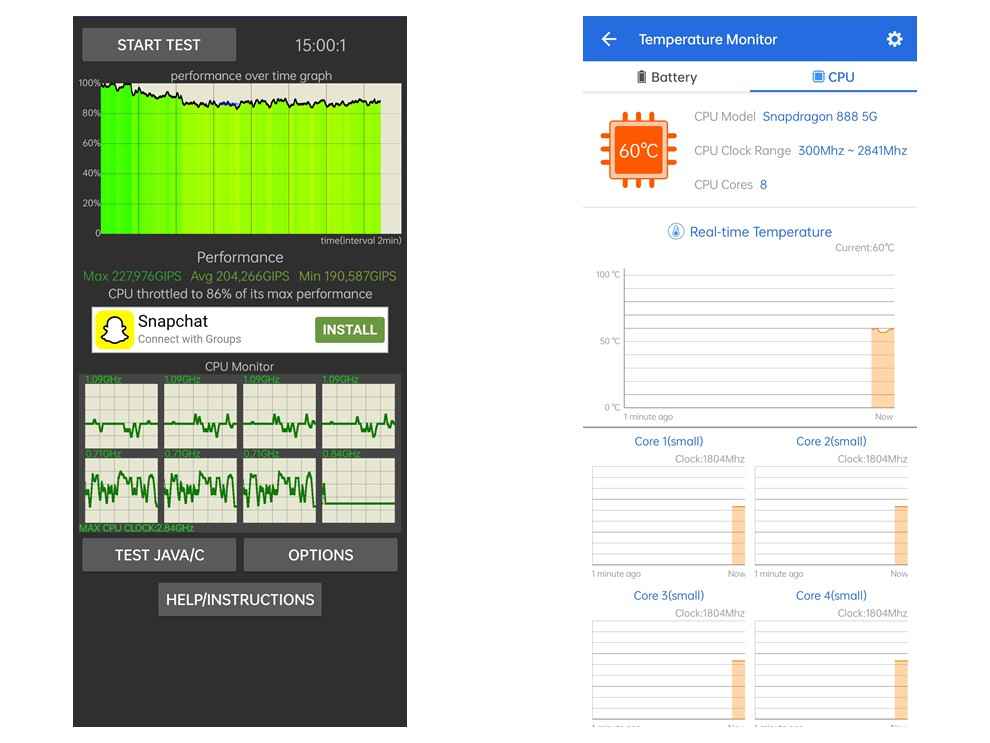 Though the phone will eventually get warm to the touch if it is under continuous heavy use. This was more noticeable when we ran AnTuTu and the throttling tests where the core CPU temperatures did rise up by 55 to 60 degrees as per AnTuTu's own temperature monitor.
We also measured the gaming performance of the Realme GT using Gamebench metrics where its scores did not live up to the hype.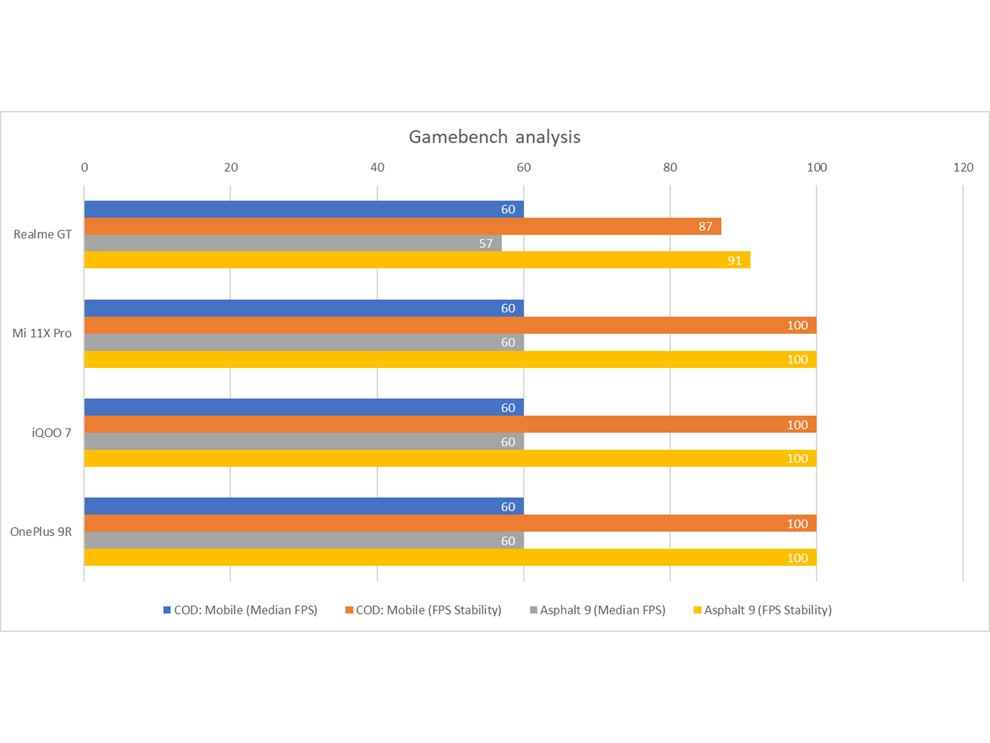 COD Mobile runs at Very High graphic quality with Max frame rates and even then Gamebench recorded 60FPS at 87% stability.
Everyone's favourite battle royale game BGMI runs at Ultra HD graphics at Ultra frame rates on this phone where Gamebench recorded 40 FPS at 95% stability. But here's where things get interesting.
If you bring down the quality to Smooth graphics, you can enable a toggle to run the game at 90FPS but Gamebench tops out at 60FPS. Even then, it recorded consistent 60FPS with 99% frame rate stability which is pretty awesome.
Now, these scores do not always translate into real-world performance and in the case of the Realme GT, I did not face any lags or visible frame drops while playing either COD Mobile or BGMI. The experience remained smooth and snappy which is what matters at the end of the day.
Overall, the Realme GT offers flagship-level performance and anyone who buys this phone won't face any issues in multitasking or gaming. But if you run intensive tasks on this phone, which isn't the most of us, the thermals are bound to catch up and become a hurdle in the way of sustained performance.
Battery life
Realme GT comes with a 4,500mAh battery and supports 65W fast charging that quickly tops up the battery when required. In my regular use which consisted of gaming, checking social media feeds, watching a few videos on YouTube and more, the phone lasted for just about a day which is decent given its capacity. I also had a 120Hz refresh rate enabled at all times which significantly impacts the battery life.
However, if you are not a power user, you will easily be able to get more out of the Realme GT especially if you choose a 60Hz refresh rate or let the phone automatically select it for you based on which app is being used.
In our video loop test, the phone lasted for over 14 hours which is amongst the highest scores we have seen on a phone in this price range.
When it comes to charging, the Realme GT took just 37 minutes to fully charge which is really great because even if you run out of battery, you can rest assured that it won't take hours to top it up.
Cameras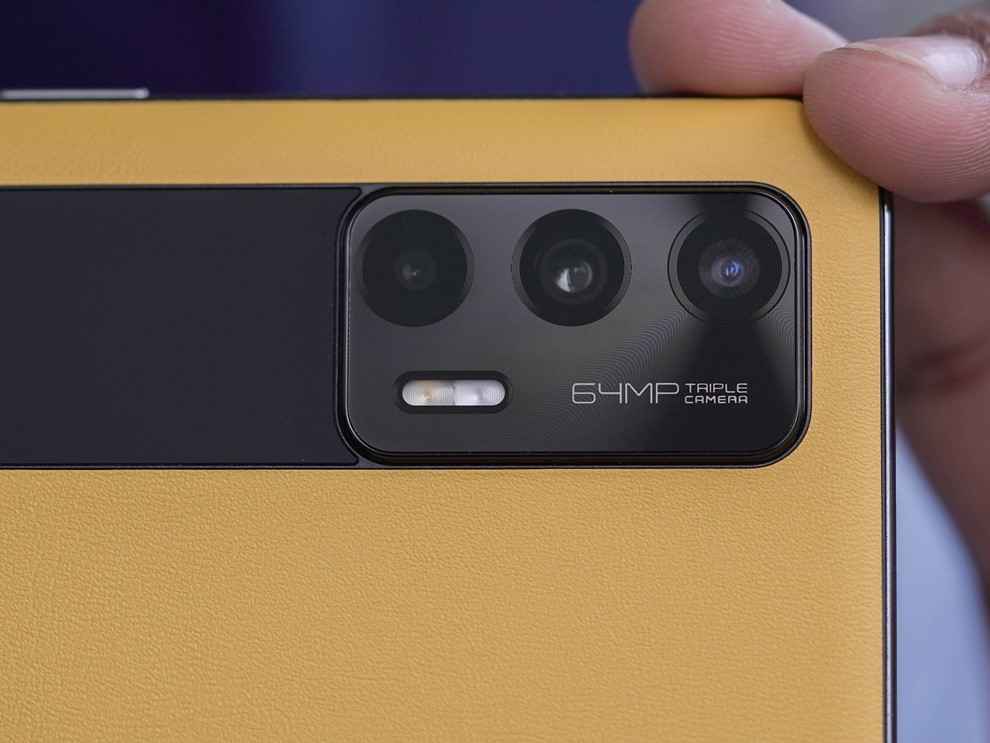 For a flagship phone, the Realme GT has a rather modest set of cameras. It has triple cameras on the back headlined by a 64MP camera that uses Sony IMX682 sensor. Then, there's an 8MP ultra-wide camera that offers 119-degree FOV and a 2MP macro camera.
Out of the three cameras on the back, only the main camera has some significance. It creates 16MP pixel binned images that look vibrant, sharp and are Instagram worthy without requiring any major touchups.
The pictures look more natural with ample details, though the phone often bumps up the saturation levels in different scenes as you can see in the images on your screen.
`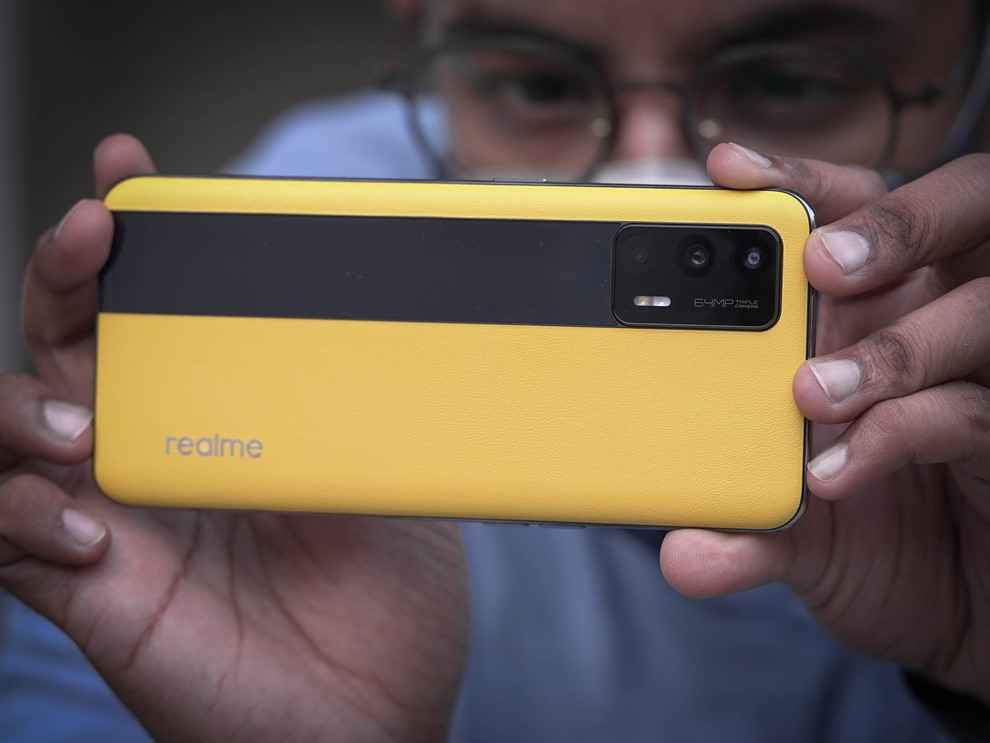 The pictures from the main camera are also able to retain textures of the object in focus which is something many phones struggle to do. It also locked in the focus point quickly but when I switched to the 64MP high res mode, it just refused to take a detailed picture.
The camera also offers 2x and 5x digital zoom where it manages to take some decent and natural-looking pictures without compromising too much on the details.
At night, the images from the main camera had a lot of noise and artefacts were thrown into the mix with the sharpness going for a toss. Once I switched to the night mode, the noise was reduced drastically and the pictures were more detailed and usable.
The ultra-wide camera is average at best and does not create sharp pictures since it is an 8MP sensor. The centre of the frame is sharp but the corners are where it is unable to maintain the focus with minimal barrel distortion.
The 2MP macro camera takes decent close-up shots provided it gets sufficient light but here again, the details are not that prominent and focusing on an object is more of a hit and miss affair. A slightly better macro camera would have done wonders here, something Xiaomi did with the 5MP macro camera on the Mi 11X Pro.

Check out pictures taken from Realme GT here
Verdict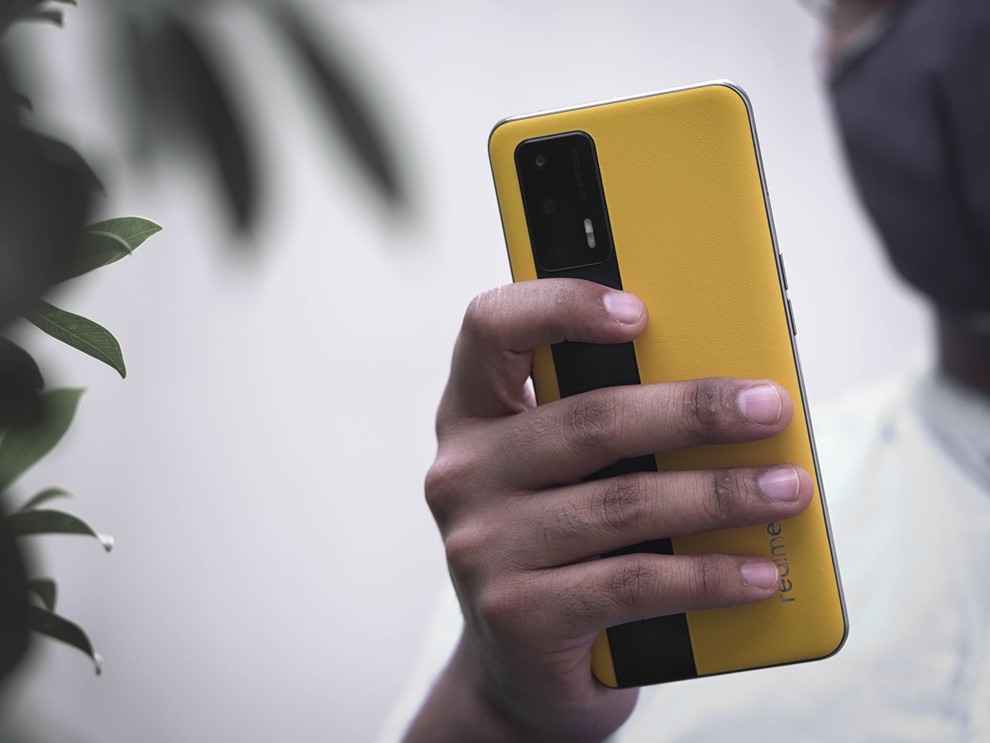 Realme wants to redefine affordable flagships with the Realme GT. As such, it becomes a de-facto choice for those looking for a powerful phone in 2021 under a budget.
But there's more to the Realme GT than the sheer power that comes with a flagship-grade chip. It's got a great Super AMOLED display that supports upto 120Hz refresh rate along with super speedy 65W charging support and a great primary camera, all packed in a lightweight profile.
There's no doubt that the Realme GT offers a flagship-level experience and stands out on its claims. Though the cameras definitely require some attention, it is nothing that Realme can't do with a software update.
If you're squarely looking for a powerful and dependable flagship phone, the Realme GT is a no brainer and is easy on the pocket but if you're too keen to try out different photography styles then you may need to look at other options like the Mi 11X Pro, iQOO 7 Legend and even the OnePlus 9R to some extent.