Coolpad Mega 3 detailed review
If you pick any smartphone available today, budget or flagship, chances are it will have dual SIM card capabilities. Coolpad, though, thinks that's not enough. The company has a tri-SIM smartphone on offer, the Coolpad Mega 3. Made especially for the Indian market, the Mega 3 is a device specifically designed for the customer who already has two SIM cards and wants to add another one to the mix. Well, in the latest scheme of things, a third SIM slot for a Reliance Jio data connection may make sense for some people. At least that's what the company said at launch.
However, just adding three SIM card slots to a smartphone does not make it worth buying. It needs to perform well, shoot good images, have good battery life and more. Does the Coolpad Mega 3 do so? Let's find out.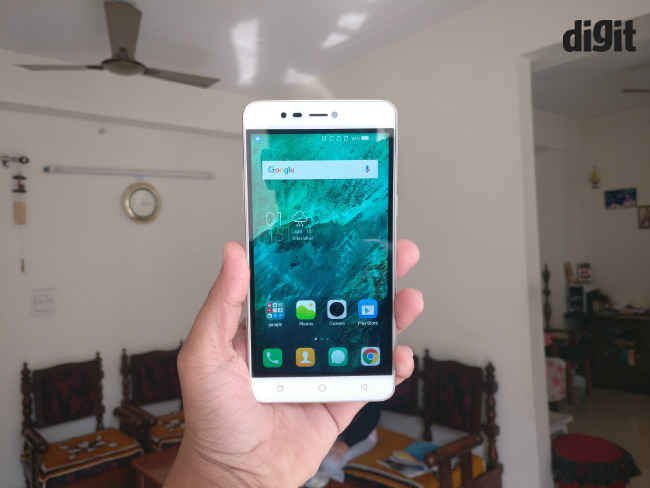 Build and Design
At first glance the phone looks reminiscent of 2015's Coolpad Note 3. The device has a fairly large footprint, thick black bezels around the display and a very grippy back, thanks to the ridges on the back panel. It is made of plastic, which seems outdated, given the competition. Phones like the Xiaomi Redmi 3S, Meizu M3S and even the more affordable Lenovo Vibe K5 are now rocking metal backs. That said, the phone feels sturdy, thanks to a metal frame.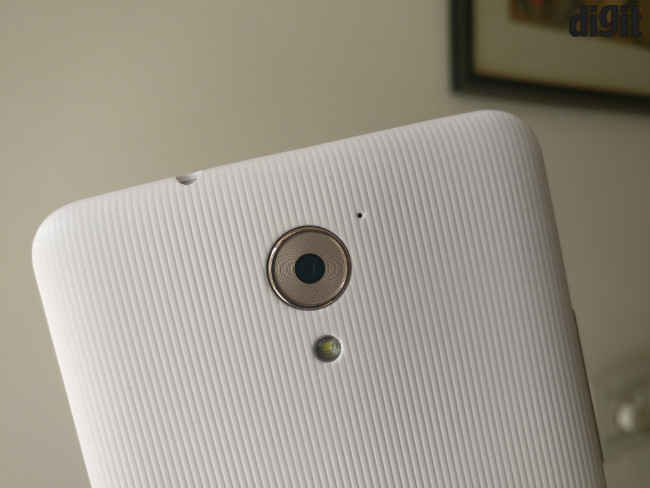 Build quality aside, Coolpad has added some design touches, such as the soft gold accents around the camera module and the two physical keys. Even the thin band running around the phone has a soft gold finish. All this gives the Mega 3 a distinctive look.
The soft plastic back can be removed to reveal three SIM card slots on the phone and all of these are capable of handling 4G SIM cards. There's even a dedicated microSD card slot apart, although the battery pack is remains non-removable.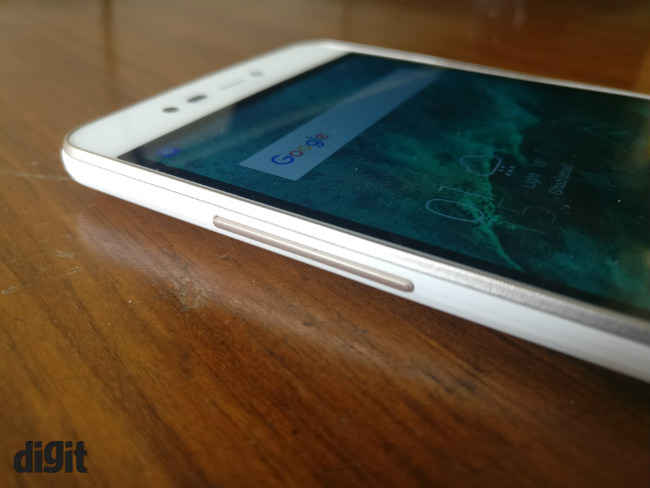 Display and UI
Like its predecessor, the Mega 3 has a 5.5-inch IPS LCD panel with 720p resolution. It is not the best display in the budget smartphone category, but it comes very close to the current champion, the Xiaomi Redmi 3S. The colour saturation and viewing angles are good enough, and given its large size, it can be considered a good media consumption device.
A larger display and 720p resolution though means that it is not as sharp as its 5-inch counterparts and one can see jagged edges of the icons and text up close. The rather thick black bezels surrounding the display may not go down well with some either, but given its price, it is not a deal breaker.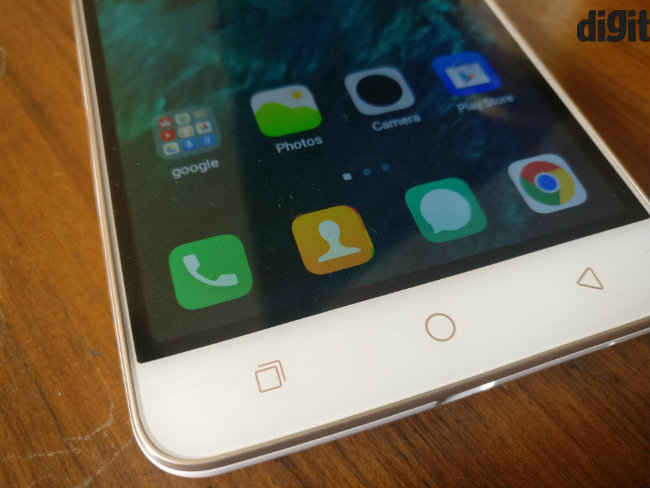 The UI hasn't changed from when we last saw it on the Coolpad Note 5. So, you don't get an app drawer, the notification panel does not show quick toggles that are accessed by swiping up from the bottom, which by the way has a steep learning curve.
You can also enable a bunch of gestures to draw on the lock screen and open certain apps, such as the dialer or camera. There is even a Spotlight Search like feature where you can search for an app by sliding down on any of the home screens. Interestingly enough, the UI in addition to the essential apps running in the background takes up more than 1GB of RAM out of the provided 2GB.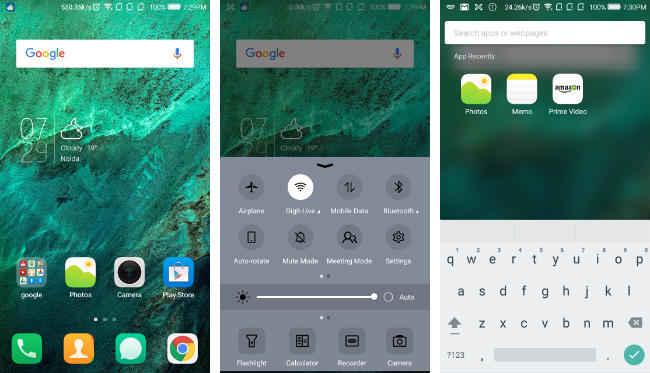 Performance
Running the whole setup is a MediaTek MT6737 SoC, which we recently saw on the Xolo Era 2X. It is not a particularly fast SoC and the fact that the UI and background apps take most of the RAM makes the phone weaker.
Day-to-day performance of this phone is considerably slower than the Redmi 3S and Meizu M3S. You can still use your day-to-day apps, like Gmail, YouTube, Apple Music, Whatsapp, but with some lags. The lag becomes more apparent with more apps you open. Further, opening multiple browser tabs or just switching between apps is not as smooth as we would like.
The Mega 3 is certainly not meant for people who like heavy gaming. We encountered consistent frame drops and heavy stutters in Asphalt 8 and Marvel Contest of Champions. Contest of Champions hung a couple of times while testing. Less resource intensive games such as Missiles! do work more satisfactorily.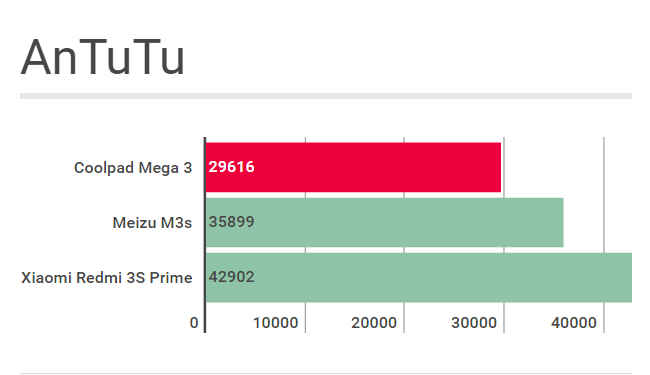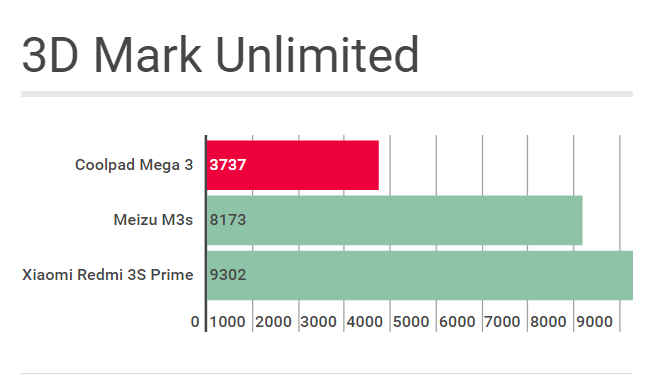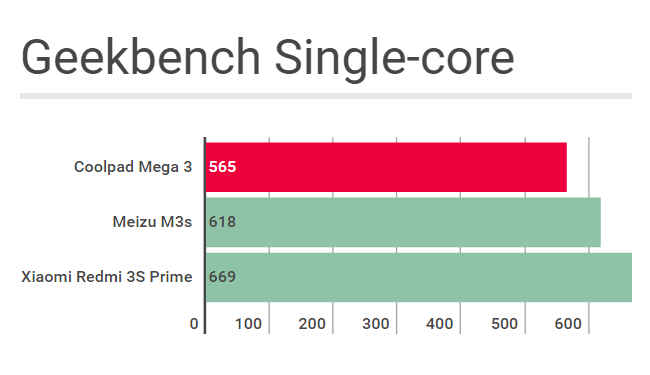 Apart from the not so powerful SoC, we faced some issues with the device's accelerometer, which wasn't calibrated properly. The issue was the same that we faced while reviewing the Coolpad Note 3S recently. We had to access a hidden menu using USSD codes, which the OEM provided, to calibrate the accelerometer.
Given that we faced the issue on two Coolpad devices, it seems to be an indicator of lack of proper testing. For a regular user, such an issue could be a hassle indeed, especially considering the few service centers you find for Coolpad.
Triple SIM
Gaming performance aside, we checked the three SIM card slots on the phones, which work as intended. All three SIM card slots support 4G LTE but, you can use data on only one at a time. Further, the phone does not support active SIM support, so if you are on a call on SIM 1, the other two SIMs will becomes inactive during that time. The dedicated micro-SD slot is a nice touchh and 64GB should be enough storage for most.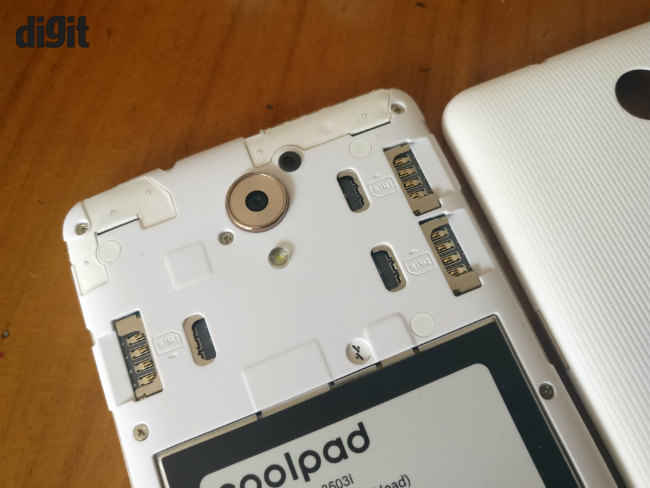 Battery
The Coolpad Mega 3 may not be a good performer, but it's decent in terms of battery life. We got about a day's worth of battery life with two 4G capable and one 3G SIM. Our day included about 10 calls, browsing, reading, music streaming, video streaming, an hour of gaming, about 30 minutes of navigation and mails, IMs, as well as social media apps. At around 10PM, the phone finally required a charge, but heavier users might end up charging the phone at least once before that.
Camera
Like the battery performance, the camera also does a good enough job for the price. The 8MP rear camera takes decent photographs in day time. Colour saturation, dynamic range and details are well balanced. However, there is visible noise in most photos, and this leads to compromised sharpness.
When shooting in low light, there is a very noticeable increase in noise, even around dim light sources. Focusing takes longer than usual in extreme low light, which is understandable for this category and a heavy spike in auto ISO adjustment renders photographs making them practically unusable. The same holds true for dim lights, where the ISO spike is higher than optimum leading to heavier noise.
View post on imgur.com
Overall, the Coolpad Mega 3 has a decent camera module for its price, with an obvious weakness in low light photography. Other phones like the Xiaomi Redmi 3S and the Lenovo Vibe K5 perform better in terms of the camera.
The front-facing 8MP camera is good, too. Photos have decent colour saturation, and a front-facing flash helps shooting selfies in low light. The camera is good enough for video chatting, and you get a Beauty mode as well that works as intended. Photos understandably lack in terms of detail, but is still one of the better modules for its price.
Bottomline
With pretty average scores across all measurable attributes, the Coolpad Mega 3 is not really the best option for a budget buyer. It has a good enough display and build quality. Battery life and camera are fairly decent, but the performance is just not good enough to make it a considerable option.
The Tri-SIM functionality will appeal to a niche audience, and for those buyers, this is the only option in India. However, the Redmi 3s is a much better smartphone to buy and we'd recommend going for that one over this.