Realme has made a huge splash with the launch of its first laptop, the Realme Book (Slim). Starting at Rs 44,999, the Realme Book (Slim) offers a bevvy of features that were unheard of in this price range. We're talking about things like a thin and light form factor, a 14-inch 2K panel with a 3:2 aspect ratio, and more.
It is, however, worth pointing out that the starting price of Rs 44,999 is also for the base variant of the laptop that comes with a dual-core Intel Core i3 processor. Well, I have been using the base variant of the laptop for the better part of the month now and I think I am ready to share my verdict. Let's get started with the specifications first -
Realme Book (Slim) Specifications
The Realme Book (Slim) comes in two variants, both of which are powered by Intel's 11th generation Core processors. In addition to the processor, there are some other differences between the two like a different integrated GPU, support for WiFi 6, a faster memory, and more. So you might want to check out the detailed specs sheet before picking up a unit. For now, let's take a look at the specifications of the base variant that was sent for review -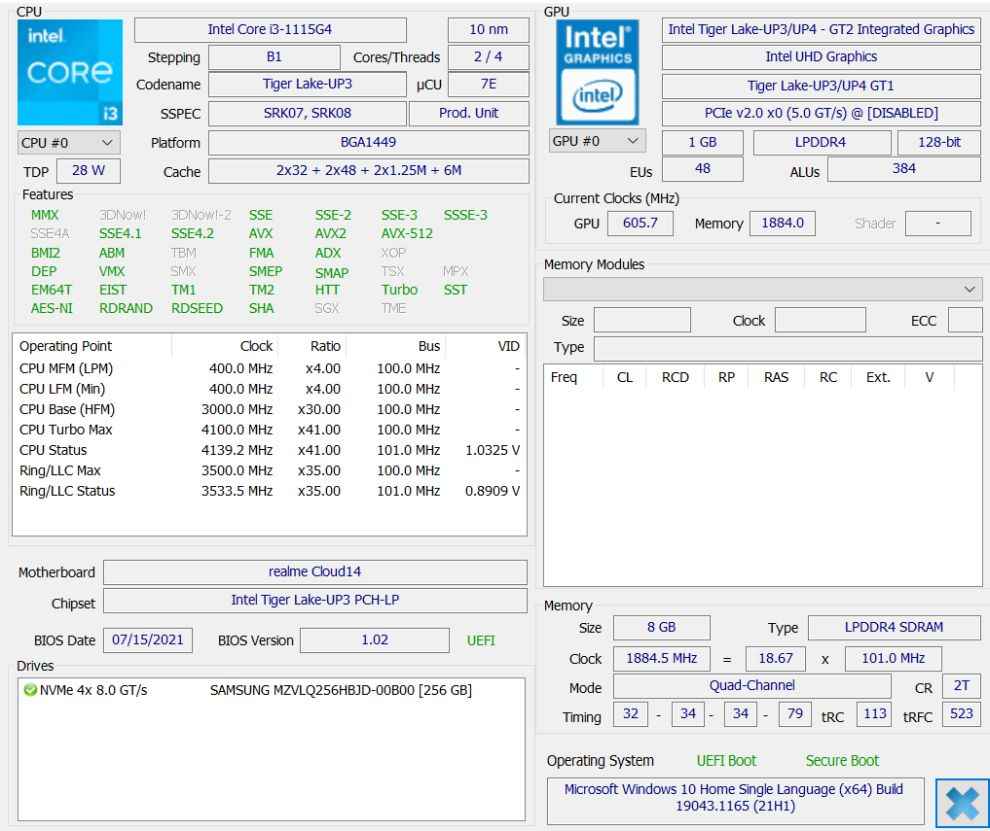 Processor: 11th Gen Intel Core i3-1115G4 dual-core processor with 3.0GHz base clock and up to 4.1GHz turbo boost, 28W TDP
Graphics: Intel UHD graphics with 48EUs
RAM: 8GB DDR4 3733MHz
Storage: Samsung 256GB NVMe SSD
Display: 14-inch IPS 3:2 2160x1440 panel with 100% sRGB
Realme Book (Slim) Performance
Realme is using the Core i3-1115G4, a dual-core unit with 4 threads based on the 10 nm SuperFin process tech. The processor has a base clock of 3.0GHz at 28W TDP and all cores can turbo up to 4.1GHz. The Core i3-1115G4 idles at 1.7GHz with 12W TDP to save energy. I was a little sceptical about Realme going for a dual-core processor for its first laptop. Yes, it is for the base variant of the machine but it is still an unusual decision in such a specs-heavy market, especially when Xiaomi is so hell-bent at using an H-series processor in its laptops.
So, should you even bother looking at the Intel Core i3 variant of the laptop? Well, it depends on what you plan on using this laptop for, but the Intel Core i3 variant is perfectly serviceable. Core clock speeds won't paint the full picture but the Core i3-1115G4 running at 28W is more powerful than most other processors that go into the laptops in this price range.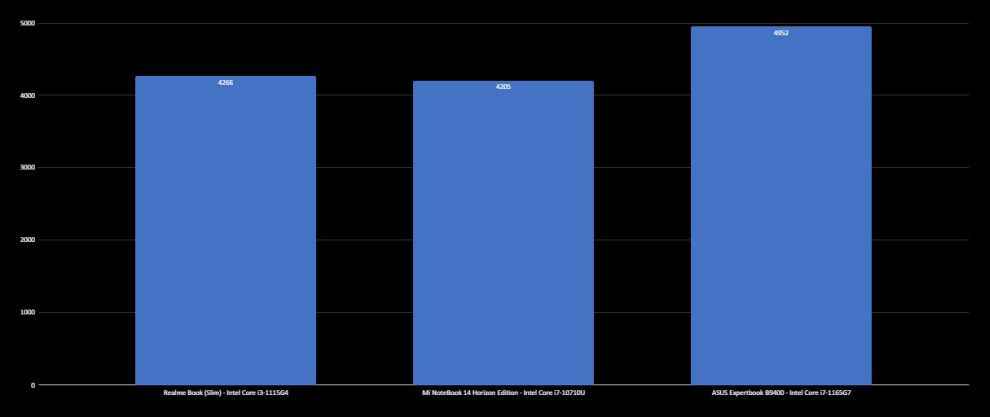 In certain use-cases, this dual-core processor can lock-horns with the Intel Core i7-10510U that's powering the Mi NoteBook 14 Horizon Edition from last year. In PCMark 10, the Realme Book (Slim) managed to score slightly higher than the Mi NoteBook 14 Horizon Edition powered by the i7-10510U. I got similar observations going against the i7-10510U in single-core tests.
This is exactly why the base variant of the Realme Book (Slim) is great for most use cases for people shopping for laptops in this price range. In real-world usage, I had absolutely no issues working on a dozen Chrome tabs with a handful of other apps running in the background. Having good quality storage also helps and the NVMe drive from Samsung managed to beat almost every other laptop's SSD score when I ran the CrystalDiskMark test.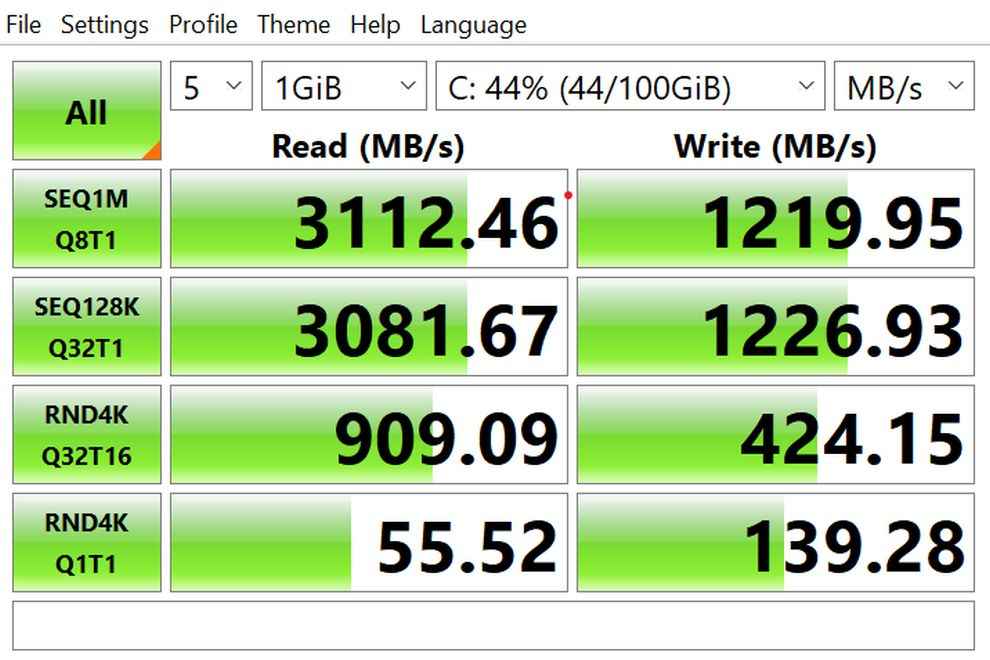 The Intel UHD integrated graphics is obviously not the fastest unit, so your gaming performance is going to be very limited, to say the least. You can run some esports titles like Valorant and Dota 2 at low graphics settings, but don't expect anything crazy. This isn't a gaming laptop by any means, so there's no point trying to push the limits.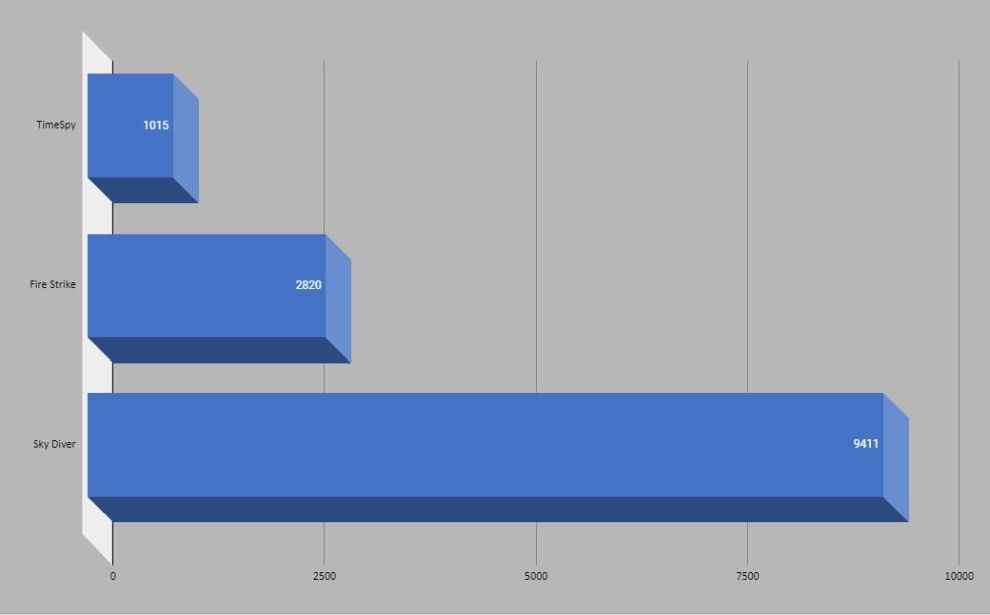 Without getting into too many details, I can also confirm that the Realme Book can be used for creative workloads like photo and video editing, but get ready to make some compromises. Rending our usual set of test files in Adobe Lightroom took longer than usual but it worked. The same goes for video editing using Davinci Resolve too. I highly recommend using a proxy for video editing to save time before the final render.
Thermal Performance
The Realme Book (Slim). despite its petite form factor has two fans inside the chassis for cooling. The copper heat sink also helps to keep this thing cool under heavy loads. While running Cinebench R23, the CPU package temperature didn't exceed 80°C. I didn't see any abnormal behaviour from the processor too while running the test. Cinebench R23 kept the core clock count high at 4.1GHz throughout the test except for a few drops down to 3.5GHz.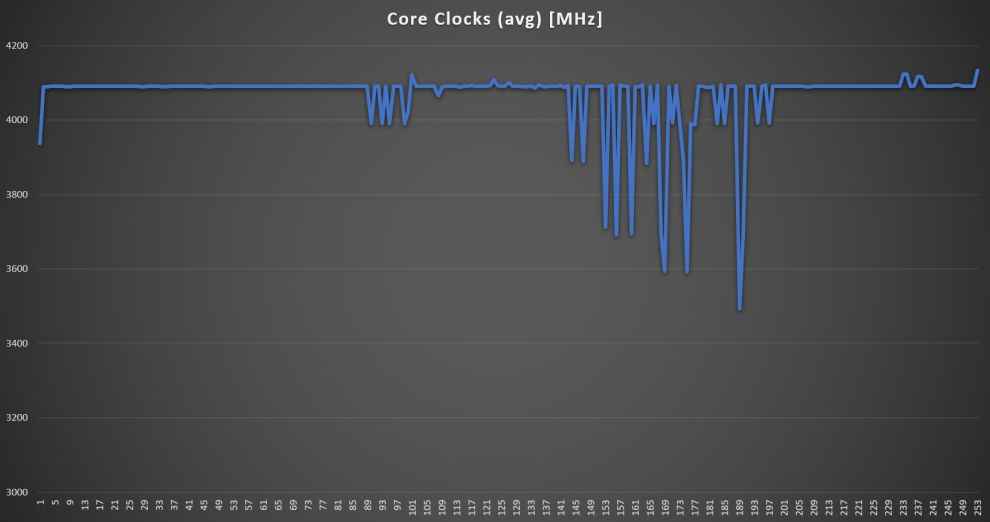 I was surprised to see that the processor didn't throttle during a test that usually brings other CPUs down to their knees. Even the iGPU load wasn't anything out of the ordinary and the package temperature continued to stay under 80°C while I was running 3DMark's Timespy test on loop.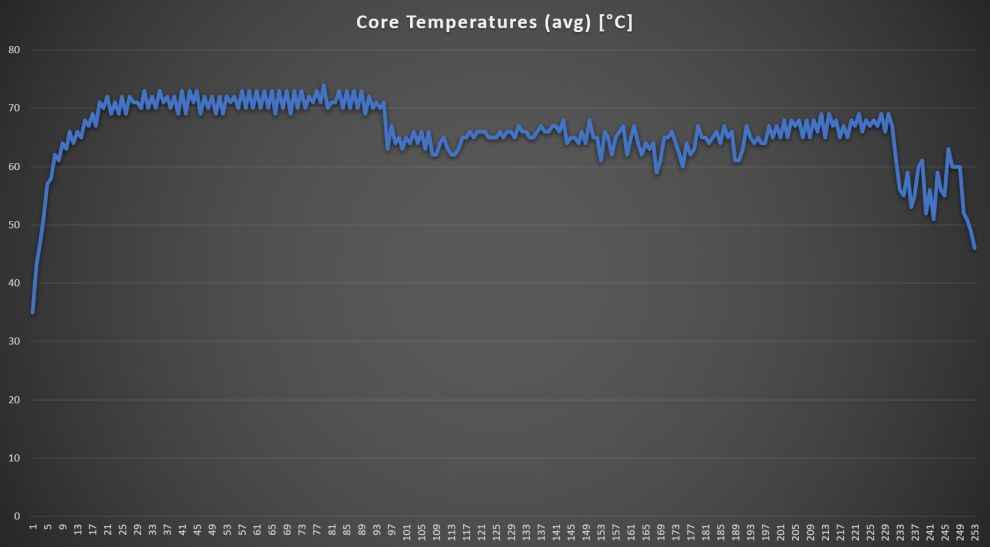 I am really curious to see how the Core i5-1135G7 performs in this chassis, but the Core i3-1115G4 seems like a solid choice, especially for not-so resource-intensive workloads.
Realme Book (Slim) Display
The Realme Book (Slim) sports a 14-inch 2K display which I think is the highlight of this laptop. It has a 3:2 aspect ratio that's not very commonly seen in most laptops. I encourage you to watch this detailed comparison video I managed to put together, comparing the Realme Book's display to the Mi NoteBook Ultra 3.2K panel. Here, check it out -
The video dives deep into various aspects like the resolution, colour accuracy, aspect ratio, and more. It should also help you understand exactly how good the display on the Realme Book really is.
Realme Book (Slim) Keyboard, Trackpad & IO
The Realme Book (Slim), in my opinion, has the best keyboard and trackpad I've used on a laptop in this price range. The keyboard and the trackpad on the Realme Book, honestly, make even some premium laptops look bad. You are looking at a 3-level Backlit keyboard with keys that have a 1.3mm key travel. If you like using the keyboard on the MacBooks then you'll simply enjoy this one. The experience is almost the same and I personally love it.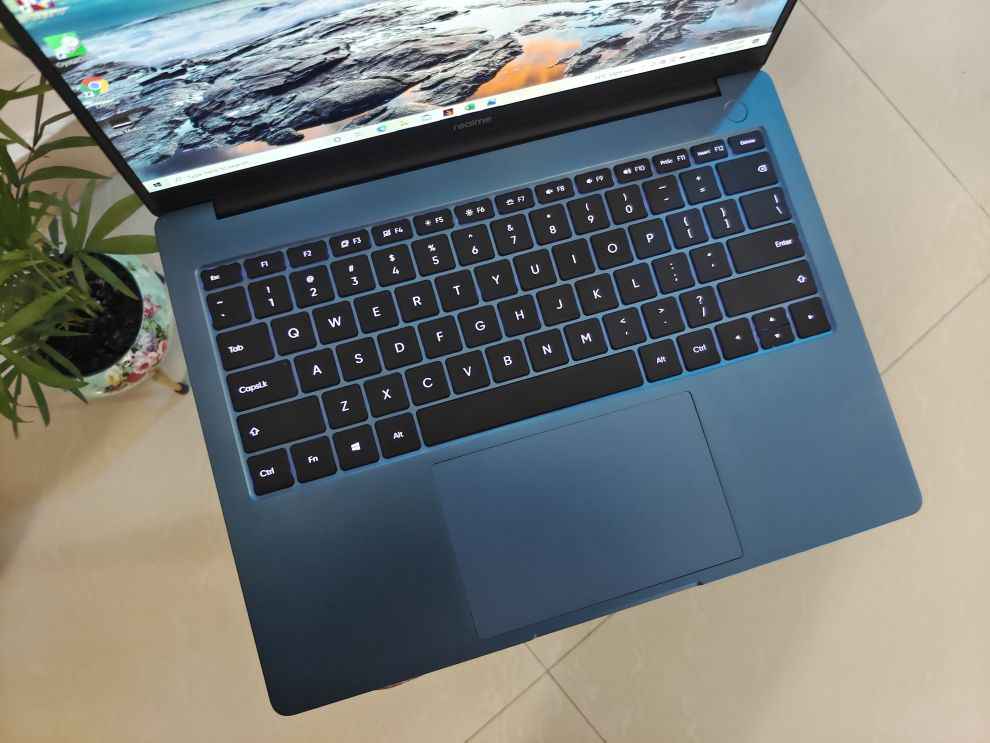 The trackpad is also much better than even the one on the Mi NoteBook Ultra that I recently reviewed. It's a multi-touch trackpad with a 123.8 × 78.2mm surface with support for Windows Precision drivers. Only the bottom half of the trackpad is clickable but it works very well and doesn't feel cheap.
The port selection, however, could have been better. You only get 2 USB Type C 3.2 gen 2 ports, a USB Type-A 3.1 Gen 1 port, and a 3.5mm headphone jack on the Core i3 variant. The Thunderbolt 4 port is limited to the Core i5 variant. This isn't a deal-breaker since there's a USB Type-A port at least, but it leaves me wanting more.
Realme Book (Slim) Design & Build Quality
Having used Realme's smartphones in the past, I was expecting nothing but the best from the company when I heard they were making a laptop. And honestly, they delivered. The Realme Book is absolutely stunning and it's arguably one of the best-looking laptops you can buy in this price range. Some people might call it a MacBook Air clone and to them, I say there's nothing wrong with it. I'd take a stunningly thin and light chassis over the dozen other laptops for which design seems like an afterthought.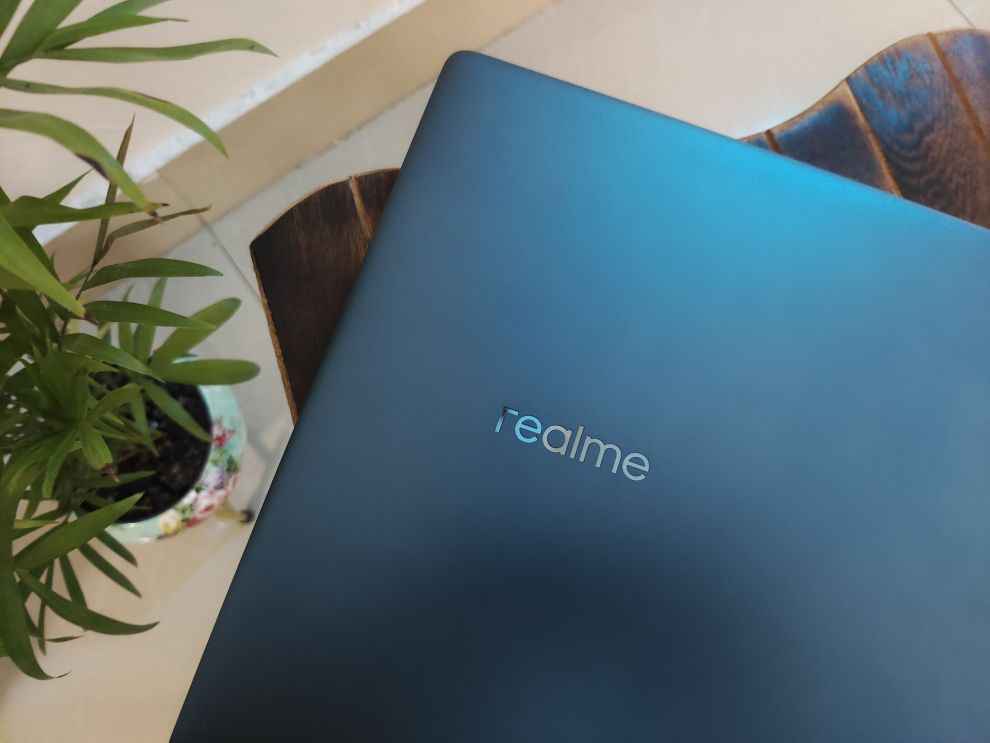 The Realme Book (Slim) has a high-quality aluminium body that weighs approx. 1.38 kg. I wouldn't say it's built like a tank but the construction is definitely sturdy and feels super premium to use. It also doesn't have the best weight distribution which is also why you can't open the laptop's lid with one finger. Again, not a deal-breaker in this price range.
I also love the fact that Realme has added a fingerprint scanner that's embedded on the power button. There's also a 720p webcam making it better than a lot of laptops on the market, including more premium ones. I also want to mention the dual HARMAN Speakers with support for Stereo Surround Sound by DTS. I compared the Realme Book's speakers with the Mi NoteBook Ultra's dual speakers and it's not even close.
Realme Book (Slim) Battery Life
Realme Book's 54Whr battery is rated to last for 11 hours on a single charge. I'd say it's good for about 8-9 hours of usage on a daily basis. That's enough to get an entire day's worth of usage out of the machine. I'd assume the Core i5 variant might last a little less considering it's a more powerful processor which also means it'll dissipate more heat that needs to be cooled with the fans. The Realme Book's battery can be charged via a 65W USB-C power adapter.
Realme Book (Slim) Verdict
The Realme Book (Slim), as I mentioned earlier, is priced at Rs 44,999 in India for the base variant that we reviewed. For that price, you are getting a fantastic machine with a 2K display, a beautifully thin and light form-factor, a great keyboard and trackpad combo, and reliable performance for day-to-day workloads thanks to the 11th Gen Intel Core i3-1115G4 processor.
The Realme Book (Slim) is arguably one of the best laptops in this price range. If you have a budget of RS 45,000 and you are not looking to bother with any resource-intensive workloads, then look no further. It's also going to be my go-to recommendation for professionals looking to buy a reliable machine for office work. Xiaomi's Mi NoteBook Pro/ Ultra comes close and they should be on your list too if you are willing to extend the budget. This is a fantastic start for Realme in the laptop space and I can't wait to see more laptops from them in the future.