VERDICT:
The Asus ROG G752VY is a big and bulky laptop but is very powerful and offers one of the best gaming performance for its price. It comes with features like a G-Sync display as well as Vapour chamber cooling which further enhances the gaming prowess of this laptop, thus making it the best gaming laptop under 2 lakh rupees.
The ROG G752VY has the Intel Core i7 processor, 16GB of RAM, NVIDIA GTX 980M GPU, NVMe SSD, a NVIDIA G-Sync enabled display, Macro keys, and a suite of other gaming oriented hardware. While it has its downsides, I must confess there are things to like.
Build and Design: Big, bulky, but beautiful
I am not really a fan of big and bulky laptops, even for gaming, but all this power doesn't come without the bulk. It weighs over 4 Kg, and has a big footprint. The ROG G752VY is almost 42cm long, 32cm wide and 5cm thick.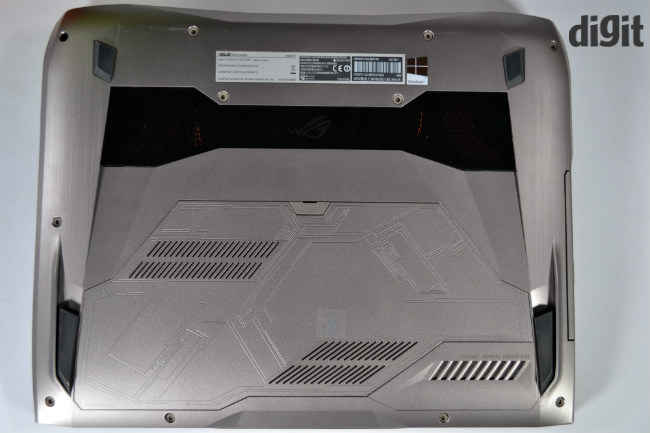 That said, despite the bulk, the ROG G752VY has a nice design. The angular design pattern, metal lid with LED inserts, glowing ROG logo, and big orange coloured vents add up to offer a mean gaming machine.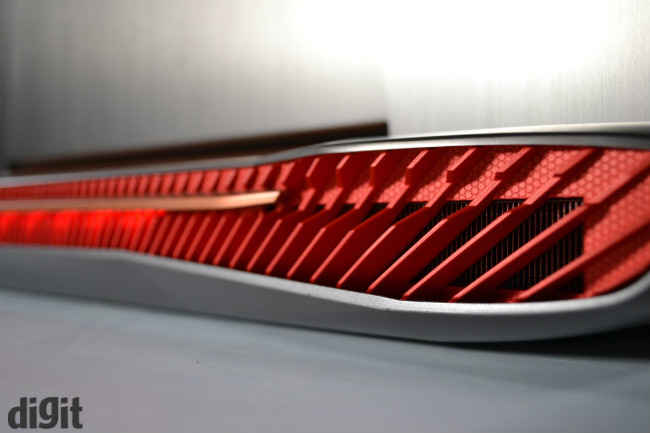 However, there are some shortcomings, such as the sharp edges of the keyboard bay, which cut into the wrists while gaming. Then there is the fat vent on the back, behind the display hinge. Although it looks cool and gives the laptop a very striking design, it also makes it wider, so much so, that the ROG G752VY doesn't really fit in normal 17-inch laptop bags. Explaining to people what I was carrying, why it was sticking out of my bag, and why it had orange vents, was a task, especially when travelling in public transport. The point I'm trying to make is that this isn't the laptop you carry around with you.
Display: G-Sync enabled
The ROG G752VY has an Nvidia G-Sync enabled display, which is an imperative for the top-end gaming laptops. You may have seen mis-renders of graphics while gaming, with frames not loading correctly in sync, otherwise known as screen tearing. This is due to the fact that monitors are not fast enough to cope with the faster frame processing of your GPU. To counter this, NVIDIA came up with a hardware solution called the NVIDIA G-Sync, which basically syncs the GPU and Display and then dynamically changes the frames coming out of the GPU with the refresh rate capacity of the monitor. Hence, G-Sync is able to provide smoother gameplay, with no stutters.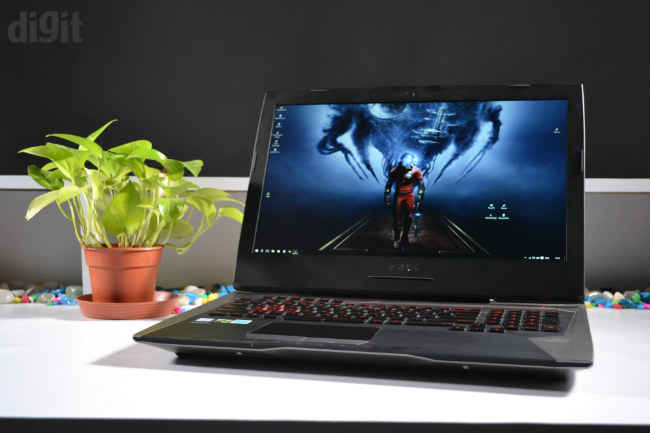 The 17.3-inch matte panel on the ROG G752VY is one of the finest I've seen on a gaming laptop. The colour saturation is good, the viewing angles are great, and is perfect for gaming at 1080p. More importantly, thanks to G-Sync, I was unable to find a single screen tear or any imperfection during my three week long testing period. The refresh rate, though, is capped at 75Hz due to hardware limitations. You may find the display a tad dim to be used under the sun, but gaming is an indoor activity, for which this works just fine.
Ports: All the ports you need
A big laptop should mean a lot of ports and here there are plenty. On the left side, there are two USB 3.0 ports, an SD card slot and a DVD drive. On the right side, the laptop offers an ethernet jack, HDMI port, mini displayport, two USB 3.0 ports, one USB 3.1 Type-C port, with Thunderbolt support. While the laptop features a headphone/mic jack combo, and a dedicated mic jack, Asus has also included an S/PDIF port, which doubles as a headphone jack. Essentially, all possible ports are covered.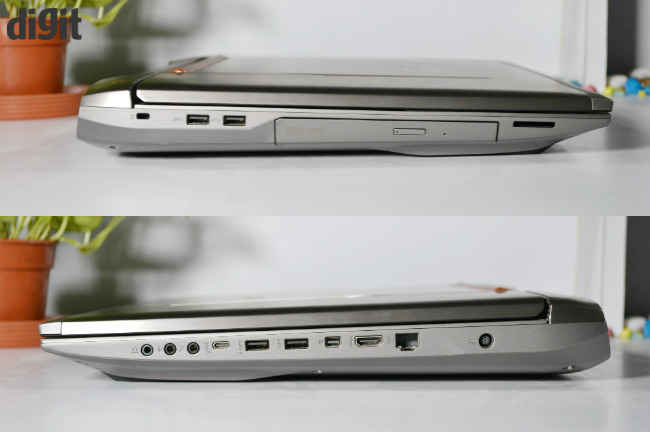 Keyboard: Best gaming oriented keyboard on a laptop
The Asus ROG G752VY has another ace up its sleeve in its keyboard. The laptop has a nicely laid out keyboard, with slightly larger keys and ample pitch (distance between any two keys). Compared to normal laptop keyboards, which have a travel distance of less than 2mm, the keyboard on the ROG G752Y offers 2.5mm key travel, which not only makes typing on the machine a little easier, but gaming more intuitive, as well. Deeper keystrokes also mean that your mis-presses will be kept at minimum. The keyboard has a red backlighting only and while the intensity of the backlighting can be adjusted, I would have preferred a full RGB keyboard setup at this price.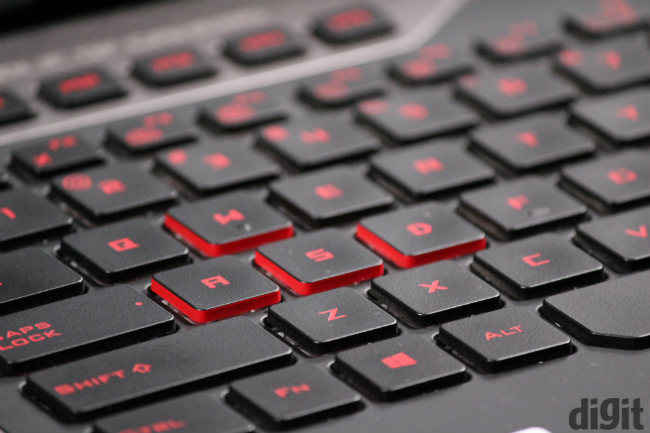 Above the keyboard, the laptop also features five macro keys that can mapped to open applications and can be used in-game as well. There is also a dedicated casting button beside the macro keys, which is pre-configured to launch the X-Split software, well known for casting. It enables gamers to record or livestream their gameplay onto a platform of their choice, such as Youtube, Twitch and more.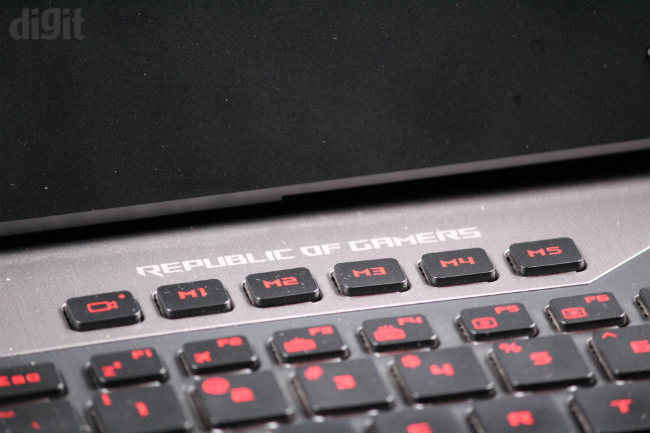 The touchpad on the laptop is equally good. It features a large touchpad, which has the right amount of sensitivity and is well calibrated out of the box. Asus has equipped the touchpad with two chunky left and right keys, which are a not very hard to press, but offer good resistance. Needless to say, all windows gestures work perfectly on the laptop. However at a higher price tag of just under 2 lakh rupees, I would have preferred a glass touchpad for their precision, and the fact that they feel more premium.
Performance: Anything you want to play
Good display – check, enough and more ports- check, what remains is the performance. The Asus ROG G752VY is one of the most powerful laptops you can buy today. It has an Intel Core i7 6700HQ processor and an NVIDIA GeForce GTX 980M GPU. With this powerful duo, our test machine was also equipped with 16GB of RAM and a dual storage system. There is a faster 512GB NVMe drive, which by default is set to primary and then there is the 1TB secondary drive for extra storage options.
Gaming on this laptop is just superb. I ran every game I had in my library, but the laptop refused to flinch, even once. The combination of a faster processor, the best laptop GPU and a G-Sync panel, makes every game you play on this machine look good. Further, I installed all games on the faster SSD partition, which decreased load times. Here are some test benchmarks as well as in-game statistics on how the laptop performed.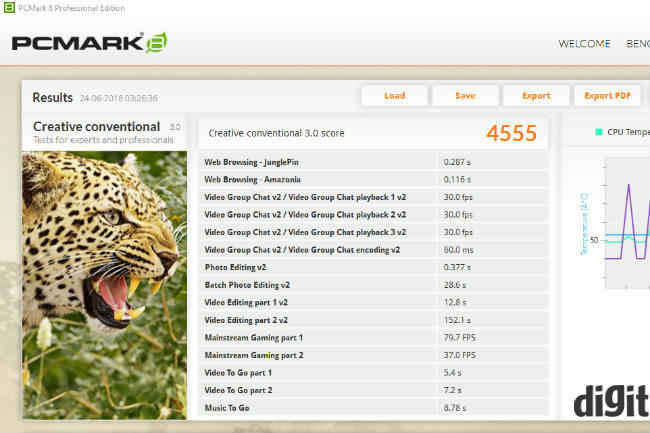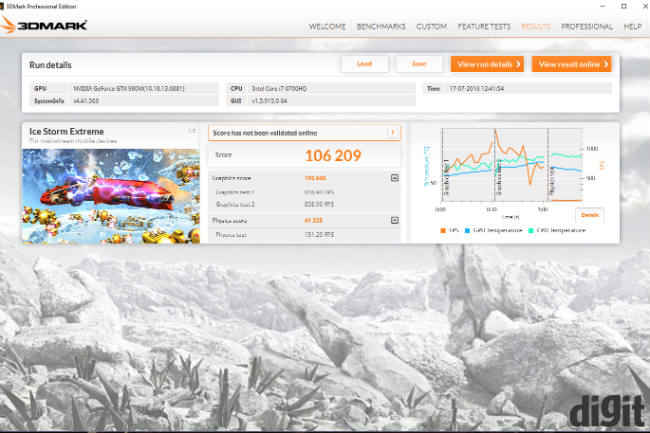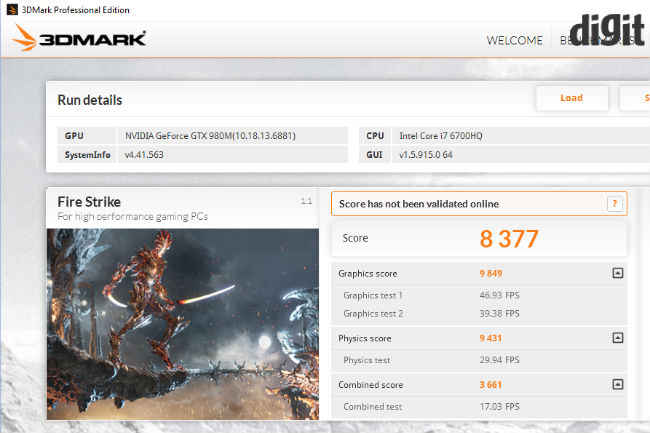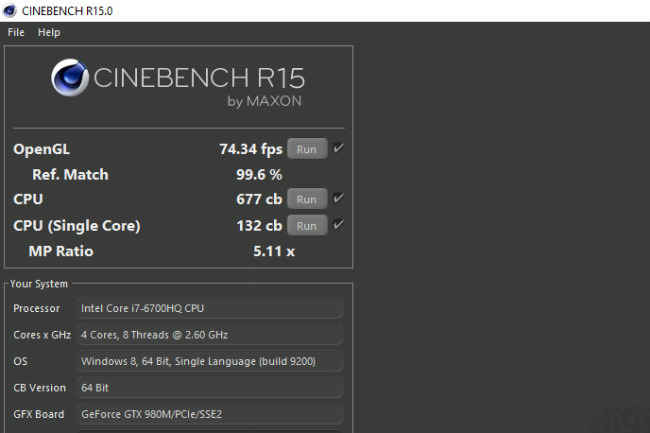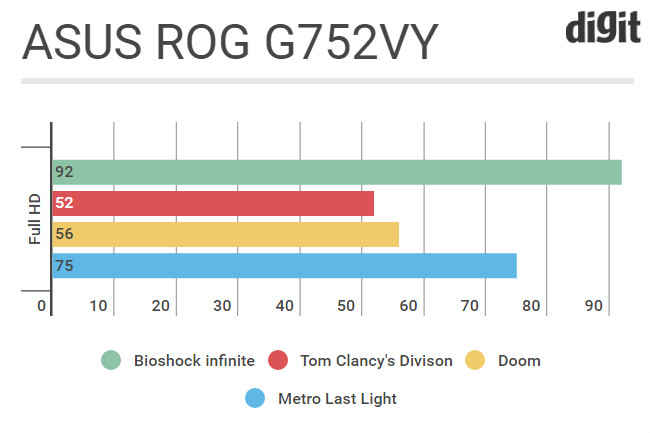 Average FPS recorded during gaming at max settings
In place of the Num Lock key, the laptop features a ROG button, which allows access to the ROG gaming centre. Using this software one can configure display quality, macro keys, keyboard backlighting, turn on/off windows key and more. Jumping into the turbo gear settings and changing the configuration mode also boosts the clock speeds of both the CPU and GPU by 100MHz. The ROG Gaming centre is also a one stop shop to check stats of the laptop.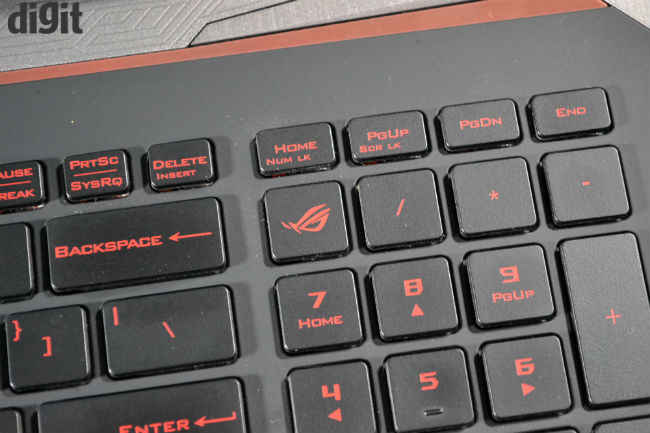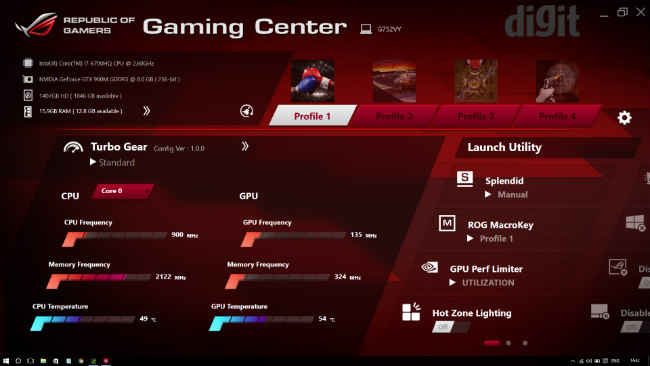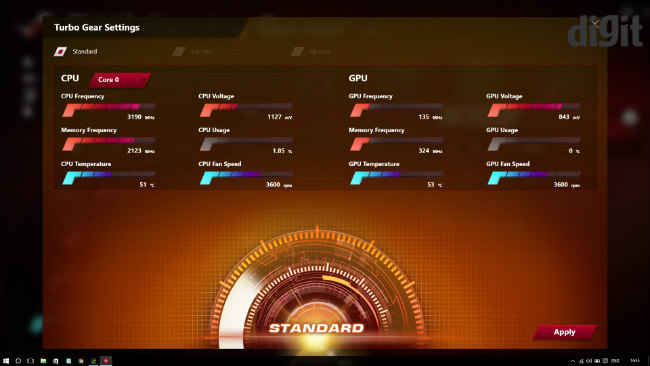 The gaming experience is further enhanced by the excellent audio quality produced by the 2.1 speaker system. The two main speakers are placed on either side of the display hinge. Hence, the sound coming out of the two speakers resonates against the metal lid. The speakers are aided by the single woofer at the bottom of the laptop as well. The whole setup is able to produce a very wholesome sound experience. That said, the Asus ROG G752VY isn't the loudest gaming laptop out there, and one can definitely hope for more.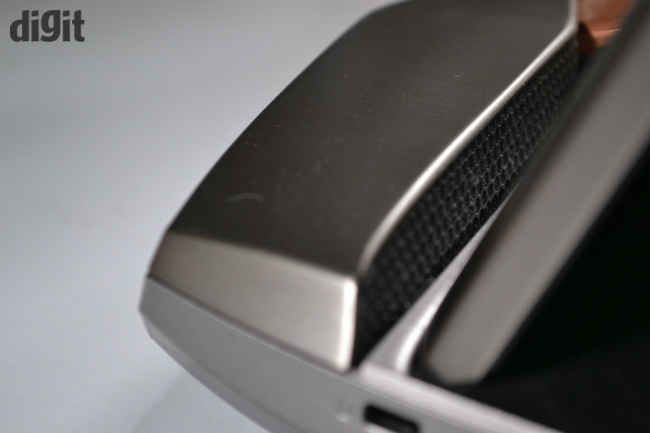 Heating: Brilliant cooling, courtesy the vapour chamber
Cooling systems that companies often advertise, either do not work, or don't produce the advertised results. Asus has used a vapour chamber cooling system and it works quite well.
To understand the vapour chamber, you need to understand cooling on normal gaming laptops, which generally employ heat pipes. These are vacuum sealed and have a liquid agent inside. One end is connected to the heat source, that is the CPU or the GPU, via contact points, and the other end is near a blower fan. So, when the system generates heat, the pipe heats up, which in turns evaporates the liquid and it then moves towards the cool end under the fan where it condenses, reducing the heat. This process continues very rapidly throughout the usage period. While this cooling technology is widely used, it has its drawbacks. One major shortcoming is the fact that the heat is dissipated in only one direction, making it less efficient in high load environments, as in a gaming laptops.
In order to curb that extra heat, Asus has implemented vapour chamber cooling. Now the vapour chamber cooling technology is nothing new, infact it was introduced long back in 2008 by Sapphire on its AMD Radeon 3870 GPU. While the basic mechanism is the same, a vapour chamber differs in shape and size. They are flat, offering larger contact points, as well as a larger cool area. So, in a vapor chamber the liquid agent can cool more effectively as it can spread out heat in any direction and more evenly.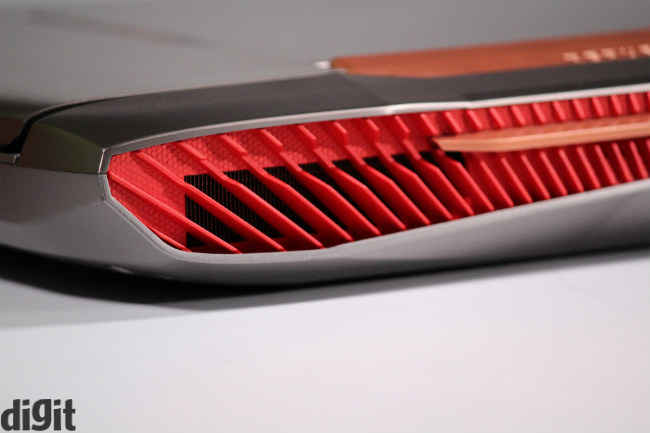 The Vapour Champer on the Asus ROG G752VY does a fantastic job of keeping things cool. The average temperatures I recorded on the machine were around 50 degrees, and the temperatures never went above 80-85 degrees while benchmarking. The CPU and GPU temperatures remained consistently below the 80 degree celsius threshold. Further, the fans don't make a lot of noise, making this is a pretty quiet gaming laptop to use.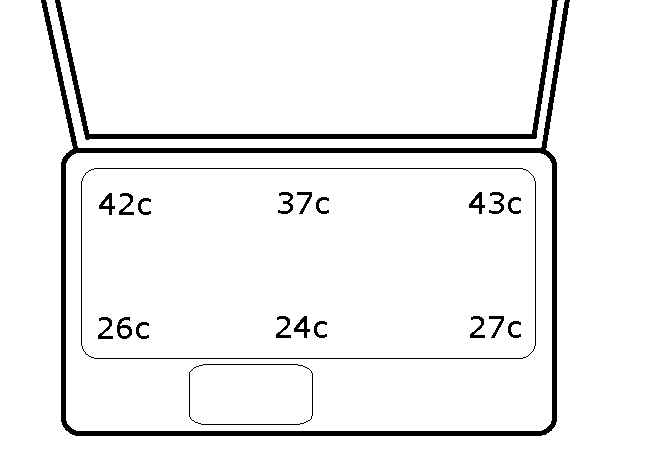 Temperatures under heavy load
Battery: Giving in
The battery is the only sore point of this laptop, although I wasn't anticipating much anyway due to powerful specification sheet. While I won't suggest gaming on the laptop on battery, the 8 cell 88Whrs battery dies in about two hours of normal usage. This is yet another reason why this isn't for those looking for a portable gaming device. Two hours is expected with these specifications, though.
Bottomline: To buy or not to buy
The Asus ROG G752VY costs Rs. 1,79,990, and given that it's a stationary setup, I'd really suggest building your own PC. In fact, you can even try the Asus' ROG G20B pre-configured gaming PC for that matter.
The Asus ROG G752VY is definitely amongst the most balanced and best gaming laptops that we've reviewed, though. It offers great performance, looks good and considering the hardware, it is very well priced. The only laptop, which comes close to this at this price, is the Acer Predator 15, but it offers slightly lower performance and does not look as good.