Apple's managed to pull off a phenomenal 2020 with respect to product launches, despite the COVID-19 pandemic causing major disruptions. The company not only launched their usual slew of products but also managed to get a completely new product out into the market; the M1 chips, which power the new MacBook Air, MacBook Pro 13-inch and Mac Mini. We have with us the MacBook Pro 13" for review and most of what is said for this machine would be applicable to the MacBook Air and even the Mac Mini, to a large extent. So, is this the new M1 chip as revolutionary as everyone's making it out to be? We have the definitive answer.
Apple MacBook Pro 13" M1 Performance
The Apple MacBook Pro 13" we got for review is the base variant, which comes with the M1 SoC (8 CPU cores, 8 GPU cores), 8GB memory and 256GB storage. This configuration costs Rs 1,22,900, and I suspect that most people who want to go for this machine, would be going with this configuration. Testing the M1-based Mac does bring some challenges as traditional benchmarking tools do end up taking a performance hit due to the Rosetta 2 translation layer. So our testing stuck to more real-world applications and real-world use. For some context, I have migrated from a top-of-the-line 16-inch MacBook Pro to an M1-based MacBook Pro and the transition has been flawless. Let me explain.
If you're a video content creator, you'll be happy to know that FCP is already fully optimized for the M1 Macs. This means that you get the same well-optimized experience. In terms of render times, the 5-minute clip (4K to 1080p) was exported in 53 seconds, flat. The project has significant colour grading applied to each clip along with transitions and finally, a number of text and animation layers to top off the project. The 16-inch MacBook Pro, in comparison, takes 58 seconds to complete the same render. If you favour Adobe's video editor Premiere Pro, the company just released a beta version designed for the M1 chip, and we will be testing that thoroughly.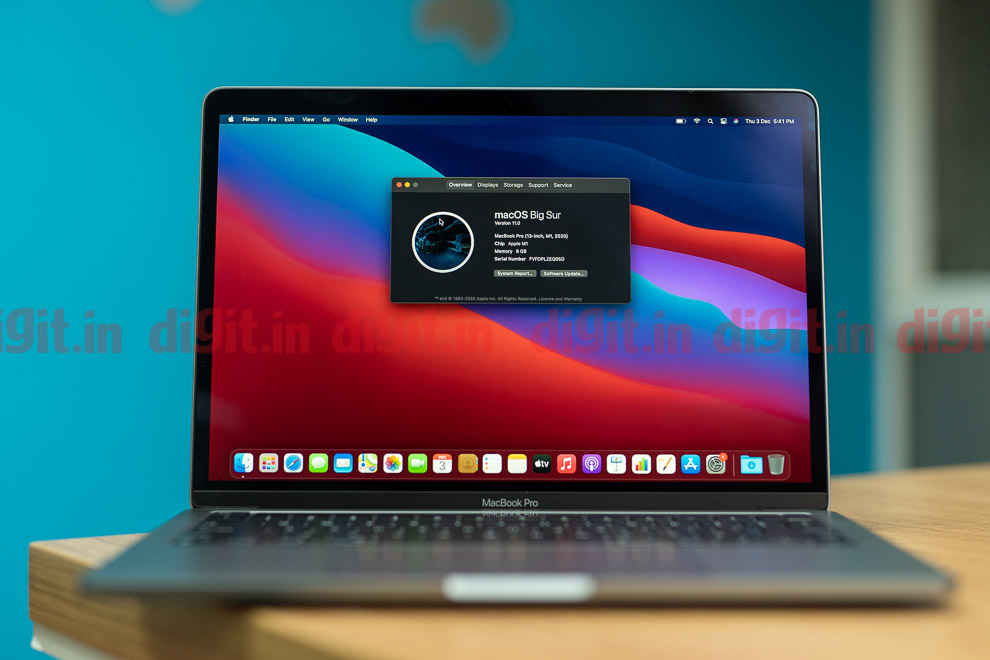 For now, our testing used the Intel Mac version of Premiere Pro, running via the Rosetta 2 translation layer. Exporting the same 4K project into a 1080p file, the MacBook Pro 13" fell behind the Intel version by a few seconds. This is mighty impressive, seeing how the render is happening via an emulation layer. Similarly, for Adobe Lightroom Classic, there's no M1 version available, but even via emulation, the popular photo editor from Adobe works flawlessly, delivering speed and performance matching that of the Intel Core i9 powered 16-inch MacBook Pro. The best part is, the fan on the MacBook Pro 13" barely ever kicks in, and when it does, it's barely even audible. The fan does help in keeping the chip cool, allowing sustained performance which is especially handy for lengthy renders. Honestly, this 13-inch MacBook Pro is going toe to toe with the Intel Core i9-based 16-inch MacBook Pro in terms of its performance, while costing less than half the price. But, it gets way better.
Apple MacBook Pro 13" M1 Battery Life
The whole allure of Apple's silicon is that these chips were said to offer significantly improved performance in comparison to their Intel counterparts while consuming significantly less power. And boy, does it deliver. On day-to-day usage alone, I am charging the MacBook Pro once in 3 to 4 days. This is with the machine being used mostly to type up documents, research stories on the web, gratuitous amounts of using WhatsApp while having Spotify running for most of the time. The sound was sometimes coming via the onboard speakers and something streamed via a Bluetooth headset. On days when I had to edit a number of photos in Adobe Lightroom Classic (still running via the Rosetta 2 translation layer), I would still be able to use the MacBook Pro for 2 days between charges.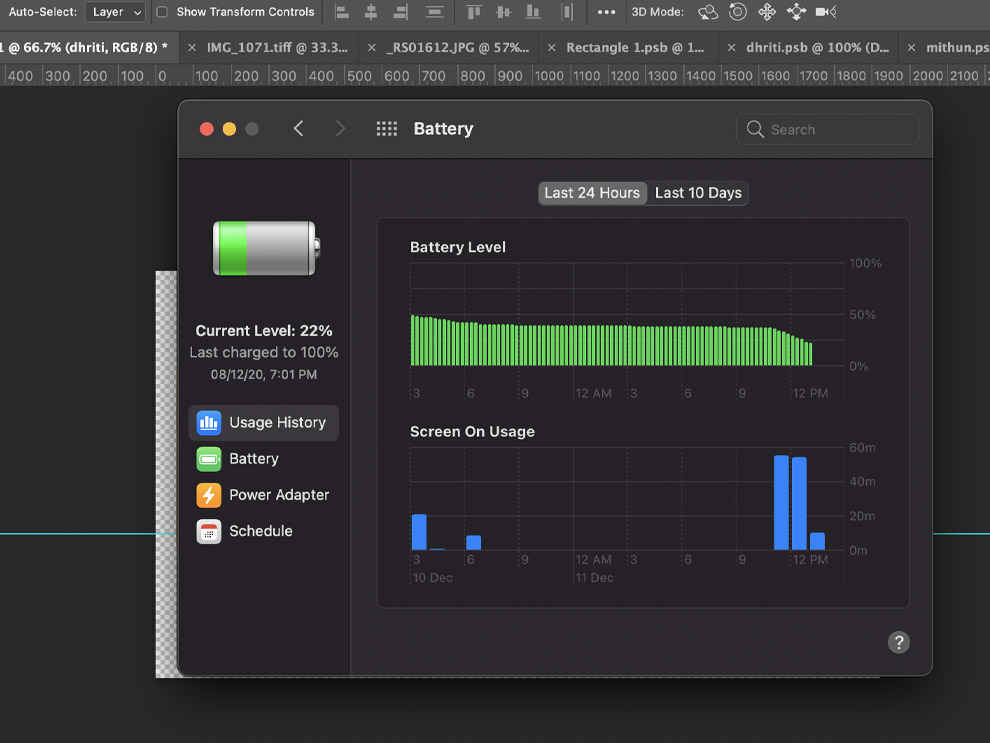 According to Mac's own battery usage widget, the highest screen on time I got was a little over 9 hours, but that was on days when nothing more than basic programs such as browsers and word processors were used. Music and WhatsApp were still a part of this usage pattern. There are so many ways to say the same thing here; battery life on the MacBook Pro 13" is beyond impressive and is something you won't have to worry about on a day-to-day basis. This kind of battery life used to be the MacBook Air's domain, but the Pro just beat it by a large margin. There's also an "optimize battery charging" mode which learns from your usage and charging patterns in order to maximise the life span of your Mac's battery.
Apple MacBook Pro 13" M1 Display
The MacBook Pro 13" actually houses a display measuring 13.3-inches with an aspect ratio of 16:10. The resolution on this panel is 2560x1600 and the panel type is IPS-LCD. Colour spaces supported are sRGB, Adobe RGB and of course, DCI-P3. Unfortunately, we were not able to use our colourimeter to measure the panel's quality aspect due to an incompatibility between the calibration software and the M1 Mac. What we were able to do was edit a few images on the M1 Mac using Adobe Lightroom Classic and then reviewing those images on a calibrated monitor. The colour reproduction was spot on, leading us to conclude that the Apple MacBook Pro 13" has its display calibrated to perfection when it comes to the sRGB colour space. We will be diving deep into other aspects of the panel once the software is updated for compatibility. Lastly, this is also a very bright panel, clocking 430-nits of brightness in the centre. The display is capable of both HDR10 and Dolby Vision content from your preferred source.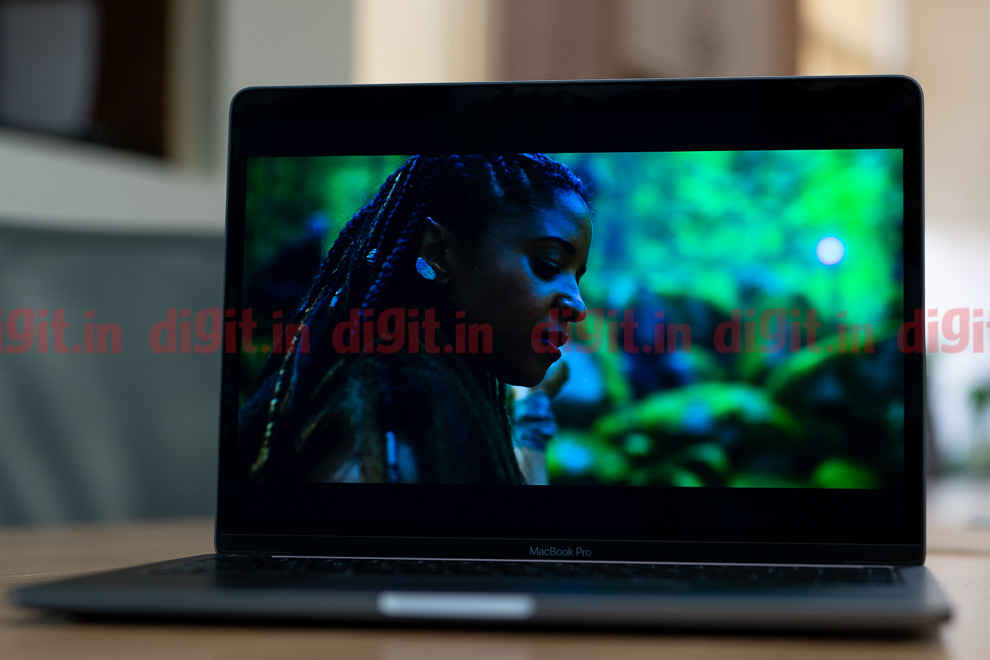 Apple MacBook Pro 13" M1 Compatibility and Usage
The M1 Macs are a huge departure from their Intel counterparts in some notable ways. The foremost concern of these changes is app-compatibility. Apple promised a smooth transition, and they've mostly delivered on those promises. When setting up the Apple MacBook Pro 13" for review, most of the common apps we use were not yet optimized for the M1 chip. This includes the Adobe suite of applications, MS Office, Handbrake and of course, plugins for Photoshop and Lightroom. At the time of testing, all of these tools were running as smooth and reliably as they do on an Intel-based Mac. The only notable difference here would be that apps that have to be run through the Rosetta 2 translation layer take around 30 seconds to launch but only on the first launch. Subsequent startups are fast, up until you reboot. It's quite surprising the speed with which major software makers have released M1-optimised versions of their applications. BlackMagic has released DaVinci Resolve 17.1 with native support for M1 Macs. Adobe's Photoshop, Premiere Pro, Premiere Rush and Audition are all available as public betas and very much functional. Microsoft has updated the Office suite as well. All this within just a month and a half of the machines being announced. We expect most developers to start porting their apps over to at least the universal binary, if not a native M1 version in the near future.
Running iOS and iPadOS Apps on M1 Macs
Now, one of the most exciting things about the Macs moving over to ARM-based architecture is the fact that it's now possible to run iOS and iPadOS apps on the Mac. The Mac App Store in fact now has a section for iOS and iPadOS apps that have been made available for the Mac, but unfortunately, none of the popular are available via this route. However, if you can get your hands on an IPA file for the app you want to run, you can simply install it like you would any regular app, and it will run just fine. There are, however, some challenges. For example, Instagram isn't available on the Mac, but we were able to get the official IPA file for Instagram and install it on the Apple MacBook Pro 13". However, upon running the app, I was greeted by a tiny window and a hard-to-use user interface. This is because Instagram is only available for the iPhone and hence, the content runs in a tiny window that cannot be resized. Also, the app is designed keeping touch-based navigation in mind, so using a keyboard and trackpad to work it is a little on the harder side. Similarly, we also managed to get Call of Duty: Mobile for iPadOS installed on the Apple MacBook Pro 13" and after a few minutes into a match, was banned. This could be due to running the app in an environment it's not meant for. Currently, the selection of iOS and iPadOS apps available via the Mac App Store is still rather weak, but hopefully, that will change in the coming months.
Apple MacBook Pro 13" M1 Sound
The MacBook Pro 13" continues Apple's track record of housing some of the best sounding speakers in the market. This machine does not come with the force-cancellation sub-woofers we find on the bigger 16-inch model, but these speakers are still well within the realm of impressive. Whether it's watching movies or listening to music, the MacBook Pro 13" delivers excellent clarity even at its loudest. On many occasions, I find myself using the onboard speakers instead of using headphones, and still have a good listening experience.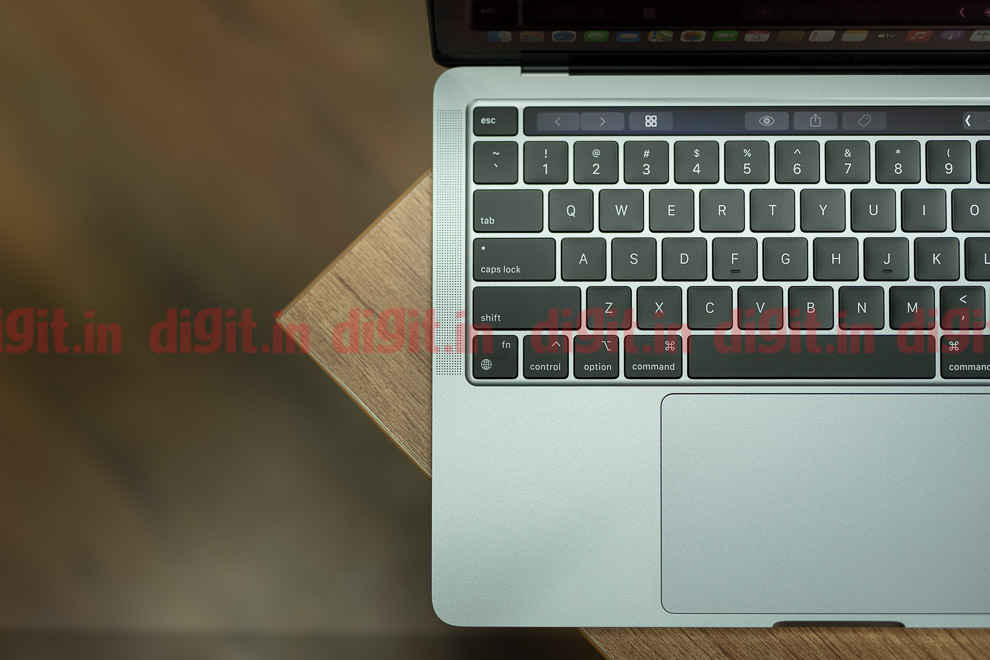 Apple MacBook Pro 13" M1 Keyboard, Trackpad and I/O
The new 13-inch MacBook Pro uses the scissor switches in its keyboards, the same ones found on the Magic Keyboard. The typing experience is really nice on this keyboard thanks to its short, but firm travel. What makes the typing experience even better is that you don't necessarily need to strike the centre of the key to register the keystroke. The touchbar has been at the receiving end of a lot of criticism, but I actually find it quite helpful, especially when it comes to adjusting the volume or changing the brightness. Even with applications like MS Word, Excel, Safari and even Spotify, the touch bar provides quicker access to the most logical of setting options. Then there's the trackpad, a little glass rectangle that has continued to set the benchmark for the rest of the industry. Lastly, you get two USB-C ports that conform to the USB4 standard, the same as Thunderbolt 3.0.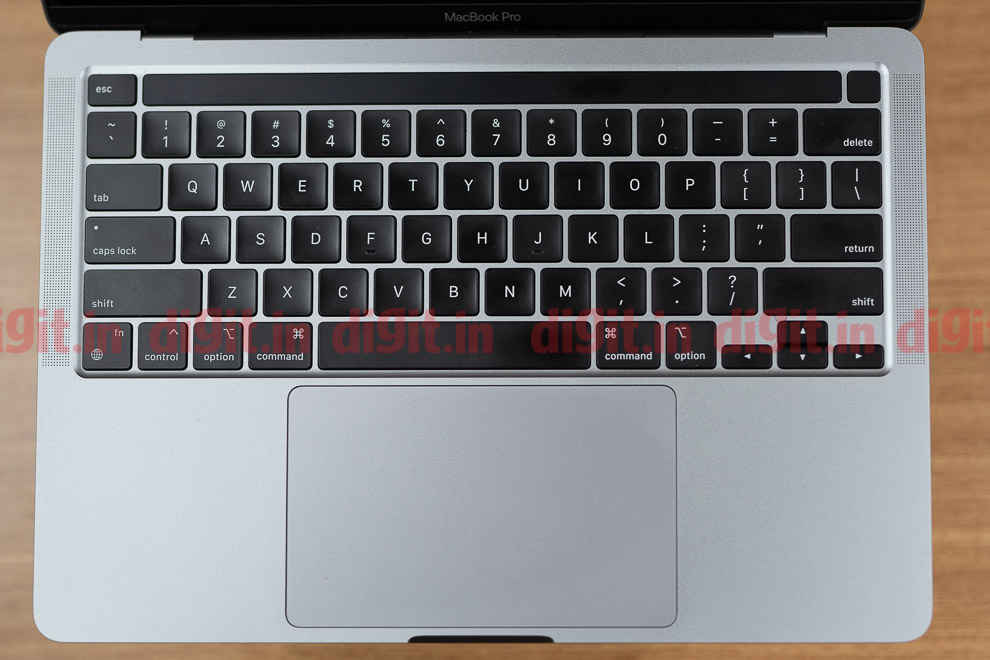 Should you buy the Apple MacBook Pro 13" M1
To put it simply, the Apple MacBook Pro 13" is simply astounding. For the longest time, the lack of a discrete GPU put the older 13-inch MacBook Pro at a weaker standing, especially when it came to video workloads. With a complete switch in architecture, this machine is squeezing out performance metrics that parallel the top-of-the-line Intel-based MacBook Pro. And it's not like this performance is coming at any notable cost. You're still getting ridiculously good battery life, all while the machine maintains things like a great colour accurate display, a great keyboard and a really nice and accurate trackpad as standard. There are, however, a few things to be very mindful of. If you're a video-based content creator, you're going to want not just 16GB RAM, but also at least a terabyte of storage. If you're a photographer or a music producer, you could do with slightly lower storage, but I still strongly recommend 16GB RAM. If you're a hobbyist photographer, filmmaker or a music producer, you could get away with 8GB RAM as it will run everything super smooth and without a hiccup, but professionals would want better longevity. If content creation isn't your jam, just go with the MacBook Air, which will offer very similar levels of performance and battery life, but just won't be suitable for long renders due to a fanless design.