Acer Aspire 5755 - Budget champ detailed review
c
Launched earlier this month, the 15-inch Acer Aspire 5755 is a brand new laptop range by the Taiwanese PC manufacturer. With the new Aspire 5755 range, Acer tries to add more value into laptops targeted at budget-conscious consumers. It sports the newer 2nd generation Intel Core i3-2310M 2.1-GHz processor, exclusive software like Dolby Advanced Audio V2, and a chiclet or isolated keyboard. All this at a bargain price. Let's see what the new Acer Aspire 5755 has in store for us.
Acer Aspire 5755: Build & Design
It's good to see that Acer's laptops are no longer drab and boring, having just a blue-on-gray color combo on most of its Aspire laptops through 2008-09 and early 2010. With the Aspire 5755, Acer's offering customers a choice of five different colours -- green, blue, brown, red and black. Our review sample had its screen lid covered in a black glossy surface which attracts fingerprints smudges -- try to pick a lighter colour to hide the smudges against reflected light. The Aspire 5755's screen lid has a wavy pattern with the company's logo embossed in the centre, and coupled with the keyboard deck and palmrest's shiny gun grey finish, the laptop looks pretty decent -- definitely not boring.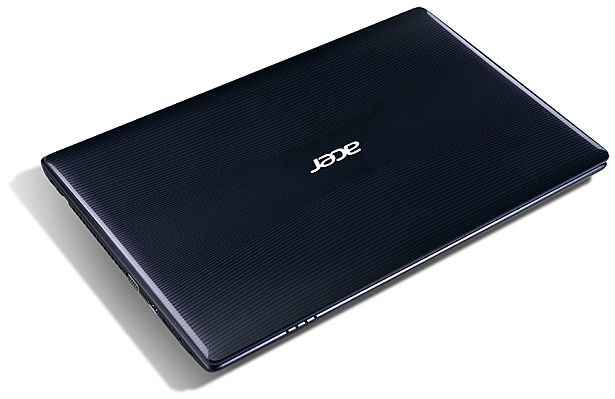 It's built adequately as well. The Acer Aspire 5755 laptop's screen is securely anchored to the twin hinges, it doesn't shake while typing nor bend obnoxiously. The keyboard deck doesn't dip or flex while typing and the keys don't feel loose in any way. Although Acer has done a good job to hide the laptop's predominant plastic appearance, its feel isn't as good as the higher-priced Dell Inspiron 15R or Gateway ID59C. The 15-inch Aspire 5755 weighs 2.6-kg with a standard six-cell battery which is average for a laptop of that form factor.
Acer Aspire 5755: Screen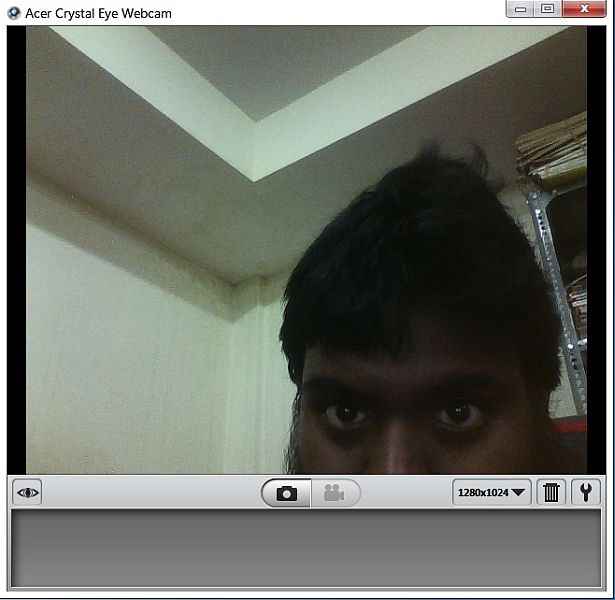 [RELATED_ARTICLE]The Acer Aspire 5755 laptop has a 15.6-inch glossy LED-backlit widescreen display that comes with a 1366 x 768 pixel resolution, standard 16:9 aspect ratio for most laptops these days optimized for viewing HD content. The screen is of ordinary quality with sufficient brightness and contrast levels, it performs well indoors. The Aspire 5755's screen is evenly lit, though, and has average viewing angles. However, watching movies, videos and text was good without much disappointment -- colours were a little washed out, not optimally saturated. On its top screen bezel sits an HD-enabled webcam which is good enough for videochats over Skype.
Acer Aspire 5755: Keyboard, Touchpad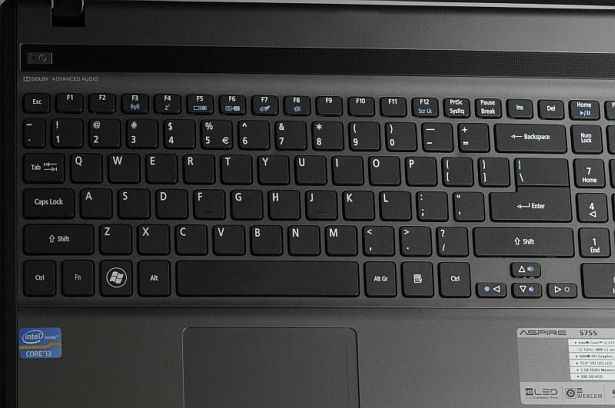 The Acer laptop sports a brand new keyboard layout -- isolated, chiclet styled keys exactly similar to the Acer TimelineX 5830TG's keyboard design, but not seen on previous Aspire laptops. The keys are well spaced and are good to type on, having a different feel compared to the keyboards found on the Sony VAIO S, Lenovo IdeaPad U260 or Samsung RC510. Frequently used keys are easy to hit and the tactile feedback is nice. Of course, the Acer Aspire 5755 also bundles a dedicated number pad on the right -- rejoice all ye Microsoft Excel spreadsheet warriors! The direction keys, though, are a touch tiny and easy to miss-hit without practice. The palmrest is slightly raised -- like a VAIO S laptop -- to snuggle your wrists better while typing.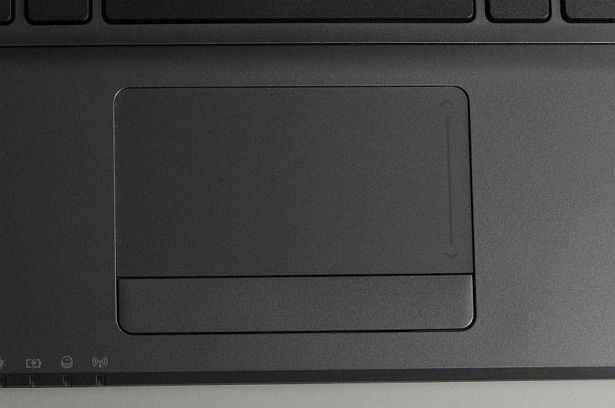 The touchpad is smooth with a matte finish and feels good to use. Its accompanying single strip mouse button is slightly clunky and takes time getting used to.
Read more about the Acer Aspire 5755, its performance and features, and our verdict, on the next page...
Acer Aspire 5755: Hardware Feature
Don't expect the Acer Aspire 5755 to offer the moon, it's after all aimed at budget conscious customers. Despite the fact, our review laptop bundles the latest generation Sandy Bridge Intel Core i3-2310M 2.1-GHz processor, 2GB RAM, 500GB hard drive and onboard Intel HD 3000 graphics -- Acer sells another SKU of the Aspire 5755 with a Core i5-2410M processor, 3GB RAM and 640GB hard drive. Suffice to say that the Aspire 5755 packs in a basic punch in terms of its internal hardware.

For I/O connectivity ports, the Acer Aspire 5755 laptop has a few sprayed across it's chassis' edge -- three USB ports (one is a USB 3.0 port), HDMI, VGA, ethernet, card reader, DVD writer, microphone and headphone jack. No glaring omissions apart from eSATA but we're delighted by the inclusion of USB 3.0 ports on the Aspire 5755. Wireless connectivity is handled by Wi-Fi 802.11n and Bluetooth 2.1l. The laptop comes with 32-bit Windows 7 Home Basic and 1-year official warranty.

Additionally, Acer also equips the Aspire 5755 with a couple of good bundled software, one of which is the Dolby Advanced Audio software for equalizer tweaks. Another is a webcam software -- Acer CrystalEye -- to capture photos or videos. CyberLink's PowerDVD 8 pack comes pre-installed and so does NTI's backup and recovery tool along with a media maker suite. Not at all bloatware and quite useful these bundled software.
The laptop's back panel has different isolated compartments for RAM, hard drive, Wi-Fi adapter, etc., so it's easy to upgrade the components inside.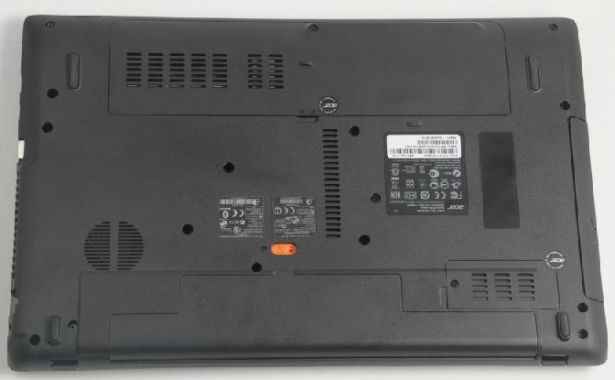 Acer Aspire 5755: Performance
[RELATED_ARTICLE]Since it's based on Intel's Sandy Bridge platform, the Acer Aspire 5755 laptop's performance isn't shabby despite the fact that it's a budget, entry-level laptop. With a PC Mark Vantage score of 5179, the Aspire 5755 outperforms both the Dell Inspiron 15R and Samsung RC510. When you take into account that both these laptops are priced higher, the Aspire 5755's feat is definitely a pleasant surprise -- and it's all down to its superior Intel Sandy Bridge processor platform. You should face no problems while multitasking with a few programs, but don't think you can run graphics-intensive tasks like games and 3D modelling, even though the laptop's 3D Mark 2006 score is pretty good for an IGP.
Watching movies and videos is fine, the laptop can handle both 720p and 1080p HD playback support. Audio from the laptop's onboard speakers -- located in a horizontal strip above the keyboard -- isn't exceptional. In fact, despite playing and tweaking the Dolby Advanced Audio console, the laptop just had ordinary sounding speakers. Dolby effects kicked in (but just slightly, mind you) when we connected the laptop to a pair of external speakers.
Transferring files went well at USB 2.0 speeds but that got a boost when we transferred content via USB 3.0. Video encoding didn't take a whole lot of time, either. All through our benchmarks, the laptop showed signs of heating up along its left edge only -- around the region where its heat vents are located.
In terms of battery life, the Acer Aspire 5755 performed better than recent laptops we reviewed -- except the Timeline X 5830TG laptop. The battery lasted for 2 hours 24 minutes on a single charge while we looped a video on it at high-performance preset. Expect to get close to 4 hours from the Aspire 5755 on a conservative powerplan while browsing the Web over Wi-Fi -- that isn't bad at all, in fact it's very good.
Bottomline
The Acer Aspire 5755 sells for a maximum retail price of Rs. 29,999. For that price, the laptop makes a good case for a basic 15-inch laptop for home use -- it has good hardware, decent feature set and delivers expected performance without disappointing a whole lot.
Acer's aggressive pricing of the Aspire 5755 is the key here -- it will be hard to get a similar configuration for a laptop sold by Dell, Lenovo, or HP, and with so many features. If you're thinking of dumping your old desktop and migrating to a brand new laptop for basic home use, definitely check out the Acer Aspire 5755.
Price: Rs. 29,999 MRP/-
Test Scores Log Sheet

| | |
| --- | --- |
| Brand | Acer |
| Model | Aspire 5755 |
| Warranty (months) | |
| Price (Rupees) | |
| Features | |
| Component Specifications | |
| Processor Model No | Core i3-2310 |
| Processor Speed (MHz) | 2100 |
| RAM (MB) | 2048 |
| RAM Type | DDR3 |
| Memory Speed (MHz) | 1333 MTs |
| Chipset | Intel Cougar Point QM67, Intel Sandy Bridge |
| Graphics Solution | HD 3000 |
| Dedicated Video Memory (Y / N) | N |
| Dedicated Video Memory Size (in MB) | N |
| Audio Chipset | Intel Cougar Point HDA |
| Storage size (in GB) | 500 |
| Drive type (HDD/SSD/other) | HDD |
| Optical Drive Type / Speed | DVD RW / 8x |
| Bundled OS | Windows 7 Home Basic |
| Characteristics | |
| Screen Size (Inches) | 15.6-inch |
| Type of LCD | LED Backlit |
| Screen Resolution (Native) | 1366x768 |
| Weight (Kg) | 2.6 |
| No. of USB ports | 3 |
| No. of FireWire ports | 0 |
| USB 3.0 (Y/N) | Y |
| Connectivity (LAN / Bluetooth / Wi-Fi) | Y/Y/Y |
| E-Sata (Y/N) | N |
| Display output (VGA/DVI/HDMI/Display Port) | Y/N/Y/N |
| Memory Card Reader (Y/N) | Y |
| Type of Memory Cards Supported | NA |
| Inbuilt Webcam (Y/N) | Y |
| Webcamera resolution (in megapixels) | NA |
| Build, Ergonomics and Usability (So 10) | |
| Body | 6.5 |
| Keypad | 6.5 |
| Lid, movables | 7 |
| Keypad Tactile Feedback (So 10) | 6 |
| Key Layout, bevelling, spacing & Usability (So 10) | 6.5 |
| Shortcut Keys/Switches (So 10) | 6 |
| Trackpad ergonomics, size, position (So 10) | 5.5 |
| Trackpad accuracy (So 10) | 5 |
| Biometrics (fingerprint/face) login (Y/N) | N |
| Wi-Fi On/Off Switch or Button (Y/N) | Y |
| Dedicated Bluetooth On/Off Switch or Button (Y/N) | N |
| Dedicated TouchPad On/Off Switch or Button (Y/N) | N |
| Performance | |
| Synthetic Scores | |
| PC Mark Vantage | |
| PC Mark Score | 5179 |
| Memories Score | 3198 |
| TV and Movies Score | 3530 |
| Gaming Score | 3724 |
| Music Score | 4932 |
| Communications Score | 5115 |
| Productivity Score | 4687 |
| HDD Score | 3250 |
| 3D Mark 2006 | |
| CPU Score | 2562 |
| Graphics score | 1433 |
| Overall Score | 3524 |
| Maxxon CineBench R11.5 (CPU score) | 2.03 |
| WinRAR 3.9 (Compression / Decompression benchmark) | 2024 |
| Real World Tests | |
| Battery Life Test (in minutes) | 145 |
| Speaker Quality (at 50% volume) (So 10) | 6 |
| HD Movie Viewing (using VLC) (So 10) | 6.5 |
| DivX Encode 7.0 (.VOB to .Divx, default mode) | 46.3 |
| File transfer Test (4 GB test file-sequential) (Sec) | 164 |
| File transfer Test (4 GB test file-assorted) (Sec) | 192 |