As audio technology continues to develop, manufacturers are making strides in developing relatively inexpensive products with an array of premium features. 2021 seems to be the year of affordable noise-cancelling headphones, especially true wireless earphones. We've seen products such as the Oppo Enco X, Realme Buds Air Pro, Huawei FreeBuds 3i, and a few others offer Active Noise Cancellation under and around the 10K price point. Now, Anker's sub-brand, Soundcore, delves into this lucrative space with its own ANC earbuds offering, the Soundcore Liberty Air Pro 2, under 10K. Anker is well-known for its array of smartphone accessories but it's slowly but surely making its mark in the audio market as well with Soundcore. The Liberty Air Pro 2 is a mid-range ANC TWS earphone and faces tough competition from the aforementioned brands. So, let's find out if the Liberty Air Pro 2 stands out and does enough to beat out our current favourite affordable ANC TWS, the Oppo Enco X.
Build and design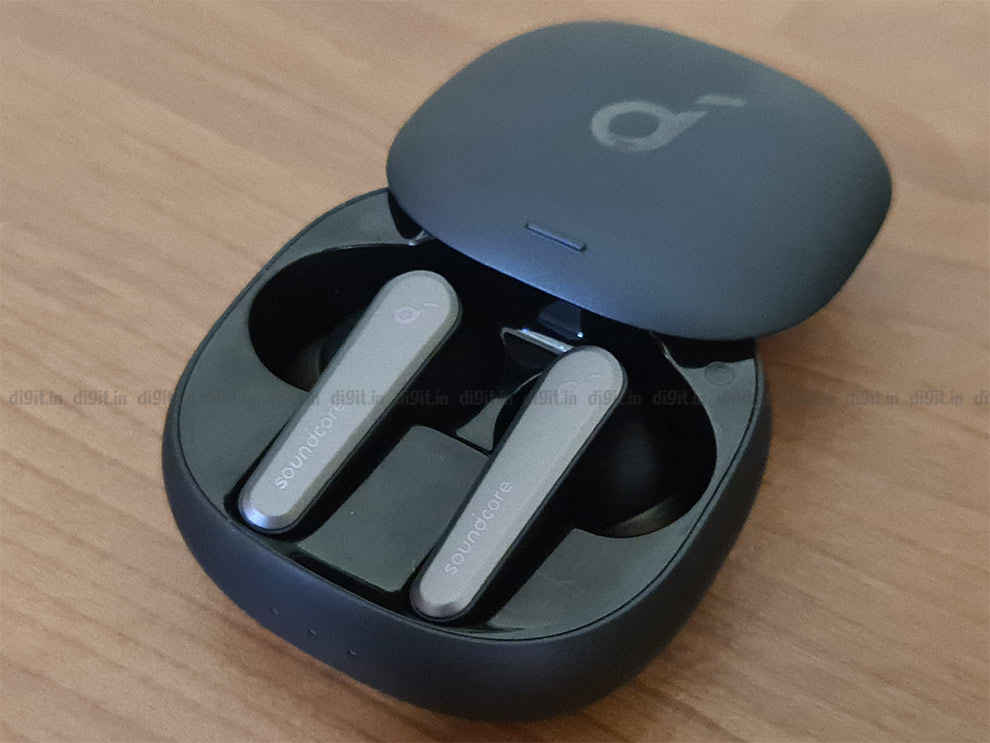 The Soundcore Liberty Air Pro 2 not only provides ANC at an affordable price but also focuses substantially on design. The product is available in four colours - Onyx Black, Titanium White, Sapphire Blue and Crystal Pink, all of which look pretty elegant. We got the Onyx Black variant for review that is perhaps the most inconspicuous-looking of all colours but looks sleek and stylish as well.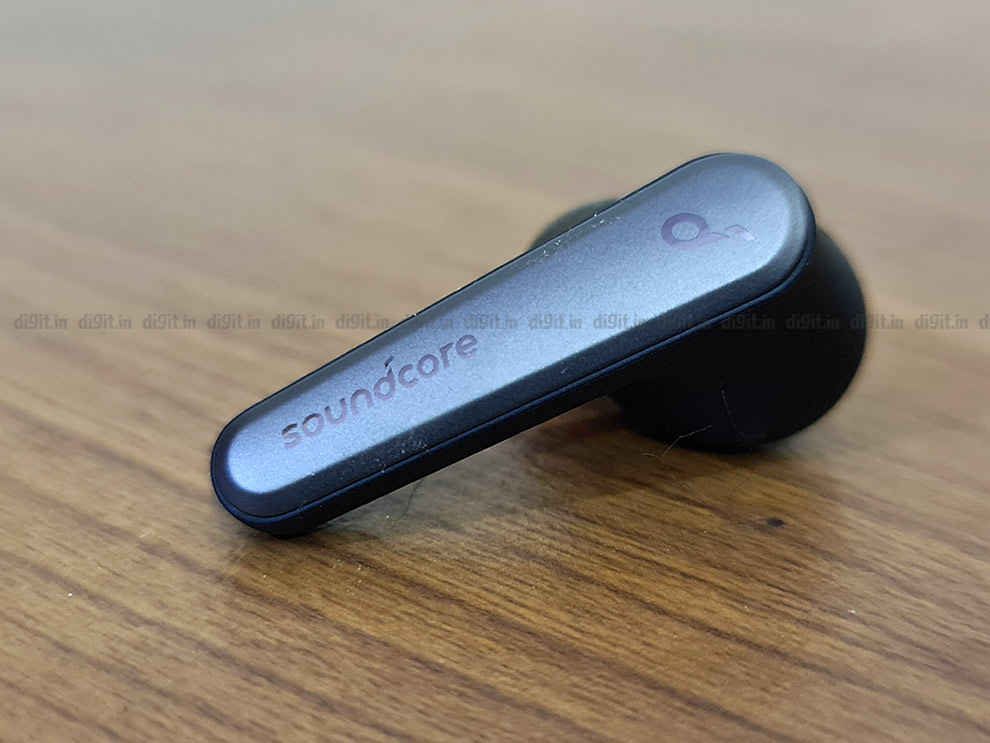 The earbuds have a stem-style design with the upper side of the stem featuring a silver-tone contrasting the primarily matte black tone on the earbuds. The stem also incorporates the touch panel for controls. Each earbud houses three microphones for active noise cancellation and voice calls.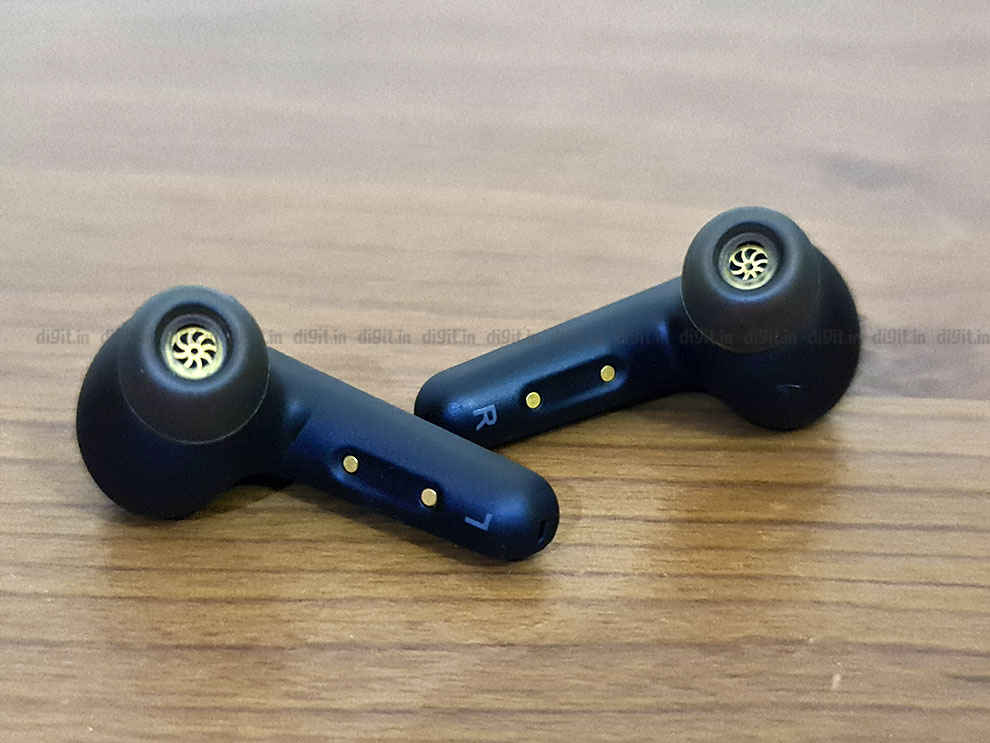 The nozzles of the earbuds are angled to create an in-canal, snug fit within the ear. The earbuds are lightweight and Anker has provided an array of silicone ear tips in the box ranging all the way from XXXS to XL. While these ear tips should cover most ears, the reviewer found it slightly hard to find the perfect one. The bulb, or the rounded part of the earbud, was a little too large for the reviewer's ears and the fit wasn't extremely comfortable no matter the ear tip used. So, keep in mind, if you have smaller or unusually shaped ears, the Liberty Air Pro 2 may not be the most comfortable TWS you've used.
As for the touch panels on the earbuds, they work pretty well as long as you get used to their positioning on the earbud. By default, double-tapping the left bud skips a track, and double-tapping the right one pauses or plays music. A two-second press on either earbud switches between ambient sound and noise cancellation modes. The controls can be customised on the Soundcore app, which we will talk about in the next segment.
Moving on to the charging case, it is certainly one of the larger ones on the market but it isn't very thick, so users can slide it into their pockets without the case bulging out too much. The case has a silky matte, rubbery texture which feels good to the touch and is quite grippy as well. The cover slides to the back and reveals the earbuds within. The sliding mechanism is smooth and pretty unique since most TWS charging cases open upwards. There's a USB-C charging port and a reset button at the back and three battery indicator lights on the front. Moreover, the charging case also supports Qi wireless charging, so you can simply plop it down on any compatible charging pad to charge the case.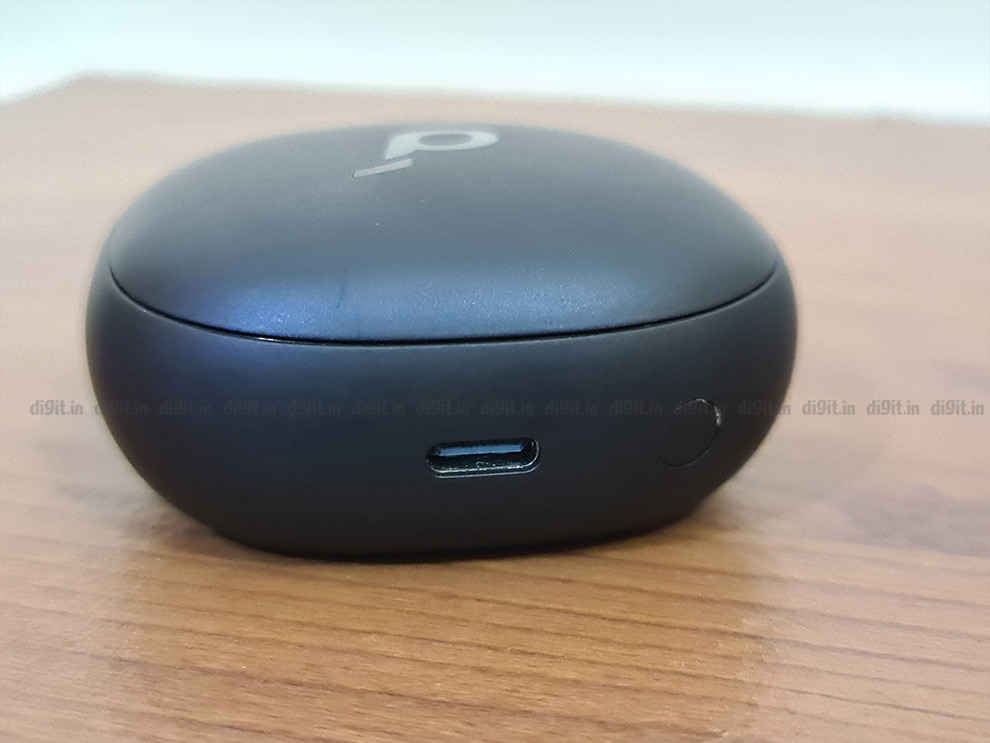 Lastly, the buds can be used independently of each other and they also come equipped with in-ear detection to automatically pause/play the music depending on whether the buds are in the user's ear or not. In our tests, this feature worked without a glitch most times we tried it.
Features: Active Noise Cancellation, Soundcore app, and others
The most elusive feature on TWS earbuds in 2021 is, undoubtedly, Active Noise Cancellation. The Soundcore Liberty Air Pro 2 provides this feature at just under 10K, making it an appealing product for those who would like to experience ANC without breaking the bank. There are three pre-tuned modes of ANC on these earbuds - Transport, Indoor, and Outdoor. There's also a Custom mode that allows users to choose the level of ANC.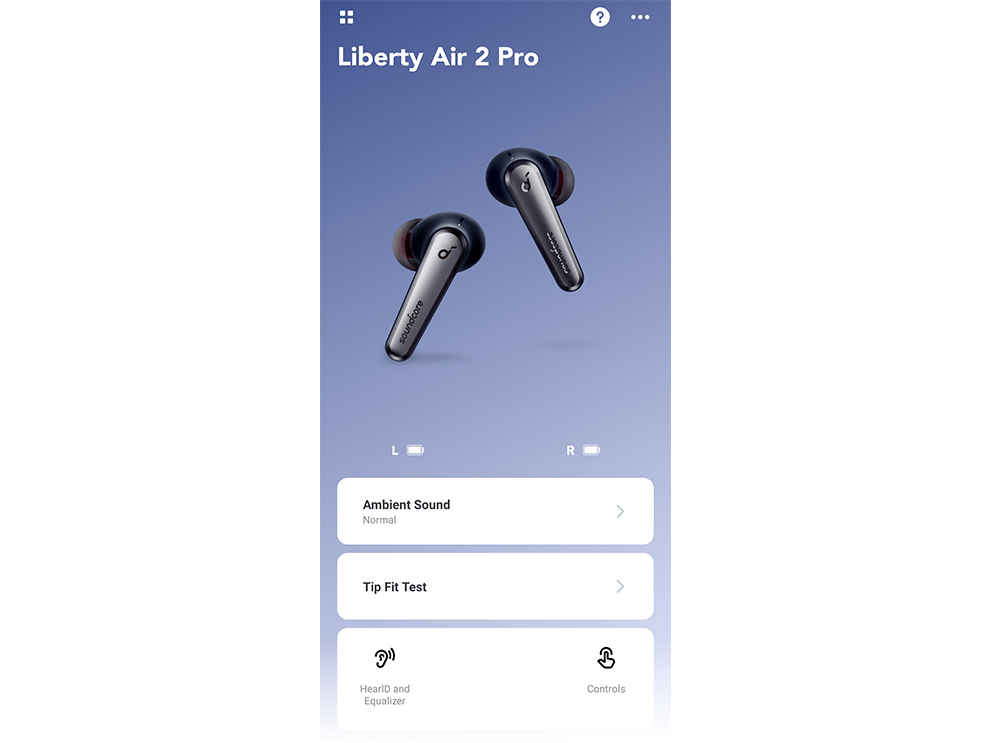 Active Noise Cancellation on these earbuds is decent but not very impressive. It doesn't come close to the heavyweights in this area such as the Sony WF-1000XM3, but we don't expect them to, due to the price difference. However, the Oppo Enco X that is priced similarly does a more convincing job drowning out ambient sounds. While the Enco X did the fine job drowning out sounds such as low-speed fans, the Soundcore Liberty Air Pro 2 leaves something to desire in this area. There's also a pretty audible hiss that you can hear in all ANC modes when no music is playing. Nevertheless, the ANC performance should be satisfactory to most people, especially on Transport Mode, which we found to be the most effective of all modes.
The earphones also come with Transparency mode that allows users to listen to their surroundings. You can switch between Fully Transparent and Vocal mode on the Soundcore app. There's also a Normal mode with no ambient or noise cancellation applied. The app makes it easy to switch between these modes. Surprisingly, there's also a nifty widget of this app that allows users to switch between these modes without entering the app.
As we mentioned in the last section, the Soundcore app allows users to customise controls as well. Users can customise single tap, double-tap and long press for both ears, allowing the addition of volume controls and voice assistant trigger that isn't present by default. The app also has an eight-band customisable EQ where users can add different custom sound profiles. There's also a feature dubbed HearID that measures your personal hearing and adjusts audio accordingly. We chose to stick to the default Soundcore signature sound profile for the purposes of the review, but it's nice to have a slew of customisation options.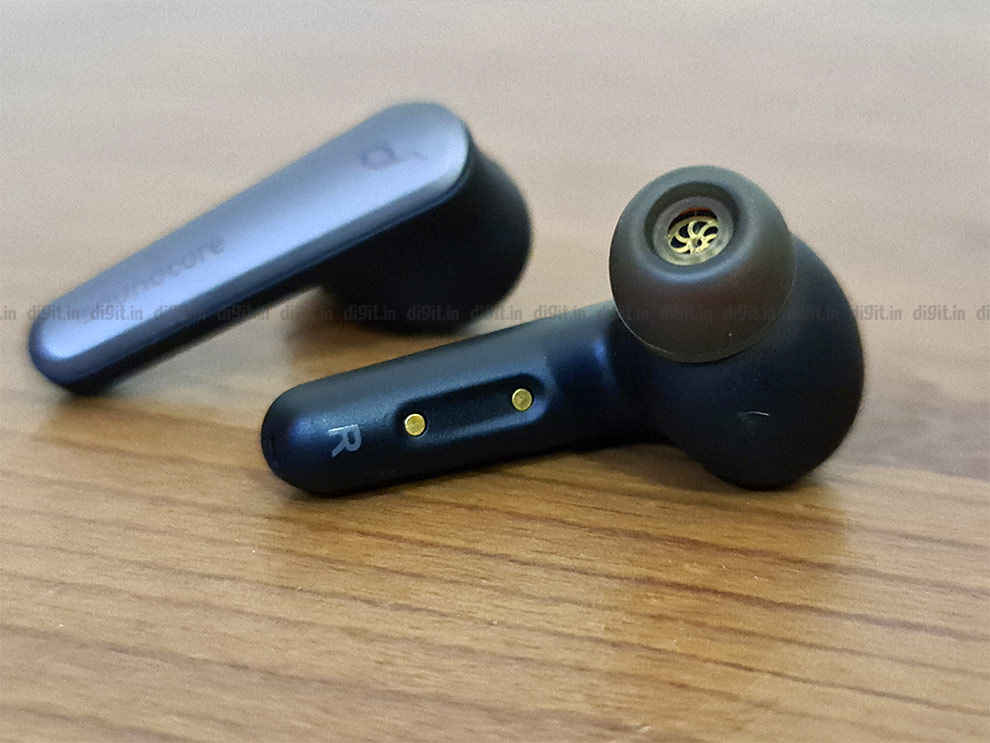 The app also allows you to take a Tip Fit Test that basically plays a sound and analyses if the ear tips you've worn have a good seal. We tried the test with a bunch of different tips and it did help us narrow down to the best fit, an odd combination of XS and S (the woes of differently-sized ears), so we urge you to take the test and find the best fit as well since it will provide you with the best sonic experience possible on these buds.
Active Noise Cancellation and accompanying app apart, the Soundcore Liberty Air Pro 2 is an extremely feature-laden pair of TWS earbuds. The earbuds come with voice assistant support, IPX4 sweat and water resistance rating, Bluetooth v5.0, in-ear detection, mono mode, and Qi wireless charging support. The buds support SBC and AAC Bluetooth codecs, although it's slightly disappointing to see the lack of support for advanced codecs such as aptX. Even the Oppo Enco X came with LHDC codec support. Although LHDC codec is only supported by a few Oppo and Xiaomi phones, it is better than having no advanced codec support. There's also no multi-point connectivity, so you can only connect the buds to one device at a time.
Performance
The Soundcore Liberty Air Pro 2 features 11mm dynamic drivers and has a somewhat V-shaped sound signature with rich, punchy bass response and emphasized treble. The bass response is impactful, well-rounded and full-bodied without being obtrusive to the mids and highs. In pop or rap tracks, the bass swells and fills the sound with dynamism but doesn't veil the vocals and mid-range instruments, which is pretty impressive. In Godzilla by Eminem, there's a low bass rumble at the beginning of the track along with just Emimen's vocals, both of which sound extremely detailed without stepping on each other's toes.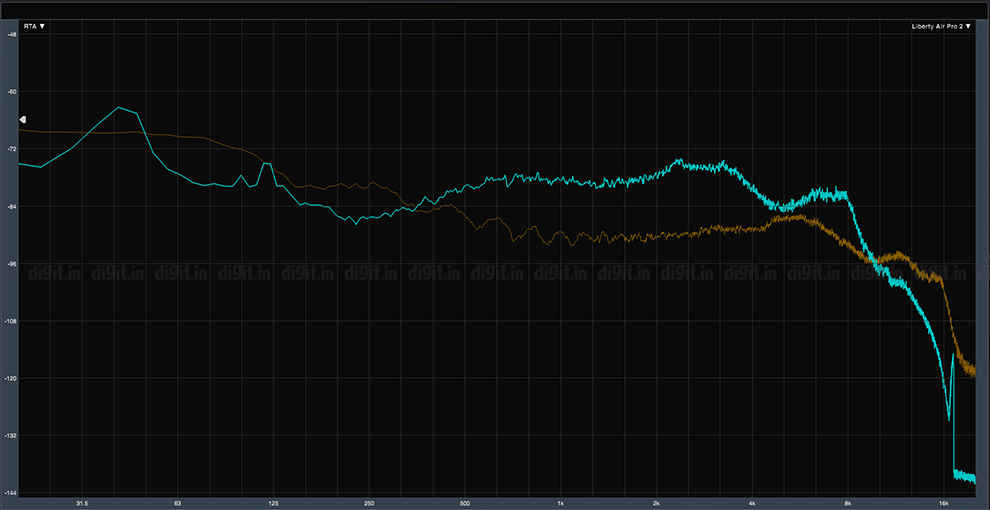 Uncompensated frequency response of the Soundcore Liberty Air Pro 2 (Blue) vs reference IEM (orange)
However, the slightly overemphasised treble can make some tracks sound harsh. One example is Hunter by Bjork where the hi-hats sound slightly screechy. This is, however, a rare occurrence and didn't bother us too much. The Liberty Air Pro 2 is well-tuned and offers a fair amount of detail which is rare at this price point. Now, the Oppo Enco X definitely offers much better, cleaner sound due to its coaxial dual-driver design. The treble is slightly overemphasised on the Enco X too, much not as much as the Liberty Air Pro 2, so critical listeners may be swayed towards the Oppo Enco X.
Neither are audiophile-grade earphones though, so for the masses, both earphones have a good sound profile, and you can't really go wrong with either at this price point. If you're a bass lover though, you may like the Soundcore Liberty Air Pro 2's sound profile slightly better since it provides slightly more punch in the bass response.
Call quality on these earphones is pretty decent, for the most part. While we weren't able to test them out extensively outdoors, the earphones do a good job indoors even with high-speed fans in the background.
Battery life
The battery life on the Soundcore Liberty Air Pro 2 is pretty decent, but nothing extraordinary. With ANC turned off, you can get up to 26 hours of total playtime, with 7 hours from the earbuds on a single charge. With ANC on, the earbuds have a playtime of about 4.5 hours on a single charge, and the charging case is able to top off the buds three times over. This gives you a total battery life of about 18 hours, which is pretty decent for this price range.
There's also Fast Charging support where 15 minutes of charging will net you about 3 hours of playtime. You also have Qi wireless charging support, as we mentioned before, which is a rare feature to have under 10K.
Verdict
If you're looking for a mid-range TWS with an array of premium features and good tuning, the Soundcore Liberty Air Pro 2 is easy to recommend. It does face tough competition in this segment, especially from the stellar Oppo Enco X, but it manages to stand out due to its hard-hitting but controlled bass and its unique design. You also get IPX4 sweat and water resistance which means these buds can easily become your workout companions if you find the perfect, snug fit. Priced at Rs 9,999, the earphone offers decent good sound quality, solid build, unique design, and decent battery life.