VERDICT:
The biggest complaints against 3D television – headache and eyestrain have been addressed by LG by implementing passive glasses instead of the heavier active shutter ones. However, eyestrain is still something that is down to individual body response. Some of us in the test centre felt that this technology was better (as claimed) than active shutter. However, I still got as mighty a headache as ever. Moral of the story – get a demo before you buy.
Look & Feel
Pretty much standard fare here – standard looks, black bezel with a glossy finish, and all ports on the side-rear, but at a bit more space premium thanks to the slimness. While we are witnessing the trend of slimmer bezels to enhance the edge-to-edge look, LG hasn't bothered with that at all. We don't really mind that, since not having that edge-to-edge design is similar to a faux one that most other TV manufacturers seem to be doing. The tabletop stand is standard fare too. The only niggle we can really point out is that this TV tends to rock around quite a bit more than a TV this size usually does, if touched. The assembly is similar to what the likes of Samsung and Sony allow as well, which makes this a little difficult to understand. You could do with a "Hands-off" sticky note on the TV, just to warn people! Overall, the build quality and finish is perfect. There aren't any bling elements to it, and the understated classiness should impress in your living room.
Features & Performance
This 42-inch LED television has a Full HD (1920 x 1080 pixel) resolution. This is essentially the LED-LCD type panel, and not a Full LED one, as the advertising would want you to believe. The edge-LED spec is accompanied with Local Dimming, with the idea being to make black levels deeper.
With the dimming activated, the black levels are definitely deeper and more uniform, as and when whichever one is required. However, the problem of the "Halo effect" does creep in. Simply put, the Halo effect is when you see block of leaking light around a brightly lit object in the midst of black colour.
To make 3D viewing more comfortable, LG is betting heavily on the passive 3D type. In a more technical language – Film Type Patterned Retarder 3D (FPR) – the term LG uses. The glasses for this 3D type are noticeably lighter and ever slimmer than the active shutter 3D type. The left and the right eye images are created simultaneously, and the polarized glasses put them together to give the depth and multi dimensional effect. Active 3D on the other hand combines sequential images with electronic shuttering on the glasses. Hence, they are battery powered and are slightly bulky as well. Incidentally, passive is the 3D type that you encounter in most multiplexes.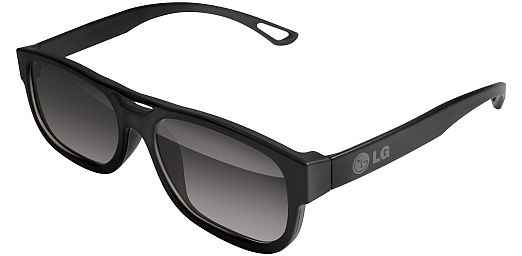 LG bundled 4 glasses with the 42LW6500, two in orange, and two in white!
Moving on from all the technicalities, we don't think passive 3D is a huge leap over active shutter 3D. We got an equally splitting headache after 15 minutes of watching The Dark Knight in 3D. However, where it has the advantage for someone who can walk through this wall of pain is the added freedom of viewing posture and wider-angle capability – something that will work when families get together to watch TV.
We were quite impressed with the sheer brightness of the display. Out of the box, on standard settings, it was brighter than most other LED-LCD panels. With a mix of 2D Standard Definition and 2D High Definition content playback, the sharpness levels and the wide colour range impressed us. However, you need to play the balancing game with the sharpness bit carefully – turning it too high makes displayed content noisy. With SD content, there was significant edge noise, irrespective of whether it was upscaled or not. However, the LG 42LW6500 Cinema 3D really started to show off its colours when the content was more within its range – HD content, Blu-ray and even upscaled 3D.
LG claims that the dynamic contrast ratio on this TV as "ultra". To put a figure to the feature, we tested with the Spyder 3 Elite benchmark and got an actual figure of 700:1, which is definitely in the mid-high range in the TVs that we have tested.
Visit page two to read more about the LG 42LW6500 Cinema 3D TV's features and performance, and our verdict…
Let us talk about HD content first. We plugged in a 500 GB portable hard drive into the USB port on the TV, and were surprised to find it detect AVI, MP4 and MKV files with ease. The crispness really kicks in here, and if you have set the Black levels to the deepest and Advanced contrast to low (we recommend off, because it tends to dissipate a few colours at times), you will be able to appreciate the overall colour depth. While there is the issue of random jerks in fast moving scenes and if you look closely, there are edge artifacts that tend to be visible most of the time. You will witness moire patterns on certain patches, like empty stands of a football field. For the artifacts issue, we won't blame the television just yet, as you would understand in the next paragraph.
Blu-ray playback was excellent, and we didn't see the artifacts that were very visible in downloaded HD files. Which is why we reserved the judgment against the panel, the blame for which can now be laid squarely on the doors of the compression levels on certain files. Having said that, people will probably watch downloaded content on this display most of the time, and that can prove a bit annoying. We do have opposing views within our test centre on whether 200Hz TruMotion is good or bad. Personally, I like it, since it adds a bit of fluidity to fast visuals.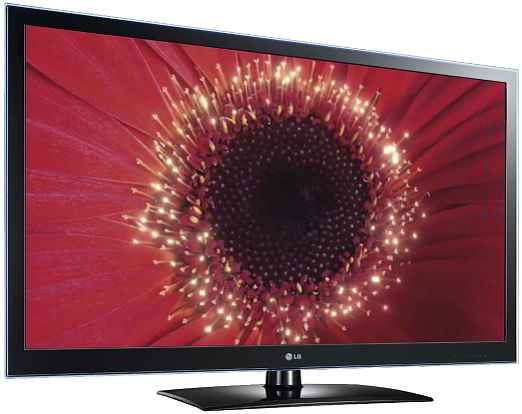 Up-converting 2D content to 3D is something that the LG 42LW6500 does very well. We were surprised by the depth on offer, and will definitely be among the best engines out there. However, as with up-converted content, there will be issues – the ones we witnessed being double images (ghosting) and a definite loss of crispness at certain times during playback. However, when playing back original 3D content, the problem of image ghosting disappeared, but the crispness loss issue remained. However, despite some niggles, the ability to bump up 2D content to 3D is a feature that is a must have, particularly if you are spending so much money.
While the unit was with us for review, the TV got a firmware update, which was a big (at least by a TV's standards) 210MB download. Post install, we did not see the addition or removal of any features that you may normally use when watching TV – video settings, audio or even input changes.
The Smart TV bit can be daunting for a first time user. LG has done away with the Menu/Settings key on the remote, and replaced it with Home. Forced to use that all the time, you end up on a homepage that has a whole lot of information available – multiple blocks for apps, media streaming via PLEX and access to the LG App Store. Not to forget, you access settings from here. The range of apps that you can download is quite enormous, but quite a few of these apps are weird.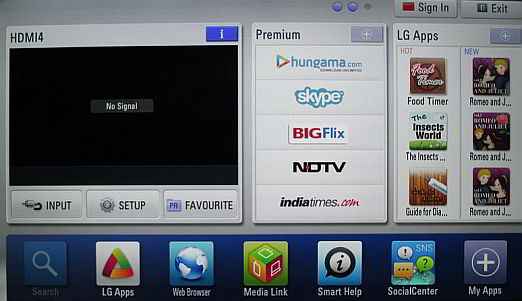 The Magic remote is a Nintendo Wii styled controller-esque remote that uses the gesture capability to help you navigate the menu on the screen. We think this will be very useful when browsing web pages on the built-in web browser.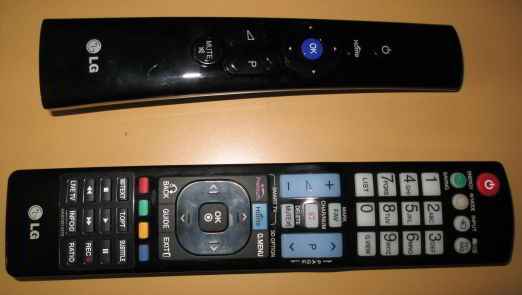 Sound on this TV is a disappointment, with the tiny speakers running out of breath pretty much most of the time. Vocals are clear, and should help with the daily TV viewing, but don't sound powerful enough for movies.
Our Take
We have seen this selling in stores at around Rs 90,000, and if you are willing to spend that much money, this television won't disappoint. This is a 3D television without necessarily having to spend over Rs 1,00,000, and will up-convert 2D to 3D on the fly. Passive 3D means you can have some friends over, and not have to worry about space on the couch directly in front of the TV.
Contact: LG Electronics India
Email: N.A.
Phone: 18001809999