VERDICT:
At Rs. 1,05,995, the LV-8310 is an expensive projector. With a native widescreen resolution, vivid colours and a generous dose of sharpness, this projector will not disappoint. It works well in the home and home office situation, and can replace the TV for the daily dose of saas-bahu serials, in a much bigger screen size!
First Impression
Canon's LV-8310 falls flat in the middle of this category. This is a non-HD projector, essentially targeting those who may want to connect something like a Tata Sky DTH to it. Dressed in white colour, this one looks classy, but runs the serious risk of becoming very dirty very quickly. The top panel has a thin ribbon of black, which hosts all the controls- power, menu, navigation, input and return. The rear panel is where all the input/output ports are placed- DVI-I (with HDCP) / Analog RGB, Analog RGB / Component, Composite, L / R Audio, S-Video, Stereo Mini Audio, RS-232C, RJ45. Even though the projector is big in size, it is not heavy, and is pretty solidly built as well. This one can be moved around a bit, without too much worry of tweaking your back!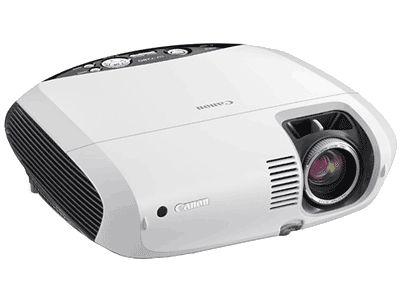 Performance
Projectors which are not HD are best for viewing standard definition content, like DTH or cable television. For this review, we connected a Tata Sky STB to the projector using the composite video cable, and placed it 4 feet from the wall. From that distance, the projected image was about 60-inches. The LV-8310 has the manual control above the lens, which allows you to alter the display size. This is something which is not only convenient, but also not seen in many projectors. Staying at about 60-inches, I enjoyed a cricket match for quite a few hours.
[RELATED_ARTICLE]The display quality was extremely good, keeping in mind that this is blowing up a standard definition resolution to a huge projected image. Colour is extremely vivid, no matter how high the brightness or contrast may be turned up. Speaking of which, at default settings, the contrast is quite bright. The power of 3000 lumens really does show up here! I had to turn it down a notch, because the match in the floodlight scenario seemed too bright. The sharpness levels, which again can be configured, are excellent. All in all, very elaborate video settings are on offer here. Also, switching between 4:3 and 16:10 ratio modes is simple. Ideally, when watching a movie, switch to 16:10 (ideal for 16:9 viewing) and then switch back to 4:3 when you have connected it to the laptop for document viewing. Basic picture modes of video, text and cinema make a lot of difference from the outset. Text mode turns down the contrast levels, assuming that you will be viewing a document page with lots of white space anyway.
Read on to know more about the performance, our verdict and the price…
However there is a bit of a sad point. The black level depth, or the lack of it. The blacks seem washed out at times, and kind of take the fun away of watching a movie. But, on the bright side, it doesn't look very obvious if you are not watching a movie. The other niggle is the built-in speaker. Like all projectors, it is just there for the sake of being there. However, you really cannot enjoy watching anything while listening on those speakers. Utilize the audio out (3.5mm variety) to connect to an external pair of speakers, for the maximum viewing pleasure.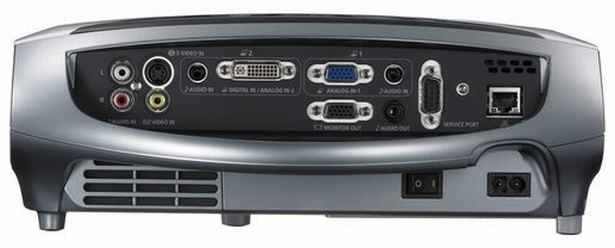 Most projectors have a problem with the fan noise, particularly if kept in a room which does not have an air conditioner switched on. And most projectors don't even need five minutes to heat up, after being switched on. However, after watching almost half the cricket match, the projector was still very silent, and not as hot as expected.
Verdict
The LV-8310 offers a pretty consistent performance, but is quite pricey. It may not have an HD resolution, but the resolution of 1280×800 and the power of 3000 lumens make this a powerful package. This one is strictly for those who do not want HD capabilities in the projector, and fits well in the home and home office situation. However, if you want something that can support a 720p HD resolution properly (i.e., 1366×768, and with an HDMI input), this is not for you.
[RELATED_ARTICLE]Specifications:
WXGA type (1280×800 resolutions)
16:10 aspect ratio
3000 lumens
500:1 contrast ratio
DVI-I (with HDCP) / Analog RGB, Analog RGB / Component, Composite,
L / R Audio, S-Video, Stereo Mini Audio, RS-232C, RJ45 inputs
Audio out capable
7W built-in speaker
3.3kg
Ratings
Features: 7
Performance: 6.5
Build: 7
Value: 6
Overall: 6.5
Contact: Canon India
Phone: 18001803366
Website: www.canon.co.in
Price: Rs. 1,05,995