VERDICT:
The Rockerz 275 is a well-built pair of neckband style Bluetooth IEMs that offers decent performance for those looking for a warm audio signature. On top of the flexible neckband, vibrating cues and a well-performing mic make it a good overall package at its current price of sub-2.5k on most e-commerce sites. However, those looking for a neutral, balanced sound signature should probably look elsewhere.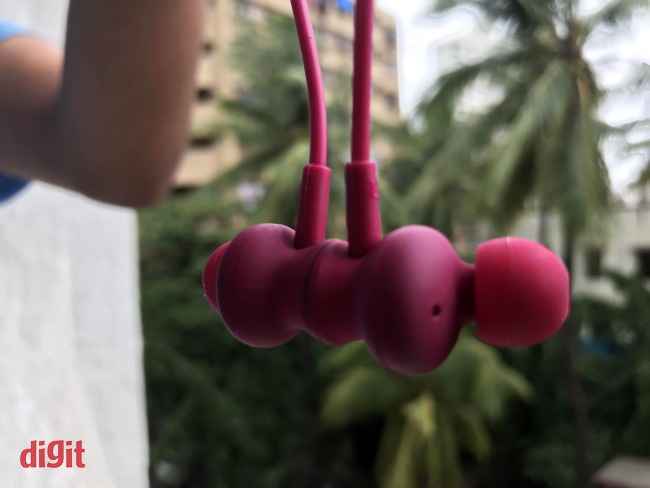 Build and Design
We've tried a bunch of sports-oriented Bluetooth earphones in recent times, and also over the years. The neckband style isn't easy to design properly – It is a delicate balance to get the fit just right, so that it doesn't fall off during your workouts, without making it feel like there's a demon from the depths of the underworld clamped onto your skull or neck. Boat Rockerz 275 does something interesting with this design – it makes it nearly all rubber. When I say 'all', I do not mean a heavily rubberised outer layer covering a stiff internal structure. The neckband itself is made of rubber with the two enclosures at either end and controls on the right, inside. The entire length of the band that connects the two enclosure units is made out of rubber and is highly flexible. We're talking 'tie it into a knot' level flexible.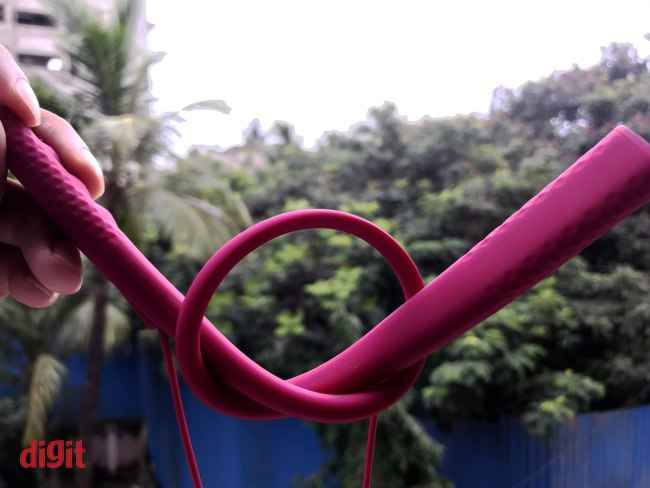 This makes the Rockerz 275 fit well during workouts, despite no significant clamping force. The rubber feels smoother against the skin compared to plastic neckband type headphones that we've used in the past. Due to its flexibility, it is also pretty easy to store. The earpieces have magnetic backs which prevent them from dangling around during your workouts. The buttons are also well located and easy to use. It takes quite a short amount of time to get used to them.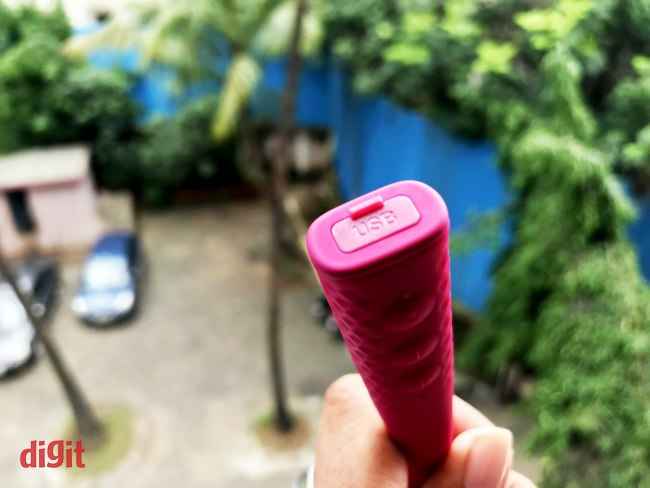 Inside the box, you get the device along with a couple of extra earbuds in the Large and Small variants, along with a micro-USB charging cable – no surprises there. The 275 is available in 'Active Black', 'Electric Blue' and 'Intense Pink', out of which we got the third version. While we can already hear the 'oh no, not that one' exclamations out there, trust us, it wasn't as bad as it sounds like. When it comes to pink, we've clearly seen worse and the neckband of the 275 ends in a crosshatch embedded pattern that adds to the look. The charging port could have been simpler to access though. The Bluetooth IEM also comes with IPX5 water resistance so you can use it without worrying in the rain or during sweaty workouts, as long as no immersion is involved.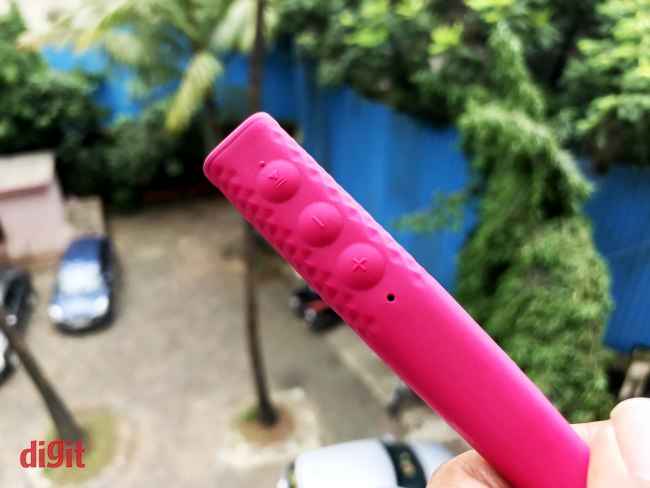 There are a few other issues, or rather, shortcomings with the 275's build. For starters, since the neckband is essentially a flacid band of rubber, there's almost no shape it persists with. This, when combined with the long wires between the earpieces and the neckband, looks a bit weird (think about having elephant ear outlines floating beside your head). If the wires connected to the inner side of the neckband this issue could have been avoided.
Features
In terms of features, the Rockerz 275 comes with a pretty standard set. You get your expected set of three buttons, where the play-pause button doubles as the calling control and the volume buttons also double as the playlist control. Near the buttons, you have an LED indicator that tells you the connectivity status as well as the battery level (when low). On the other side of the same enclosure, you have the mic.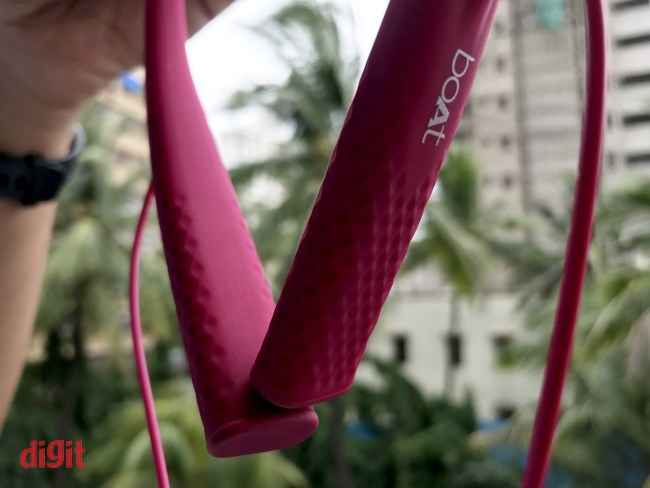 The 150mAh battery holds up pretty well for the better half of 7.5 hours, and in its dying stages, also gives you audio cues. Talking about the audio cues, be prepared for an extra jovial announcer – he even says 'Adios Amigo, shutting off' when you turn off the device. The device also has vibrating cues, when you turn it on or off, and also when you get calls. The ringtone when you get a call is a standard tone and cannot be customised.
Audio Performance
There are no two ways about it – the Boat Rockerz 275 has a sound signature leaning towards the warm side. Although there is a certain section of users who are looking for earphones in the warm spectrum of audio. But after a point, this bias actually affects your listening experience adversely. Call On Me, a track that features Chris Rea's powerful vocals, sounds limited in its impact save for the overpowered bass drum, and Chris' vocals take the second stage.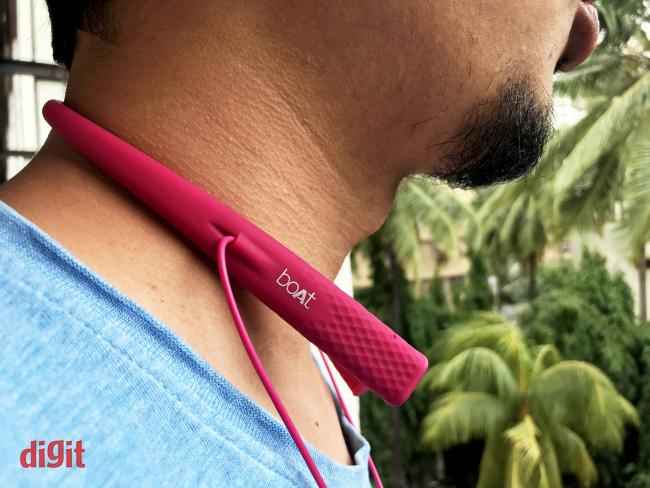 One of the biggest issues with the 275 is the limitations of its headstaging capabilities. Bjork's Hunter is a track that features a complicated overlay of Bjork's strong vocals, numerous instruments ranging from a violin to electronic samples, laid out in a wide, well-spaced ambience. On the 275 it sounds like a congested mess especially after the halfway point where things get really intense. Push it anywhere beyond 75% of the volume and most bright notes suffer from treble peaking.
The Rockerz 275 are going to be particularly enjoyable to most bassheads. Tracks like Magenta Riddim by DJ Snake sound punchy, and the V-shaped sound signature shows through. That being said, the higher frequencies do sound cheap and there's a distinct lack of clarity after a certain level. Put Hello by Adele on and you'll see what we mean.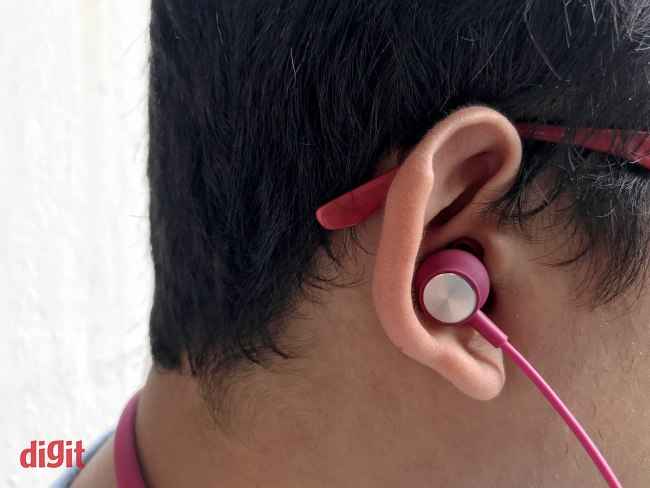 The mic on the 275 Rockerz doesn't disappoint. Save for extremely noisy or windy situations, call performance was quite good. The overall sound on the Rockerz 275 is best described to be closed, forward and warm in nature.
Verdict
The Boat Rockerz 275 has a lot of things going for it. To start off, there's that flexible build that makes it an absolutely no hassle pair of headphones to carry around and pack. Combined with the magnetic earpieces, it is evident that Boat has done a good job in designing this pair. Feature-wise the 275 scores in at a pretty standard level. Battery life and call quality also do not disappoint. When it comes to audio performance, the Rockerz 275 leans towards a warmer, closed signature, and suffers a bit from treble peaking at higher volumes. Almost all bassheads looking for a cheap, dependable piece of Bluetooth hardware then the 275 will not disappoint. Expecting a neutral, balanced audio experience? You better look somewhere else.