OnePlus TV 32Y1 - Smarter TV
Android TV with superior craftsmanship and elegant design - Buy Now
Click here to know more
Advertisements
Zebronics has launched a new series of power banks in three variants of 10,000, 15,000 and 20,000 mAh capacities. The ZEB-PG10000D, ZEB-PG15000D, and ZEB-PG20000D are priced at Rs.2,499, Rs.3,399, and Rs.4,399 respectively. All the power banks feature an LED display, LED torch, two USB ports for output and a micro-USB port for input.
Read the full press release below
Zebronics, India's leading supplier of IT peripherals, Audio/Video and Surveillance products expands its accessories range, launches a series of power bank ZEB-PG10000D, ZEB-PG15000D, ZEB-PG20000D.
The series of power banks comes with a nice black finish and a graphic design on the top. It has an 10000 mAh, 150000 mAh and 20000 mAh capacities respectively, with features like LED display. It comes with an an LED torch along with a micro USB for input and two USB ports for output . The power bank supports input of DC5V 2A and output of DC5V 2A respectively. The Power Bank can refuel your devices really fast.
Designed with intelligent, informative Digital Display, it helps in denoting the percentage of charge left in the power bank and helps you decide when to charge the powerbank. The long and ultra stylish Power Bank is ergonomically designed up keeping functionality along with aesthetics intact.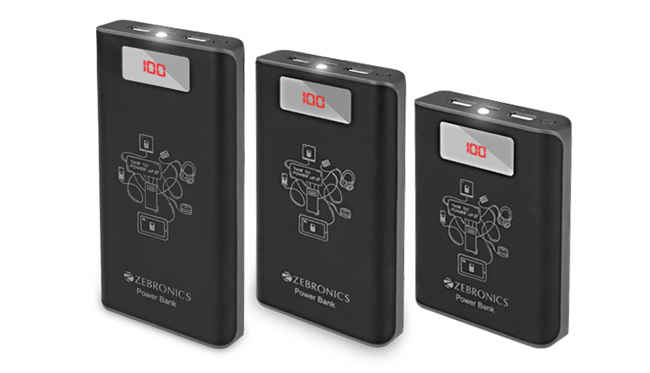 Speaking on the launch of the Power Bank, Mr. Pradeep Doshi, Director – Zebronics says,"In today's extremely multifunctional world the need to get more out of your devices and the need for a high capacity power bank is extremely essential as you multitask with your phone. Charge two devices at a time and remain worry free with the new series of our power banks."
With safety as the preference, the Power Bank sports multiple security features to keep safety as priority. It also ensures protection from short circuit, input/output short, over charge and over discharge.
Available in black, these series of power banks are available with leading retail stores across India.
The power banks start from Rs.2,499, Rs.3,399, and Rs.4,399. Respectively.