India's telecom subscriber base grew from 1.19 billion users at the end of April, to 1.2 billion users at the end of May. Telecom service providers in the country added 6.09 million subscribers to register a growth rate of 0.51 percent. At the end of May, the wireless telecom subscriber base stands at 1.18 billion while the wireline subscriber base stands at 24.16 million.
The Telecom Regulatory Authority of India (TRAI) says that urban subscriptions increased by 0.15 percent to 697.06 million, while rural subscriptions increased to 507.92 million, a month over month growth of 1 percent. In terms of access providers, Bharti Airtel has a market share of 23.59 percent followed by Vodafone and Idea with 17.86 percent and 16.62 percent market share respectively. The new entrant Reliance Jio has also shown growth in the ranks with a market share of 9.94 percent, up from 9.58 percent at the end of April.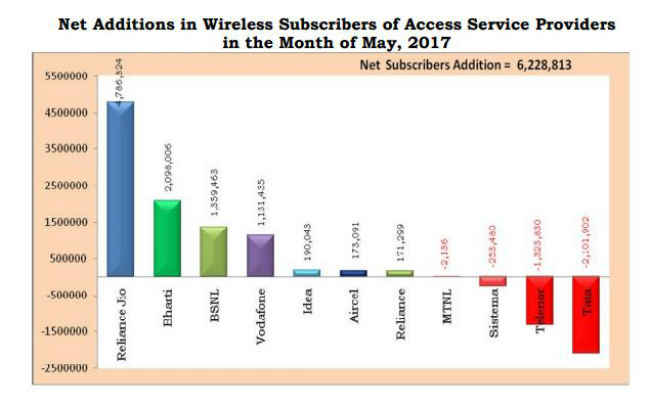 Reliance Jio has the highest subscriber addition in the month of May with over 4.7 million subscribers joining the 4G-only network. In contrast, Bharti Airtel managed to add 2.09 million subscribers, while BSNL and Vodafone acquired 1.35 million and 1.1 million subscribers respectively. The new numbers must come as a relief to Reliance Jio after a report revealed that subscriber additions have slowed down for Jio since its switch to paid model. The service added only 3.9 million subscribers in the month of April, its lowest since the commercial launch in September last year. Interestingly, the cumulative mobile number portability requests also grew by around 5.37 million subscribers to 283.09 million.
The report also clarifies that out of the total 1.18 billion wireless subscribers, only 1.02 billion subscribers were active. The total broadband subscriber base stands at 291.61 million with nearly 273 million subscribers accessing the internet via a mobile device or dongle. Reliance Jio leads with 117.34 million broadband subscribers, followed by Bharti Airtel and Vodafone with 53.3 million and 40.43 million subscribers respectively.